What to Write in a Sympathy Card for Loss of Father - 4 Things to Write about
WhatToGetMy Instructional Article
There are a lot of fathers out there who have not lived up to the billing but there are even more out there that do what they are supposed to do as fathers which is to protect, guide, advise and provide for the family as shown by this graph from Pew Research Center.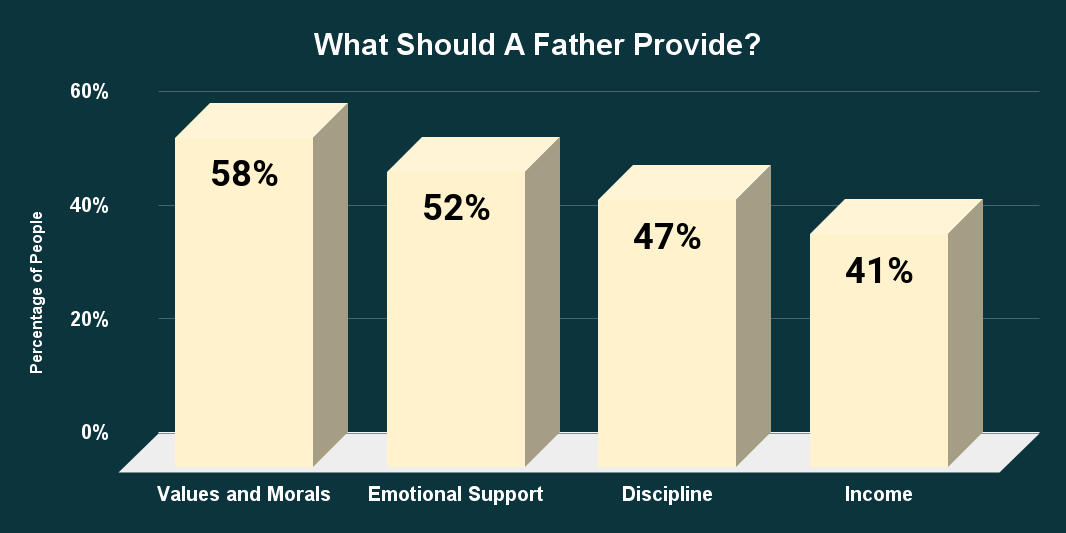 For people who have such great fathers, losing them can never be an easy experience and it will bring grief, confusion, loneliness and a host of other emotions. At this time more than ever, it is important that they do not feel alone. It is important that they know that their father will be missed and that people care about them.
One way this can be done is to send condolence messages in the form of a sympathy card. A problem lies however, in finding or writing something on the card that would not come across as insensitive or annoying to the bereaved. Another problem is finding messages that aren't too cliche and have not been overused so as not to come across as impersonal and insensitive 
A big part of solving these issues depends on your relationship with the bereaved. Your familiarity with them dictates how personal you need to get with the condolence message and will give you better insight on what is likely to offend the bereaved as opposed to not. 
If you are not close to the bereaved therefore, it is recommended that you go a more general route.
In this article, we shall talk about both general and personal sympathy card messages for loss of a father so that you can choose which is best.
Check out our related article on sympathy messages for loss of a mother and; Another article on things to say to a person who lost their grandma.
4 Things to Write to Someone Who Lost Their Father.
1. Offer your sympathies
This is the most general and popular type of sympathy card message for the loss of a father. Simply saying to a person that you are sorry that their father died might not look like much, but it tells the person that you cared enough about what they were going through to express sympathy.
Some sympathy quotes for loss of father that you can write under this include:
More words of sympathy for the loss of a loved one.
2. Offer to be there for them
As mentioned earlier, people who just lost their fathers tend to feel vulnerable and alone. You can therefore let them know that this is not the case by writing that you will be there for them on a sympathy card.
You can offer to be a listening ear, a mere presence that they can draw strength from or even physical help around the house as they go through this difficult time.
Some sympathy sayings for loss of a father that fall under here include:
3. Acknowledge that they are in pain
Our fathers are one of the few people that we reach out to when we need to be centered in life. They are our pillars and so much more. Losing such a strong presence in our lives usually comes with emotions and the general consensus in this era is that these emotions should be acknowledged.
This means that even if you say things like, "You will heal with time" or "try to stay strong" with the best of intentions, it might come across as insensitive.
Unless you know them better, it is best to recognize that they are in pain and rightfully so.
Some comforting words for the loss of a father that fall under this include:
4. Remind them how good their father was
Reminding the bereaved of the good works of their father as well as the fun experiences that you had with him will serve to remind the bereaved that their father was loved by other people and will likely make them feel better during this very difficult time.
Consider saying sympathy messages like:
This is arguably the most personal topic to talk about when it comes to sympathy messages and it works best when you have had a personal experience with the father.
5 Things to remember when sending the card
1. Personal is preferred
As much as you are allowed to buy a ready made sympathy card, it is more thoughtful to send a personal one. You can therefore buy a blank card and write a personal sympathy note or you can get a ready made one and add a personal touch to it.
2. Email vs Physical
Physical cards are usually preferred to eCards sent via email or other electronic forms because it shows that more effort was put in. If you are far away but not too far that you cannot send a card via post, it would mean a lot if you posted the sympathy card. You however should send your sympathies via another method if the mail might take some time to reach the bereaved just so they know you are thinking of them.
If you are quite far, then it is permissible to use email.
These are just general tips and if you know the person well enough to know that they would not mind an email then by all means, go for it.
3. Send as soon as possible
Sympathy messages are best sent within two weeks at the most from the date of the incident but you should endeavor to send them as soon as possible. For people closer to the bereaved, one week is best.
So even as you agonize over the words to send, be sure to send them as soon as you can.
4. Include a gift (optional)
While not necessary, sending a gift along with the card adds a layer of care to the gesture and would make the person feel more appreciated. Just a small token to show that they are indeed in your thoughts and prayers.
Here are some gift ideas for the loss of a father and also some ideas for the loss of a grandfather.
5. Try to be concise
When sending sympathy wishes for the loss of a father, it is best to keep it brief and concise so that the main message you would like to convey is not lost in the text. It is best if you do not exceed four lines which should not be overly long on their own.
3 Tips on what to do when someone's father died.
1. Offer your help
These are very difficult times for the bereaved and they would understandably be very busy or even disoriented. You can offer to help them out with certain things to alleviate their burdens.
You could for instance offer to help plan the funeral just don't offer on the first day you see them because it might come across as insensitive. You could also offer to help with house chores and other errands and if you are a colleague, you could offer to take on some of their work to reduce the work that will await them when they return.
2. Engage with them
People generally don't like to talk about sad events which is why we have the tendency of moving on to happier topics when we talk to the bereaved. They pick up on this and try to limit talking about how they feel so as not to come across as depressing.
This is wrong. The bereaved are the ones grieving so they should not have to pander to our feelings as well.
It is therefore important that when you talk to the bereaved, you leave room for them to feel comfortable talking about how they feel about the whole situation.
Another way to engage them is to invite them to dinners and parties so that they can recover from the grief faster. Even simple gestures like commenting on their posts on social media can go a long way in reducing any loneliness they might feel.
3. Check in on them at important dates
There are days when the bereaved will miss their father more on account of those days having some sort of significance to their father. Days such as their father's birthday, fathers day and the date of the burial.
On these days it is important to remember that grief does not just disappear after some time. It is a recurring state that fluctuates. If you share a personal relationship with the bereaved or had shared one with their father, you can reach out to them on those days to see how they are doing. They will most likely feel better knowing that their father has not been forgotten.
Frequently Asked Questions
1. What do you say when someone's father dies?
2. What is a good sympathy message?
3. What can I say instead of sorry for your loss?
Here are more things to say instead of "sorry for your loss".
Conclusion
The sympathy messages provided can be treated as samples which you can variate by including names and other personal details to make it more specific. They can also serve as an inspiration for a more personal message if you feel so led.
It is important to remember that while some fathers were good, others could have done better.   This however does not automatically mean that the bereaved won't miss them. You can't know that for sure so do not assume and end up saying something that ticks them off. If unsure of their true feelings on the matter, start with a general sympathy message and then let them take the lead.
ESTIMATED TIME DESIGNING AND UPLOADING THIS ARTICLE
ESTIMATED TIME RESEARCHING AND WRITING THIS ARTICLE