What to Say Instead of "Sorry for Your Loss" - 13 Alternatives to Sorry for Your Loss.
WhatToGetMy Instructional Article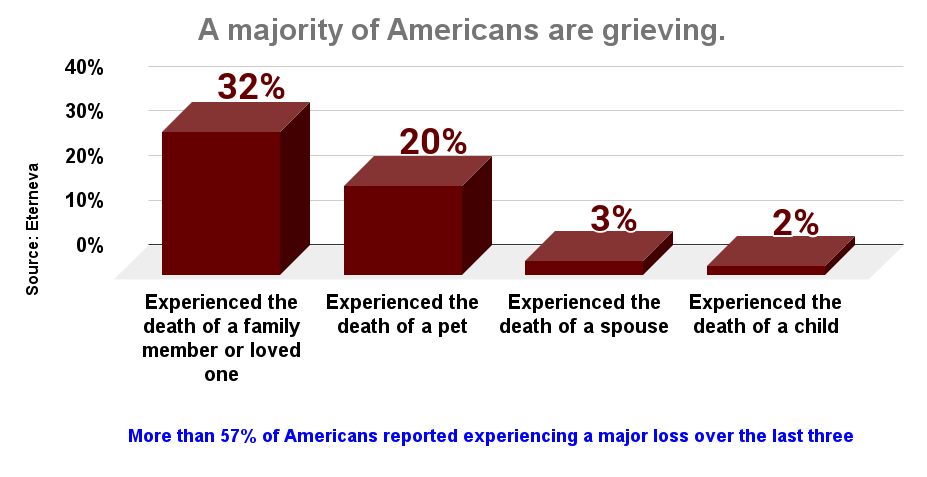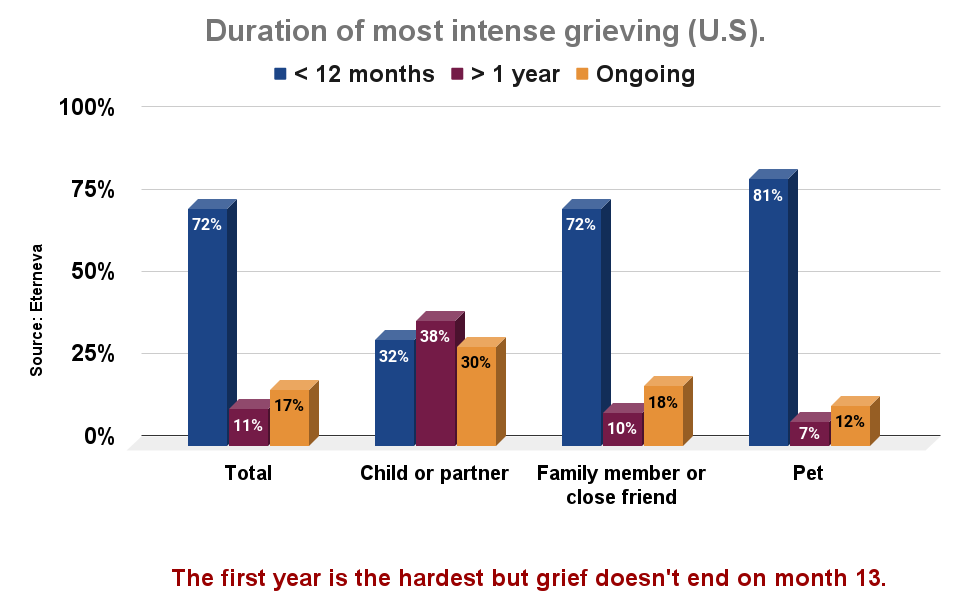 According to a survey seen on Eterneva, as much as 57% of Americans are grieving, with 72% of that number reporting feeling the grief the most in the first year. This doesn't of course mean that somehow the pain disappears magically after a year. Pain as a result of the loss of a loved one never really goes away. The scars may heal, but the void created by the loss would remain.
And this is why grief is the one time where we find ourselves at a loss for words. Even when we are not the ones directly affected, the pain of the ones affected leaves us numb and speechless. We never know if the overused phrases of condolence such as "I am truly sorry for your loss" or "I am deeply sorry for your loss" are ever enough to convey our condolences or make the affected person feel any less pain than they already do.
These overused phrases of condolence sometimes are the only words you need to say to a friend, loved one, and/or acquaintance to condole or sympathize with them. Understandably though, sometimes, you may feel that more needs to be said. You may be looking for what to say other than sorry for your loss. We will help you out in this article with what to say instead of "sorry for your loss" when trying to console someone for their loss.
You may like these related grieve articles – Gifts for grieving widow and Memorial gifts for loss of a child.
What To Say Instead Of "Sorry For Your Loss" – Alternatives to sorry for your loss.
Knowing how to say your condolences with the right words and at the right time is important in having the desired effect of consoling the bereaved.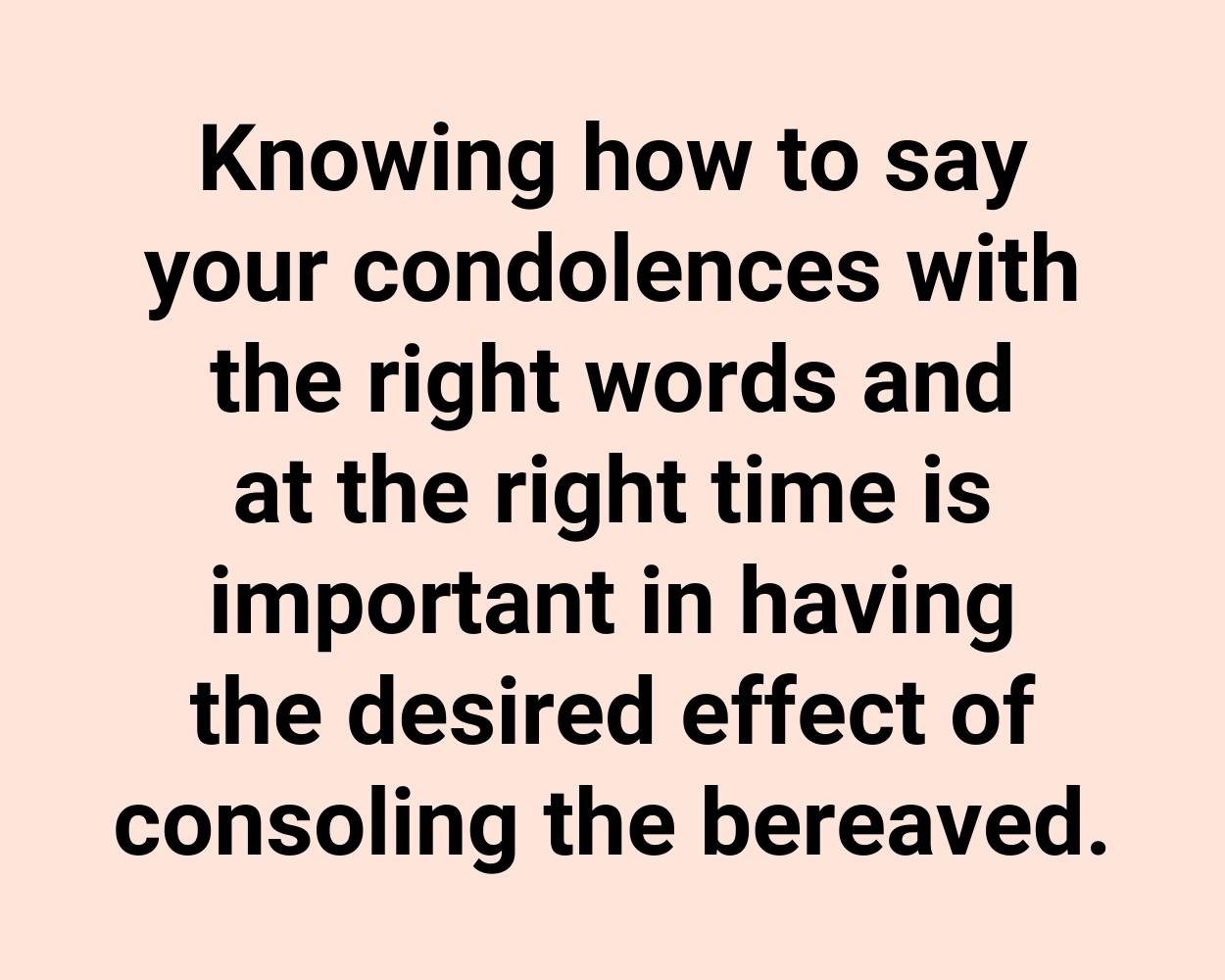 We have listed some helpful alternatives to sorry for your loss depending on your relationship with the person involved.
How to tell someone (an acquaintance) sorry about a death.
When it comes to an acquaintance, the words  "I'm very sorry for your loss" would usually be enough because you do not know them well enough. If you however want to do things differently and not say this same line used by everyone, you can settle for any of these appropriate alternatives to say sorry when someone dies.
1. Accept my deepest condolences for your loss.
This is a simple yet profound message that would convey your condolences to the bereaved. This is a great alternative to settle for when you are not close with the bereaved.
2. Praying for strength and comfort for you and your family at this time.
This one is a little tricky to use. Be sure that the person is a religious person before using it because if they are not religious, they may find the use of the word "praying" offensive or they may not appreciate it.
3. I cannot begin to imagine how you feel right now. All I can say is I am wishing you the strength and fortitude to bear your loss.
These words show genuineness and sincerity. It tells the bereaved that you are not trying to put on a show or pretend. They will appreciate the sincerity and heartfelt condolence conveyed by these words.
4. Words cannot adequately convey how deeply sorry I am for your loss. Please take heart.
Sincere, yet heartfelt. It is another great alternative to "sorry for your loss".
How to say sorry for your loss to a friend.
Death/loss is devastating for anyone and we tend to feel it, even more, when the person who has lost someone is a dear friend that we share so many good memories and times. In such times, we wish we can take on their pain or understand a fraction of what they are going through.
5. My thoughts are with you in these trying times.
When people are grieving, it is always heartwarming to hear these words. It tells your friend that you are thinking about them.
6. You're not alone at this time. Whenever you need me and whatever assistance you need, I am here for you.
In times of sorrow and sadness, no one wants to be alone. It would mean the world to your friend to hear these reassuring words that you are standing with them and are always available to assist them.
7. My dearest friend it breaks my heart to see this happening to you and I wish I can carry this grief and burden for you.
This would make them cry some more but crying is a necessary part of the grieving process. And once they start to cry, give them a hug and a shoulder to cry on. They would appreciate this very much.
8. I know no amount of words can replace your loss. Accept my deepest condolences for your loss and a big hug from me.
And this is nothing but the truth because until we are directly affected by loss, we cannot feel a fraction of what the person who is going through the loss is feeling. And when you show your friend that you are not pretending but offering what you can offer, they would be grateful.
9. I want to be there for you this time my dearest friend. Please do not hesitate to let me know how I can help you at any time and on any day.
Any friend's heart will be warmed and deeply moved by these words. It will gladden their heart to know that they can count on you and lean on you in their time of grief.
10. Your __________ (here insert the person who they lost) was a wonderful man/woman who made a significant impact and positively affected the people around him/her. Take solace in the fact that his/her legacy continues to live on in their hearts.
These are words of encouragement that will uplift your friend's spirit and give them something to stay positive about amid the pain.
Loss of family member, what to say.
The loss of a family member stings differently because it is so close to us. We feel it more. And in such painful times, you can console your grieving family member(s) with these words instead of "sorry for your loss":
11. I never understand why wonderful people like _________ (insert name of the departed here) have to leave us so soon. But I am comforted in knowing that his/her life and memories of what they did for us while alive will continue to live on.
Another great upliftment and encouragement to your loved one that the memory of the departed will continue to live on.
12. You don't have to carry this pain alone. I am here for you and with you every step of the way. I want to hurt when you hurt, cry when you cry and feel it all with you.
These super-sweet words of consolation will bring tears to your loved one's face. It would mean the world to them that you want to be there for them in this way. Tell your family member/loved one that you want to work the journey of the grieving process with them with these sweet words of condolence.
13. Silence.
Sometimes silence works best, especially if words do not seem appropriate at the time and you do not know exactly what to say. Just sitting with your loved one at this time and hugging them or whatever other form of physical contact will help them would mean the world to them rather than saying a few words or two. Your silence and just being there speaks volumes in such situations and tells them that you are there for them and feel their pain.
Check out this related gift article on Sympathy gifts for loss of grandfather.
The 3 best ways to say sorry for your loss.
To be able to say "sorry for your loss" or any of the other 13 alternatives listed in this article well, it is important to bear the following in mind.
1. Timing is everything.
When it comes to expressing condolence when someone dies, it is important to be very perceptive and intuitive. The time immediately after the passing away of the person may not always be the best time to express condolence because the person is still reeling from the shock of the loss and would not be in the right frame of mind to start processing what anyone is saying. In such circumstances, silence is best. It is better to be there for the person and watch over them as well so that they don't fall into any harm as a result of shock.
2. Your relationship with the person should determine what you say.
If you are not close to the person, the time for expressing condolence is not the time to want to start trying to be friends with the person. They are in mourning and would not be in the frame of mind to understand your gesture of friendship. And so, the best thing is to say any of the alternative words listed in the section on acquaintance, and move right along. Remember they have close friends and family who would do the rest.
If you are a friend, while it is important to be there for your friend, also understand that the family will need time alone to get closure and grieve for the loss of their loved ones. Therefore, spend time with your friend but be perceptive enough to know when to take your leave and give the family some alone time.
3. Help out with other things the best way you can.
Sometimes, your action more than your words is what tells the bereaved that you feel their hurt and want to be there for them. So for instance, if the bereaved have dependents that they have to look after, you can offer to help them out with it because chances are that they are not in the frame of mind to pay as close attention to them as they would.
Of course, if family members are already doing this you don't have to hijack it. Let them handle it. You can ask them for any other chores or things you can help out with. Helping out with chores and other things is one of the best gifts you can give someone who has lost someone. It is usually one of the best ways to say sorry for your loss.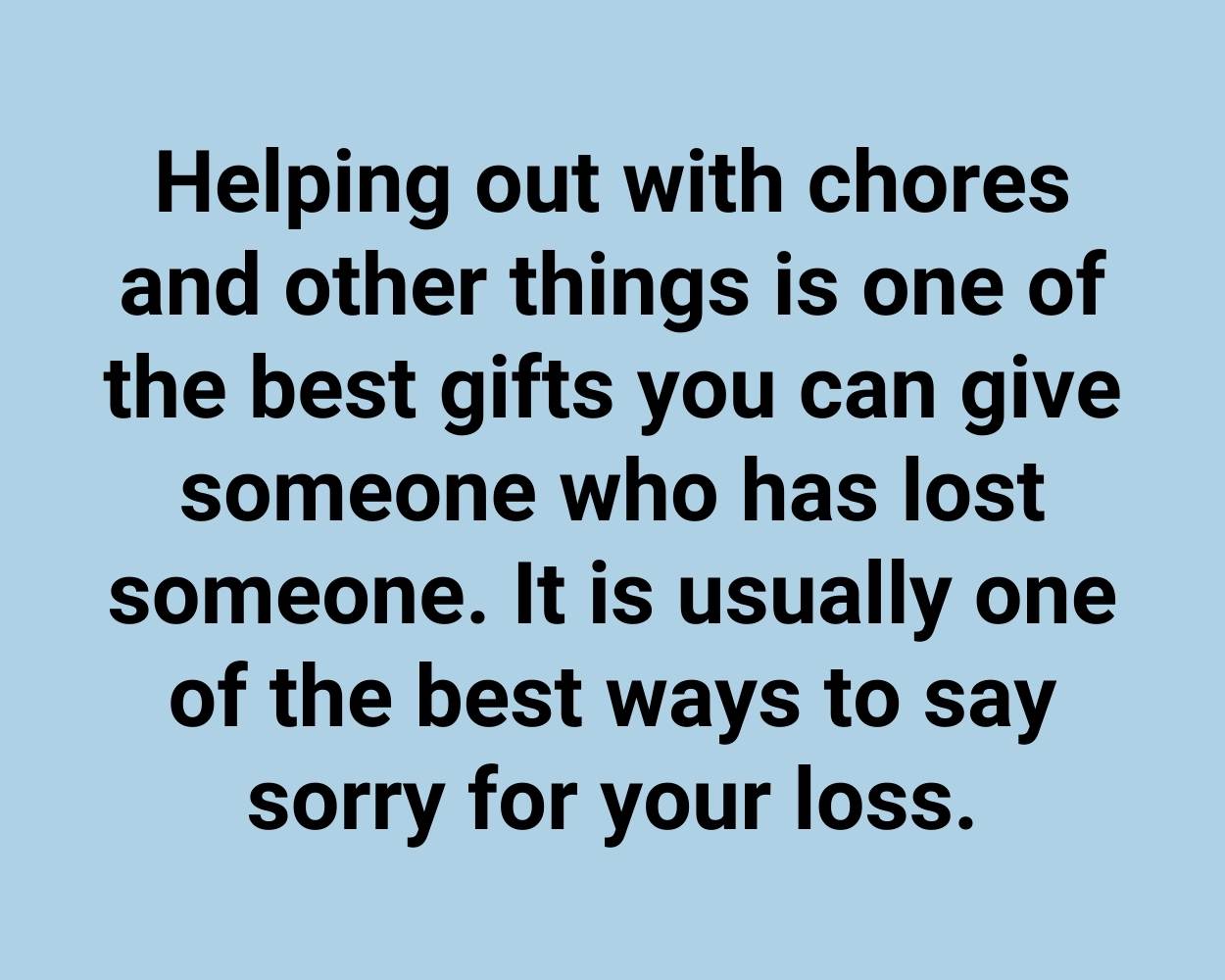 You may also like Sympathy gifts for loss of grandmother.
Frequently asked questions.
1. How to tell someone sorry for their loss?
Take note of the 3 factors listed in the last section of this article. It will guide you on how best to tell someone sorry for their loss.
2. How to say sorry when someone dies?
There are no hard and fast rules on how to say your condolences. Timing is important. Chose the right time when it is appropriate to do so and make sure to say words that reflect the type of relationship you have with the bereaved. And if you are looking for alternatives of what to say instead of "sorry for your loss", then you can pick out from our list of 13 great alternatives.
3. Death in the family what to say?
Check out our section on how to say sorry for the death of a family member, for ideas of what you can say.
You may also like this related article on Sympathy gift ideas for loss of father.
4. How do you express condolences?
You can express your condolence by either verbalizing them through words or by your actions. Such actions include helping out the bereaved while they are in the process of grieving their beloved.
5. What is the best condolence message?
There isn't one best condolence message. Every condolence message passed at the right time and in the right circumstance is the best condolence message for the recipient.
6. What is another way to say sorry for your loss?
All the 13 words listed in this article are great alternative ways to saying sorry for your loss.
Conclusion.
Loss and grief are emotions that overwhelm even the strongest of us. And in such times, using the right phrase of condolence will make the world of difference to the bereaved. Take note of the timing and your relationship with the bereaved in conveying any of the 13 words of condolence listed in this article. And remember that sometimes, silence works best. Also remember that at other times, the best condolence you can give is to help out the bereaved with practical things like chores.
ESTIMATED TIME DESIGNING AND UPLOADING THIS ARTICLE
ESTIMATED TIME RESEARCHING AND WRITING THIS ARTICLE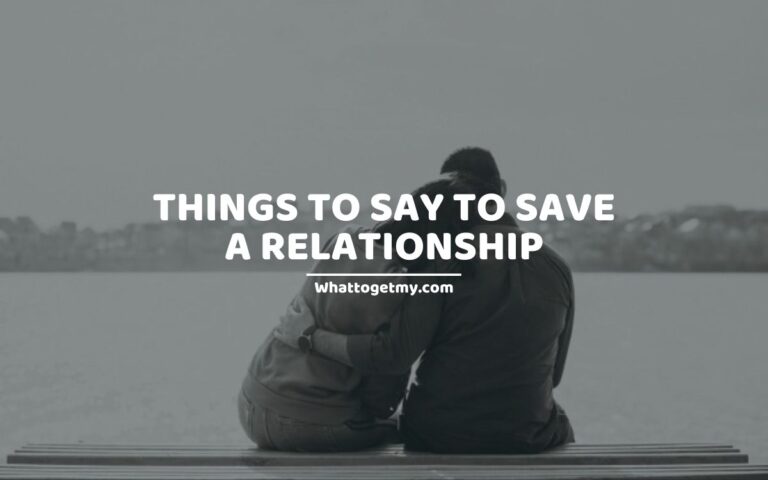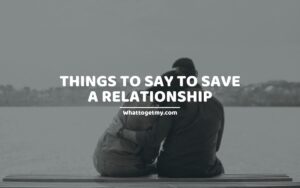 11 Things to Say to Save a Relationship
Sometimes we can feel a relationship slipping away from our fingers as we watch helplessly. We look at our partners knowing that we don't want them to leave but feel so powerless to stop them from doing so. But feeling powerless and being powerless is
Read More »