What to Do for Someone Who Had a Miscarriage: 15 Ways to Support Someone Who Had a Miscarriage
WhatToGetMy Instructional Article
WHAT TO DO FOR SOMEONE WHO HAD A MISCARRIAGE
1. BRING THEM COMFORT FOOD
The one way that you can comfort someone who had a miscarriage is through food. Not only is the action of food bringing considerate and caring – albeit traditional in some parts of the world, but miscarriages are also a physical trauma that depletes the body and they will need food to replenish themselves and build up strength and energy. Bringing someone warm home-cooked meals after they have had a miscarriage is a great way to support someone who had a miscarriage.
2. TELL THEM IT IS NOT THEIR FAULT
Research shows that as women get older, their chances of miscarriage get higher and older women have up to a 27% chance of miscarrying a pregnancy when they are 45 years old or older.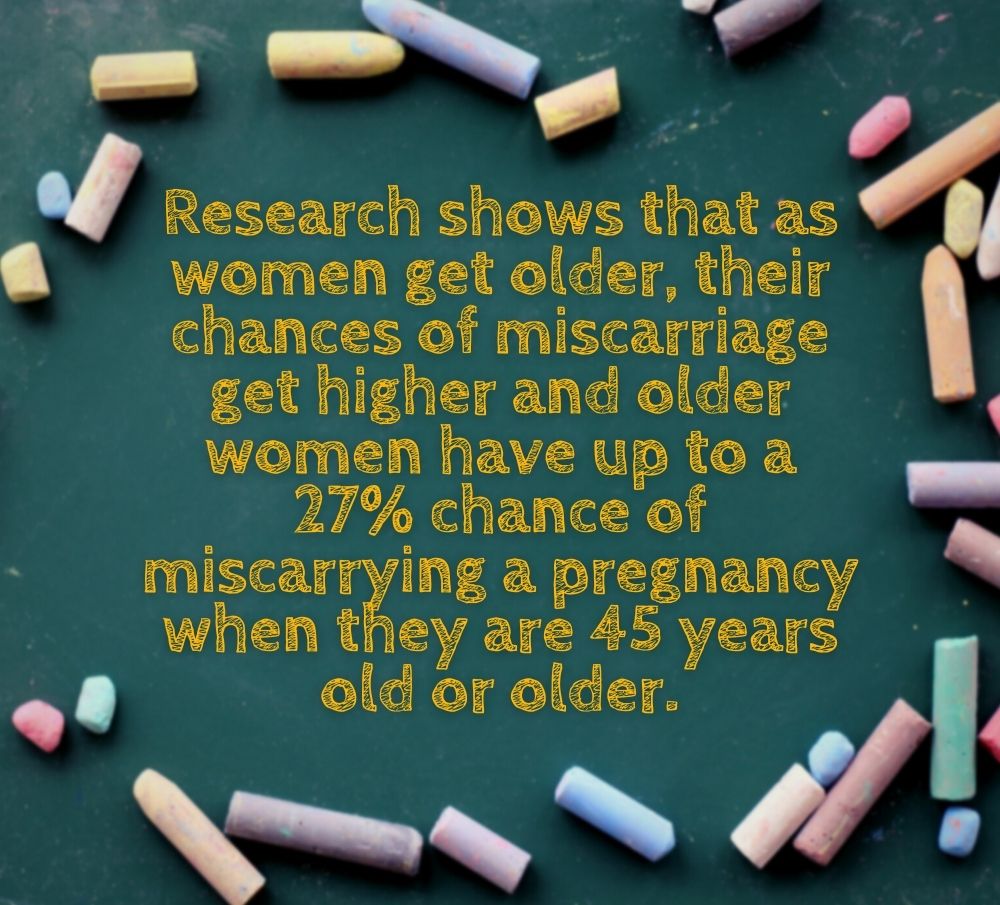 In these circumstances, women tend to blame themselves for miscarrying because they should have "known better" "done better" "done more" and so on. It is very easy for grieving women to be filled with guilt and when it is up to you to  console someone who had a miscarriage, you should always point out that they did everything that they could have and assure them that it is not their fault that the pregnancy didn't carry to term. It is these words of affirmation and assurance that go a long way when trying to comfort someone after they have had a miscarriage.
Miscarriage is Common Especially as Women Get Older. Source: www.kff.org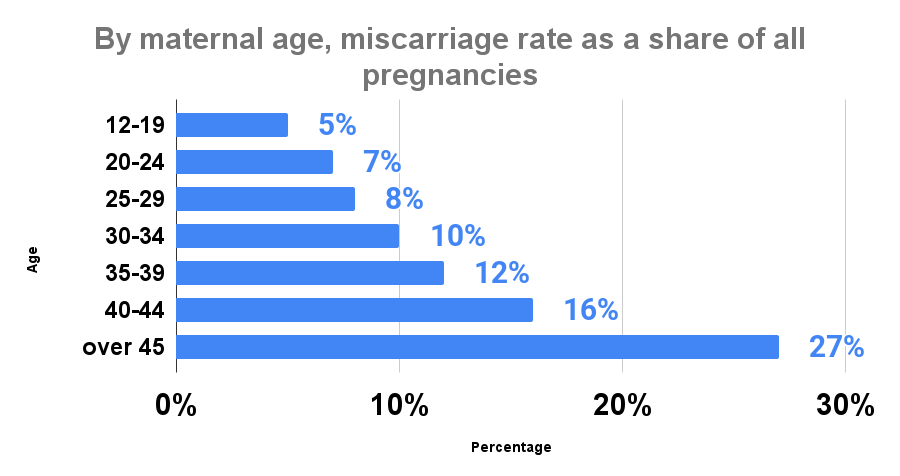 3. USE THEIR BABY'S NAME IF THEY DO
It is polite and appropriate to use the baby's name if and  only if your friend who suffered a miscarriage uses it to refer to their angel baby. Depending on how far along the pregnancy was prior to the miscarriage, some people will have already picked out a name for their child, and if during a conversation they refer to their baby with the name they picked out, follow suit and use it, too. It will make them feel validated for feeling the loss of a person they never got to meet. Names are very powerful and significant for human beings. They help us identify ourselves and each other, they help make us feel real and special and unique. Using the baby's name  might be a coping mechanism – a way of humanizing the baby they never got to meet.
Risk of Miscarriage by Pregnancy Week. Source: Expectingscience.com
4. DO NOT MAKE "AT LEAST" COMMENTS
When you find yourself giving advice on miscarriage or simply talking about miscarriage to someone who just had a miscarriage, please refrain from making "at least" comments – things like "at least they are with the angels now." "at least you didn't get to see them, that would have hurt more." "at least you got to hold them for a while…" although your comments and statements might be well-meaning, they are unnecessary and they invalidate your friend's grief because it sounds like you are telling them that they should be grateful for whatever deal they got instead of being sad about it. If you find yourself scrambling for words to say to someone who just had a miscarriage, here are a few words to say instead of sorry for your loss.
5. VALIDATE THEIR LOSS, UNDERSTAND THEIR GRIEF
A great way to support a woman after a miscarriage  or someone who just had a miscarriage is to validate their loss and understand their grief. This means that you acknowledge their feelings even if they do not make sense to you. The thing about grief is that it comes in waves, some days they will be seemingly okay and other days they will break down and mourn the loss of their baby all over. As someone who is supporting a person that is undergoing immense grief, you should be prepared for their mood swings and always be there for them.
6. DO NOT STAY QUIET OR AWAY
You may think that the best thing to do for a miscarriage survivor is to give them space and stay away. However, the truth is unless they ask for some space, you should never stay away – or be quiet as this will feel like you are abandoning them in their time of need. People who are going through a miscarriage need support and your presence and words of affection and condolences help greatly with getting them through the day. So be sure to be present for your friend who is going through a miscarriage trauma.
7. AVOID CLICHE SAYINGS
When you are offering your miscarriage condolences to your friends, refrain from using cliche phrases. For example "God loved them the most" "it wasn't meant to be right now" "you will be okay in time" and so on. Again, although you may be saying these things with pure and good intentions, there is a time and place for everything and it is highly inappropriate for you to say this to your friend who has just had a miscarriage and is trying to make sense of it the magnitude of it all.
8. RESPECT THEIR BOUNDARIES, GIVE THEM SPACE IF/WHEN THEY ASK FOR IT
Another thing you can do to extend sympathy for a miscarriage is to respect people's boundaries and privacy. Sometimes, a family will need time to themselves to process their loss and when they ask for privacy, it is your responsibility to respect it. You may check up on them via the phone or text messages, but if they ask you to stop doing that, too – respect it and do as you are told.
9. OFFER TO TAKE CARE OF ERRANDS
If you are still wondering what to do for someone who had a miscarriage that will have an impact on them, then acts of service might be the thing for you to give as early miscarriage support. Offer to take care of chores and to run other errands around the house for your friend who has just gone through a miscarriage. Pick up some groceries for them, stock their fridges and pantries, clean around their house, and so on. But remember to only do this with their approval or permission.
10. CHECK UP ON THEM REGULARLY
Another great way on how to help someone who had a miscarriage is by constantly checking up on them. You do not have to go visit them every day in person but make sure you call and text as much as you can to make sure they know you are there for them and that they are not alone.
11. ASK THEM WHAT THEY NEED
Another thing that you can do for a friend who miscarried is to ask them what they need. It is usually easier to be there for people when you know how they want you to be there for them. Do they want your presence? Do they need your assistance? Or are your words enough to get them through the days? Whatever they tell you they need, provide for them if it is in the realm of possibility for you.
12. SEND THEM FLOWERS OR A GIFT
If you are trying to help a friend through a miscarriage, then a bouquet of flowers is just what you need to let your friend know you are thinking of them during these dark times. However, you are not limited to flowers alone when sending a gift to someone in the hospital, here are a few more ideas on what to send to the hospital instead of flowers.
Sending memorial gifts for the loss of a child can be quite a hard thing to do but you can always make your gift special and personal therefore making sure that your friends know that you feel their pain and understand what they are going through.
13. DO NOT BRING UP FUTURE BABIES
The best way on how to support a friend's miscarriage is to refrain from talking about any future babies that they may have. Do not say things such as "you can always try again" "the next one will stick around" "you are young, you will have another" and so on. This makes it seem as though the loss is not a big deal because the other person can simply just get pregnant again and everything will be alright. The truth is, even if the person who suffered a miscarriage decides to have children in the future, it will not be to replace the child they lost. Most people who have gone through a miscarriage will always remember their angel baby for the rest of their lives.
14. HELP THEM FIND SUPPORT IF/WHEN THEY NEED IT
It is important to find help for people that have had a miscarriage because often they will need grief counseling or support groups with other people who have gone through a similar situation. Sometimes it helps to talk to a specialist or a group of people who know exactly what you are going through because they went through it, too. If you have reason to believe that your friend who suffered a miscarriage is spiraling deep down into a grief hole, seek psychological and mental health care for them before it is too late. You can even offer to go with them on their first session to support them.
15. GIVE THEM TIME
As with all things, time does heal all wounds. Perhaps the best thing to do for a friend who had a miscarriage is to give them time to process what has happened to them and to begin healing from their loss in their own time and at their own pace. You can never hurry the healing process, but sooner or later, we all heal – even from the things we didn't think we had the strength to heal and come back from. Just give them time, they will get there.
FREQUENTLY ASKED QUESTIONS
1. My friend miscarried and I am pregnant, what should I do?
If you ever find yourself in a situation where you are pregnant while your friend has suffered through a miscarriage, know that it is okay for you to still show up and be there for your friend when they need you. Do not isolate yourself because you think they might think you are "rubbing your pregnancy in their face" – which as valid a thought as it may be, unless they come out and tell you that your pregnancy makes them uncomfortable – you can rightly assume that they are okay with you being pregnant. It is possible for people to feel a great loss and still want others to be happy with the thing that would have made them happy, too. And a true friend would understand this. Be there for your friend whenever you can, she needs you.
2. What to do if someone is having a miscarriage?
The first thing you do when you notice anything unusual with the pregnancy is to either drive the patient to the hospital if you are able to or call the ambulance if you cannot drive them to the hospital. Call their family and friends to let them know what is happening once you get to the hospital. From then on, let the doctors do their job and be there for them when they need you.
CONCLUSION
In conclusion, this article has given you 15 ideas on what to do for someone who has had a miscarriage by listing how to help someone who had a miscarriage, ways to help someone after a miscarriage, and suggesting support groups for someone after a miscarriage.
Miscarriages are common and the loss of an unborn baby should be treated like any other loss that shatters and triggers human emotions. When you know someone who has gone through a miscarriage, it is important to take care of them, look after them, and when necessary seek help for them.
ESTIMATED TIME DESIGNING AND UPLOADING THIS ARTICLE
ESTIMATED TIME RESEARCHING AND WRITING THIS ARTICLE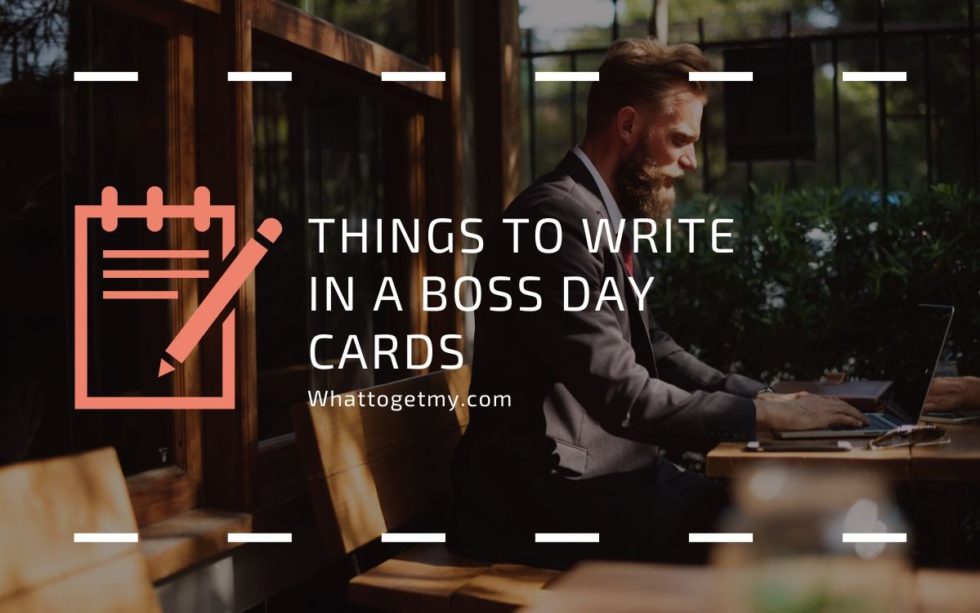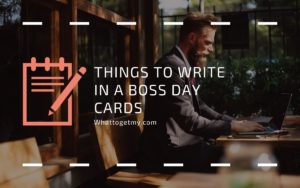 5 Things to Write in a Boss Day Card
Things to Write in a Boss Day Card WhatToGetMy Instructional Article Everybody around you is running around the office all hyped up. They are constantly talking about celebrating boss's day. You can hear many other employees discussing and debating different types of gifts, cards and
Read More »