Unofficial relationships are tricky because you never know how to act towards each other when big holidays or events roll around. Do you get them a gift? Will they read too much into it? Too little?
Of course, if you are a caring person, you will want to get your almost but not really relationship person a birthday gift, so what are the best gift ideas for an unofficial relationship that won't be misinterpreted or make things awkward between the two of you
Read this article if you would like to know what kinds of gifts you can get for your unofficial partner for their birthday.
Before you go and start buying gifts for your unofficial partner, you have to consider the following:
SET THE TONE
The kind of gift you are going to buy will be highly dependent on what kind of relationship you have with them. Is it playful? Then a lot of sarcastic gifts will be well received. Knowing what tone your relationship carries will make it easier for you to find an appropriate gift for your unofficial partner.
EMPHASIZE GIFT PURPOSE
Just so they are clear on why you are getting them a thoughtful gift, emphasize the reason why you are getting them a gift – it is their birthday and that is why you are getting them a gift.
DO NOT GET THEM ANYTHING THAT SUGGESTS YOU LOVE THEM
Even if you may be in a space where you feel you are ready to upgrade your relationship, do not do it on their birthday because not only will you be taking away the spotlight from them, you will also be telling them through an item instead of having a conversation about whether or not you are both on the same page and would like to make your relationship official.
HAVE FUN CHOOSING YOUR GIFT
Above all else, have fun with your gift selection. Choose gifts that will bring joy to your unofficial partner – and gifts that you wouldn't mind getting from them yourself. And with that said, here is a list of birthday gifts you can get for your unofficial relationship:
As an Amazon Associate we earn from qualifying purchases. We may earn a small commission for our endorsement, recommendation, testimonial and/or link to any products or services from this website. Thank you, your qualifying purchases help support our work in bringing you real daily gift ideas.
Quick Overview: Gifts for Unofficial Relationship
1. 

THROW BLANKET
A throw blanket is one of the best unofficial relationship gifts because it holds no significant meaning and it is a piece of material that can be gifted to anyone irrespective of relationship or lack thereof?
Product Summary: This fleece comes in 16 different solid colors to choose from. It is also made from 100% microfibres which makes it very lightweight but warm and cozy at the same time.
2. 

COFFEE MUG
A coffee mug is a great gift because it is the kind of gift you can give to anyone; friends, family, unofficial partners. It is a safe and yet useful gift.
Product Summary: This mug cup comes in six different colors to choose from and it can hold up to 16 ounces of liquid. It is ceramic and can be hand washed.
3. 

PICNIC BASKET
A picnic basket for two is a great gift for your unofficial girlfriend or boyfriend when you want to let them know you would like to take them out for a picnic on their birthday.
Product Summary: This picnic basket comes with a bottle opener, dinner plates, two wine glasses, and cutlery for two.
4. 

TEDDY BEAR
A giant teddy bear is an ultimate gift for an unofficial girlfriend. It is a sweet gesture and an incredible sort of romantic gift to give them. You may even accompany it with a note that says "substitute cuddle buddy" to top off the gift.
Product Summary: This soft giant teddy bear is 47 inches long and is great for cuddling.
5. 

"WE STILL LIKE EACH OTHER" CARD
This card is a funny and humorous gift for an unofficial relationship that has been going on for quite a while. It is a great gift to give to someone with a good sense of humor or shared humor as you so they do not find it "insensitive" or "offensive"
Product Summary: This greetings card is funny and sarcastic. It has space on the inside where you can write a small personalized message to your person.
6. 

WORLD'S LARGEST GUMMY WORM
This is a great gag gift for your unofficial significant other who has a sweet tooth. This will definitely not weird them out but it will make them laugh.
Product Summary: This gummy worm weighs 48 ounces and it has three flavors; raspberry, blueberry, and cherry.
7. 

FLORIDA MAN COLORING BOOK
This is a great gag gift for an unofficial boyfriend with a great sense of humor. Florida man has become the pinnacle of internet humor due to the many mishaps that Florida man (and sometimes woman) gets himself into that usually make it into the news.
Product Summary: This is a hilarious coloring book that also will relax you.
8. 

ESSENTIAL OIL DIFFUSER
This is a great gift for your non-relationship relationship especially if your partner owns their own living space. This is a great way for them to remember you by every time they diffuse these delicious smelling oils.
Pros.
The oils lightly scent the room so it's not overwhelming to smell

The product is beautifully designed

It is easy to use and automatically turns itself off when the water in the diffuser runs out

Provides quick aromatherapy which is good for the hormones and boots moods
Cons.
It is not durable, most customers complained about the product stopping to work in less than a year after its purchase

It makes a humming noise which some people find annoying
Product Summary: This oil diffuser comes with 10 essential oils that are natural and safe for the environment.
9. 

CAKE
What's a birthday without a birthday cake? This gift is perfect because it does not insinuate anything nor does it intend to unintentionally lead someone on. It is a nice gesture and they will appreciate you for it.
Pros.
It is nicely packaged

It is soft, spongy, and moist

It is delicious

It can be stored for up to 2 days while refrigerated
Cons.
Sometimes the packaging is floppy and the cake may arrive damaged

Some customers complained about the cake being stale and dry

It is smaller than 10"

It may not be the best gift for someone who doesn't like chocolate fudge cake
Product Summary: This 10-inch chocolate fudge cake weighs 4 pounds and 8 ounces. It is freshly baked and shipped the same day so it arrives fresh. The cake is Kosher and made with all-natural ingredients.
FREQUENTLY ASKED QUESTIONS
1. What is a good birthday gift for someone you just started dating?
Navigating around getting a gift for a person you just started seeing can be quite hard especially if you are not sure whether you want to pursue the relationship further or not but you are willing to see where the relationship is going.
2. What is an unofficial relationship?
An unofficial relationship is a relationship that is in between becoming a fully-fledged relationship and the people in it are taking some more time to get to know each other before they decide to put an official label on their relationship, or decide to end it and head their separate ways. The unofficial relationship is a tough spot to be in because you neither know where they stand with the other or what the rules are and it is not a place anyone wants to stay in so long lest you become friends with benefits. Sooner or later, however, the relationship has to be defined and both parties have to eventually be okay with the decision made. The unofficial relationship is an unsustainable type of relationship which has to either be or not be in order to evolve.
CONCLUSION
In conclusion, when you are in an unofficial relationship and your partner has a birthday coming up, it may be quite a difficult task to manage because you do not want them reading too much or too little into the gift that you get them. It is a balancing act between getting them a gift they will appreciate that also does not convey your feelings for them in any obvious way.
ESTIMATED TIME DESIGNING AND UPLOADING THIS ARTICLE
ESTIMATED TIME RESEARCHING AND WRITING THIS ARTICLE
Try our AMAZING GIFT FINDER TOOL! Find GIFTS with 1 CLICK!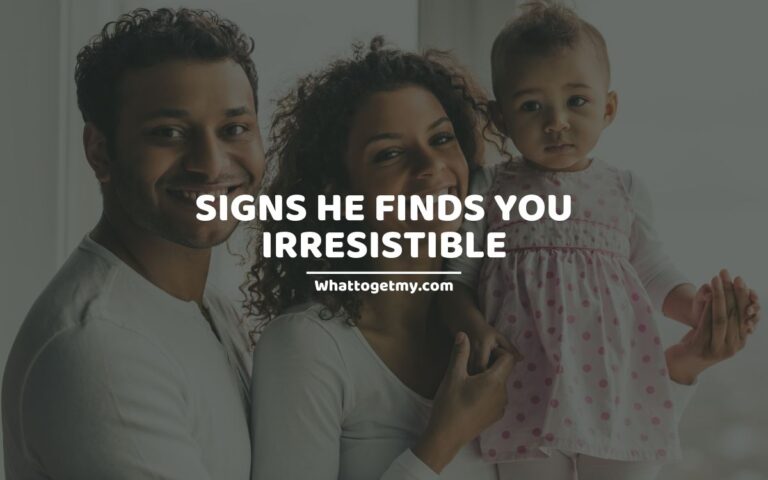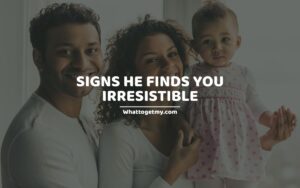 21 Signs He Finds You Irresistible
21 Signs He Finds You Irresistible WhatToGetMy Instructional Article Sometimes it's hard to tell whether a guy is really interested in you or if he is just stringing you along. If you have been wondering whether the guy you have been seeing is really interested
Read More »