For many students, college life is like driving on a highway and hoping that your miracle fuel continues to sustain you until you get back in control of whatever situation you are facing. Care packages are like fuel. No matter how little they are, they are valued. Care packages are answers to prayers that were never actually prayed for. They are a convenient distraction, a good breather, and a mood-weight-lifter. If you are looking for creative package ideas for college students, we've listed some lovely items that will make any colleger happy.
Our gift ideas have been grouped under the following subtopic;
Freshman care package ideas

Funny college care package idea

College goodie box ideas

Halloween care package ideas for college students

Other care package themes
You might also find the following article interesting;
Sending a care package is like making a public announcement about somebody. It is the kind of announcement people don't mind being made about them. Everyone deserves such a spotlight.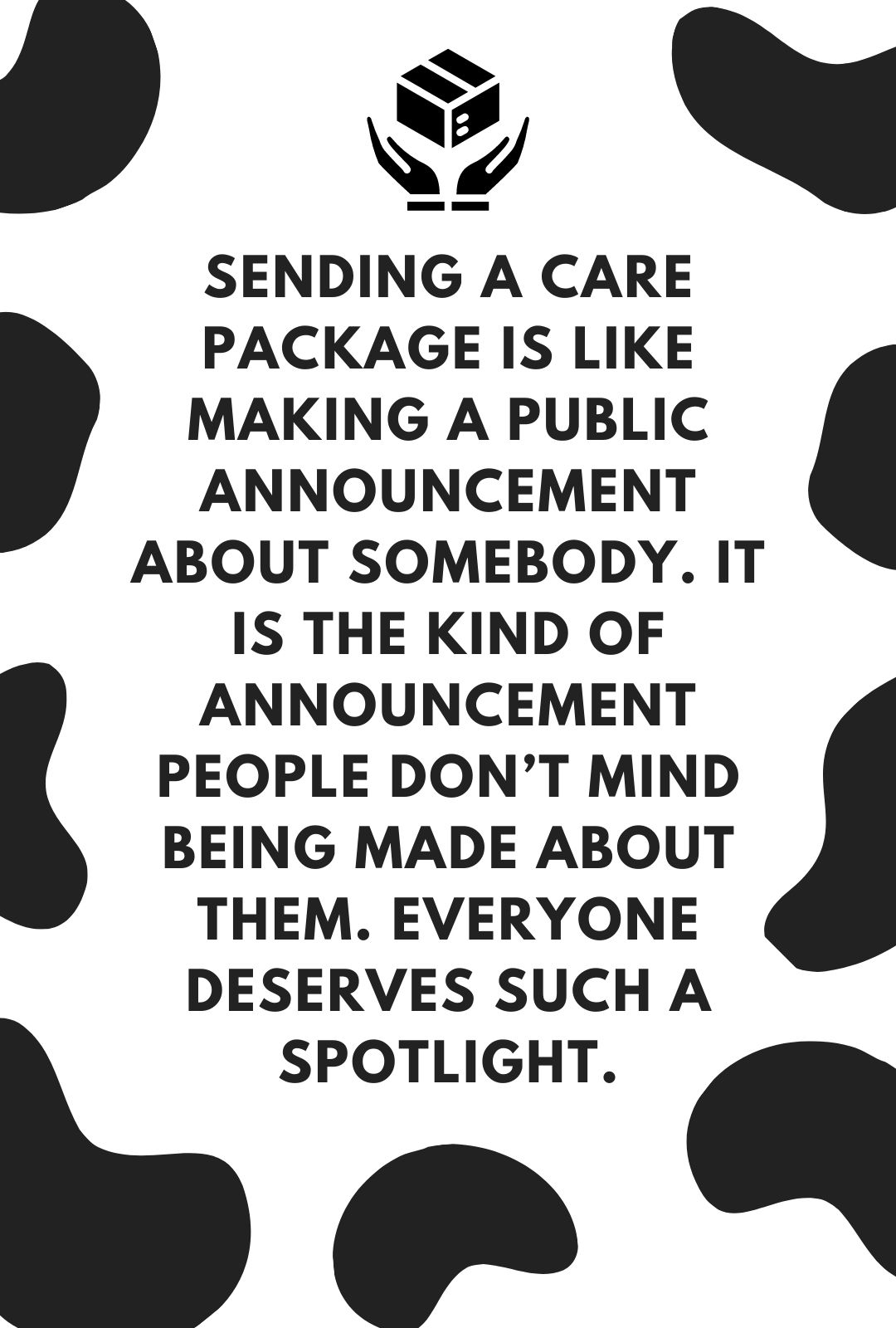 As an Amazon Associate we earn from qualifying purchases. We may earn a small commission for our endorsement, recommendation, testimonial and/or link to any products or services from this website. Thank you, your qualifying purchases help support our work in bringing you real daily gift ideas.
Quick Overview: Care Package Ideas for College Students
FRESHMAN CARE PACKAGE IDEAS
The needs and wants of a freshman are great and quite often, the 'pocket' is small. In this section, we've listed basic items to include in a care package for a freshman student. You might be interested in our Gifts for first-year college students. Here are our off-to-college care package ideas;
1. DOCUMENT ORGANIZERS
Handling important personal documents is unavoidable. With a file organizer like this one, a freshman should be able to store documents properly and orderly. Usually, two of these organizers are good. We chose this zip-up organizer because it does a good job of keeping documents neat. It is also easy to carry and files are readily accessible.
Product summary
This is a handy tool for freshmen and they should have this.
2. 6 PACK SPIRAL RULE NOTEBOOK
It comes without saying that collegers will be doing a lot of writing. A good supply of notebooks is important. This 6 pack spiral 100 sheets rule notebook will surely come in handy for a freshman. These are the best types of notebooks for college students. We chose this particular one because the price is fair.
Product summary
These are great notebooks for college. This is a good bundle.
3. PEN SET
Somehow, we tend to lose pens easily as college students. This may be because we live in a community and share our property (pen) quite often. A freshman needs a good supply of pens and these G-2 pens are nice.
Product summary
This is a nice set. They are great for drawing too. This is a bonus for students that love to draw.
4. HIGHLIGHTER SET
These highlighters are not messy at all. They glow well on any color of text and dry fast on pages. They have very light shades of inks.
Product summary
Having a variety of markers is great. These markers are nice to have.
5. A PAIR OF READING GLASSES
It is no longer news that screens emit lights that could strain the eye and therefore reading glasses are important. This pair of glasses are not only stylish but comfortable and effective as reported by many reviewers. It is worth giving it a try.
Product summary
A freshman still has a long way to go, this pair is a good buy.
6. INSULATED WATER BOTTLE
A sturdy water bottle should be included in your 'freshman care package', it is very important. This Iron Flask Thermo flask is perfect. Water stays chilled or warm for a long while. It will serve on hikes or long trips too.
Product summary
This bottle will be of great value to a freshman.
7. INSPIRATIONAL KEYCHAIN
Everyone needs a good dose of encouragement now and then. You could engrave your words on various items like keychains, and wallet cards to keep your college son or daughter focused and motivated. You could also look for inspirational pieces that speak your mind and there are many options on Amazon. A keychain like this one is a lovely gift.
Product summary
This is a lovely keychain that is worth giving.
8. BREATHABLE ANKLE SOCKS
It's yuk to pile dirty socks but college students don't get to wash their clothes every day. Therefore they need a good amount of socks for a week at least. Stock socks for all weather and occasions. We recommend that you include these breathable ankle socks.
Product summary
The reviews on these socks will convince you better. These socks are nice.
9. BODY CREAM SET
Skin health is important and college students need to have enough supply of body care products that work for them. Since the face is sensitive, we would not recommend any face product, however, If they do not have a particular brand of body cream they stick to, include this set in your care package. It moisturizes well and will last.
Product summary
Anyone can comfortably use this product. It is great!
10. MANICURE SET
With a convenient manicure set like this one, college students can get a clean nail cut whenever and wherever they choose. The set comes in a nice portable leather case and includes 16 nail tools.
Product summary
A nice item to include in a care package for college students.
11. ELASTIC HAIR BANDS
For some reason, elastic bands tend to disappear like certain stationery. They either break or disappear and they are important. Throw in a couple of these bands in your care package for a freshman.
Product summary
Sturdy nice hair bands.
12. MOISTURIZING LIP BALM SET
With this moisturizing lip balm set by Burt's Bees, no more chapped or cracked lips for your child, sibling, or friend who is in college. Thousands of Americans will agree that Burt's Bee lip balms are amazing.
Product summary
This is a good buy. A value for money item.
13. SMALL FIRST AID KIT
We can't always control events like hitting a toe against a hard object, getting cut by sharp objects, getting bruised during some physical activities, working with spiteful knives etcetera. This is why this little guy always comes in handy. This kit has 170 emergency items.
Product summary
This is a very practical and handy item to include in a care package
14. TOILETRY SET
Get your son or brother this 5 piece body care kit. It has been specially formulated for people with sensitive skin and can be used by all skin types. The content is great and the products will last for at least three weeks.
Product summary
It is a convenient body care kit to get for a college student.
15. SNEAKERS
A college student will be needing a lot of comfortable and fashionable shoes because the adventure is much. We must emphasize that paying attention to comfort and style when picking out a shoe for a college student is important. Include Bobs B cute sneakers to the list of sneakers you intend to buy for your daughter or sister at college. This shoe goes with a lot of outfits. For guys, check out Adidas sneakers.
Product summary
Bob's sneakers are cool and comfortable for a college student
16. DISH SET
Settling down in college is stressful enough, your loved one should not have to worry about plates and cups. You do not want them to be eating raw cereal until they shop for dishware. Include a dishware set like this one in their send-off care package. This set is microwave safe and unbreakable. They look presentable too.
Product summary
You would not have to worry about sending this dish set because they are not fragile. They look presentable too.
Making a college student happy is easy. Send care packages that include a lot of helpful items and their favorite things
FUNNY COLLEGE CARE PACKAGE IDEAS
If you are looking for other fun items to include in your care package, here are a couple of them;
17. 3D ANIMAL BOOKMARKS
These screaming little guys are adorable, aren't they? They add so much fun to a person's reading experience (for people with an active imagination). Imagine trying to take a break from reading and pick up a panda bookmark, you might be tempted to replay the Kung Fu Panda movie in your head haha.
Product summary
We think these bookmarks are worth adding to a college care package. They are fun to look at, they are durable and to an extent, effective. They are a lively addition to a college care package too.
18. BREAD PLUSH TOY
If your college son or daughter loves bread or pastries, this bread plush toy is a good way of telling them that you always think of them. It will be a conversational piece for them and their visitors.
Product summary
A friendly cuddly plush for a college student.
19. FUN PAPER CLIPS
Are you looking for nature-al things to include in a college care package? Throw in these colorful nature theme paper clips. They are such a delight to work with. They have been shaped into natural things like animals and fruits.
Product summary
A nice stationery gift
20. PLANT STUDY DESK LAMP
It could come off as a plant in a quick glimpse, right or wrong? It is the aesthetic design for us, it is simply attractive. Imagine how pretty and lively it will look in a room. This little rechargeable LED lamp has a 3-level adjustable brightness option and a pen pocket. It lights up well and the battery life is ok.
Product summary
It's a good lamp to study with. This lamp will also be perfect for a nature-themed care package. A college student will be pleased with this lamp.
21. BLACK PANTHER FLASH DRIVE
This is a lovely gift to include in a care package for college students that love black panther and other animated characters. The flash drive has 64GB memory which is a good storage size.
Product summary
This is a lovely gift for superhero lovers.
22. CARROT STATIONARY CASE/ SUPPLY
If you are making a 'healthy care package' a funny gift to include in the care package is this pretty carrot stationery case and supply. The set includes a silicon case, gel ink pen, pencil, eraser, and a pencil lead refill, all in the form of carrots. Don't let the carrot body make you underestimate the quality of this stationery set. The set is good.
Product summary
This is a creative gift and can work as one item in a natural or vegan-themed care package.
23. ROBOT ALARM CLOCK
Get him a robot friend that makes sure he does not oversleep. This cute robot alarm clock has a silent tick-tock and a great alarm. It uses AAA batteries which are not included in the package.
Product summary
The perfect toy desk gift to include in a care package
24. ANIMAL SLEEP MASK
These animal sleep masks are a fun way of reminding a college student that rest is important. These masks are soft, lightweight, and well-made.
Product summary
Beautiful sleep masks.
COLLEGE GOODIE BOX IDEAS
We understand that it is not easy to pick out a ready-made goodie box online and send them to your loved ones. It would be terrible if they opened up their package to find stale products. Since you will be making this treat care package yourself, here are a couple of delicious snacks that you could consider adding to the box;
25. ORGANIC FRUIT BARS
The reviews on this product are amazing. If you are worried about sending too many candies in your care packages, these Organic Fruit Bars might just be the best substitute.
Product summary
Since the reviews are great, these bars are worth adding to your care package
26. JELLY BEANS
Jelly beans are the perfect lazy snack or reading candy. Knowing how delicious they are, it is quite easy to finish a pack at a go and this is why we recommend this Jelly Belly Jumbo for a college care package. They come in little wrapped sachets to help a person space their snacking. This pack includes 20 flavors of delicious jelly beans and 70 little sachets in the box.
Product summary
These are fresh and tasty jelly beans.
27. LAFFY TAFFY CANDY
Add some Laffy Taffys to your care package, they are one of the best chewy candies out there. You get 145 pieces of fruity yumminess in a jar. Two of these jars should last a month or two for a college student.
Product summary
Candys like this one will make reading enjoyable
28. KIRKLAND NUT BARS
For nut lovers, Kirkland nut bars are a delicious treat. This is probably one of the best nut snacks to include in a care package for a college student. Almond, cashew, and pecan are the products' main ingredients.
Product summary
This is a good pack to include in your goodies box, the price seems fair too. You might also be interested in their jelly beans.
29. OREO MINI CHOCOLATE SANDWICH COOKIES
Don't forget to include the all-time favorite Oreo in your care package. We recommend this 12 pack on-the-go Oreo cookies. The packaging is convenient.
Product summary
The packaging is convenient. The taste is great. This is a good on-the-go snack for college students.
30. WALKER ASSORTED TOFFEES
For aToffee lover, these English toffees might be worth their fancy. This jar contains assorted yummy flavors of addictive toffees. A college student will enjoy each wrap while they burn the night candle.
Product summary
Although some customers have reported receiving stale products, these toffees are great. Hopefully, you don't receive a stale order.
In the event you choose to go for a ready-made goodie box, here are a couple of care packages that might interest you;
31. VARIETY PACK CHIPS
Get this 28 piece variety pack of chips. It contains 3 Lays, 5 Doritos Nacho Cheese, 3 Smartfood, 3 Doritos cool ranch, 5 Cheetos crunchy cheese, 3 Rold Gold original, 3 SunChips harvest, and 3 Cheetos puff cheese.
Product summary
This is a convenient pack.
HALLOWEEN CARE PACKAGE IDEAS FOR COLLEGE STUDENTS
Are you looking for cool halloween gifts, here are a couple of items that should make your list.
32. ZOMBIE PEN HOLDER
People who have ever fantasized about killing zombies will enjoy sticking a pen into this zombie's heart. Weird. The sculpting is worth applauding.
Product summary
This is a cool spooky gift.
33. ANTIQUE SKULL DIARY
This skull diary looks enchanted in a way, great for secrets. It's not something anyone would carelessly pick and open, or would they? This is a 100 sheet/ 200 pages ruled antique diary.
Product summary
This is a dark beautiful Halloween gift for a college student.
34. SUGAR SKULL MOUSE MAT
It's going to be an exciting halloween for a mouse, this mat is gorgeous. Apart from the attractive sugar skull lady graphics on the mat, this mat has a non-slide base and a very smooth surface for increased performance.
Product summary
A cool halloween gift for a college student
35. CLEAVER CLUTCH
She will absolutely slay with this cleaver clutch. It has enough space to store her spoils too.
Product summary
She is ready to slay for halloween.
OTHER CARE PACKAGE IDEAS FOR COLLEGE STUDENTS
1. WINTER CARE PACKAGE
Some items to include in a winter care package for a college student are; warm socks, coffee tins, tea packets, thick robes, cereal boxes, baked pastries, a throw blanket, warm indoor slippers, body balms, a Thermo mug, vitamins, hoodies, wool sweaters, sweat pants, lots of cookies, a memory stick with a dozen movies, chocolates, and a plush toy.
2. SUMMER CARE PACKAGE
In a summer care package, you could throw in fashionable summer hats and caps, sleeveless tops, and shorts, good sunscreen, stylish sunshades, long and short dresses, water can, energy drinks, a portable loudspeaker, sports gear, waist trainers, a playlist of love and sunshine music, nail polish, lip glosses, body mists, and perfumes and stylish purses and wallets.
3. BIRTHDAY CARE PACKAGE
Surprise them with a cool wristwatch, unique stationery set, a camera, stunning figurines, nice shoes or bag, a ticket to a game or show, a gaming device, a thoughtful note, a nice photo, their favorite pastries, spa gifts, and some scented candles 
4. STRESSED STUDENT CARE PACKAGE
Get them relaxed with a good playlist and some movies in a memory stick or hard drive, inspirational stress balls, funny comics, any massage gadgets, bath gifts, a musical box, relaxing pills, workout pamphlets, cookies, bars, and candies, Magazines with topics they love, games and puzzles, and inspirational jewelry.
5. HOMESICK CARE PACKAGE
A photo album of family, friends, and pets, home-baked pastries, motivational notes from the family in love pills, parent's favorite sweater with their scent, family figurines, a paw signed note from favorite pet/s, some dried fruits from the home garden (if you have a garden), comfort snacks and animated toys or gadgets are items to include in a homesick care package for a college student.
6. FINALS CARE PACKAGE
Finals come with a lot of tension and stress. Include energy bars, candies, popcorn, coffee, motivational jewelry and items, alarm clock, a few stationery supply (book maps, highlighter, pens, calculators, and bookmarker), mug, tea set, biscuits, air diffuser,  and letters of prayers, promises, and best wishes.
7. PAMPER CARE PACKAGE
Bath gifts, luxurious towel and robe, perfumes, body cream, face mask, face gadgets, foot massager, scented candles, homemade cookies, favorite magazines, a designer item, and lots of goodies.
8. HOUSE WARMING / DORM CARE PACKAGE
Any of these items; dishware set, air fryer, curtains, air diffuser, microwave, potted flowers, reading lamp, wall arts, pillows, throws, soups, coasters, spice set, and bourbon gifts will add comfort to a college student's new space.
FREQUENTLY ASKED QUESTIONS
1. What do you put in a college care package?
Most care packages for college students include supplies. It could be stationery supplies, body care supplies, goodies, and clothes.
2. What do you put in a college care package for a girl?
Body creams

Body wash

Candies

Tampons

Cookies

Socks

Power bank

Hair Bands

Summer tops and gowns

Sunshades and reading glasses

Cute snickers

Stationery supplies

Hard drive

Novels

Alarm clock

Reading lamp

Sneakers 

Portable speaker

Cute phone pouches

Cereal boxes and many more
CONCLUSION
Making a college student happy is easy. Send care packages that include a lot of helpful items and their favorite things. In this article, we have listed a couple of items a college student will find useful and there are many more care package ideas in our article Gifts for first year college students.
ESTIMATED TIME DESIGNING AND UPLOADING THIS ARTICLE
ESTIMATED TIME RESEARCHING AND WRITING THIS ARTICLE
Try our AMAZING GIFT FINDER TOOL! Find GIFTS with 1 CLICK!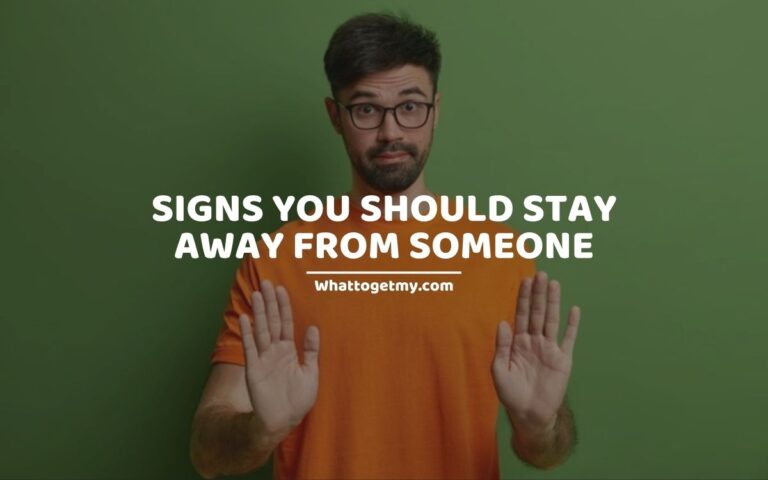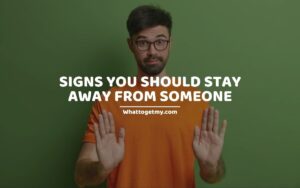 11 Signs You Should Stay Away from Someone
11 Signs You Should Stay Away from Someone WhatToGetMy Instructional Article Toxic or negative people are hazardous to keep up with. You need to know what type of people you should stay away from. Friendship or relationship can be challenging, and it is not easy
Read More »