21 Excuses to Break Up With Someone
WhatToGetMy Instructional Article
Having top excuses to break up with someone can help you quickly end a relationship without much ado. There are many occasions when you wish for a break; some would prefer fake excuses to break up with someone, while others would want valid reasons to break up. It doesn't matter if you love or doesn't love the person you are dating; many things can make you want to break up in a relationship;
The "it's not you, it's me" used in many break up lines is becoming too old and overused; maybe it's time we find you a better line to express yourself better and portray a genuine need for breaking up
Most times, it's wise to be honest and say it as it is. Relationships may end, but that doesn't mean you get to be an enemy to each other. You two could be of good help to each other in the future; this is why being honest during a breakup is necessary. After all, the other person knows the truth and can relate even though it may hurt at the time. Check out these excuses to break up with someone and choose which best suits your situation;
1. I CAN'T BE WITH A CHEAT
Many relationships end because of infidelity; unfaithfulness in a relationship could cause a lot of unwanted conflicts that would destroy the relationship. If you are looking for a reason to break up with someone, finding out that they are cheating is more than enough reason to break up with them. According to a Barclays survey, one in every six people has fought with their partner over 'series infidelity,' and 15% have abandoned their relationship due to the betrayal.
If you are the cheat, you could use the "I need to work on myself" break up an excuse or the age l0ng "It's me, not you" lyrics; this works all the time.
2. I CANT BE WITH SOMEONE WHO HITS ME
If you are violent, the "I need to work on myself" break-up excuse is all the valid reason you need to break up with your partner.
Being with a violent person can be risky and a threat to your life; this reason alone is enough to call off any relationship irrespective of the number of years you two have been together.
3. I JUST CAN'T
Wanting to break up for no reason? This could be the line for you. Many things can make you want to leave a relationship for no reason; you are just tired or feel the person aint the right one for you, or maybe there are many reasons, and you don't think conveying the why would be good; so you need a way not to say why but end the relationship somehow. The "I just can't" is all you need to say to break up with someone for no reason.
4. I NEED TO BE ON MY OWN
Sometimes you feel the need to be on your own without a boyfriend or even girlfriend; this is a valid reason to break up, and anyone who cares about you should understand. The need to be alone could be so you can deal with issues or focus on a project that requires your time.
5. I DON'T TRUST YOU ANYMORE
Trust in a relationship cannot be understated or overlooked. Lack of trust in a relationship is more than enough reason to break up with someone you love or don't love. You may also like what to do after a breakup.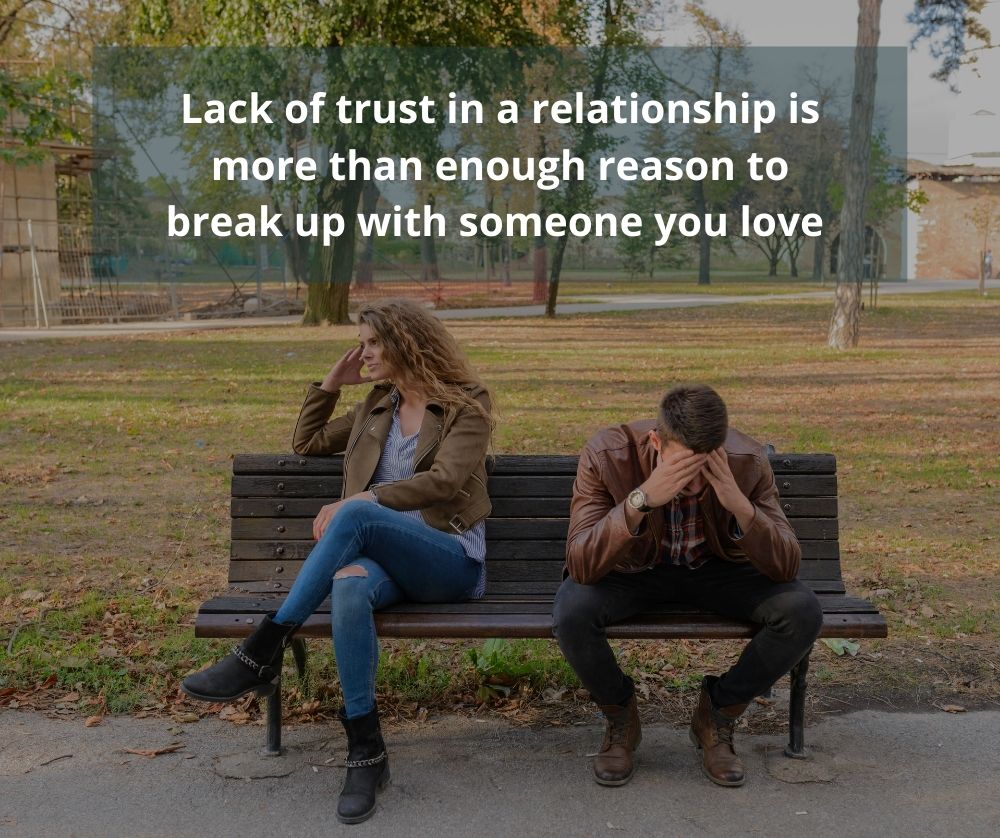 6. I AM IN LOVE WITH SOMEONE ELSE
This is one of the valid reasons to break up; if you are in love with someone else, would it not be best to be with the one you love rather than dying in a relationship with someone you do not love? At first, it may hurt your partner, but in time they would come to understand it's for the best.
7. ITS NOT WORKING
Maybe you are not in love with anyone else, but you just aren't feeling the groove in your present relationship anymore. I am sure your partner feels the same way and may just be waiting for you to say something. Or maybe he doesn't feel anything is wrong and may want you two to keep patching up the relationship. Anyhow, it's your right to want to break up, and this is as good as any reason to break up with someone.
Sooner or later, you would feel the pains of heartbreak or be the heartbreaker itself; the chart below shows a survey to determine if those involved have been dumped before or not. You can read more on the survey here
8. WE ARE NOT SEXUALLY COMPATIBLE
This is a big deal and an excellent reason to break up with your boyfriend or girlfriend; it's also a valid reason for breaking up and should be understood by the other partner. Bobbie Jonas, a holistic health practitioner in Calistoga, California, admits she ignored evident warning signs during her courtship. She recalls about her previous marriage, "I was more interested in a route out from home." The impacts of poor chemistry were exacerbated by poor communication. They divorced after ten years.
There are so many break up excuses, some fake break up excuses, while some come with deep meanings; below are more breakup excuses and what they mean;
9. IT'S NOT YOU, IT'S ME
Most times, this sounds more different than its actual meaning; it says; it's you, but I want to spare you the heartache that comes with you knowing you are the cause of our break up; got that?
10. I LOVE YOU BUT I AM NOT IN LOVE WITH YOU
What a lame way to tell someone you don't love them anymore, or you have just been wasting their time all this while, or you found someone else you prefer; whichever of the above is the actual meaning of this fake reason to break up with someone.
11. I REALLY JUST NEED TO WORK ON MYSELF
Common, be honest for once; you want to be accessible to date someone else or do the things you know I won't approve of. You are just a coward for not being upfront with me, simple.
12. I THINK WE SHOULD HAVE AN OPEN RELATIONSHIP
Oh, really? And who told you I wanted that? Tell me you are just tired of the relationship and want to date someone else; who is it anyway? I doubt you will be brave enough even to say it.
13. IF YOU CARE ABOUT SOMETHING, LET IT GO; IF IT COMES BACK TO YOU, IT IS YOURS
This is another way of saying, I want to test others and see how sweet they can be; if they are not as sweet as you, I may think of coming back to you. What a shitty breakup excuse.
14. CAN WE JUST BE FRIENDS?
Hell no! If I wanted a friend, I would get one. This is just a way of saying I am not good enough or you are just tired; what's with the stupid question?
15. YOU NEED SOMEONE BETTER THAN ME
Really? Why don't I know that then? Shouldn't I be the one to decide? Well, the truth is you may just have been playing me all along, and now you come up with this BS excuse to break up.
16. OUR RELATIONSHIP IS BECOMING MORE AND MORE LIKE A BROMANCE.
Whose fault? Are two not supposed to work for a relationship to work? I think what you are looking for is an excuse to break up, and you think you got it? Just say you are seeing someone else.
17
.
MY PET TARANTULA DOES NOT CONSIDER YOU A SUITABLE LIFE PARTNER
What? Seriously? So a spider gets to decide if we will be together or not? This is outrageous and a terrible excuse to break up with someone. This is more like an insult if I must say, it shows that you do not have any respect for this individual because apart from being dishonest about the reality of why you want to break up with this person, you create this break up the excuse that is a complete badadash; which is why you may also like this what to say to your ex-boyfriend after a breakup.
18. IF ONLY YOU DON'T BELONG TO THIS RELIGION
I belonged to that religion when you met me; what changed? This is a lame excuse to break up with someone. The honest thing to say here is to tell them you are no longer interested in the relationship for whatever reasons you think. After all, you always knew her religion before you two started dating, so this excuse is lame.
19
.
MY PARENTS DO NOT APPROVE
Hello, intimate relationships are for two mature adults; adults capable of making their own decisions, not some kids in an adult body who still wait on their parents to give the order. Honestly, you shouldn't even be in a relationship in the first place.
20
.
SINCE THE FIRST TIME WE MET YOU'VE REMAINED THE SAME
Is this supposed to be an excuse? I thought you loved me the first time we met? What's different now? Are you expecting someone else? Or are you just looking for a way to blame me for your infidelity? This is not a good reason for breaking up with someone; it just doesn't make sense, does it?
21. I CAN'T RESIST THE TEMPTATION TO CHEAT ANY LONGER
Funny how this is my fault. So you want to be given the go-ahead card to cheat; well, you got it, go on and cheat, but that's it, we are done. This excuse for breaking up seems like an honest excuse, yet it means that you don't love your partner anymore. If you love your partner, why then should you even be interested in cheating with them?
FAQs
1. What's a good excuse to break up with someone?
The best reason is the real reason. Tell the truth about the relationship and why you think you both should take a break; That's a good reason to break up
2. How do you break up with someone when you don't have a reason?
You could tell them you want out, are tired of the relationship, or wish to be alone. Simple.
3. What are the good reasons to break up with your boyfriend?
Lack of trust, cheating, lying, lack of vision, lack of intimacy, etc. these are good reasons to break up with your boyfriend or girlfriend.
CONCLUSION
Excuses to break up with someone can come in handy; try to be as honest as possible as you convey the reason for breaking up with your partner. Some lines can be used to avoid stating the actual reason for the breakup. These lines and their true meanings are also part of this article.
ESTIMATED TIME DESIGNING AND UPLOADING THIS ARTICLE
ESTIMATED TIME RESEARCHING AND WRITING THIS ARTICLE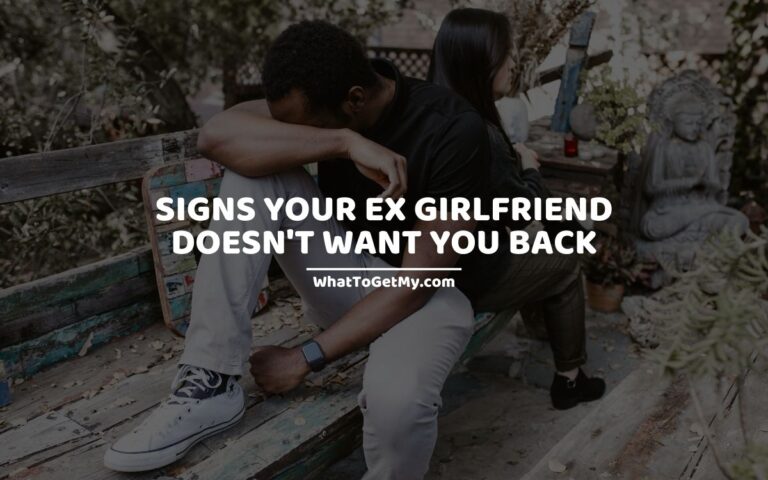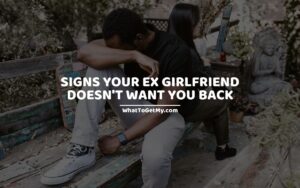 23 Signs your ex girlfriend doesn't want you back.
23 Signs Your Ex Girlfriend Doesn't Want You Back. WhatToGetMy Instructional Article Break-ups can be devastating and depending on the depth and length of the relationship, it can start to feel like you will never truly get over your ex girlfriend. Staying hung up on
Read More »