A lot of people don't like their 30th birthday. The reasons are various, but the most common one comes from the fact that people don't like they're getting older. It makes sense if you think about it! You'll know that feeling once you get there too. However, that's not a general thing – there are also many people who enjoy birthdays and love to celebrate them with friends and family. Now, the question is, what kind of person you're getting the gift for? Is it the one scared from rapid aging or the one who doesn't care about the years at all? You should know by now what type of person your friend is, so you should be able to buy a gift accordingly. Don't make a mistake of buying a funny gift which says "happy birthday grandpa/grandma" for someone who is afraid of getting old. For others, you can find something funny, as long as it is useful. Nobody likes to get a gift with no purpose. That's why we made a list of sophisticated and cool gifts for 30 year olds to help you out.
Before you skip to the gift recommendations, we have a small ABC tip list to show you:
A

thoughtful gift is always appreciated, regardless of price. All it matters is how much time and effort you put into a gift. The fact that you are reading this right now is an example of the effort you are willing to put in and it's a good beginning in finding the

best gift for turning 30

!

B

e careful when choosing a gift. As we mentioned, the 30

th

birthday might be a sensitive spot for some people. After all, you should cheer people up with gifts, not upset them even more, right?

C

ombine things to make your gift the most amazing one! How do you mean, you may ask? Here's a thought – get your friend a material gift (some of these we suggested) and combine it with an experience you can share with him//her. For example, if you are getting him/her a bathrobe, you can book a spa weekend for the two of you. We will leave more suggestions for combining gifts and experiences below.
As an Amazon Associate we earn from qualifying purchases. We may earn a small commission for our endorsement, recommendation, testimonial and/or link to any products or services from this website. Thank you, your qualifying purchases help support our work in bringing you real daily gift ideas.
Quick Overview: Gifts for 30 Year Olds
Source Link: https://whattogetmy.com/gifts-for-30-year-olds/
Timex Unisex TWG012500QM Weekender Watch With Two Interchangeable Bands
Nothing says you're an adult like a fancy leather watch. This watch is stylish and classy, water-resistant, and has an Indiglo backlight. That means, for starters, it will look good on your friend. Secondly, it can't be easily damaged. On top of that it can show the time in the dark! With two interchangeable straps (one in brown leather and the other one in blue nylon), this watch can go with any outfit!
Experience: Dress up in a classy suit or a dress or whatever makes you feel powerful, then take out the gift recipient for drinks to the most prestigious place you can think of. Your friend will look better than you, though, because he/she will be wearing this watch, but it's his/her birthday after all!
Everyone should have at least one round watch. The Timex unisex watch is perfect because it can be worn on any occasion, business or casual. It's made of high-quality leather, durable, and water-resistant. On top of that, it looks very elegant.
Ninja 12-Cup Programmable Brewer CE251 Coffee Maker
It doesn't matter whether your friend is a coffee lover or not. Every person should have a quality coffee maker in his/her home! If your friend started enjoying all those home appliances, that means he is getting more mature with age. In their thirties most people start to like the things which will save them time (and effort), so you can help out a friend with this amazing coffee maker.
Ninja coffee maker is the perfect combination of old classic coffee machines and new ones built with the help of  smart technology. This coffee maker has a programmable delay which allows you to prepare your brew up to a day in advance. You can program it to make a small amount of coffee (4 cups for example), that will be just as tasty as a full container (of 12 cups). On top of everything, the Ninja coffee maker has two strength options, so you can decide if you want classic mild coffee or a rich and strong one. Lastly, you should know that you can't find a better coffee maker at this price range!
Experience: Coffee and bagels or, even better, coffee and donuts. Of course, you have to make the food yourself. What's a better birthday gift than cooking with love?
Ninja coffee maker is very simple to use. It's modern and authentic, and it compliments every kitchen. If you can see your friend using it for a long time, do not hesitate to get him/her this gift!
Genuine Leather Electronics Cable Organizer Roll Up Case Cord Bag Travel Pouch
People in their thirties travel the most! Why? We're not sure. Maybe because they are afraid of rapid aging and want to use every moment they have to the fullest. We found a thing which makes every trip more comfortable. There's an elegant way to organize cables, pens, and various tools when you go on a getaway. This travel pouch is just the thing for that. You can pack your cards, cash, phone chargers, USB cables, and so much more, and there isn't going to get messy in the pouch. There's room for everything! In all those various gifts for 30 year old man and woman, you can't find one more practical than this!
This pouch is made of genuine full-grain horse leather. Its practical design offers flexibility for organizing your travel necessities. There are lops for cables and pens, pockets for SD cards or SIM cards, zipper components for phone or USB flash drives and compartments to store passports, cards, cash, etc. The pouch is ideal for traveling because it folds up to 4 times, shrinks down, and becomes almost invisible in your luggage!
Experience: Give your friend this pouch and try it out on a trip immediately. Organize a small field trip or a two-day getaway. It will be worth it!
The travel pouch is a great gift for the people who are always on the move. In modern times, you need to carry the essential tech gadgets and accessories with you. Instead of your friend filling his/her pockets with cables, get him/her this practical organizer. They will love it!
MyGift Countertop Burnt Wood 8-Bottle Wine Rack
Now that your friend is a grown-up, he/she will need an elegant way to store his/her liquor. In particular, we are talking about wine. Everyone knows that wine is better when it's older, so you need to keep it before opening up a bottle. Where to keep it is the question. Not all people have a wine cellar, right? But they can have this stylish wine rack!
This diamond-shaped wine rack can contain eight bottles, which is more than enough for a beginner's wine collection. You can order it in four different colors, and it will arrive just as it is in the picture, so no additional assembly is required. Your friend can put it horizontally or vertically, just as he/she likes to fit his home décor.
Experience: Good wine & cheese – that's all you need for a perfect night. You can call a few more friends and organize a small surprise birthday party.
Perfect for putting out quality wines for dinner parties, this wine rack is the thing to kick start your friend's thirties. With antique and rustic charm, it will light up the room. Just don't forget to add the first bottle, so your friend can start the collection.
Plush Lined Microfiber Spa Robe – Unisex Luxury Hotel Bathrobe by Monarch/Cypress
If 30-year-olds shouldn't have plush animals anymore (or at least pretend they don't like them), that doesn't mean they can't have plush bathrobe! This bathrobe is made of the finest plush microfiber polyester. It's soft and comfortable, and it feels like giving your friend a warm hug. It doesn't matter if you are searching for gifts for a woman turning 30, this robe is unisex, and it will fit anyone! You just need to double-check the size before the purchase. Nobody likes to get a robe that is too tight or large. Monarch offers various sizes and colors, so you shouldn't have any problems in choosing just the right robe for your friend!
Experience: A spa weekend for just the two of you is the perfect thing for a relaxing birthday. You can also invite a few close friends. Some say, the more the merrier! He/she will cherish this memory and this robe that accompanies it.
Ultimate luxury and comfort can be achieved with this bathrobe. It's not only luxurious and soft but made to last. A closed bottom hem prevents the robe from turning the inside out during washing and getting damaged. Therefore, your friend will definitely use it for quite some time!
Push Pin World Map Board – With Push Pins to Mark World Travel
If you are looking for a gift for your best friend, and you couldn't find anything in our article 30th birthday gift ideas for best friend, then this world map is just the thing for you. It's a bit pricey but totally worth the joy you'll see in your friend's eyes after he/she unwraps the gift! Give him/her the opportunity to explore the world and share that with his/her family and friends. Your friend can put this elegant map in the living room or in the study and show off with the journeys among friends and family. This map is a conversation starter, you can be sure of that!
Minimalist design inspired by old blueprints and chalkboard art gives the map a modern vibe. It looks artsy but still provides information about various places in the world. The pins you use for checking the cities and other places won't damage the canvas at all, and you get a hundred of them, which is more than enough for your friend's journey!
Experience: Be the first one to help your friend put a pin on this map. Book a city break trip and visit wonderful cities in Europe! For the milestone birthday, this is perfect, and he/she will remember the trip forever.
It's not easy to track all the travels you took and memorize all the places you've visited. Still, this map can help you with that. If you can find better birthday gift ideas for 30 year old man or woman, let us know, because we think we found the perfect one!
Radicaln 15 Inches Large Handmade Black and Fossil Coral Weighted Marble Full Chess Game
If you want to really surprise your friend, try getting something he/she wouldn't usually buy. An indulgent way to celebrate the big 30 could be buying 30 small gifts for 30th birthday. A similarly generous gift would be this handmade marble chess set.
This set is fun to play with and to look at, so it can be displayed in the living room. Fragile and artistic pieces with smooth finish are made of marble and coral. The handcrafted pieces are attractive but can be damaged if the players aren't careful. The material makes the set exude a royal charm, just as chess is supposed to do.
Experience: Homemade dinner with a chess game and whiskey afterward. Enable your friend to start the thirties in an elegant and classy way.
Wonderful and handmade, this set will bring luxury into your friend's home. He/she can put it on display as a decoration or store it in a safe place. If you know  your friend appreciates aesthetics when playing games like chess, then this is the perfect gift for him/her.
Conclusion
We understand the importance of the 30th birthday. That's why we put our effort into picking these gifts for you! We added one idea for shared experience with each gift, so you can expand your birthday surprise! We hear you: it's not easy to find the right present. We already wrote about that. If you missed that article, you should check it out, because we surely cleared out how to pick a gift for someone. Still, when it comes to the 30th birthday you feel like you should do something extra special. That's why we suggest one shared experience with all those gifts for 30 year olds. Memories you two share will be the best gift after all!
ESTIMATED TIME DESIGNING AND UPLOADING THIS ARTICLE
ESTIMATED TIME RESEARCHING AND WRITING THIS ARTICLE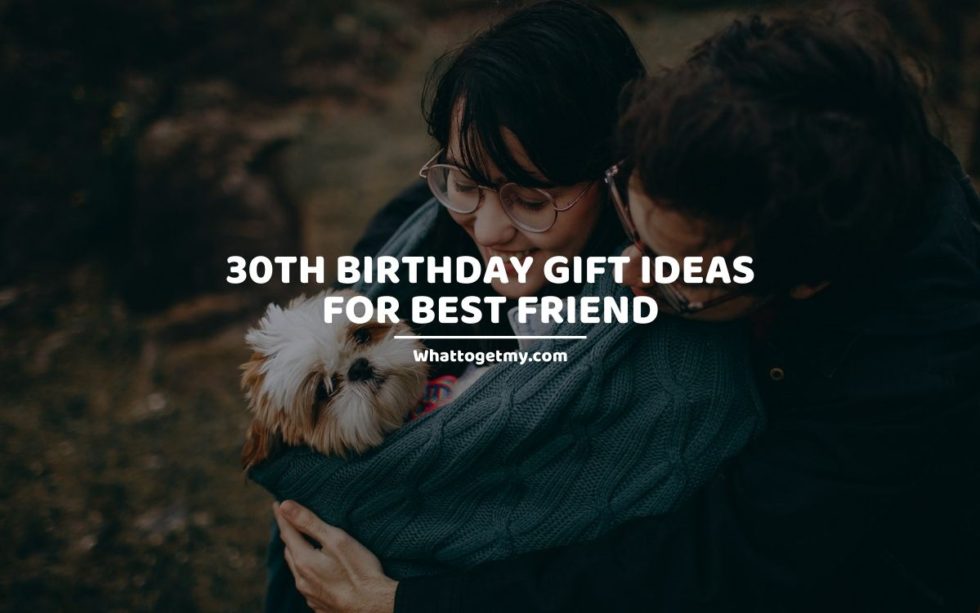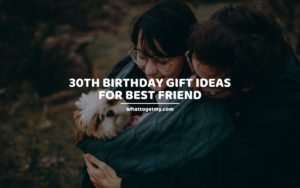 30th Birthday Gift Ideas for Best Friend
So, you're reaching another milestone with your best friend? Turning 30 is kind of a big deal. It's a time when you finally become an adult. A real, complete adult who has to cut messing around and start making plans for the future. Reaching this
Read More »