Do you have a special 9-year-old girl in your life who needs a gift? We know that it's hard to find amazing gifts for girls aged 9, so we made things a bit easier for you. Girls are into various things and when they are young they quickly change their tastes. One day they adore the pink color and on the other, they can't stand it. Besides that, they're not kids anymore, so they don't like kid's toys. They're not in the preadolescent period either, so naturally, you're in trouble when trying to choose a gift for them. You'll need to balance it out and find a gift that is fun and mature enough at the same time.
Why did we opt for tech gifts? As you know kids have easily adapted to life in the age of technology. They don't have trouble figuring how things work and they prefer gadget and tech toys more than old-school stuff. Girls are no different than boys in that matter. Try to interest kids in technology at a young age, so they'll enjoy playing with tech toys. In our list of tech gifts we've included some toys and some useful stuff that's just "cool" to have. We're sure you'll have no problem finding the most suitable gift for a girl aged 9.
Before you start with our suggestions, check out these tips:  
Pick the gift according to the receiver's personality. You know your daughter (niece or cousin) the best, so you know if she's mature for her age or is into sports. That way you can opt for different gifts like the ones in our article "

Gifts for sporty tween girls

".

Don't get typical

girly gifts for 9-year-olds

because girls quickly grow out of that "pink phase" and your gift might become useless rather quickly.

Consult with others prior to buying a gift. Discuss your options with your husband, wife or siblings and maybe you can get a gift together. It's always better to get one expensive and high-quality gift than a bunch of small items a young girl will get bored of.
As an Amazon Associate we earn from qualifying purchases. We may earn a small commission for our endorsement, recommendation, testimonial and/or link to any products or services from this website. Thank you, your qualifying purchases help support our work in bringing you real daily gift ideas.
Quick Overview: Gifts for Girls Aged 9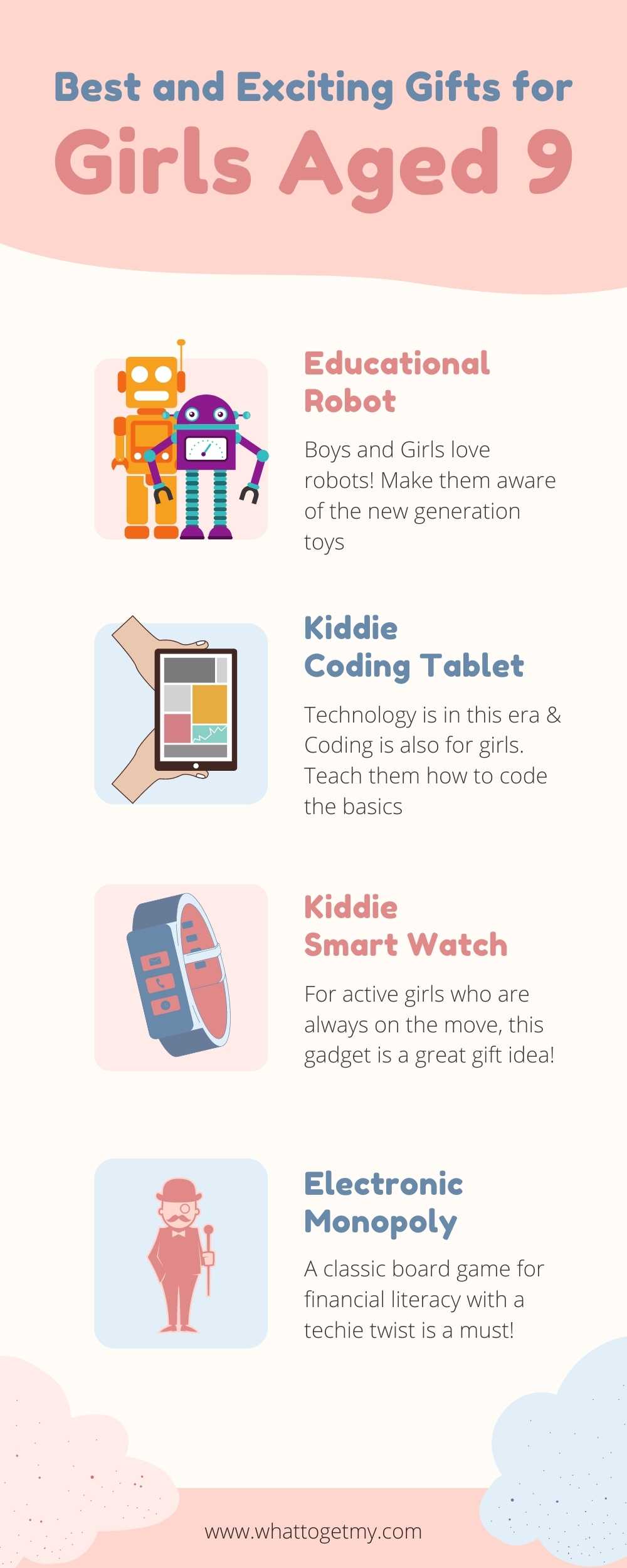 Source Link: https://whattogetmy.com/gifts-for-girls-aged-9/
Anki Cozmo, A Fun, Educational Toy Robot
You probably have doubts that a toy robot would be such a great gift idea for a 9-year-old girl. We assure you that, when you see how much kids (boys and girls) love Cozmo, you'll be so glad you've chosen this gift. Cozmo is part of the new generation of friendly robots. It's fun, educational, and super cute! It can express hundreds of emotions and even recognize the user.
Cozmo is always ready to play and there are various games you can choose. You can even see through "his eyes" and guide it where you want it to go. On top of everything, Cozmo can teach kids how to code. You have a beginner option for kids who just started learning that will enable them to make Cozmo sneeze or sing a song. There's also an intermediate option to create more complex projects like designing mini-games.
Cozmo is a robot like you've only seen in the movies. It's small, cute, and friendly! The toy is light but durable and compatible with both iOS and Android devices. It has a beginner-friendly interface, so he's perfect for young kids interested in coding and robotics.
Tenergy Wireless Bluetooth Beanie Hat
Putting comfort and enjoyment together is the main purpose of this beanie hat. Who doesn't want to be warm and comfy while listening to music? Girls will love the possibility to show off their fashion sense and listen to and music sense at the same time. A built-in Bluetooth headset can be paired to any smartphone, tablet, or a smartwatch. You can enjoy music, listen to audiobooks or answer the phone hands-free!
The Bluetooth beanie has a simple panel display – there are only three buttons and an LED indicator light. You can pause the music, answer calls, skip songs, and control volume. Headphones can be easily removed for washing the beanie. The battery lasts very long – up to six hours! Overall, the music beanie is a very unique gift idea for a 9-year-old girl.
The Tenergy beanie gives you an option to listen to tunes and keep your head warm. It's made of acrylic and polyester materials, so it's very soft, comfortable, and breathable. Stylish and cute, this beanie is one of many things 9-year-olds like.
Kano Computer Kit Touch – Build and code a tablet
Computer Kit Touch is a tablet that any kid (with a little help) can build on his/her own. You'll get a full package of components like motherboard, a keyboard, an HD screen, a speaker, etc. The instruction book will also be included. Learning to code has never been easier and more fun!
Screen time doesn't always have to be a negative thing. This tablet engages kids in a productive way! You'll kid will learn a lot when playing with this toy. There are more than a hundred different challenges and stories included. Your kid can make art and games, and even browse the internet, watch YouTube videos, and so much more. If you are looking for a birthday gift for a 9-year-old girl, get this tablet! The girl doesn't need to have any previous technical knowledge, and she'll be excited to learn with the Kano computer kit touch.
What's better than learning to code on a tablet you've built yourself? Open the box and follow the book instructions. It's that easy! Coding pictures, building animations and making music tunes are only a code away, so don't hesitate to get this gadget for your 9-year-old girl.
Nintendo Switch Lite
Find us a kid who doesn't like Nintendo Switch, we dare you! No matter the age or gender, kids love playing with this device. A new version of Nintendo Switch is optimized for handheld play and compatible with almost all physical and digital versions of Nintendo Switch games. You can choose to play the classic games like Mario Kart or The Legend of Zelda wherever you go.
Nintendo Switch Lite is small and very comfortable to hold. It's available in 4 different colors, but we highly recommend turquoise, because it's bright and gentle. The design is user-friendly and the smooth touchscreen provides a high-quality picture. This version offers a lot of stuff just like the original Switch and you can spare a hundred bucks! Sure, there are a few games that can't be played, but the 9-year-old girl won't even notice that!
Nintendo Switch Lite is a new version of Nintendo Switch that offers you more comfort when playing. It's light and small, so you can conveniently place it in your pocket and take it everywhere. It's gaming on the go!
Kids Game Smart Watch Phone
For active girls who are always on the move, this gadget is a great gift idea! The kids' smartwatch is very easy to operate, and it's very handy for the school, park, etc. It has enough functions, an alarm clock, receiving phone calls, music player, camera, games, etc. Kids can choose games that will improve their logical thinking and hand-eye coordination. It's not just about mindless entertainment!
A camera and record player fit the kids' needs. There's enough memory for pictures, voice recordings, and the tunes downloaded from the computer. The watch fits perfectly on any wrist size, and the material of the wrist band is very durable. With the phone calls option, you can be sure your kid is safe. Overall, a great gift for kids under 12 years who don't need a lot of features.
Whether she'll use it for silly selfies or for passing the time with mini-games, this watch is a perfect Christmas or birthday gift for a 9-year-old girl. It's cute, fun, and very easy to operate, so she should have any trouble with it.
TONOR PA System Karaoke Machine
Put on some tunes and get the party started with the Tonor karaoke machine. Kids love to sing and dance, so this is the perfect gift idea for a 9-year-old girl. The kids' parties will be so much more fun with the speaker and microphones involved!
The speaker with the bass and wireless microphones are connected without any need for pairing or any additional connectivity hassle. That makes the machine perfect for kids, right? The music can be played from various devices via USB port or Bluetooth connection and the sound quality you get is superb.
Karaoke machine helps the kids relax and nurture self-confidence. They can sing or practice speaking publicly. The noise reduction built-in the speaker will enable the clear sound of music and singing. It's perfect for small family parties or kids' playdates.
Monopoly Voice Banking Electronic Family Board Game for Ages 8 & Up
If you don't want to get toys for 9-year-old girls, try this tech boosted version of the classic board game. A monopoly with the Banker that manages the players' money via his top hat is a game with a faster pace than the old-style game.
The new version of the monopoly game has both light and sound features. Mr. Monopoly is the banker and he can recognize voices, which makes managing finances a lot easier than with a board game. He'll keep a tab in players' money, property trades, rental transactions, etc. On top of everything, the banker has his own personality! He's funny and quite helpful at the same time. This version is a welcomed change in everyone's favorite game!
The Monopoly electronic board game gives an interactive experience, and it gives a nice tech touch on the favorite game of every generation. Bankrupt an opponent, collect properties and build hotels without worrying about "holding the bank". All the trade is managed through the banker, so it's convenient, easy, and fun!
Conclusion
Buying gifts for girls aged 9 isn't always an easy task. When you have a special girl in your family, you try to do the best you can to wow her. Most people choose "girly" gifts and think she'll love them. However, girls nowadays usually forget about non-engaging gifts, so your girly gift will probably sit on a shelf unused. That's why we suggested these amazing tech gifts. With them, you'll be able to spike the love for technology and encourage girls to seek other interests like STEM.
Also, we know that most tech devices are not easy on the wallet. We tried to include budget-friendly products on the list, but if you want to get pricier ones, we suggest you share a cost with a spouse or a sibling. This way, you can get a perfect tech present that will last. We also have more inexpensive options to recommend in the article Inexpensive Gifts for Nieces and Nephews, so be sure to check them out.
ESTIMATED TIME DESIGNING AND UPLOADING THIS ARTICLE
ESTIMATED TIME RESEARCHING AND WRITING THIS ARTICLE
Try our AMAZING GIFT FINDER TOOL! Find GIFTS with 1 CLICK!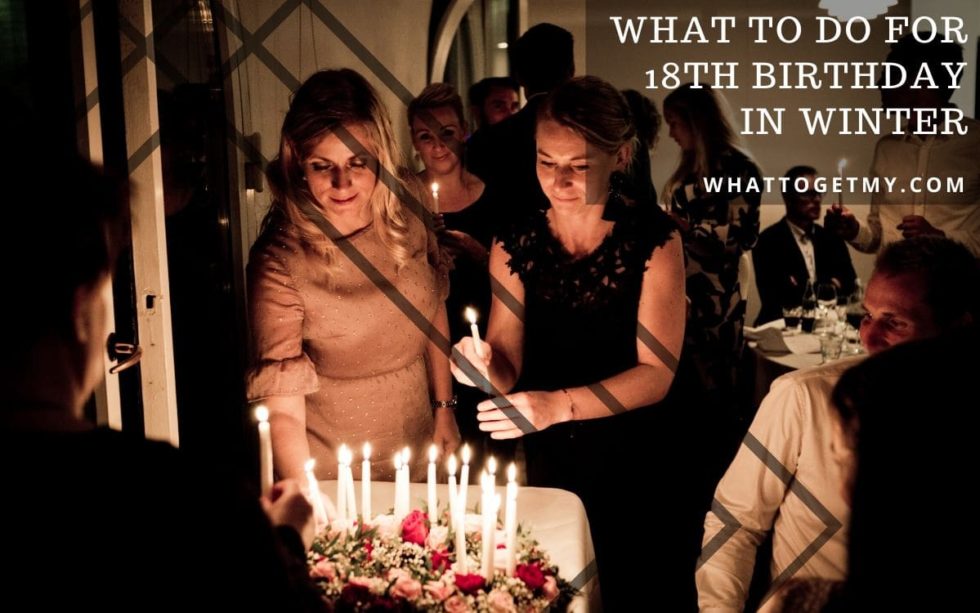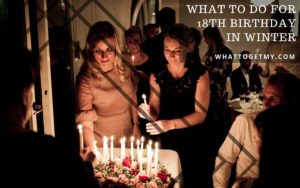 What to Do for 18th Birthday in Winter
11 Unique Ideas on What to Do for 18th Birthday in Winter WhatToGetMy Instructional Article Believe it or not, winter is a beautiful time to celebrate your birthday. You might think that you don't have so many options because it's cold outside, but that's not
Read More »