For their tireless effort in making us look stunning, for the times they've bailed us out, for their friendship and encouragement, and lastly, for making hair days fun days; our hair stylists deserve to be appreciated. If you are looking for that special item to get your hairstylist, we can make your search a little bit easier. A good gift does not have to be shaped in the form of hairdresser accessories nor be related to anything hair before it is deemed perfect. Those kinds of gifts are cool but you may be having a hard time finding something unique and limiting your choice of gifts.
A good hairstylist gift is any lovely item you choose to give because you know it will look nice on your hairstylist, it will help them in their profession or they will love to have it. It could be small or big, it all depends on your budget. So don't stress. Apart from our 15 hairstylist gift list, find more gift ideas in our article gifts for cosmetologists.
In this article, we have identified a number of gifts you can get your hairstylist and we've subdivided these items into three headings namely; gifts for hairstylists, personalized hairdressers gifts, and hairdressers gifts accessories.
As an Amazon Associate we earn from qualifying purchases. We may earn a small commission for our endorsement, recommendation, testimonial and/or link to any products or services from this website. Thank you, your qualifying purchases help support our work in bringing you real daily gift ideas.
Quick Overview: Gifts for Hairstylists
GIFTS FOR HAIRSTYLISTS
1.

CANVAS WALL ART
Good decor generally adds to the ambience of a place and wall arts are generally good decors. We think this three-panel high definition wall art by wall26 will add to the ambience of your hairstylist's salon. It projects inclusiveness and will make customers feel welcomed. We think that your hairstylist will be pleased with this gift.
Customers find the quality of this wall art to be impressive and highly recommend the work of the company. This is reassuring.
2. 

MAISON LAMBERT BEARD KIT
If he keeps beards, one of the best luxury beard kits you could get for your hairstylist as a christmas gift is this Maison Lambert beard kit, made with organic ingredients. The package includes; organic beard balm, organic mustache wax, organic beard oil, organic beard shampoo, wooden beard comb, and organic body soap. All these products are well scented with essential oils for long lasting fresh scent. It doesn't come cheap however.
This product has a lot of positive reviews and customers with sensitive skin seem to prefer this kit. If you are looking for a good christmas gift for your hair stylist, this is one.
3. 

VINTAGE WOODEN HAIRPIN
This wooden hairpin is a simple yet elegant item that a hairdresser will appreciate. The vintage look and detailed lignum flower design are what makes this wooden pin uniquely beautiful.
This pin has a good rating because a lot of customers agree that it is beautifully, sturdy and well made.
4. 

NATURAL HAIR T-SHIRT
A cool t-shirt such as this one will go well with this wooden Natural hair earring and would make a lovely combo gift for your hairstylist. The texture of the shirt is soft and breathable and the print is gorgeous. The wooden earrings are equally pretty.
We think that this t-shirt and earrings will make a good gift. Other t-shirts you could consider getting are;
5. 

GOLDFADEN MD HANDCREAM
The hands of a hairdresser go through a lot of stress each day; from exposure to hair chemicals that could irritate the skin, prolonged use of hand gloves that could leave their hands dry, exposure to hot air, and to making different hairstyles for customers. A lot of people rarely think of the effect of a hairstylist job on their hands and need for them to have a good hand care routine. Some do struggle with finding the right hand care product and therefore a good handcream such as Goldfaden MD is a good gift for hairstylists.
Goldfaden MD hand to heart cream has a lot of positive reviews. Customers consider this hand cream to be very effective and soothing to their skin.
6. 

MORROCAN OIL TREATMENT SET
A lot of people find it uncomfortable buying hair products for their hair stylists, because they are hairstylists and they should know better. Some hairstylists might be picky too and no one wants the embarrassment of getting a product that their hairstylist will toss aside. While this may be true for chemically produced products, natural oils are a better gift option because they serve multiple purposes. You can get your hairstylist this Morrocan oil treatment as gift. Its main ingredient is argan oil. It is thick and a good heat protectant for hair during blow drying. The soap is sulphate-free and paraben-free. Some of its ingredients are argan oil, aloe leaf extract, and shea butter which are good moisturizers.
This is a well recommended oil treatment.
7. 

SET OF TOWELS
Luxurious towels are generally good gifts and even more so for hairstylists because they use a lot of towels. This set of (10) towels are 100% cotton, good absorbers, soft and machine washable. The package includes 2 bath size towels, 2 hand towels, and 6 washcloths. They come in varieties of colors too.
Pros.
100% cotton

Soft and fluffy

Good absorbant

Value for money
Cons.
It would have been nice if this HOTO towel set had an extra bath size towel than 6 small wash towels. You could consider this

4 set of towels

by White Spindle
These are quality towels and have a luxurious feel.
PERSONALIZED HAIRDRESSER GIFTS
8. 

WOODEN WALL CLOCK
A better option to a vinyl hairdresser wall clock is this wood hairdresser wall clock. It is a lot stronger than vinyl. This gorgeous clock can also be personalized at no cost. The size is great (12") and can be boldly seen.
We think this item is worth buying.
9. 

HAIR SALON DOORMAT
The cool thing about getting this door mat is that you decide on the type of design you want; great right? The company offers a wide range of designs to choose from on request and if you are still not satisfied with them, you can give them your own design. We think it is a fair bargain considering the price of the mat. It's time to get creative then because a lovely foot mat will make a good gift.
Being given the opportunity to completely choose the design of the mat is great and we think you should give it a try.
10. 

PERSONALIZED HAIRDRESSER ORNAMENT
This uniquely designed hairdresser ornament is made with birch wood, and can be personalized by adding a name and or a date to it. It's dimensions are 3.6" x 3.3" and it is ⅛ inches thick.
We think that this ornament is beautiful and can be given as a seasonal gift.
HAIRDRESSER GIFTS ACCESSORIES
11. 

JJ CARE UV STERILIZER
UV sterilizers ensure that your hairstylists tools are disinfected and safe to use on their next client. If your favorite hairstylist does not have it, perhaps you should consider getting them this JJ care UV sterilizer.
Thus far, customers are really impressed with the quality of this product.
12. 

SPRAY WATER BOTTLES
Is your hairstylist having a hard time with their current spray bottle? WLLIFE is a better alternative. It has been designed to produce the right amount of mist when the trigger is pressed without soaking the hair. It is not insulted and therefore should not be expected to retain warm water for long. To ensure that it remains effective, it is best not to use thick liquids in it.
We think that this spray bottle will make a good addition to your hairstylist work accessory. Thanks to the effectiveness of this bottle, spraying their clients' hair will be a lot easier.
13. 

PROFESSIONAL BARBER SCISSORS
Many customers recommend these shears for its quality, and effectiveness. Hairstylists are guaranteed to have a clean cut using this pair of shears. They are also guaranteed to last. The company has a 30 days return policy for unhappy customers to return their product too. This is a good hairstylist accessory you could consider getting.
We think your hairstylist will love them.
14. 

HAIRDRESSING BAG
This portable tool bag has a well padded inner layer that protects hairstylist tools from damaging, and well padded shoulder strap for comfort when being carried. It is made with high quality durable material that guarantees longevity of use and it also has flexible zippers for easy access. This is a solid tool storage bag for barbers especially.
A quality bag like this one will be very useful to your hairstylist.
15. 

PROFESSIONAL HAIR DRYER
A hair dryer that reduces hair drying time, and that guarantees you frizz free and static free hair shine is a good addition to hairstylist working tools. It has different heat and speed setting to suit your hair texture and drying needs. The handle is easy to hold and makes using the dryer a lot easier. This quality hair dryer is guaranteed to last for a long time. A good investment for your hairstylist right? We think that this hairdryer is a cool gift for hairstylists.
Rusk is a hair accessory brand and their hairdryers are known to last. This is a quality product to have and would save a hairstylist the stress of looking for new hairdryers within a short space of time
FREQUENTLY ASKED QUESTIONS
1. What to give hairdresser for Christmas
Vintage wooden hair pin, Maison Lambert beard kit, wall art, luxurious towels, well scented hand creams and many more. You could also decide to buy them that hair stylist tool they have always wanted. It could be a blowdryer, UV disinfectant box  and many more. Everything we've listed in our article can make a really cool gift.
2. A few personalized gifts for hairdressers
We identified 3 personalized gifts you could get for hairstylists. Personalized wall clock, doormat and ornament. Some businesses offer personalized monogram towels.
CONCLUSION
Getting your favorite hairstylist gift does not have to be stressful. There are lots of amazing gifts out there that you can choose from and we have provided you with 15 cool options. We hope that this article has been helpful.
ESTIMATED TIME DESIGNING AND UPLOADING THIS ARTICLE
ESTIMATED TIME RESEARCHING AND WRITING THIS ARTICLE
Try our AMAZING GIFT FINDER TOOL! Find GIFTS with 1 CLICK!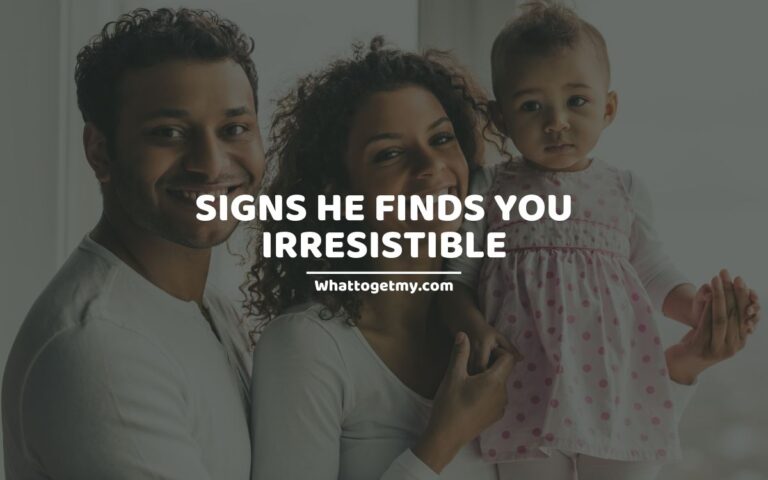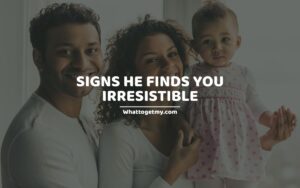 21 Signs He Finds You Irresistible
21 Signs He Finds You Irresistible WhatToGetMy Instructional Article Sometimes it's hard to tell whether a guy is really interested in you or if he is just stringing you along. If you have been wondering whether the guy you have been seeing is really interested
Read More »