Shopping for sailboat enthusiasts could be challenging, especially for non-boaters. However, there's something that can ease things for you, and that's thinking about what sailors need for their boat. Just think about it, the limited space on the boat has to be filled with useful stuff. As long as you get something that sailors can use on the sea, you can't go wrong no matter what gift you choose.
Still, we know that those things are sometimes hard to pick. How should you know what brand to choose? The market is overloaded with all kinds of products, and buyers often have difficulties with picking the right one. There's where we step in! To narrow things down for you, we composed the following guide. It should help you pick the best gifts for the sailboat enthusiast.
As an Amazon Associate we earn from qualifying purchases. We may earn a small commission for our endorsement, recommendation, testimonial and/or link to any products or services from this website. Thank you, your qualifying purchases help support our work in bringing you real daily gift ideas.
Quick Overview: Gifts for the Sailboat Enthusiast
Garmin inReach for Navigating at Sea
One of the best sailing gadgets is a satellite tracker. We have just the perfect one to recommend, and it's Garmin inReach. The device offers 100% global satellite coverage and sending two-way text messages. You can track and share your location with others, no matter where you are. That's especially useful when being on the open sea. Also, the device is rated IPX7, which means it's fully waterproof. The lithium-ion battery is quite durable and recharges quickly.
You can't go wrong with giving a sailor a safety gadget. They could always use some extra items that will improve safety on the sea. Besides, Garmin inReach is a powerful and well-built device. It makes an excellent addition to the sailor's equipment.
Be Prepared with Dremel Tool Kit
Do you know what else would be an excellent addition to the boater's gear? A tool kit! We are not looking for funny gifts for sailors, you may say. Well, we are dead serious! The thing with tool kits is that you don't know that you need one until you start using it. Once you try it out, you get to acknowledge how a set of tools can make your life easier.
We recommend the Dremel rotary tool kit for sailing purposes. The set includes a powerful rotary tool, 30 accessories, and 2 attachments. All the pieces come in a sturdy case that is quite handy for transportation and storage. The tool is easy to use and adjust. You can set the speed on a desirable level and tackle your tasks with ease. It even has an integrated nose cap wrench that allows you to quickly change accessories. All in all, Dremel is a versatile tool that is super useful for cutting and drilling. It works on plastic and thin metal, which is mostly the material type you'll encounter on the boat.
The Dremel kit is quite useful to have around, especially on sailing adventures. It's powerful, easy to use, and comes with a lot of accessories. The case is also an excellent addition because it allows for easy transportation and storage.
Keep Your Gadgets at Peak Power with BigBlue Solar Charger
Another thing that every sailboat enthusiast needs is a portable charger that can keep all the tech devices powered. We think that the solar one is perfect for sailing purposes and other outdoor activities. BigBlue offers just the perfect solar charger. It's compact and lightweight, which makes it easy to carry around. It also features a foldable design to fit backpacks and emergency kits. The device has 3 USB charging ports protected from overheating and overcharging. You can connect it to almost all phone and laptop types, all you need to do is to put it under direct sunlight. Additionally, the package includes a manual to answer all the questions you might have about the device and a 1-year warranty.
If you're looking for Adventurous Gifts for Him, waste no time and get this solar charger. BigBlue is one of those devices he can take with him on all adventures and stay safely plugged in all the time. It's easy to use, efficient, and eco-friendly. Who could ask for more?
Cuisinart Portable Grill for Perfect Meals
In case you're looking for sailing gifts for dad, search no more! A portable grill is an excellent option. You know how dads love BBQ parties. Giving them an option to throw one on the boat is a perfect gift.
We recommend Cuisinart Grill. It's a portable item that offers a 145-square-inch grilling area. The stainless steel burner can make lots of food in one turn. It's sturdy, durable, and has aluminum legs for more stability. Buyers also love the briefcase design with a carrying handle. It makes transportation and storage much easier.
The Cuisinart portable grill is one of the best Unique Gifts for Someone Who Likes to Travel. What could be better than having a burner you can transport at your convenience? We highly recommend it as a gift not only for dads but for everyone!
Be Safe with Stohlquist Life Jacket
One of the best nautical gifts is most certainly a life jacket. Your favorite sailor might have one, but that shouldn't stop you from getting him another one. As we mentioned above, sailors could always use some extra safety items.
The Stohlquist life jacket is one of the most popular on the market. It comes in five different designs and sizes, so you get to pick the perfect one for your favorite sailor. The jacket is made from nylon and extra padded for superior comfort. The material is also breathable and easy to wash. The jacket has several buckles and a cross-chest harness for a tight fit. All in all, it fits perfectly, and it's incredibly comfortable. Your sailor is going to love it!
There are a lot of reasons why the Stohlquist life jacket is so popular. Buyers say that it's one of the most comfortable life jackets they have tried. It's also secure, durable, and easy to maintain. We highly recommend it as a gift!
Earth Pak Waterproof Backpack for All Your Essentials
Not sure what Outdoorsy Gifts for Her to get? Well, we have a perfect idea for both men and women. It's a waterproof backpack that is ideal for all outdoor activities, including sailing!
Earth Pak features a backpack that is among the most popular ones on the market. The item is 100% waterproof, which makes it perfect for sailing. The backpack ensures that all of your stuff remains safe and dry during your adventures. That's not all, of course! The item features a user-friendly design for easy use. It has a roll-top closure and a reinforced strip to keep the water out. It's also quite spacious, with one big compartment and many pockets on the inside and outside. What buyers like the most is a compact and lightweight design that allows for easy carrying. The shoulder straps are also extra padded for more comfort on longer use. There's even a waist belt to support your load and make things easier for you.
A backpack is a universal gift you can get for everyone. It's even better for sailors and outdoor enthusiasts. However, sailors need waterproof bags to keep their stuff dry. That doesn't work with regular materials, which is why you should aim for products such as the Earth Pak backpack. It might be more expensive than regular backpacks, but it's well worth the extra cash!
Light in the Dark Nights with Streamlight LED Flashlight
We recommend the Streamlight flashlight as one of the Gifts for Summer Campers and sailboat enthusiasts. It's actually perfect for every adventurer who loves to travel and explore the world. The chances are, she or he will need a flashlight most of the time. During the night, when you need more visibility and don't have electricity, a flashlight is one of the best items to have around.
Streamlight is one of the most popular flashlights on the market. People love the device's tough construction and impressive performance. The flashlight is incredibly compact yet produces powerful light to illuminate the area. You can even adjust the brightness, choosing from three available modes. The buttons are quite intuitive, so you won't have any trouble figuring it out. Also, the flashlight is extra coated for a better grip and more comfort. The package includes a handy pocket clip and two batteries.
The Streamlight flashlight is built to last. It's incredibly useful for outdoor purposes, and it can withstand heavy conditions and a lot of abuse. The device is easy to use, compact, and durable. You'll most likely end up with two or three models at the end of the day!
YETI Tumbler for Enjoying Favorite Drinks
Are you looking for sailing gifts for her? Maybe you're in a need of Gifts for Outdoorsy Couple? We have to recommend a universal product you can give to everyone. It's a Yeti tumbler set!
Who doesn't need a tumbler on the boat? Naturally, Yeti is our top pick brand. It's a reliable company that produces all kinds of high-quality products. You won't be disappointed with this set. The cups are made from stainless steel, so they are puncture and rust-resistant. You can use it both indoors and outdoors for coffee, tea, and other hot and cold beverages. The double-wall vacuum insulation keeps the drinks at a proper temperature for many hours. Additionally, the coating is quite sturdy, so there won't be any material cracking or color fading. All in all, the set is easy to use, durable, and it's dishwasher safe too.
If you're on a limited budget, yet you want to get your favorite sailor something useful and cute, we highly recommend Yeti. She or he will most certainly use the tumbler set and enjoy using it on every adventure!
Conclusion
We hope you find just what you're looking for on our list. Our main goal was to save you some time and relieve you from a tiresome research process. As we mentioned above, picking a gift for boaters can be quite challenging. Why not use all the help you can get? We believe that our recommendations for gifts for the sailboat enthusiast will allow you to pick the perfect product quickly and accurately.
ESTIMATED TIME DESIGNING AND UPLOADING THIS ARTICLE
ESTIMATED TIME RESEARCHING AND WRITING THIS ARTICLE
Try our AMAZING GIFT FINDER TOOL! Find GIFTS with 1 CLICK!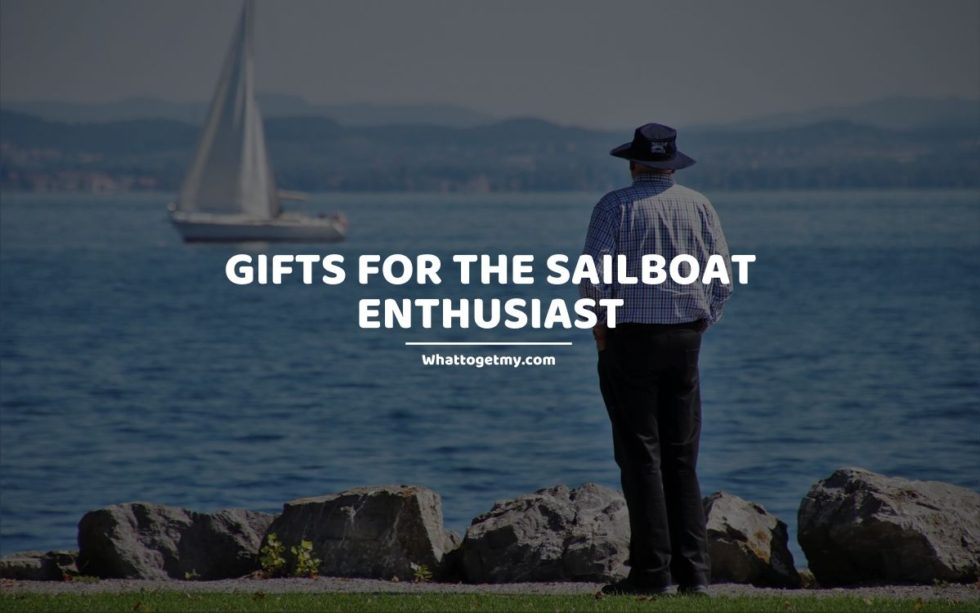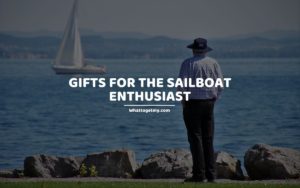 Gifts for the Sailboat Enthusiast
Shopping for sailboat enthusiasts could be challenging, especially for non-boaters. However, there's something that can ease things for you, and that's thinking about what sailors need for their boat. Just think about it, the limited space on the boat has to be filled with useful
Read More »