How to Get Your Daughter Away From a Controlling Boyfriend: 7 Ways
WhatToGetMy Instructional Article
Wanting to control someone comes from a place of fragility and insecurity, if you suspect that your daughter might have a controlling boyfriend, the first thing you will want to do as a parent is to get rid of your daughter's controlling boyfriend.
How you approach your daughter about the matter will set the tone on whether or not she will listen to you and heed your advice.
This article will help you understand the different ways you can approach your child about a controlling, albeit abusive boyfriend especially when you want her to leave him.
A study conducted in 2011 found that young women aged between 15-24 years of age were more susceptible to fall into controlling relationships especially if they were dating men older than them. This is because at these ages most women are not financially stable and settled yet and men find it is very easy to control and manipulate women who have not yet found their voice and place in the world.
Control is a form of emotional abuse because the person in control uses manipulation, and belittling to devalue their victims and make them believe that they are and would be nothing without them. In most cases, these controlling behaviors often escalate to physical and sexual abuse.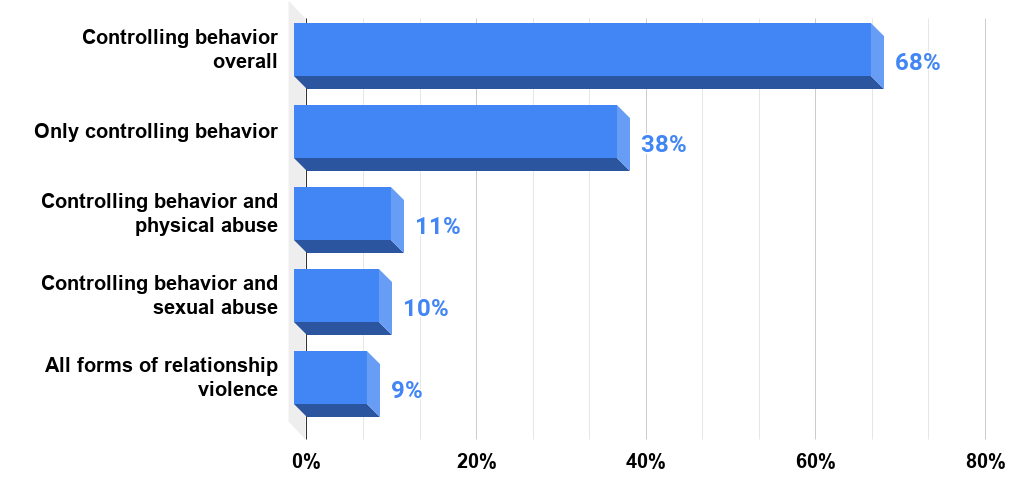 As a parent, when you notice any signs of controlling behavior, you should immediately interfere and try and help your child remove themselves from that situation before it escalates and they lose themselves completely – or worse, lose their life.
SIGNS YOUR DAUGHTER HAS A CONTROLLING BOYFRIEND
If you think your daughter's boyfriend is controlling, there are a few things you can look out for to confirm your suspicions.
1. CONTROLLING BOYFRIENDS HAVE NO BOUNDARIES
If your daughter's boyfriend has no sense of boundaries with your daughter, chances are that he is controlling or trying to control her. If he is constantly checking her phone, keeping tabs on where she is going, who she is going with, how long they are gone, and what they are doing by the minute – he might be a control freak. When it comes to people who are controlling, they have no sense of boundaries and often overstep into other people's business because they feel left out and they don't want the other person to have a good time without them because that affirms that they are replaceable. Remember, controlling behavior stems from a very insecure place and the fear of being rejected, often after experiencing a lot of rejection.
2. HE USES GUILT TO MAKE YOUR DAUGHTER DO THINGS WITH/FOR HIM
A controlling boyfriend will use guilt to make his victim feel bad for choosing to have a life outside of him. Among other things, a controlling boyfriend will say: "you don't love me anymore, you never want to spend time with me" "if you really loved me you wouldn't want to hang out with your friends all the time." "I canceled my plans with [friends] because I wanted to spend time with you, but I guess I'm not as important to you as you are to me." "You should do [abc] for me to show that you love me."
When you hear your daughter's boyfriend use language like this, or your daughter suddenly starts using language like this to cancel plans with friends and family, know that she might be in a controlling relationship – and her boyfriend is getting to her.
3. HE MAKES ALL THE DECISIONS
A sign that your daughter is in an abusive relationship is when you notice that the boyfriend makes all of their decisions. He decides where to go, what to do, how she looks, who she talks to, and how she dresses. You will see your daughter start to lose all sense of self and only do, be, and go where he says they should. This is a significant red flag trait for your daughter's boyfriend to have.
4. HE IS CONSTANTLY PUTTING HER DOWN AND MAKING HER FEEL WORTHLESS
You will know your daughter is in a bad relationship when her significant other talks down on her all the time. He will say to her things that are degrading and tear her down. This is so he can strip away all of her self-esteem and make her feel as worthless as he does so she can continue to stay with him even when he manipulates and abuses her.
7 WAYS TO GET YOUR DAUGHTER AWAY FROM A CONTROLLING BOYFRIEND
1. TALK TO YOUR DAUGHTER
If you can still reach out to your daughter and talk to her, explain to her what you think is wrong with her relationship and why you think she should leave him before her situation worsens. In most cases, the abuser/controlling boyfriend will make attempts to cut her off from anyone and everyone – eventually. He will also make sure that she trusts no one but him so when you decide to talk to her, choose your words wisely. Do not try to paint the boyfriend as the "bad guy" – only present to her facts about the relationship that you have noticed over a significant period of time. This will most likely affirm her suspicions of what she has been thinking has been happening to her.
2. DO NOT PUSH HER INTO LEAVING HIM
She will only grow to resent you and run back to her abuser because "he understands" her. If you wonder why your daughter keeps going back to her abusive boyfriend when you tell her to do so, it's because the more you push her to do it, the more she will feel like trading one abusive control freak for another – and she may not be completely wrong. If you tell her how to live her life, are you any better than the controlling boyfriend you are trying to get her away from? Let her make the decision to leave him on her own – you can plant a seed in her mind, suggest that she leaves him but never push her to do it. Don't threaten to cut her off if she doesn't, or manipulate her by telling her how much she is hurting you. If your daughter is a grown woman and well above the legal age, give her the chance to make the decision to finally kick him to the curb.
3. LISTEN TO WHAT SHE HAS TO SAY
When you get the chance to talk to your daughter, it is important to listen to what she has to say as well – in as much as you are trying to get your point across to her. Remember she is the one that spends the most time with this person and as such has the most experience with him. You are merely an observer and what you see are just cracks to the whole truth.
Listen to what your daughter has to say about her relationship and guide her on what to do next because depending on the language and diction used by your daughter, you can tell if she is in denial or if she has realized what her boyfriend is and wants you to actively help her leave him.
4. VISIT HER
If your daughter lives away from your home – either she is in college, or she lives with her boyfriend – it is important for you to visit her often, especially if you suspect that her boyfriend might be a control freak. Visiting your daughter frequently will let her know that she is not alone and if she needs anything she can come to you for help. Oftentimes, abusers get away with abuse because they alienate their victims and later make them think everyone hates them and they have no one who cares about them but the abuser. Checking up on your daughter will help her understand that she can trust you and make her see that she is not alone – you are with her.
5. MAKE HER SEND TIME WITH FRIENDS AWAY FROM HIM
In the same breath, to keep her from being completely isolated and with her abuser, encourage her friends to go see her, ask her out, take her shopping – whatever works. Your daughter needs to know and be affirmed that she is not alone and that she has a strong support system around her.
6. COMPLIMENT HER
To rebuild her self-esteem, compliment your daughter on the smallest things. Tell her how good of a job she did with her make-up, cleaning her room, and taking the dog out for a walk. Abusers tend to strip away a person's confidence, little by little, stripping away their identity as individuals in an attempt to tie themselves to their victims. Building up your child's self-esteem might be the first step for her to start, eventually, the decision to leave will be hers but in order to do this, she must be at a place mentally where she is sure of herself.
7. HAVE OTHER FAMILY MEMBERS TALK TO HER
Have other members of your family talk to her as well. Typically, this should be someone she has a connection with, someone she looks up to, and someone she connects with intellectually or emotionally. This can be the same person or it can be different people. The reason for doing this is because children often do not listen to their parents but they will listen to their "fun aunt/uncle" or their cousin whom they have so many mutual interests.
HOW DO YOU CONVINCE DAUGHTER TO BREAK UP WITH BOYFRIEND?
How to get your daughter to dump her boyfriend? You let her know you are there for her and show her why leaving him would be the best decision for her. You do not, however, threaten your daughter into leaving her controlling boyfriend no matter how much you may hate him or how badly you want your daughter to be free from him. Trust that your daughter will make the right decision for herself.
The only exception to this is if your daughter's boyfriend begins to physically abuse her. Then you can physically remove your child out of that situation whether she wants to or not, whether she appreciates it (in the moment) or not.
FREQUENTLY ASKED QUESTIONS
What are the signs of a controlling boyfriend?
A controlling boyfriend will oftentimes be very insecure about themselves – it is this insecurity that pushes them to control others because they do not believe they are deserving of love if it's not on their terms. Some signs of a controlling boyfriend include; being aggressive or passive-aggressive towards their partner, wanting to be the only important thing in your life which often leads to them telling you to quit your job or stop going to classes, and lastly a controlling boyfriend never apologizes because they never think or even see perceive their behavior to be wrong.
How do I talk to my daughter about a bad relationship?
When you suspect that your child is in a bad relationship, how you speak to her will determine whether or not she gets to open up with you. Approach her with empathy and let her know you are there for her. Explain to her the dangers of continuing to stay in a bad relationship and how quickly things can escalate in such situations. Do not judge her for her choices because chances are she did not know her boyfriend would turn out to be a control freak, be understanding of her situation and show her your willingness to help her and stand by her side. Let her know that sometimes it is okay to give up on a relationship when it is no longer serving you right.
CONCLUSION
In conclusion, if you find yourself thinking "I hate my daughter's boyfriend" because of the way that he treats her and you think she might be in an abusive and controlling relationship, it is your duty as a parent to approach your child and talk to them about what is happening to them and the implications and consequences it has both short and long term. Make them feel safe to trust you and leave their controlling boyfriends before things escalate and it is too late for them.
NB: If you think your daughter is in an abusive relationship and she is afraid to leave because it endangers her life or the lives of those closest to her, please contact the National Domestic Violence Hotline at 1-800-799-7233 for assistance from professionally trained advocates.
ESTIMATED TIME DESIGNING AND UPLOADING THIS ARTICLE
ESTIMATED TIME RESEARCHING AND WRITING THIS ARTICLE