How to Make Eyebrow Tint at Home- 5 Recipes
WhatToGetMy Instructional Article
Learning how to make eyebrow tint at home will help you;
Choose the best ingredients for your

DIY eyebrow tint

.

Choose suitable products specifically friendly to your skin

Choose

pocket-friendly eyebrow tint options

Choose readily available home products for your

DIY eyebrow tint

Tint your eyebrow yourself

; choose the design, thickness, and color shade for your eyebrow

Be on top of your eyebrow tint game.
The idea of lining your eyebrow every day with a brow pencil could be tiring. If you are like me and need an easier way to maintain a fuller eyebrow and a well-lined eyebrow that could last for weeks without extra stress, then read along.
There are many ways to make eyebrow tints at home. Homemade eyebrow tints are safer, natural,healthier; customizable, less expensive and pain-less.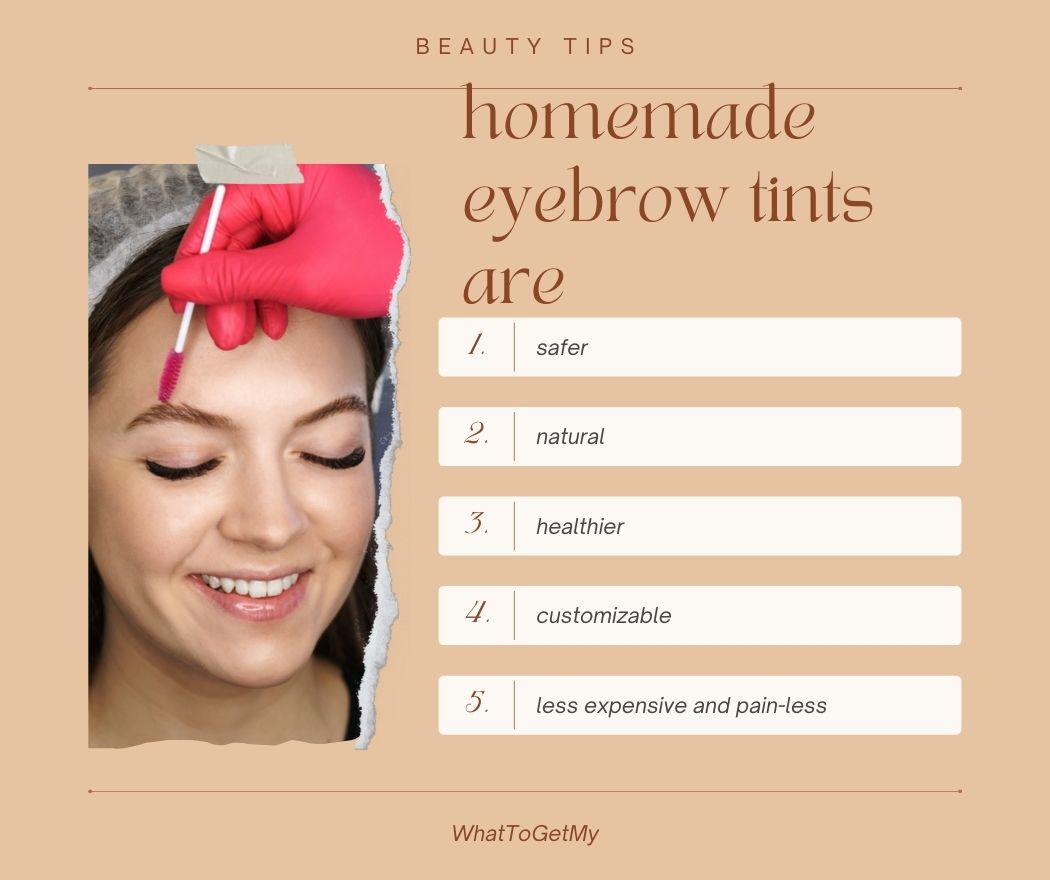 Here are the 5 homemade eyebrow tint recipes I will be sharing with you today.
Homemade eyebrow tint

with activated charcoal

Homemade eyebrow tint

with old eyeshadow

Homemade eyebrow tint

with coffee grounds

Eyebrow tinting powder

made from henna

Eyebrow tinting recipe

from hair dyes
We will take them in this format for easy understanding and follow up;
Ingredients

Preparation and

Application
1. HOMEMADE EYEBROW TINT WITH ACTIVATED CHARCOAL
This is a great recipe for a black eyebrow. You will need to get the following ingredients;
Aloe vera – 4.9ml/ 1 teaspoon

Cocoa powder – 2.5gm/1 teaspoon

Activated charcoal – 1 capsule
Mix all the ingredients until they are well mixed. You can add 3-4 drops of vitamin E for a skin-friendly and fuller look.
The aloe vera provides the fluid mixture base, while the activated charcoal and cocoa powder give the coloring and texture.
You can store this mixture in the refrigerator for up to two weeks.
Wash after leaving it in for 20 minutes.
It can last for a week or more.
This recipe is a naturally tinted eyebrow recipe; the products are readily available at home and very easy to make.
2. HOMEMADE EYEBROW TINT WITH OLD EYESHADOW
Your old eyeshadow could be used to create an eyebrow tinting powder mixture;
This recipe needs only two ingredients;
Old eyeshadow

Petroleum jelly
This may not be a natural eyebrow tint, but at least you get to do it at home with a pre-produced eyeshadow. Make sure you choose an eyeshadow whose color suits your eyebrow. Brown, bronze, black depending on the eyebrow color you prefer. Mix in a petroleum jelly until it forms a paste; voila, your homemade eyebrow tint is developed.
3. HOMEMADE EYEBROW TINTS FROM COFFEE GROUNDS
Now you don't need to throw away your coffee grounds; use them to make items like your eyebrow tints, all you need are some extra ingredients;
Coffee grounds- 10g/ 2 tablespoon

Cocoa powder- 2.5g/1 teaspoon

Coconut oil – (30mls)/ 2 tablespoon

Honey- (30mls)/2 tablespoon
The coffee ground and cocoa powder provide the coloring, adding fewer lighter or brownish colors. The coconut oil and honey give the mixture base and a skin-friendly base for our homemade eyebrow tint.
4. EYEBROW TINTING POWDER MADE FROM HENNA
Henna tree, the mignonette tree, and the Egyptian privet, the only species in the genus Lawsonia. Henna stains last for a few days after reaching their peak color, then gradually fade away due to exfoliation, usually within one to three weeks.
Ingredients for making henna tinted eyebrows are as follows;
Henna powder – ½ teaspoon

Lemon juice – add drops until it forms a paste.
Henna-made eyebrow tint mixtures should be left long after application (2 hours or more) to ensure a long-lasting effect. Henna is used for a lot of makeup recipes; according to the global eye makeup market share 2018, this chart shows the percentage share for each eye makeup in the market;
You can read more on this here
5. EYEBROW TINTING RECIPE FROM HAIR DYES
Many hair dye options can be used to produce eyebrow tints at home. The idea is to get a suitable skin-friendly dye with the right color for your eyebrow.
I have taken the time to choose for you the best hair dye that could create a complete, clean, skin-friendly eyebrow tint mix for you; this men's mustache brush in the color gel.
The good thing about this is that just for men, mustache and beard brush-in color gel has the following advantages;
Gives a natural look

Formulated for facial hair

Works in easy 5 minutes

You can use it multiple times

Value for your money
It comes with the following;
Color developer

Color base

Mixing tray

Brush
Con; does not have waxing tools.
Recommendation; this product has a 100% star rating as of this write-up, with no bad reviews. We recommend it for your homemade eyebrow tint.
Ingredients for turning it into a homemade eyebrow tint mixture
Petroleum jelly

Cotton swabs

Mild shampoo
The shampoo is for washing out the mixture after application; the cotton swabs are for cleaning parts of the mix that wanders off the eyebrow lane. You can also use the Gigi and Ardell brow bar grooming system kit, an ultimate DIY brow set; here are the pros;
Up to over 200 applications

Comes with high-quality Ardell brow-tools

Includes mini-honey warmer

Contains Gigi milk and honey wax

It's a convenient product

It is compact

Never tested on animals

Value for your money
It comes with the following items;
One pre hon, 4 oz

One post wax cooling gel, 4oz

One pre-epilation powder, 2.5oz

One wax off, 4oz

100 petite applicators

Five large accu edge applicators

Five small accu edge applicators

100 petite cloth strips

Ten small cloth strips

65 cotton rounds

One scissors

One tweezer

25 disposable brow spoolies

One mini honey warmer

Milk and honey wax, 5oz

3 Ardell dual brow brush

1 Ardell correcting brow brush

1 Ardell brow perfecting palette, one ct

1 Ardell brow powder taupe

1 Ardell brow powder soft black

1 Ardell brow powder brown
Cons; it may seem expensive, yet it is the perfect tool for both waxing and brow tinting.
Recommendations; all reviews for this product at the time of writing showed that it is an easy, convenient and complete brow bar and waxing kit; it exceeded customers' expectations; we recommend it for you.
THINGS TO DO BEFORE BROW TINTING AT HOME
1. Do a patch test 48 hours before
Mix a small part of the ingredients for the eyebrow tint you have chosen. Apply this mixture to a part of your skin, like your arm or forearm. Leave it for the same amount of time you would leave the eyebrow tint on your eyebrow. Rinse off and check the area for any skin reaction that the mixture may have caused. If your skin reacts to the mix, do not use the eyebrow tint mixture on your eyebrow.
2. Test for color
Apply a small part of the mixture on a paper towel or area of skin that is visible. After washing or rinsing out the dye, compare the eyebrow tint color with the color of your eyebrow.
3. Go makeup and mascara-free
.
This will help you focus on brow tinting. It will also help you efficiently manage the tinting mixtures when they roll off, to avoid spoiling your mascara or makeup during homemade eyebrow tints.
4. Take out your contacts.
Take off your contacts during a brow tinting session to be on the safe side. This will help you easily manage any mishap that may occur; a mixture falling into your eyes could easily be washed out without contacts. Except you are a pro, it's advisable to remove your contacts when tinting your eyebrow at home.
5. Know what you want as a final result
What color or shape do you want your eyebrow to take? Whether using a drugstore eyebrow tint or a natural homemade eyebrow tint, bear in mind the outcome you want from this session.
6. Do not apply oil-based products on brows.
Before and during eyebrow tinting at home, ensure all oil-based products are cleaned from the eyebrows. This will; help the eyebrow absorb the tint effectively.
HOW TO APPLY EYEBROW TINT AT HOME
How to make your eyebrow tint is not enough; you will need to learn how to apply eyebrow tints at home;
1. Prepare your brows for the tint
You will need to do everything yourself; dip the cotton balls in rubbing alcohol and use it to clean your brows of any oil-based products or dirt. Make sure to clean around the eyebrows and scrub the eyebrows well, be careful not to let the homemade eyebrow dyes  into your eyes.
2. Brush your eyebrows
Self eyebrow tint will be quickly done if the eyebrow is not sticking together; using a spoolie, brush the eyebrows to align in the same direction. Do so for the other brow. You can buy a spoolie separately; Gigi and Ardell brow bar grooming system kit also has 25 disposable spoolies; make sure the spoolie you use is clean.
3. Create the eyebrow shape you want
How do you shape your eyebrow? Or do you not shape your eyebrow at all? You can use a waxing gel or whatever item you use to remove extra hairs from the edges of your brow to give the eyebrow the shape you want.
4. Apply oil on the borders of your brows
Use a petroleum gel on the borders of your eyebrow to prevent your natural eyebrow tint from seeping out to other parts of your skin and for easy cleaning in case it seeps out.
5. Apply the tint
You can use a spoolie, stick, or applicator brush to apply the tint to your eyebrow. Dip the spoolie into the eyebrow tint mixture, flatten the tint on the brush, so you don't take too much at a time. Start from the beginning of your eyebrow, the part closer to your nose, work the dye in, coating every strand of hair. Follow the shape of your eyebrow and stroke evenly, taking more eyebrow tints as needed.
6. Clean up extra tint
Some tints may seep out of the eyebrow line to other areas around the eyebrow or even your face; use a wet cotton swab to clean off the extra dyes from those areas quickly. As long as petroleum jelly was applied initially, they would come off quickly.
7. Wait
You will need to keep the tint in place for some time to allow the dye to take form on the hairs and skin underneath the hairs. Some shades like henna may stay for up to 2hours or more, while some need just 20 minutes. Some people leave the tint for 24 hours before washing.
8. Wash
Now it's time to wash your homemade eyebrow tint. Ensure you have left it in for some time before washing. Look at the outcome of the eyebrow tint; is it as thick and as full as you want it>?; if it's too light, you may need to reapply the dye. If it's too dark, complete, or deep, this will be more difficult to change; just let it stay until it's time to apply a new one then you try out a lighter tint.
FAQs
1. How do you make your own eyebrow tint?
I use henna eyebrow color tint; we have a henna tree close to the house, so it's easy to pick henna fruits and use it as the color while using lemon juice as the fluid mix.
2. What can I use instead of eyebrow tint?
You can use a hair dye or mustache dye as your color for your homemade eyebrow coloring.
3. Can I tint my eyebrows at home?
Yes, many DIY homemade eyebrow tint remedies would work for you. Read up on this article on how to make eyebrow tints at home and choose which you prefer.
4. How can I make my eyebrows tint without coconut oil?
Not all homemade eyebrow tints need coconut oil; some just need the coloring and a petroleum gel.
CONCLUSION
Eyebrow tinting involves applying dyes to the eyebrow hairs to darken them and improve their look temporarily. Many homemade eyebrow tint remedies work; you can try the listed types of tints and see the difference between using a brow pencil daily and using a brow tint; it's easy, inexpensive, long-lasting, customizable, pain-free, and done at home, all by you; this article on how to make eyebrow tints at home explains all you need to know on this topic.
ESTIMATED TIME DESIGNING AND UPLOADING THIS ARTICLE
ESTIMATED TIME RESEARCHING AND WRITING THIS ARTICLE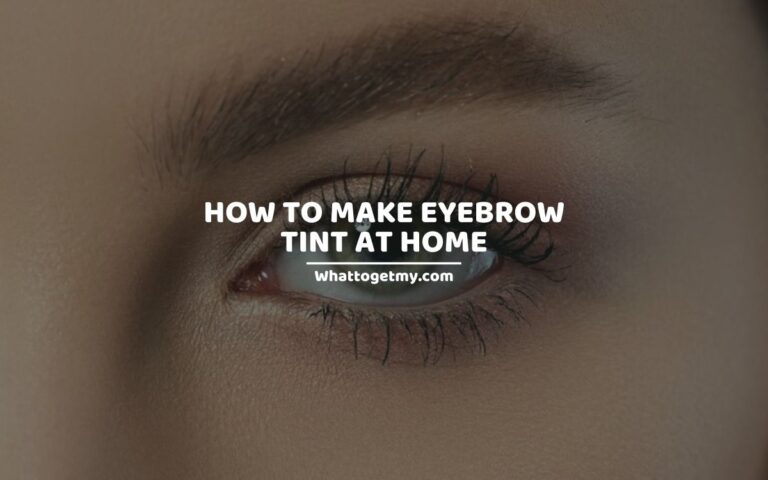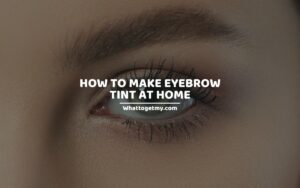 How to Make Eyebrow Tint at Home- 5 Recipes
How to Make Eyebrow Tint at Home- 5 Recipes WhatToGetMy Instructional Article Learning how to make eyebrow tint at home will help you; Choose the best ingredients for your DIY eyebrow tint. Choose suitable products specifically friendly to your skin Choose pocket-friendly eyebrow tint options
Read More »