5 Polite Ways to Ask For Birthday Gifts
WhatToGetMy Instructional Article
These days, we often encounter the question of whether it's polite to ask for gifts or not. Don't think you're the only one. People are widely concerned with this topic. However, the other side has problems too. Guests are troubled with the question of How to Ask Someone What They Want for Their Birthday. That adds a completely different dimension to the entire birthday-gifts-giving thing.
Watch the video version of this article:
If both sides are concerned about birthday gifts, there should be an easy solution to the problem. Guess what, there is! By asking people to get you particular gifts, you might actually help them decide and save them quite some time and effort. Most people are not comfortable with buying gifts, regardless of the situation and relationship type. It's just easy to get confused and insecure about the choice of gifts. Therefore, there's nothing wrong with asking people for gifts, as long as you do it properly. To help you find the best polite ways to ask for birthday gifts, we composed the following guide. Don't miss to check it out, because it might save you from a lot of trouble.
Important Considerations
What do you want for Birthday
Gifts for Children
Believe it or not, when you're throwing a children's party, it's way easier to ask for birthday gifts. Most people will even ask you directly what to buy. Choosing gifts for children can be difficult, especially for toddlers. If you tell them what your little one needs, they'll be relieved!
Now, consider what things your child needs. You can ask for different gifts or only one expensive thing from all of your guests if they count only the closest friends and family. You can also make a hint on what your child needs and then leave your guest to pick a particular thing. For example, if you need more educational toys for your toddler, you can say so, and leave your guests to decide on toys they like.
Gifts for Yourself
Before you make any suggestion or request, you should first decide what you want to get for your birthday. Here are some examples if you need some extra guidance.
Practical Things
If you're tired of getting things that will just lay around untouched, probably instantly forgotten in your closet, it's time to ask for things you actually want to have. You can choose anything, from office supplies to home appliances. Just don't be too demanding and keep in mind other people's budget limitations.
Romantic Gifts
We noticed that a lot of girls are concerned with the question of How to Ask For a Gift From Boyfriend. Honestly, it's not very different from asking people with whom you're not romantically involved. However, we will get to that part later on.
For now, consider whether you want romantic things in general, regardless of your relationship with the quest. It's an important step because people can easily get these things wrong. They could think you love sentimental gifts even if you don't, and the other way around. That's why you should at least give them a hint about the nature of the gift you want to receive.
Long Desired Stuff
Don't be ashamed to ask for things you can't afford getting yourself. Your guests would love to have a chance to give you something you don't already have, or you'll use in the future. Therefore, think about the stuff you want for a long time, but you never had a chance to get.
Experiences Instead of Gifts
A lot of people are concerned with the question of whether it's okay to ask for experiences instead of gifts. Our answer is yes, it is okay. Many people would use some days off, enjoying free time on the road rather than getting material gifts. However, if you don't give at least a hint about it to your guests, they probably won't guess it on their own. We listed some experiences you can ask for your birthday, but for more details, you can follow our article about 5 ways for How to Ask for Experiences Instead of Gifts. 
Traveling
If you lack money for the upcoming trip, you can ask for plane tickets, a gift card to improve your traveling gear, and similar stuff. However, the best thing to ask for is the trip itself. Just keep in mind that this request might sound rude to people that are not so close to you. If you ask your friends and family, they'll most certainly love to join forces and provide you a wonderful trip.
Group Experiences
Another excellent way to ask for experiences instead of gifts is to suggest a group experience! It can be anything, from a road trip to a one-day visit to the local amusement park. This way, you get to spend some more time with your loved ones, have fun, and also suggest a gift idea easier. It's a win-win situation!
Charity
Consider hosting a charity event. Gather your friends and family members and join volunteers in helping people who need it the most. This way, you'll spend your special day doing something useful and being with your loved ones at the same time.
Monetary Gifts
Maybe you want monetary gifts for your birthday. Did you consider that already? If not, you should. You can spend the money wisely and get something you really want. There's nothing wrong with that. Is there a polite way to ask for money instead of other gifts? Yes, there is, and it's mostly the same as asking for gifts. You can take a peek at this article for more info Cute Ways to Ask for Money as a Wedding Gift.  
The Budget of Your Guests
Don't forget to take into consideration the budget of your guests when asking for gifts. Not everyone can afford to give expensive things, experiences, or a lot of money. You should always be modest in your requests.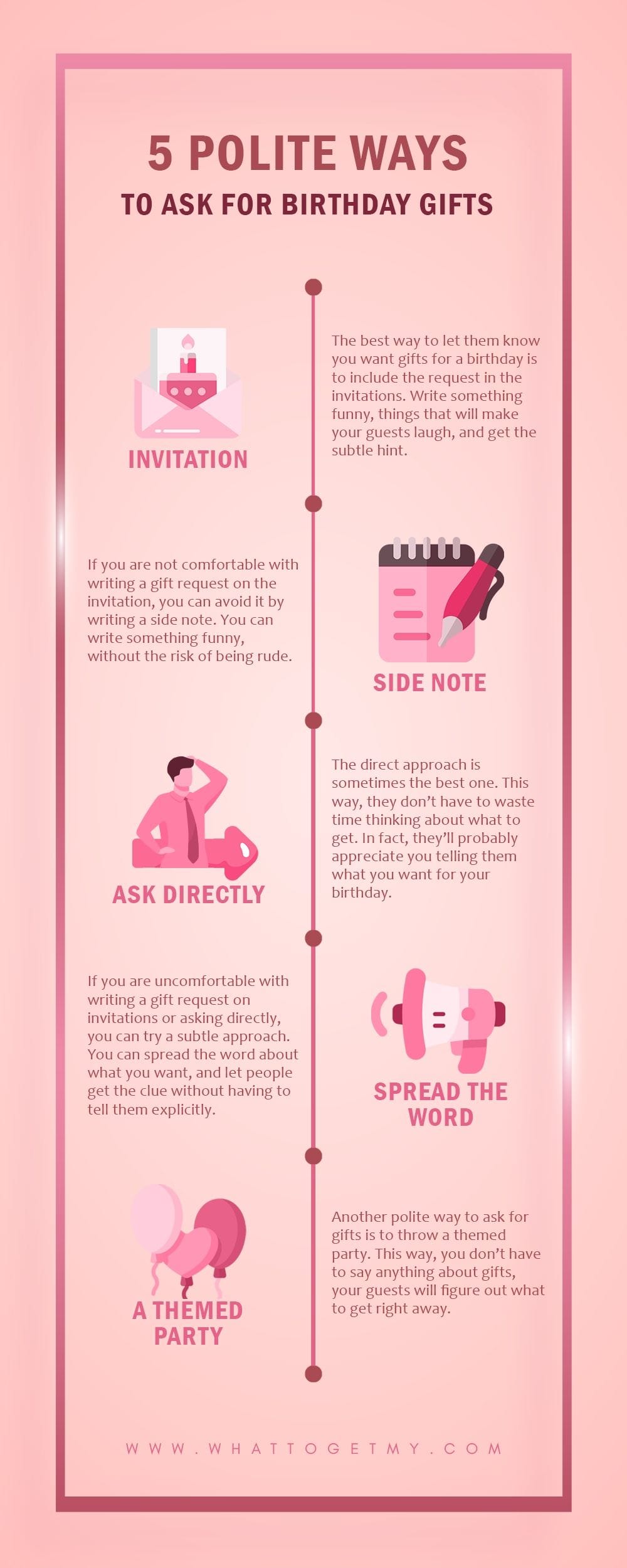 Source Link: https://whattogetmy.com/polite-ways-to-ask-for-birthday-gifts/
How to Ask the Tricky Question
Here we are, at last, facing the problem. The question is tricky, we won't deny it, but we do have some excellent tips on how to handle it. Check out the following suggestions:
Invitation
This is our favorite and most commonly used approach in general. You have to write birthday invitations for your guests, right? The best way to let them know you want gifts for a birthday is to include the request in the invitations. 
So, how to ask for presents on invitations? Write something funny, things that will make your guests laugh, and get the subtle hint. You can also write something like:
All I need is your presence, but if you want to bring something, I would appreciate…
You're not obligated to bring gifts, but if you do want to bring something, the thing that would make me very happy is…
For more similar examples, you can take a look at the article How to Ask for Gift Cards on a Birthday Invitation. Here we included some useful tips on how to politely ask for gifts in different ways. The article also contains the answer to the question of how to ask for gift cards on an invitation.
Side Note
If you are not comfortable with writing a gift request on the invitation, you can avoid it by writing a side note. You can use the same wording as the one listed above, it will only go on a side note, following the invitation. It's also a cute way to ask for gifts. You can write something funny, without the risk of being rude.
Ask Directly
The direct approach is sometimes the best one. Most people fear that it might sound rude, but it won't if you do it properly. You only have to consider the audience. If you ask your close friends and family members, you can break down for them the reasons why you want a certain gift. In fact, they'll probably appreciate you telling them what you want for your birthday. This way, they don't have to waste time thinking about what to get.
If you ask for gifts directly from people you don't know that well, things are a little different. You should let them know you don't expect them giving something they can't afford or do in any other way. Make sure they understand that's not something you demand, but would enjoy if they can do it. This way, you won't be misinterpreted and be perceived as rude.
Spread the Word
If you are uncomfortable with writing a gift request on invitations or asking directly, you can try a subtle approach. You can spread the word about what you want, and let people get the clue without having to tell them explicitly. For example, casually talk with your friends about how you always wanted to get that amazing coffee maker or other house appliances to complement your apartment. They'll most certainly get the hint and talk to other guests. That will also give them more ideas on some other gifts they can get.
A Themed Party
Another polite way to ask for gifts is to throw a themed party. This way, you don't have to say anything about gifts, your guests will figure out what to get right away. For example, if you want some tech things, you can throw a gadget party. You can call it any way you want, like Back to the Future, Science Fiction, or Geeks Party. Let your guests know there will be video and board games to play and maybe consider some costumes. It will be super fun and you'll also get the gifts you want without even having to ask!
Commonly Asked Questions
We noticed a lot of questions regarding the topic of polite ways to ask for birthday gifts, so we made an effort to answer some of them. We think it will help you deal with this tricky task.
Is it polite to ask for birthday gifts?
Yes, it is. There's nothing wrong with asking for birthday gifts as long as you do it properly. You should consider the budget of your guests and make sure your request is reasonable. Also, consider the audience when asking the question if you want to avoid being rude.
Are there any things I should avoid when asking for birthday gifts?
Avoid wording that will make you look demanding or too pushy. People should know that you're not ignoring their financial situation and their wishes in general. Make sure to tell your guests they are welcome regardless of the gifts. Don't say or write anything that starts with you should/you have to/I expect you to bring, etc.
Is it alright to ask for monetary gifts for a birthday?
Yes, but be reasonable with your requests and ask politely. A lot of people opt for monetary gifts these days, whether it's for a birthday, Christmas, or a wedding. It turns out to be more practical for both guests and hosts.
If you are wondering how to ask for money instead of gifts for birthdays, you can take a look at the following article How to Give Hints About a Gift. It might give you some unique ideas and ease things for you.
Can I ask for experiences instead of gifts?
Absolutely! You don't have to stick with traditional gifts. Just keep in mind all the tips we listed above. We said it too many times, but it's crucial to think about your guests when asking for gifts, whether you opt for money, experiences, or material stuff.
Final Thoughts
Now you're all set to invite your guests and throw a birthday party! With all these tips in mind, you should be ready to ask for gifts and celebrate a special day with joy. Don't overthink it. You know your guests the best, and there's no chance you can go wrong no matter the approach you choose. We included the 5 ultimate polite ways to ask for birthday gifts, so don't worry, you'll be just fine.
ESTIMATED TIME DESIGNING AND UPLOADING THIS ARTICLE
ESTIMATED TIME RESEARCHING AND WRITING THIS ARTICLE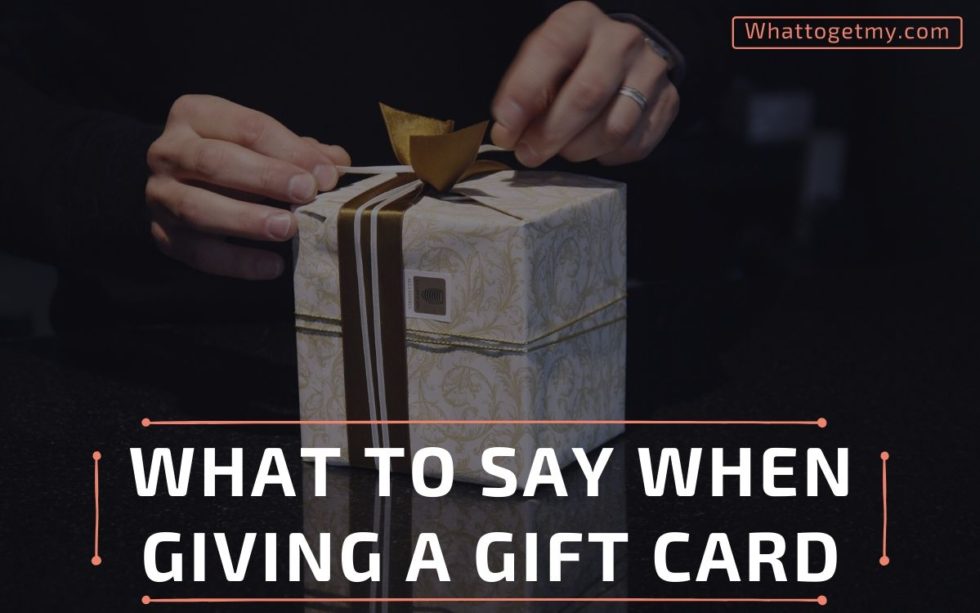 What to Say When Giving a Gift Card
What to Say When Giving a Gift Card WhatToGetMy Instructional Article What to say when giving a gift card is the most common question asked online. It might seem pretty easy to give a gift, but things can get a little tricky. You can't say
Read More »