Although you may think that your mother-in-law is trying to take over your child, chances are she does not view it in that way and she thinks her actions are altruistic – which is what makes dealing with her very difficult. The overbearing mother-in-law never sees the fault in her actions and so thinks you are attacking her when you ask her for space and set out boundaries for you and your family.
It is very difficult for most women to get along with their mothers-in-law especially when it comes to issues such as how to raise their children. Apart from the (oftentimes) obvious generational gap, every mother wants to raise their child on their own and instill in them morals and ideologies that they align with, which may not always go over well with your mother-in-law.
Although having family help you raise your child is relatively cheaper than hiring nannies or spending money at daycares, when asked if they would let their mother in law be the primary nanny for their child, most women disagreed and cited that the arrangement would never work unless they were really struggling with their finances.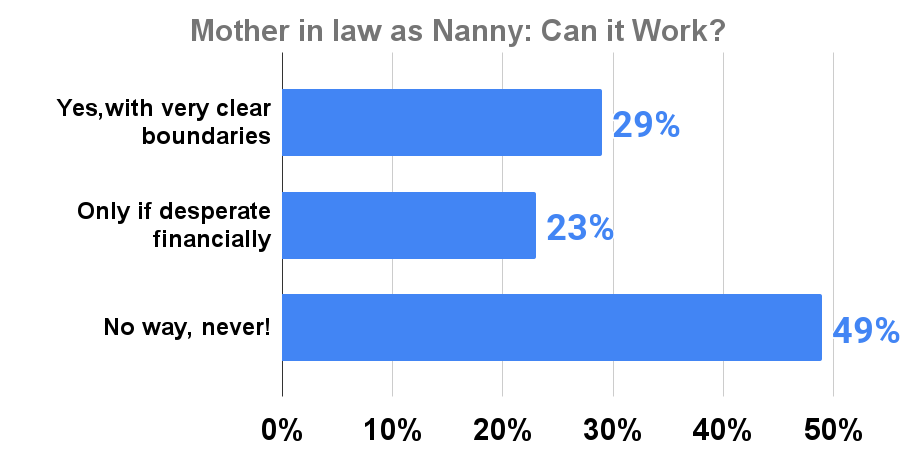 SIGNS YOUR MOTHER IN LAW IS TRYING TO TAKE OVER YOUR CHILD
So why is it so hard for mothers-in-law to have boundaries when it comes to your children and how can you spot a problematic mother-in-law from a mile away? We hope that these signs will help you identify whether or not your mother-in-law is overbearing or just an overeager grandmother.
1. SHE SHOWS UP AT YOUR HOME UNANNOUNCED
The domineering mother-in-law will show up at your house unannounced. This is a ploy to catch you "in a bad state" so that she can criticize you and your child-rearing skills. She will pay you to surprise visits for the sole purpose of criticizing you, no matter what she finds you doing. You are too lazy if you are taking a nap in the middle of the day, you are coddling the child too much, you leave the baby alone for too long, you are leaving her son to take care of the child by himself… the criticisms never stop. And no matter what you do, it will never be alright in her eyes.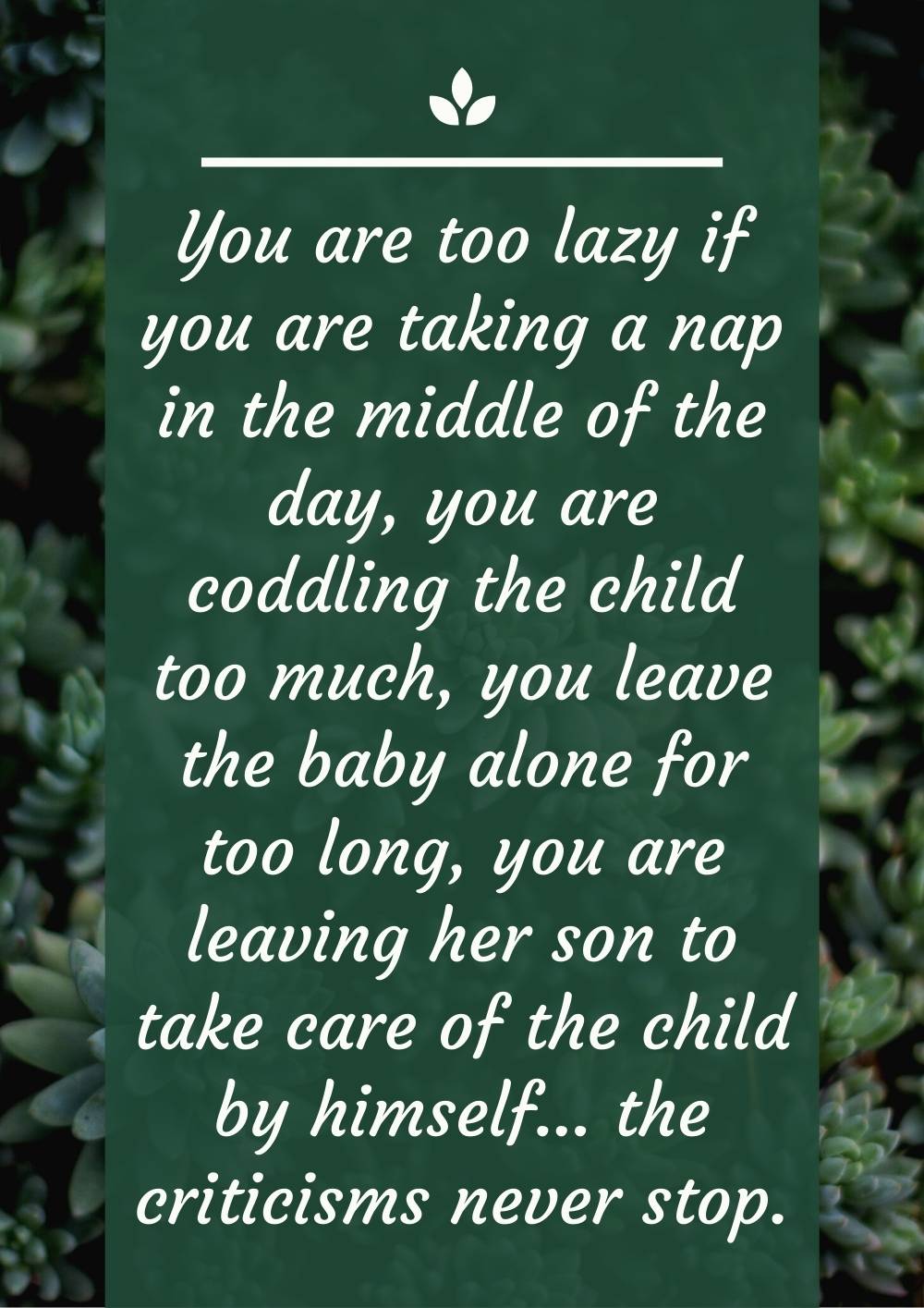 2. SHE NEVER LISTENS TO YOU
The dominant mother-in-law will also choose not to listen to you when you speak up for yourself. She will ignore you if you tell her to call before she shows up at your house, or if you tell her to not use a certain tone when speaking to you around your child. This is a powerplay to her and you are on the losing end for as long as she keeps ignoring you and does whatever she feels like doing – sometimes doing exactly what you ask her not to do just to get a reaction out of you.
3. SHE CONVENIENTLY 'FORGETS' ANYTHING YOU TELL HER REGARDING YOUR CHILD
One of the symptoms of a controlling mother-in-law is when she forgets things that you tell her that are related to your family. This is different from her not listening to you because she will pretend to listen to you when you talk to her and even agree to change, however, she will not change and has no intentions of doing so. When you confront her, she will cite old age and forgetfulness so that you can let it go. This is a manipulative tactic that she can use against you to appear caring and also fragile so that no one believes you when you complain about her to them.
4. SHE ACTIVELY AND CONSTANTLY PUTS YOU DOWN
A demanding mother-in-law will constantly put you down through her actions, words, and overall demeanor towards you. She will hold you to impossible moral standards and when you fail she will mock and ridicule you for her amusement – and also so she can tell other people how terrible you are doing, how you are failing as a mother or wife. This behavior comes from a very insecure and hateful place and here are some tips on what you can do when your mother-in-law hates you.
5. SHE THINKS YOU ARE DOING EVERYTHING WRONG
You know you have a crazy mother-in-law when she is constantly belittling you and everything you do. She will come around just to pick on you and how you are keeping your house or raising your children, or looking after your husband. And the crazy part is even when you do things the way you think she would like them, she still will find fault in it and say you are doing it wrong!
6. SHE FINDS FAULT IN YOUR HOME
The nagging mother-in-law is another species of mothers-in-law who will try and take over your child to raise them "right" by finding fault in your home. You leave the toys lying around, it will hurt the child, why doesn't she just take the child to her house instead? The dishes are not done, why doesn't she just relieve you of the children while you clean your house? While this may seem and come across as helpful, it is her way of taking your kids away from you by showing them how faulty your home is, if she really wanted to help, she would have asked to help you put the dishes away or watch the kids at your house while you do the chores. The fact that she takes the kids away from you every time she points out a fault in your home means that she only comes to your home to find fault in it and uses said fault to take your children away from you.
7. SHE IS CONTROLLING
Speaking of difficult mothers-in-law, controlling one's top the chart. This type of mother-in-law will want to supervise and micromanage everything that you do with your kids, from the type of formula they use (if they should use formula at all!) to what school they should go to. This type of mother-in-law will insert herself in every aspect of you and your child's life and make decisions, even behind your back, that benefit her and her worldview. She will often try to turn your kid against you when they are old enough and try to persuade them to agree with them in every decision that has to be made, even those that do not concern her. She is invasive and does not respect any boundaries.
8. SHE IS EMOTIONALLY MANIPULATIVE
An emotionally manipulative mother-in-law is perhaps the most dangerous of them all. This is because she will appear sweet and innocent to those she wants by her side while revealing her dark side to you and essentially gaslighting you when you try to explain yourself to others on how she treats you. This is dangerous because she can easily manipulate the people around her, including your child, into alienating you and eventually take away your child from you.
9. SHE GIVES YOU BACKHANDED COMPLIMENTS
Another sign that your overbearing mother-in-law is trying to take over your new baby is when she gives you backhanded compliments about how you are doing with your baby. As a new mother, you are going through so much with your body changing and hormones raging, you may actually start to believe these comments and it may make you want to let her take the wheel "until you get it right" but once that is done, you are never going to be in charge of your child again because she will use age and experience over you. It is important to stand your ground from day one and set boundaries with your overbearing mother-in-law – because let's face it, she didn't just now start acting overbearing, did she?
10. SHE UNDERMINES YOU IN FRONT OF YOUR CHILD
A controlling mother-in-law will undermine you in front of your child to try and make you seem incompetent. That way if your child ever has a problem they will go to their grandmother instead of you. This is just another tactic they use to get closer to your child and replace you in the parental role.
11. SHE HAS NO RESPECT FOR PERSONAL SPACE AND BOUNDARIES
Pushy mothers-in-law have no sense of personal space or boundaries and this is how they insert themselves into your relationship with your child and try to dominate it. She will have no sense of physical or emotional boundaries, she will constantly do things that you are uncomfortable with and if you confront her she will try to downplay it as if it is not a big deal.
12. IT'S ALWAYS HER WAY OR NO WAY AT ALL
Another one of the signs of a controlling mother-in-law is when she refuses to see any other way of doing things and she insists on doing things her way because that is the only right way to do them. This can and will create conflict between you and her especially when it comes to raising your child. She will want to raise the child in one way and you in another and because she is controlling, she will try her best to take over your child so she can win and do things her way.
13. SHE NEVER ADMITS TO BEING WRONG
If there is one thing that an overbearing mother-in-law will never do is to admit to being wrong and apologizing for her toxic behavior. This is how you will know the difference between an overeager mother-in-law and an overbearing one; the eager mother-in-law may sometimes step on boundaries but she will always admit her faults and apologize when you approach her about said boundaries. On the other hand, the overbearing mother-in-law will see nothing wrong with her actions and will see you setting boundaries as accusing her of being or doing too much which will hurt her ego and she will eventually cause problems between you and your spouse.
FREQUENTLY ASKED QUESTIONS
1. How do I get my mother-in-law to stop interfering with my child?
The first thing you can do is to talk to her calmly, let her know how you feel about her showing up at your house unannounced, taking your children away without your permission, and any other thing she may be doing. If she still does not take you seriously or respect your boundaries, you can now involve her child (your spouse) in the conversation. It is always best to approach her as a family unit and not as an individual. Also, make sure you use a soft tone and language when you approach her so she doesn't feel like you are outcasting her.
2. How do you handle a manipulative mother-in-law?
A manipulative mother-in-law can make life quite difficult for you and your spouse. The best way to handle her is to move away from her – physically if you can afford it move away from the toxic mother-in-law. This will help you limit the amount of time you see and spend time with her. It will also limit the influence they have on your spouse and therefore allow you and your spouse to form a relationship that is not influenced by their mother.
CONCLUSION
In conclusion, it is quite normal for new parents to think that their mother-in-law wants to take over their child – at any age. When you find yourself in a situation like this, it is important to know what signs to look out for to determine whether your mother-in-law is just being helpful or slowly inserting herself into the role of a parent and subsequently pushing you out of the picture. We hope these 13 signs can help you navigate and understand your situation more effectively.
ESTIMATED TIME DESIGNING AND UPLOADING THIS ARTICLE
ESTIMATED TIME RESEARCHING AND WRITING THIS ARTICLE