Things You Can Do When You Turn 16
WhatToGetMy Instructional Article
Disclaimer: We're not lawyers, we're people. We research and try to find the best information out there to help answer your questions. That being said, the information provided by this article is for general informational purposes only. All information on this site is provided in good faith, however, we make no warranty of any kind regarding the accuracy, adequacy, validity, or reliability of any information. You should consult with an attorney before you rely on legal information provided here.
Turning 16 is a big milestone in your life. It's the first step towards adulthood. You're gaining new rights and also new responsibilities. Are you wondering what possibilities opened for you now? What are the things you can do when you turn 16? We've made a list that's going to help you answer these questions, so be sure to keep scrolling.
Watch the video version of this article:
By the time you turn 16, you've probably acquired some knowledge about life. We want to also add thoughtful advice:
Once the candles are blown, things will start changing really fast. You need to remember to stay in the moment! Don't be on the beach wishing you were in the mountains and vice versa. Enjoy your life and live out your dreams in the present.

Nobody has "figured everything out". As you get older, you'll realize there's no such thing as the perfect life. You should do your best but don't be envious of other people's lives.

Always take "the high road". When you argue and fight with people, don't try to seek revenge. Just forgive and move on. You should treat anyone the same way you want to be treated.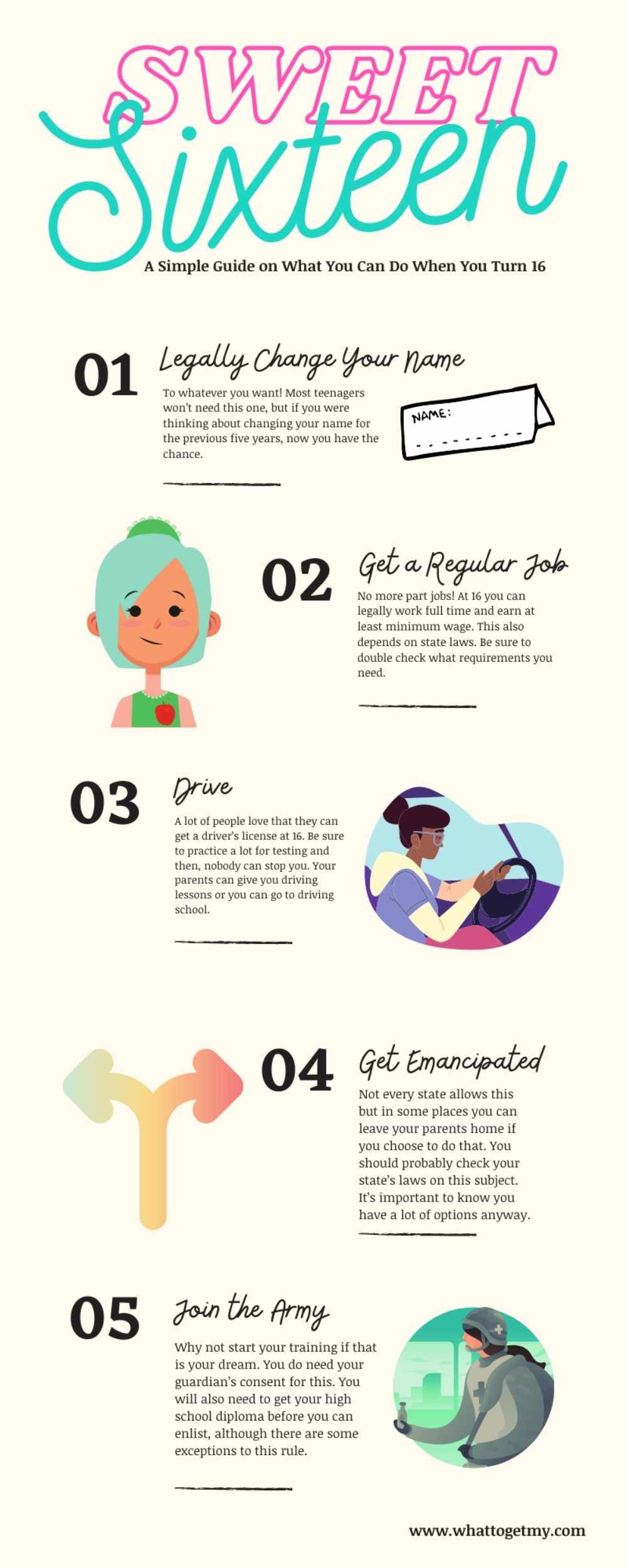 Source Link: https://whattogetmy.com/things-you-can-do-when-you-turn-16/
Legal rights
It's important to know your legal rights and responsibilities. Even if you don't use everything that's available to you now, you should be informed. This will help you and your friends with their questions or possible predicaments.
We'll highlight the things you need to know regarding your relationship to the law, medicine, education, and work right. Did you ever wonder, what happens when you turn 16? What are exactly your rights and responsibilities?
The law
You can legally change your name
To whatever you want! There's some paperwork you need to go through (deed poll) but it isn't anything complicated. Most teenagers won't need this one, but if you were thinking about changing your name for the previous five years, now you have the chance. This option can come handy in various situations, so try to keep it in mind.
You can get a passport
You don't need your parents to get this important document. However, you would still need their consent to travel the world. Still, getting a passport on your own is a small step into adulthood.
You can apply for legal aid
Even if you think you're never going to need legal aid, you should know it's available to you. You can get your friends out of trouble if they didn't do anything too serious.
You could be detained in custody
Be aware that police now have the right to hold you in custody. You can't go to the adult jail but you can go to the Juvenile detention center to be held accountable for your actions.
You can be prosecuted in the court
Remember that you're not a kid anymore, so you need to take responsibility for your behavior. Your parents can't help you as much as they did before. You can go to trial for any unlawful activity, no matter how small it is.
Medical decisions
Being in charge of your medical decisions is very important. You can decide what's best for your health. Any medical choice (surgical or dental even) is up to you. Also, your parents can't force you to go through any kind of procedure you're not comfortable with. At 16 you're taking important steps towards your medical freedom.
This means you can choose your personal doctor. Due to doctor-patient confidentiality, you can ask your doctor for any help without worrying about your parents finding out. If you need birth control and you're afraid to talk to your parents, you can ask your doctor instead. However, we strongly encourage you to have open communication with your parents. It will make things way easier for you in the long run.
Work rights
No more part jobs! At 16 you can legally work full time and earn at least minimum wage. This also depends on state laws, so be sure to double-check what requirements should you have to work full time. What's more important is that you can join a trade union. Fighting for fair wages and work conditions is necessary in today's society. You can be a part of a larger movement and change people's lives!
Education
You can get free full-time education and you can have access to your school records. Also, you have the right to leave school but that might not be the best decision in the long run. Remember that with bigger rights comes bigger responsibilities. You have the power to take control of your life and you should do the things you won't regret later.
Other things worth mentioning
What other things you can do besides the previously mentioned ones? Well, for starters you can get emancipated. Not every state allows this but in some places you can leave your parents home if you choose to do that. You should probably check your state's laws on this subject. It's important to know you have a lot of options anyway.
You can also join the army. Why not start your training if that is your dream. You do need your guardian's consent for this. You will also need to get your high school diploma before you can enlist, although there are some exceptions to this rule. The best option is to attend basic training during summer but not all branches of the military allow this.
Leisure time
Let's talk about fun things. For example, what can you do when you turn 16 in your spare time?
Driving
A lot of people love that they can get a driver's license at 16. Be sure to practice a lot for testing and then, nobody can stop you. Your parents can give you driving lessons or you can go to driving school. Maybe your parents can even get you a nice used car after you get your license!
Fly a glider
It's just as exciting as it sounds! You might not be able to fly a plane but you can surely train to pilot a glider. If you're enthusiastic about extreme sports, you should definitely consider gliding. Flying a glider is not inherently dangerous. Like in all activities, if you have proper training and pay attention all the time while doing it, gliding is very safe. However, if you're reckless and inattentive, this activity is not for you because you can get hurt.
Ride a moped
If cars are not your thing, you can learn to drive a moped. You can get a license and power a machine with a maximum engine power of 50cc. Go to school in style or drive around the neighborhood to chill.
Celebrating your sweet 16
The best thing you can and should do is having a sweet 16 birthday party! If you're wondering what to do for your sweet 16, we have a few ideas. There's a lot of amazing things to do for a sweet 16 birthday party. For starters, invite all your friends! Make sure you have a lot of snacks and loud music speakers – that's all you really need for an excellent party.
If you want to make things interesting and unique, you can throw a themed birthday party. Organize scavenger hunts, "murder mysteries", karaoke party or even a barbeque. Nobody expects that a 16-year-old will have a backyard barbeque!
Classic activities like going to the mall or the cinema and having a sleepover are also great ideas for sweet 16. All you need is an enthusiastic attitude. Be cheerful even if things don't go as planned. Nobody wants a downer at the party, right?
Ask your parents and relatives for help. You would have much more fun if you're a part of the scavenger hunt or if you don't know the solution to the mysteries. Parents always offer help, even if it's just about the organization, you should not refuse it.
Don't forget about the stylish party decorations. You can have the décor related to the theme of the party, or you can just throw a bunch of balloons and banners in a room. The most important thing about decorations is that they lift the mood and make an excellent party atmosphere.
If you don't want to have a party for the 16th birthday, you still have a lot of options for the celebration. You can go out for a nice meal in a restaurant with friends or family. Consider going to museums, art exhibitions or music concerts. You can always find a way to have fun with your friends and you don't need a fancy party for that.
More advice at the end
We just want to mention a few more things. Don't worry too much! You're too young to have adult worries and preoccupations. Just relax and enjoy yourself. "Live, laugh, love", they say and we couldn't agree more! Love deeply despite the risk that you'll get hurt. Break some hearts and be prepared to have your heart broken too.
Travel as much as you can and explore the world around you. Learn new things every day. Engage in creative activities with your friends. Some of the best memories created are the ones that came out of spontaneous events.
Don't put pressure on yourself! Why compare yourself with others when you can just be who you are. Be lazy when you feel like it and be dedicated when you strive for success. Balance your wishes with your responsibilities. We can't do everything we want all the time. Visualize your future but have fun in the present. Life awaits you, so embrace it.
Frequently asked questions
Why is 16 an important age?
In the United States, the 16th birthday marks the period when teenagers start transitioning into adults. They are not legal adults yet, but at 16 they can learn to drive, get jobs and assume other adult responsibilities. For many people, the 16th birthday represents the end of childhood.
Can you get married at 16?
Yes, you can (this also includes same-sex marriage in some countries), but you would need parents' permission.
Can a 16-year-old get a tattoo?
Unfortunately no. You can't legally get a tattoo until you're 18.
Can you leave home at 16?
As we mentioned in the article, you can leave your home without your parents' or carers' permission but that might not be the best decision.
What is the legal age to babysit?
There's no minimum age needed for babysitting another child. However, it's recommended that no-one under 16 is left to care for an infant.
Can 16-year-olds vote?
Unfortunately, no. You need to be 18 to vote.
Conclusion
We hope that now you have a better understanding of the things you can do when you turn 16. The older you get, the more choices open in front of you. Be ready to embrace all opportunities that life throws at you. Don't be scared, we've all been where you are now and we managed to make it through. This is a fun but also confusing and scary period. However, we're sure you can "survive" it.
Sweet 16 birthday has lots of fun prepared for you. You can only imagine what you could do for the 18th birthday, right?
ESTIMATED TIME DESIGNING AND UPLOADING THIS ARTICLE
ESTIMATED TIME RESEARCHING AND WRITING THIS ARTICLE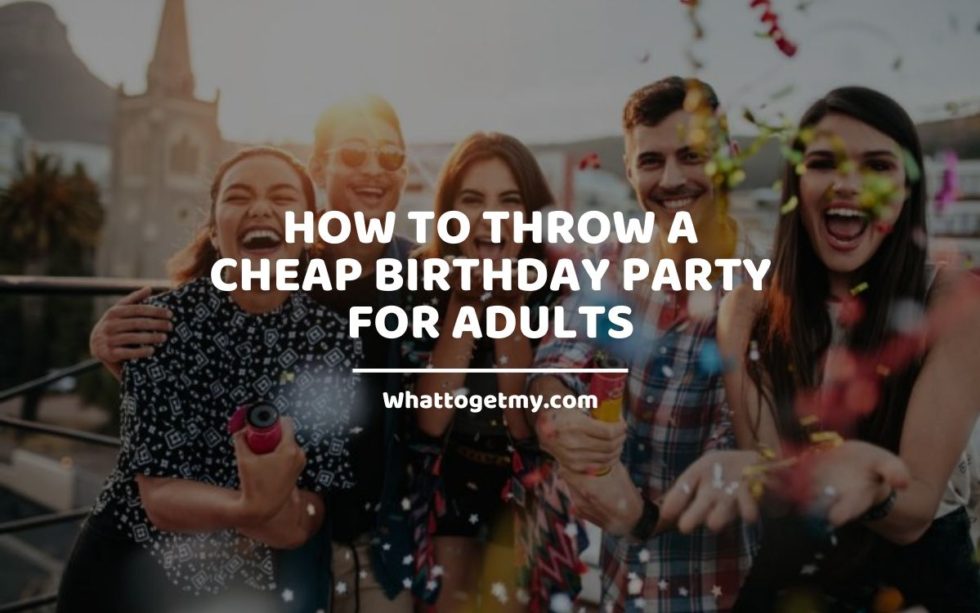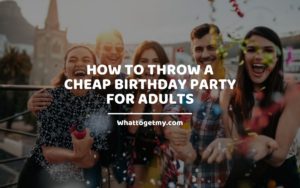 How to Throw a Cheap Birthday Party for Adults
11 fun ideas for how to throw a cheap birthday party for adults WhatToGetMy Instructional Article Birthdays are meant to be celebrated by having fun with friends and family. But throwing a birthday party can be very expensive. So how do you throw a cheap
Read More »