Parents often wonder, "Why is it that I can't seem to get a gift right for my teenage son? Is it really that hard to please find something for my teenage son?"
Well, it turns out that shopping for a gift for teenage guys is really hard. It's even harder finding gifts for athletic teenage guys, as most parents probably know. And it's not a lack of trying on the parent's side. Countless hours go into finding the right gift for that special someone in your life. It takes more time to shop for a present for your teenage child.
Why is it so Hard to Find the Perfect Gift for Athletic Teenage Guys?
It's so hard to find that perfect gift for a teenager because their preferences are always changing. One day, your athletic son is into football, the next day, he's into surfing. A chameleon changes color fewer times than teenagers change their minds.
Psychologists have tried to understand why teenagers lose interest in things a lot quicker than the rest of us by asking themselves why adolescent boredom is so common. Why do they get bored so easily? Answering this question will help you find perfect gifts for athletic teenage guys every time you go out shopping.
Folks who've spent their lives studying adolescent behavior note that a large part of being a teenager means being dissatisfied. Adolescents, not wanting to be seen as children anymore, want to show all mature adults' characteristics.
But they're yet to know how to cultivate an image of maturity.
So, they pick up a new interest hoping it will make them look more mature, but when they discover a new interest that talks to their desire to be independent young adults, they quickly drop other interests. The cycle repeats itself weekly, and that's why you'll find your 15-year-old Hercules is into sports this week, and the following week, they're into outdoor activities.
If you don't keep tabs on what your strapping young lad, chances are that you'll never get the gift right. You'll always be a step behind – buying him a football jersey because all he could talk about a week ago was how he wanted to play professional football and not knowing he's now into parkour.
Being a busy parent, you probably don't have time to keep tabs on every little aspect of your child's life. Between paying the bills, household chores, and following up on his academics, you have little (if any) time and energy left to do anything else. Sure, you sit around the dinner table each evening and talk about how each other's day was, but that's never enough.
Remember, teenagers tend to get bored with things quicker than the average person. So, if you are thinking of sport gifts for teenage guys and he he told you a couple of nights ago how he wishes he could go rafting, don't rush to the store and get him a raft just yet. He might not be interested in rafting anymore.
If you do that, you'll be shopping for gifts every week.
How To Find Gifts for Athletic Teenage Guys
There're better ways to find perfect gifts for athletic teenage guys that takes out the guesswork. And to make your life even easier, at the end of the article, you'll find 5 suggestions for cheap gifts for athletes that work almost every time.
Keep Up with Fads
Keeping up with current fads seems a bit counterintuitive initially, but you can narrow down the right gift for your athletic teenage son when you know what's in and what's out.
Fads tend to last anywhere between a couple of days to a whole year. They also tell you what's trending and what's not trending. For example, smartphones started out as a fad for teenagers a decade ago. Now they are an integral part of their lives. The recent surge in social networking apps means a smartphone is the average teen's way of keeping tabs on their social circles.
If there's a new athletic fad, your teen son will most likely know about it and is dying to be part of it. Get him a present that meshes into that fad, and 9 out of 10 times, they'll be content with it.
Don't rely on fads too much though. They have a way of vanishing overnight. That expensive gift you bought for your athletic son might be out of fashion before you get home from the store.
When using fads as a gift compass, it's prudent to also keep in mind all the other tips listed here.
Talk to Him and His Friends – But Don't Be Too Obvious
Another great way of finding out the kind of gifts athletic teenage guys would love is getting close to them. Get to know teens by developing and cultivating a relationship. Let them know they can always talk to you about anything. You'll be surprised by how easily you get to know their likes and dislikes. If he's constantly talking about airsoft, you can bet your last dollar an airsoft replica would be the greatest gift ever.
But it's not enough to simply talk to them. You need to be part of their lives. You need to know the kind of physical activities your athletic teen likes, his friends, and what they get up to when they hang out. You can even join them in a couple of these activities. Basically, hang out with an athletic teen and his friends, and you'll know what gift to get him in a couple of days.
If you can't find the time to hang out with him and his pals, why not friend him on his favorite social media platform? There, you'll learn all his interests. If he liked a ton of video game videos, a new video game console would make a perfect.
If you're going to be friends with a teenager on social media, you don't want to be that overbearing adult in his life though. Remember, teens, want to enjoy their freedom. They don't want someone breathing down their necks constantly because of something they posted on their Facebook page. If you see something unbecoming in his social media account, approach him gently and talk about it. Don't talk down on him. If you do, don't be surprised when he unfriends you.
Talk to His Parents
Although parents might seem a bit clueless about what their teen wants, they know them better than anyone else. Talk to the dad, and he'll tell you what his son spends his time on. Parents will also tell you if he already owns the gift you intend to buy, saving you a lot of embarrassment. You might even want to talk to his siblings or other teens with similar interests. Ask them the kind of athletic training gifts they'd like to receive, and they'll tell you exactly what to buy.
Just be covert in your sleuthing because you don't want to give away the surprise before you get the gift.
Whatever you do, never get gifts for athletic teenage guys because you'd like to receive a similar gift from someone. You might not have the same interests, and what excited you as a teen might turn out to be a dull and unexciting doorstop.
That's all you need to find out the kind of gift an athletic teen would like to receive. But each of these tips alone is not effective. Use them together for the best results. Come up with a list of gifts for each tip, and the gifts that frequently appear are the ones you should be getting him.
Now, all that sleuthing will take some time. And when you're doing some last-minute gift shopping, time is not a luxury. To make life a bit easier for you, here are five great gifts for athletic teenage guys guaranteed to put you in their good books, regardless of the occasion.
As an Amazon Associate we earn from qualifying purchases. We may earn a small commission for our endorsement, recommendation, testimonial and/or link to any products or services from this website. Thank you, your qualifying purchases help support our work in bringing you real daily gift ideas.
Our Gift To You:
Find out how to download This 
Free Printable
 Card
 for athletic teenage guy at the end of this article.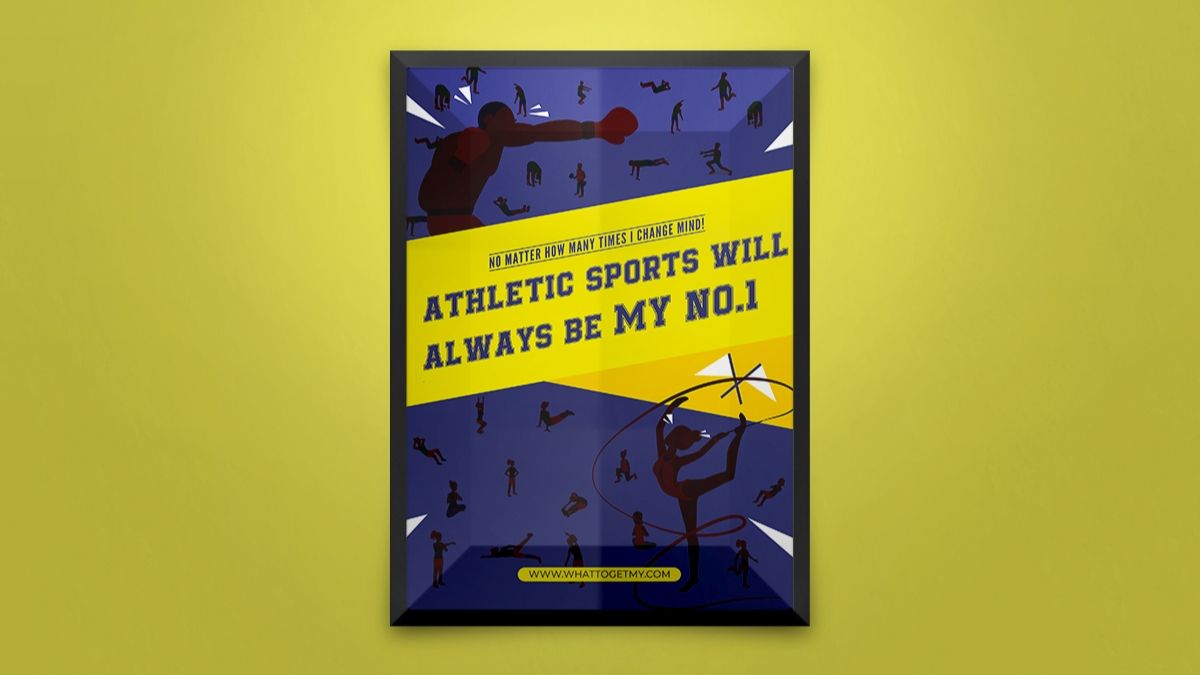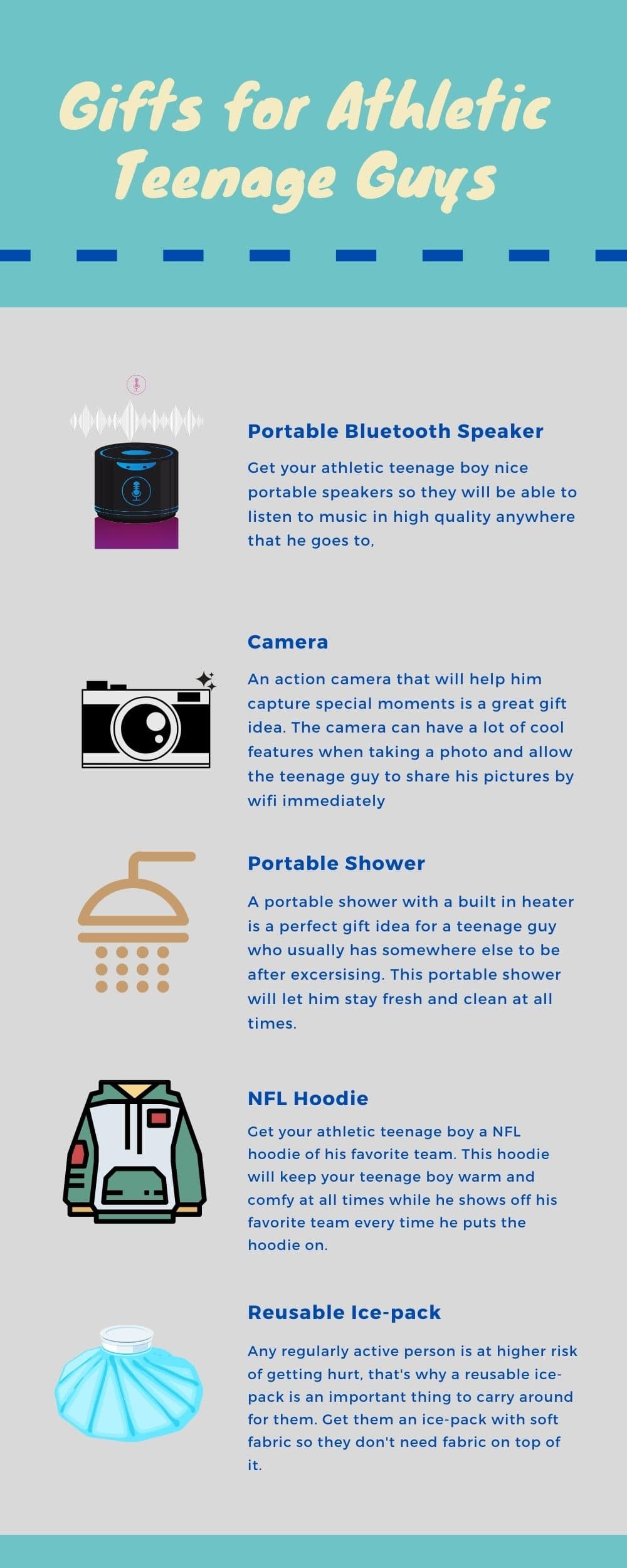 Source Link: https://whattogetmy.com/best-gifts-for-athletic-teenage-guys/
1. Dragon Touch 4K Action Camera
Teenage boys are all about image. They want to look their best in everything they do, and they want to see themselves looking their best. That's why action cameras are one of the best gifts for athletic teenage guys. Whether he's into skateboarding, ATVs, surfing, cycling, BMX, or any other sport, the Dragon Touch 4K Action Camera is a perfect companion.
There are lots of action cameras out there, so you might be wondering what makes the Dragon Touch 4K Camera different. Well, there are several reasons why it's the perfect accomplice for your active teen son.
That's not all. You can also record audio, although it might not be crisp as the video or images. You also get a handy remote that attaches to the wrist making it easy to access various functionalities. You'll have to get an external SD card to get the most out of the camera, especially if you plan on recording a few hours of video at a single go.
2. OontZ Angle 3 Bluetooth Portable Speaker
Teens love their music and your active son will love OontZ Angle 3 portable Bluetooth speaker. He'll be listening to his favorite jams while working out, shooting a few hoops with buddies, or even when they hang out at the park.
What makes this portable Bluetooth speaker one of the best gift ideas for teenage guys is the sound clarity. For a budget speaker, the OontZ Angle 3 has some of the best mids and clear highs. Cambridge Sound, the engineers behind this brilliant design, packed two dual precision acoustic stereo drivers and a bass output enhanced with their proprietary passive bass radiator. Packed in a small triangular footprint, the OontZ Angle 3 goes about its business without getting in the way.
Some other cool features your son will love about this portable Bluetooth speaker are:
If he's into music, you can bet he'll love the OontZ Angle 3. Whether he's going to the park to play football with his mates or he's working on his swing for the next big baseball game, this little speaker will always be by his side.
3. Nemo Helio Portable Pressure Shower with Foot Pump
Nothing beats a shower after working your body hard. With the Nemo Helio Portable Pressure Shower with Foot Pup, your teenage son doesn't have to wait until he gets home to enjoy a refreshing shower. He can take a shower almost anywhere and at any time. Some of the features that endear this instant pressure shower are:
Teen guys want to look their best, and with this portable shower, your son will be feeling fresh and clean all day long, even if he's just out from the gym.
4. Outerstuff NFL Boys Youth Boys Performance Hoodies
Teens brought hoodies to mainstream fashion, so why not surprise your athletic son or a teenage friend with the Outerstuff NFL Boys performance hoodie? It's hard to find a piece of clothing a teen will appreciate, but this hoodie is one of the few. Just stroll down the mall and you'll discover pretty much every teen is wearing some kind of hoodie.
5. Ace Reusable Ice Pack
If he's active, he's bound to get hurt. With this reusable ice pack, your athletic teen gets instant relief from sprains and muscle aches. It is also one of the perfect gifts for someone with a broken arm. The soft-touch fabric makes it easy to wrap the ice pack around any joint. After using, just freeze it and use it again.
You can't go wrong with these gifts for athletic teenage guys, regardless of the occasion. The gifts tell them that you care about them and what they're interested in. So, grab one of this and surprise that special young guy in your life today!
Get This and So Many More Free Gifts on Our New Marketplace, Spark Resort!
ESTIMATED TIME DESIGNING AND UPLOADING THIS ARTICLE
ESTIMATED TIME RESEARCHING AND WRITING THIS ARTICLE
Try our AMAZING GIFT FINDER TOOL! Find GIFTS with 1 CLICK!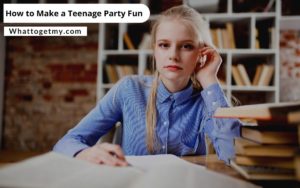 How to Make a Teenage Party Fun
1 Amazing Way to How to Make a Teenage Party Fun WhatToGetMy Instructional Article To make a teenage party fun will depend on a couple of important things. It will depend on the theme that you choose, the decorations, the music. And, of course, the
Read More »