Creative Ways to Give a Gift to Your Girlfriend
WhatToGetMy Instructional Article
You know that there are creative ways to give a gift to your girlfriend, but you can't think of any at the moment? Don't worry, we are here to help you out! Sometimes, giving a gift can be more challenging than buying one. Yes, you read that right. You may think that you went through hell and back when choosing a gift for your girlfriend, but giving it to her could be even harder! Most men think they don't have to do anything special with the gift: buy it, wrap it up, and give it over. How hard can it be? Well, if you want to pull off a successful surprise, you want to avoid this kind of thinking. You don't need to make a big fuss out of it, but you can't just ruin everything by neglecting the importance of the first impression.
Now that we settled that down, it's time to consider creative ways to give a surprise gift. To make your life easier, we spent a lot of time thinking and researching. We also asked a lot of people about their experiences with giving gifts to girlfriends. Not only that they gave us great ideas, but we also had the chance to learn how successful they were. Therefore, we included only the best ones that are known to cause the most pleasant reactions. Use some of these ideas, and you'll make your girlfriend super excited and happy about the gift!
Subtle Hint or a Big Surprise
The one that receives a gift should feel special. It doesn't matter whether you're giving a birthday card or some expensive stuff. The way you act while giving it makes all the difference. Now, there are two main things you can do with every gift. You can make a big surprise and organize a large event, or you can only give a subtle hint and give it in a quiet, intimate ambiance.
Keep in mind that not all people love surprises. Before you organize a party or any other event, make sure that it satisfies your girlfriend's wishes. 
How to give clues to a surprise

?
If you're planning a big surprise, there are a few ways you can check whether you're girlfriend will love it or not. Talk to her about her plans and see whether she's in the mood to spend time with a bunch of people. If it's her birthday, ask her whether she wants a personal, quiet night with you or she's up for a party with friends and family. 
How to give hints about a gift

you're about to give?
You can give clues about a gift in many ways. For example, you can write love notes and letters. This way, your girlfriend will have fun while guessing what is in the box!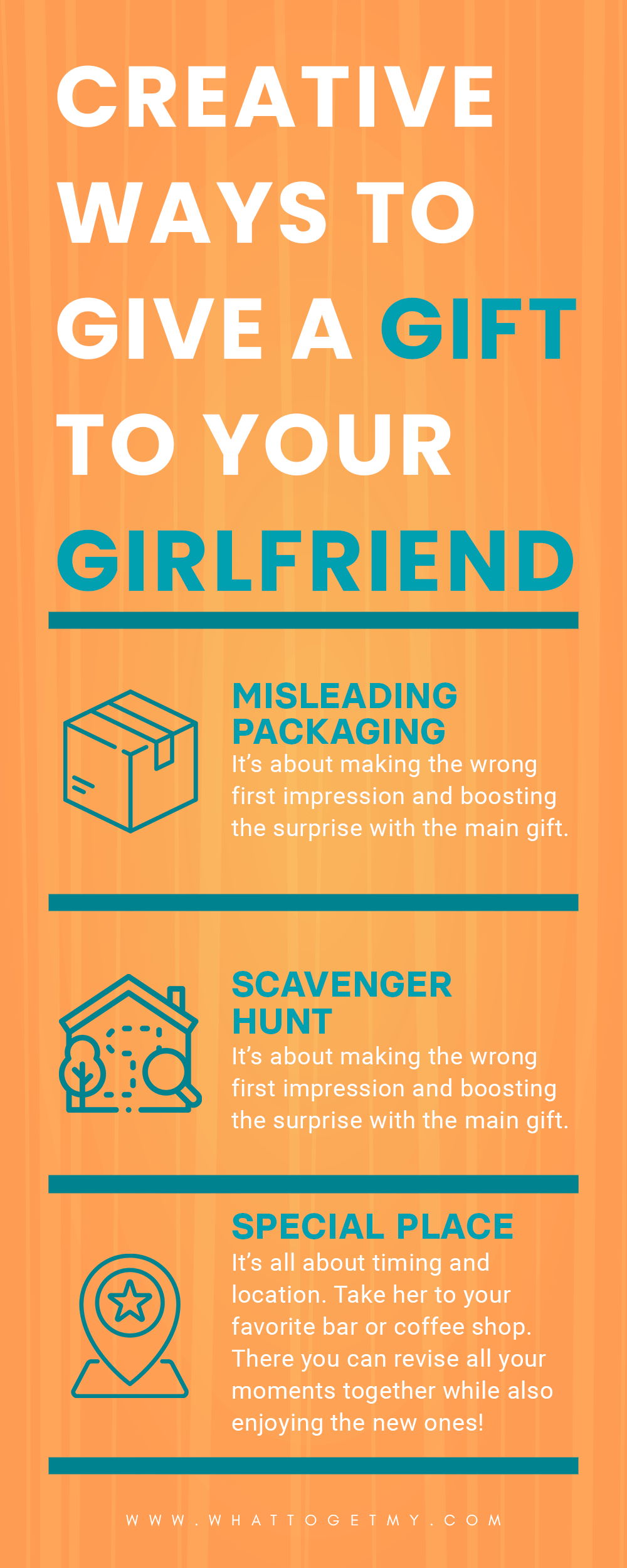 Source Link: https://whattogetmy.com/creative-ways-to-give-a-gift-to-your-girlfriend/
Misleading Packaging
If you want to spice things up and make them more fun, you can pull off misleading packaging. What's that all about, you may ask? It's about making the wrong first impression and boosting the surprise with the main gift. For example, you can get a silly and trivial gift, put it in a large box, and wrap it up. Once your girlfriend opens it, she will think something like how dares he giving me this! Before she gets mad, you'll have time to give her the real gift. The act won't only cause a bundle of laughs but also make her more excited about the real gift.
You can do this in one more way, using a gift-inside-gift strategy. For example, you can ask the store to put a piece of jewelry in a specially designed balloon. Your girlfriend will think that she only got a happy-birthday/anniversary balloon, but when you "accidentally" pop it off, the real present will reveal! You can do this with all kinds of stuff: a gift in a box of chocolates, in a decorative jar, a handbag, a stuffed animal, and more.
Hidden Gift
Another fun way to give a gift is to hide it in a secret place and lead a person to it. Once you hide it, write notes about its position. You can place them in different places, so the person finds one after another until it finds the gift. You can hide the gift in your house, and be there to watch your girlfriend turn the place upside down! In this case, it's incredibly enjoyable to lead a person by sending text and pictures. It's fun to be part of the game!
Scavenger Hunt
Talking of games, what do you think about organizing a scavenger hunt? It's a fun yet serious riddle-based adventure to be remembered an entire lifetime!
Along with notes, you can use puzzles for the scavenger hunt. They can be an excellent clue for the location of the gift. Also, you can extend the search in the neighborhood or an entire city! Have fun and make it a mystery, a real experience that your girlfriend will remember. 
Special Place
As we mentioned before, it's all about timing and location. If you want to do something special and romantic for your girlfriend, you can give a gift during lunch or dinner time. Even better, make an effort to cook dinner, light up some candles, and melt her heart! 
If your girlfriend is more comfortable with well-known places, take her to your favorite bar or coffee shop. There you can revise all your moments together while also enjoying the new ones! Consider going to some other places that are meaningful and important for your girlfriend and your relationship. In a warm and comfortable environment, she'll love whatever gift you have for her! 
Other Things to Remember
Once you pick a particular way to give a gift to your girlfriend, it's time to think about some other equally important things. Here's what we have in mind: 
What to give? 
Have you decided on a particular gift already? If not, you should hurry up, or you'll run out of time! Don't worry, we can help you out and save you quite some time. The question is, what type of gift you have in mind? Are you looking for large or small gift ideas for a girlfriend? If you want to surprise her with a luxury gift, you can always go for jewelry, tech gadgets, expensive cosmetics, pieces of clothing, and other branded stuff. 
On the other hand, if you're looking for a best simple gift for girlfriend you can follow our guide named  What to Get Your Crush for Her Birthday. We listed some cute and meaningful gifts you can get to make your soulmate happy. 
How to wrap a gift?
A gift should be perfectly well-wrapped. It shouldn't have loose ends, sharp corners, or any other wrapping errors. Avoid using regular tape and use a colored one or maybe the one that has a stylish print. Also, consider getting ropes and decorative tapes to wrap them up around the paper. They are a great addition to every gift as they'll make it more stylish (but also cover the tape and possible imperfections).
If you're not so confident about wrapping the gift your own, take it to the store. You maybe want to do everything by yourself, from coming up with ideas to making gifts with your own hands, but believe us, you don't want to give a badly-wrapped present. The first impression is very important, and you want your girlfriend to be excited about everything, from the thing she got to the art of wrapping. If you can't do it well, leave it to the professionals! 
How to hide a gift?
It's not that hard to hide a gift from your girlfriend, but there are some things you may want to keep in mind. If you two are not yet living together, your task will probably be a lot easier than for those who are sharing a flat. Either way, you should think of a way to hide a gift without your girlfriend finding out. Make sure that she doesn't use or look into a particular space very often. We recommend taking a gift to the office as well or asking a friend to keep it for you. This way, you're not at risk that your girlfriend will find it, and you get to keep it safe until the very special event! 
What to write? 
Write love notes and letters, of course! You can search the internet for some love quotes and sayings from famous people. Here's one super useful link you can follow. It contains the most famous letters ever written. You can't go wrong with citing one of them! 
Of course, you can also write your own, personal stuff and show your girlfriend how beautiful your love is. She'll appreciate every single word written from the depth of your hearth! 
When to give? 
Timing is important! You want to estimate the best time to give a gift. If your girlfriend's birthday or any other event is coming up, she'll probably expect the gift. In this case, change the timing, so she receives a gift before or after expected. If there's no special occasion, you should consider the things she's doing at the moment. You don't want to give her a special gift while she's working, exercising, or doing other challenging activities, right? Make sure to have her attention. It's always cute to wake her up with a surprise or to send her one on her work. She'll not expect that coming at all!
A Few Extra Things to Watch For
In the end, there are some things you might want to double-check before giving a gift and organizing a surprise. Most of these things are basic common sense, but you might forget about them completely! In all the rush and worries about getting everything right, it's easy to overlook the little, important stuff.
Don't forget to check whether you removed all price tags from the gift. You don't want your girlfriend to know how much money you spent!

Never give a gift in the included case or a plastic bag from the store. Take it out from the box and wrap it in a specially designed paper.

Use stylish paper for wrapping and a bag with beautiful details. If you're not confident about doing this on your own, let the store do it for you. 

Don't forget to write a card or any other little note you can attach to the gift. 

Keep receipts so you can replace or return the gift if you need to. 
We have the ultimate advice for you: be patient and don't stress about getting the wrong gift. It could happen, but you're a human, and you're allowed to make mistakes. Besides, not every gift can be perfect. Some of them will be breath-taking, while others might be just average. Either way, your girlfriend will appreciate your efforts and love you for them! 
Don't forget, we all want to be loved, and the most important thing is to show affection and devotion. Gifts are nice, but they come as a cherry on the top of the relationship. You don't have to buy luxury gifts all the time and organize big surprises. Sometimes the simplest things can get the most joy in life. For that reason, our article should help you find simple yet creative ways to give a gift to your girlfriend, and make her feel loved and happy!
ESTIMATED TIME DESIGNING AND UPLOADING THIS ARTICLE
ESTIMATED TIME RESEARCHING AND WRITING THIS ARTICLE