Getting a gift for anyone can be such a daunting and tiresome task for most of us, and even more, when you don't quite know the person you are getting it for. No one likes a thoughtless gift and there's a reason "it's the thought that counts" is a cliché. People love when you gift them with items that reflect who they are in some way whether it be personality traits or a gift that signifies the relationship that you have with them.

When getting a gift for your dentist, always keep in mind their interests: what do they like? This way, whatever you buy will make an impression on them and make them feel special.

If you don't know what your dentist likes and are stuck on what to get them, then it is safer to get them gifts that are generally useful.
As an Amazon Associate we earn from qualifying purchases. We may earn a small commission for our endorsement, recommendation, testimonial and/or link to any products or services from this website. Thank you, your qualifying purchases help support our work in bringing you real daily gift ideas.
Quick Overview: Gift Baskets for Dental Office
1. Funny Coffee Mug
This is an ideal gift for someone who is just starting out being a dentist. The inscription on the cup – which read "Please Do Not Confuse Your Google Search With My Medical Degree" – is not only funny but also relatable to most people in the field of medicine who get a mouthful from the lot of us who like to look up our symptoms before getting a professional opinion. This mug will for sure be a conversational starter between the dentist and their patient(s) thus serving as an ice breaker, and I don't know about you but I feel much more relaxed around people with a sense of humor and let's be honest, we can all get used to feeling relaxed in a dentist's office!
Simple white  ceramic coffee mug with funny inscription
2. A Charles Hubert Paris 3868-S Classic Collection Antique Pocket Watch
A thoughtful retirement gift, if there ever was one. This antique watch will double in meaning both as a metaphor signifying the time your dentist boss has worked with you and also as a symbol of aging gracefully because that's what you get from just looking at the piece. Being a Charles Hubert watch, this piece will carry value both in quality and monetary terms. A gift for life suitable to give for a life well-lived. 
The watch has 17 Jewels Mechanical Movement, a Skeletal Dial, and it comes with a Lifetime Movement Warranty.
A classic antique silver pocket watch
Related Post:  Farewell Gifts for a Female Boss
3. Rosewood Pen Set
Another great idea for a gift for your dentist boss would be this handcrafted set of rosewood pens. It is elegant and unique in appearance and the ballpoint pen provides smooth writing. The pen comes in a wooden box that's also handcrafted in rosewood.
Two handcrafted ballpoint pens beautifully packaged in a wooden box.
4. Dental Tools
This would make a great graduation gift for a dental student. It is thoughtful, useful, and it will show that you support their dreams and career aspirations. 
The 2020 updated kit comes in a leather case with not 6 but 10 teeth cleaning tools that are made of advanced surgical stainless steel and are both rust and dustproof.
Dental tool set used for cleaning teeth effectively.
5. Anatomy Crystal Tooth
This beautifully sculpted anatomy of a tooth would make a great desk present for your dentist boss. It is elegant in the way that it has been crafted. You will want to stare at it forever! This piece will sure give your boss' office an esteemed look and he will appreciate you for it. 
The tooth crystal weighs 1 pound, is 3 inches tall, and 2 inches deep and wide, however, you can also get it made in 10 inches. The tooth can be seen from different angles to give you a good view.
An anatomic model of the human tooth encased in a glass box
6. Startonight Canvas Wall Art – Maple Tree, Nature Framed 32 x 48 Inches
This beautiful painting will make an amazing gift for a dentist's office. Its bright colors will add some much-needed stimulus to the office, and it has been scientifically proven that looking at bright colors impacts peoples' moods positively. With this hanging in the dental office, it will put patients at ease and elevate their moods taking away that dreadful feeling we all harbor when it's time to visit the dentist.
The Art piece gently glows in the dark and has an HD resolution. You can also order a customized size and style of your art, such as 3D murals and framed glass Art.
Wall painting of a Maple tree in Fall, showcasing the diversity and beauty of nature.
7. Sanis Enterprises Dentist Desk Clock
This quirky looking piece would also make a great gift for the dentist's office. It would be a nice table centerpiece in the waiting room and it would catch many a curious eye.
The piece is made of Zinc alloy metal and it is very easy to keep clean.
Desk clock designed specifically for dentists, made from zinc-alloy metal.
Gift baskets are a great way of saying "thank you." And they are perfect for any occasion. In this reversal, we are looking at how dentists can say thank you to their patients during different events. Around the Clock, Gift Baskets offer a variety of gifts and the fun thing is you get to customize it to fit exactly the occasion the basket is meant for!
Pros.
Include whatever items you want in gift boxes

Personal touch,

Beautiful arrangements
Cons.
Limited choices,

Impractical
Assorted gift baskets for different occasions. Decide what you want to include in your gift basket to give it a personal touch.
9. Floss Boss Wine Glass
A gag gift, this wine glass will get the conversation going at office parties, or at the very least get wholesome laughter because of the clever wordplay. Either way, you can bet on having wholesome fun drinking from it. It is also great for personal use, in your own free time, so it doubles down as a self-care gift as well.
A wine glass with funny and clever inscription on it
10. PhoneSoap 3 UV Smartphone Sanitizer and Universal Charger
Your dental practitioner will appreciate this technological gift. It adds on to safety measures and hygiene routines that your dentist is already accustomed to, as phones have been scientifically proven to have 18x more bacteria than the toilet.
PhoneSoap's UV-V light is safe for electronics. It is clinically proven to sanitize phones and kill 99.99% of germs, getting deeper into crevices that are hard to clean by hand.
It comes in a portable sized case with different colors so you can choose as per preference.
A phone sanitizing device that also also charges your phone and sanitizes other surfaces its UV light comes in contact with.
11. Personalized Monogram Beech Wood Coasters
With this gift, you can customize it with a clever quote about dentistry or an inspirational quote. Let your imagination run wild with this.
The coasters are made from high-quality natural beech wood which gives fantastic engravings due to the natural beauty of the wood. They are practical and suitable for all kinds of glasses, mugs, and cups.
Personalized coasters made from beech wood
12. Dentist Hoodie – Customized
Customized hoodies are fashionable right now. Give your dentist a gift they can wear around their house and relax in. Hoodies are a comfortable piece of clothing and great for lounging or jogging on a cool winter morning. You can write anything on these things! Inside jokes, a riddle, movie quote, a picture, maps – anything! 
The hoodies are 50% cotton and 50% polyester soft fleece which makes them both durable and soft to the touch. These hoodies come in different colors and sizes, in a wide range variety which gives you a wide selection to customize your gift based on how well you know your dentist.
A hooded sweatshirt that comes in many colors and allows you to personalize the messages on them.
13. Tooth Pendant Charm Necklace
Pendants are a great and necessary accessory to any outfit. A good pendant has the ability to change the way an outfit looks and feels. This tooth pendant would make a thoughtful gift for anyone in the dental field who also likes pendants. It is stylish and bold and will make a great fashion statement on whoever wears it.
The pendant is made from copper and gold plated and rhodium. It also comes with a free gift box so you don't have to go through the hassle of wrapping it up before gifting.
A necklace curved in a tooth and plated in copper.
14. Dental Cufflinks
Although small in size, cufflinks make a great fashion statement and are widely associated with a person's style. This gift would definitely let your recipient know that you think they are stylish and this matches their style. They are excellent for weddings, formal or business attire, and overall they give a finished polished look at shirts.
The cufflinks are made from rhodium plated brass. They are light and very easy to keep up with.
Cufflinks for stylish men.
15. Dental Trinket KeyChain
And lastly, you can never go wrong with a classic key chain. Everyone has keys! Right? This is a lighthearted gift that will have your recipient think of you whenever they open up their doors. It is a sentimental gift and what it lacks in size, it makes up for in meaning. This would make a great gift for a friend or family that was moving away (or if you were) or even if your dentists were switching buildings!
The keychain displays two teeth, dental tools, and a mouth with a colorful metal piece.
A keychain with a lot of colorful and shiny dental ornaments.
FREQUENTLY ASKED QUESTIONS 
Do I need to get my dentist a gift? 
No. You do not NEED to get your dentist a present but it is a pleasant thing to do for them especially if you have known them for a while. Gift-giving is a way of showing people around you that you care about them, honoring a special occasion, and in this case, thanking them for making sure your mouth and teeth are always healthy. 
What other non-dental related gifts can I get my dentist? 
This depends entirely on how well you know your dentist and how close of a relationship you have with them. 
What are the appropriate gifts for a dental Christmas party?
Check out this article for some inspiration on Christmas gifts.  
CONCLUSION
We hope this list has given you some ideas on what to get your dentist in whichever way you relate to them. When it comes down to it, always remember the gift should reflect the recipient in some way. Now go ahead, have fun, and be thoughtful picking out gifts to include in your gift basket for your dentists.
ESTIMATED TIME DESIGNING AND UPLOADING THIS ARTICLE
ESTIMATED TIME RESEARCHING AND WRITING THIS ARTICLE
Try our AMAZING GIFT FINDER TOOL! Find GIFTS with 1 CLICK!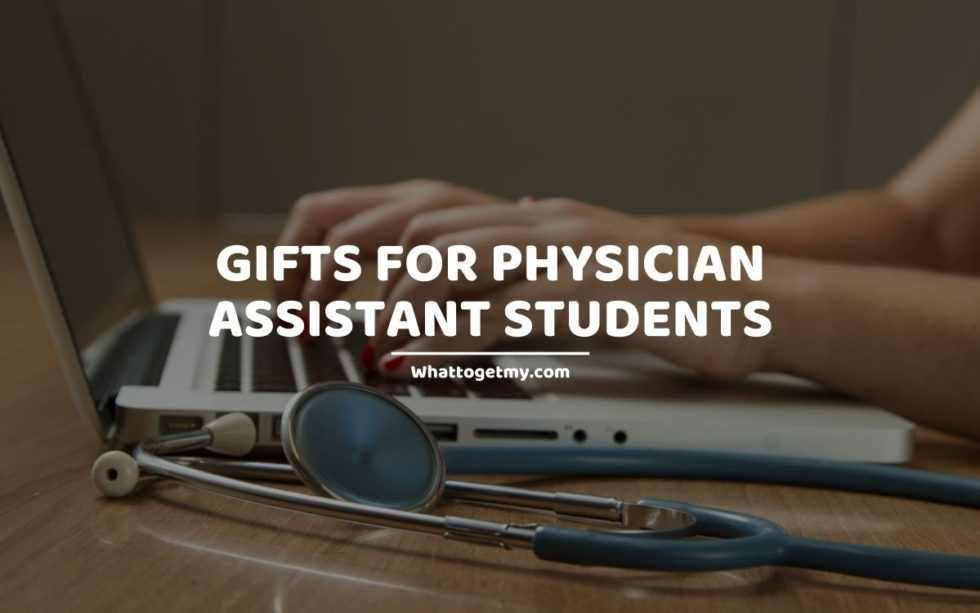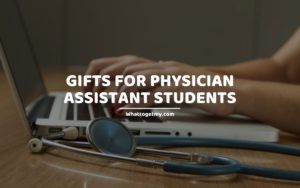 22 Helpful Gifts For Physician Assistant Students
Physician Assistant students and Medical Assistant students are studying to play an important role in the frontline of health work. Gifts to them should, therefore, assist them in their studies and quest in joining the league of lifesavers. Gifts like textbooks would need you to
Read More »