A school principal keeps the school on its feet all the time. They sacrifice a lot for the betterment of their school, staff, and students. All this can bring a lot of pressure on them because a lot is expected of them. We all know that a good principal works very hard for the school's ranks and reputation. The great principals also go out of their ways to ensure that not only are you successful in their own school but also that you continue excelling in college or university too. Because of all this, you may want to give an appreciation gift to your principal at the end of the school term/year or during the holiday season or for thanking them for doing you a huge favor like writing you a killer recommendation letter.
While trying to pick a suitable gift for your principal, there are a few factors you should put into considerations to make sure that the gift is an appropriate one and you wouldn't be putting yourself or your principal in an awkward position.
Make sure the present is not ridiculously expensive. A more simple, affordable gift will be good enough to show appreciation to your principal

The gift should be given as a class present not an individual present to avoid making it too personal. Even if the whole class doesn't want to take part, you can do it with a group of students instead (a few exceptions apply).

It is preferable to have the present given to your principal at the end of the school year, semester, or right before you graduate. The holiday season is also acceptable

Your gift should not be too personal like a pair of shoes, watches, or makeup. Instead opt for gifts that are practical, unique, funny, or office desks gifts.

If your principal is retiring you can give them their present on their last day of work or during a goodbye party that will likely be thrown for them
The kind of gift you are buying for your principal also depends on these several factors:
The grade of the student/students: High School student and a primary student are not expected to get the same type of present for the school principal

How long you have spent in the school: For instance a student that basically grew up in the school seeing the same principal can buy a more personal gift for him/her than a student who joined recently
Coming up with gift ideas for school principal should not be a hectic job. First of all set up your budget. The more students are included in the plan the higher the budget can be.
Once you have come up with the budget, you can choose a gift based mainly on your principles gender, interests/hobbies, or age. If you still can't come up with a suitable gift, go for office desks present. Its almost impossible to go wrong with such presents and it will actually be something your principal can use all the time.
Below are some great principal appreciation gifts that we have compiled for you to choose from. They come at different prices to suit any budget. The gift range from creative gifts to practical gifts and of course office desk presents. We stayed away from mugs presents as that is already a very common gift for principals
As an Amazon Associate we earn from qualifying purchases. We may earn a small commission for our endorsement, recommendation, testimonial and/or link to any products or services from this website. Thank you, your qualifying purchases help support our work in bringing you real daily gift ideas.
Quick Overview: Gifts For Principal From Students
Gifts for the principal's office
Office gifts are your best bet when trying to choose a gift for your principal. Make sure that the gifts are not very expensive but are of good use for your principal because their office is where they spend a lot of their time. Gifts in this category include desk holders, unique pens, desk snacks, and a nice journal
1. Desk organizer
Your principal always has different things that they work on at once, this makes their desk very messy at all times which might make them stressed and less productive over time. That's why this desk organizer is a great gift idea for such a principal. It will help your principal keep everything they need nearby without causing a mess. The desk organizer has many compartments for different materials of different sizes making it easy to arrange quickly and keep it organized too. This mesh desk holder is big enough to keep folders and notebooks in it too, so it truly is an all-in-one!
Customers love the fact that this desk organizer has many compartments to fit materials of different sizes. Its lightweight and compact design definitely will help your principal keep their desks more organized.
2. Assorted snack basket
A snack basket is a practical and simple gift to give to your principal. Your principal is most likely always on the go and all the journeys up and down the stairs and around the school will be exhausting for them. This snack basket contains snacks that will keep them energized and full through meals. Your principal can also keep them in their drawer and eat them whenever they want a treat for finishing a task or just to relax. However, make sure your principal doesn't have underlying health issues like diabetes cholesterol or high blood pressure before giving them this basket as the snacks in it contains a lot of salt and sugar.
Reviewers love the snack collection that is offered in this basket. The size and quantity is just perfect and it comes with a gift message for if you want to write a thankyou appreciation message to your principal.
Gifts for the principal's personal use
If you want to get your principal presents that he can use outside their office then go for gifts that they can use or keep anywhere else like their living room or bedroom. You should be careful with gifts in this category by ensuring that you don't get a present that is too personal. Instead just make sure it has just the right amount of a personal touch that will make your principal remember you or your class everytime they see their present.
Appropriate gifts in this category are classy book clocks and air diffusers.
3. Book clock with free engraving
This book clock is the perfect present if you are looking for something practical but still has a small personal touch to it. The clock comes in a timeless classy wooden design and has space on the other side for a little message. You can write an appreciation letter on the side, or the class year and number making it one of the most classy personalized gifts for school principals. Your principal can choose to keep this in his office desk, or home.
Most buyers appreciated the quality design and finish of this clock book. Its size and look can fit into almost anywhere no matter the theme of the office or house of the principal.
4. Oil diffuser with it's own lighting system
This oil diffuser is a very thoughtful and creative gift for your principal. They can either use it in their office or home. This diffuser helps clear the dust and purify the air. Your principal can diffuse essential oil in it to add a sense of calm aroma wherever he uses it. The diffuser also has 7 color lightings to choose from depending on the mood or time.
Buyers of this diffuser love the size of the diffuser and the fact that it does not cause a lot of noise. Many reviewers also rave about the color changing settings in this diffuser and say that is what makes it stand out from other diffusers in the market.
A practical gift for principal
This category is for gifts your principal will get to use all the time to help with their day to day activities. There are plenty of gifts in this category that are very helpful without being very expensive and are beautiful enough to be given as a gift. Good practical gifts for your principal include a water bottle or a laptop bag.
5. Hydro cell stainless steel water bottle
This practical water bottle is perfect for any principal who is always busy keeping everything in order. This water bottle can help them stay hydrated no matter where they are making it one of the best gifts for principals who look after their health but are still always on the go. Thanks to its stainless steel design and easy crip finishing it can be taken anywhere without easily slipping from the principal's hands. It can keep the water hot or cold for hours and doesn't leak and cause a mess so your principal can comfortably keep it in their car or desk.
With an 85% 5 star rate in amazon, it is clear that a lot of people are big fans of the Hydro cell water bottle. It is big enough to keep an adult hydrated for hours without any refill. Its durability and ability to keep any drink at its initial temperatures is what makes it the number one choice for many buyers.
6. Thank you card
A thank you card is a simple yet heartfelt gift for your school principal. You can write in detail how you felt towards the principal and why you want to thank them and write them the card. You can write the card as a whole class, or a group of students or individually even. You can choose a general card to write on or even design your own if you want to make it even more unique. The card we have chosen above has a simple design and could be given to any principal regardless of their age or gender.
A thank you card will let you properly express yourself and is also an affordable gift to give any time of the school year. Reviewers love the simplicity of this card and the fact that it can be given to almost anyone regardless of their age, gender, or relationship to the giver.
Other non gifts principal appreciation idea:
Thank you speech: Your class can prepare an appreciation speech about your principal that can be read out loud during the school assembly or a large celebration or event in the school.
The size or price of your gift is not the main thing to worry about when thinking of gifts for your principal, instead, it is all about the gesture and the effort you put into letting them know you really appreciate everything they have done for you and your school throughout the years. Your principal is not going to forget the gesture and acknowledgment that he/she receives and it will give them the strength and morals to keep on working hard for their school, students, and all the other stakeholders. If the gift is for a retiring principal it will be a great goodbye gift and way to let them know what a great job they did throughout their stay in the school.
ESTIMATED TIME DESIGNING AND UPLOADING THIS ARTICLE
ESTIMATED TIME RESEARCHING AND WRITING THIS ARTICLE
Try our AMAZING GIFT FINDER TOOL! Find GIFTS with 1 CLICK!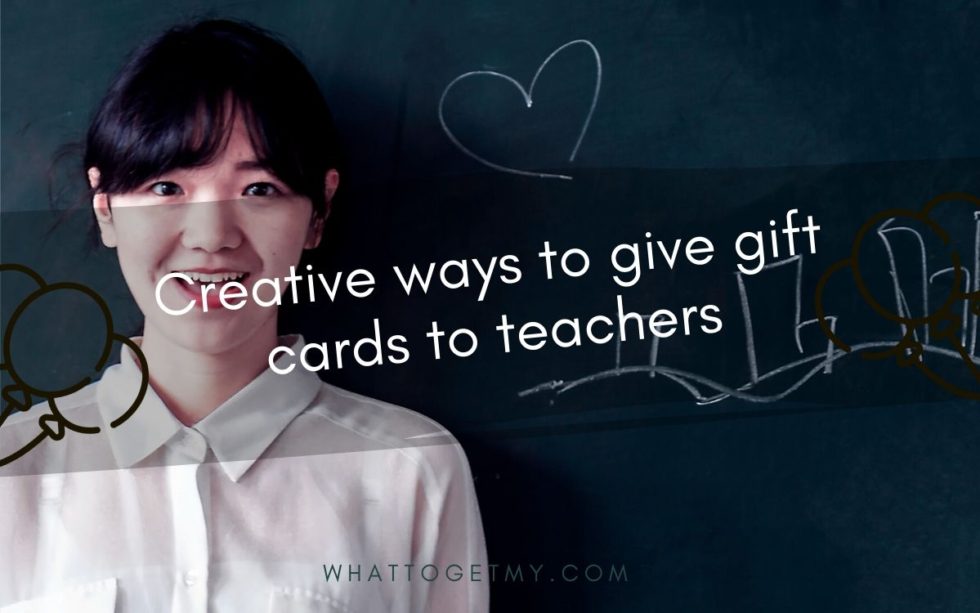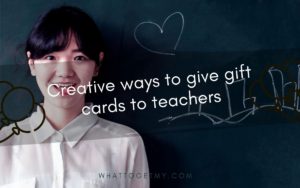 Creative Ways to Give Gift Cards to Teachers
7 Interesting and Creative Ways to Give Gift Cards to Teachers WhatToGetMy Instructional Article There is no doubt in any parent's mind that teachers are a very important part of our children's lives. They deserve to be given a little appreciation from the children that
Read More »