How Much to Spend on a Wedding Anniversary Gift
WhatToGetMy Instructional Article
A special day is approaching soon, your wedding anniversary. It does not matter whether it is your first or your fiftieth wedding anniversary. It is always a special day in your married life that should be celebrated with lots of love and laughter.
But you can't seem to figure out how much to spend on an anniversary gift for the love of your life. You are trying to figure out how much is the right amount that you should spend on a gift. This gift needs to make a clear statement of how much you love your wife or husband?
You don't want to spend too little as your partner may get the wrong message that you do not care that much about them. You also don't want to spend too much as it could put you in some financial difficulty later on. And your husband or wife could also then expect that sort of gift every year and land up being disappointed when they don't receive it.
When looking at the amount to spend on your wedding anniversary gift, there are a couple of things to keep in mind. These things are:
Your budget and what you can afford
How long you have been married
The type of gift that you would like to give them
The amount that you spend on a gift should not be as important as the actual gift. A wedding anniversary gift should be a thoughtful and meaningful gift. It should be a gift that has come from the heart and not from your pocket.
Our Gift To You:

Find out how to download This

Free Printable

 Anniversary Card  at The End of This Article.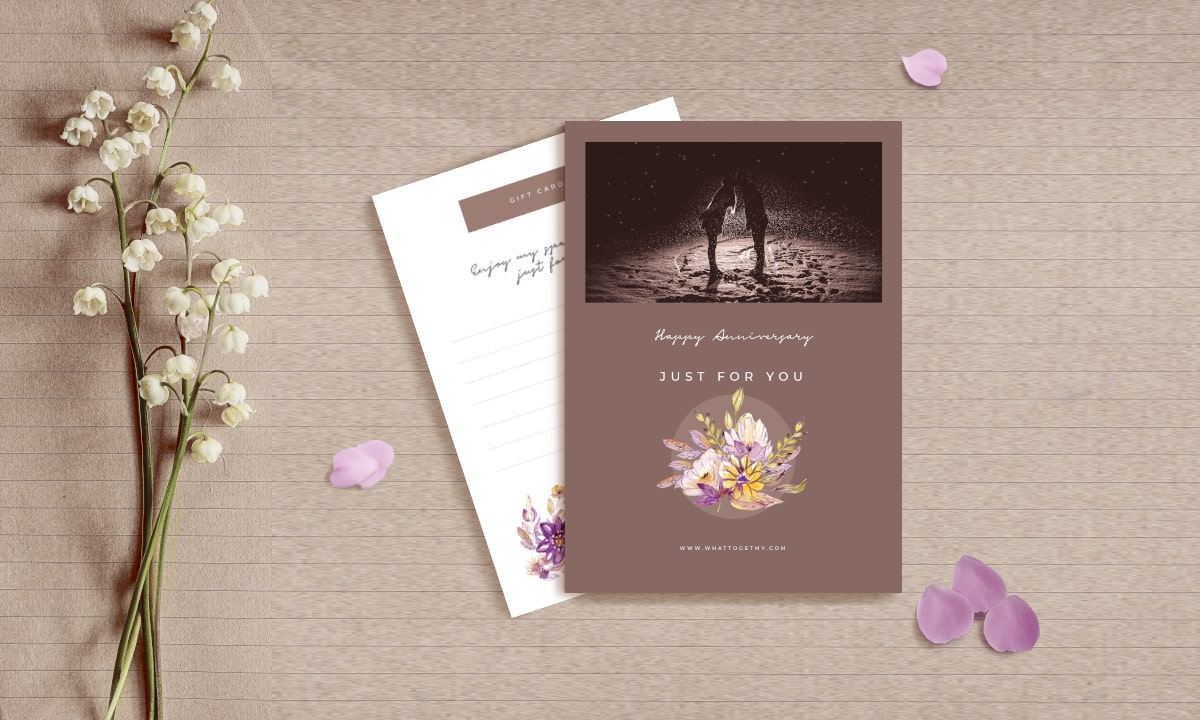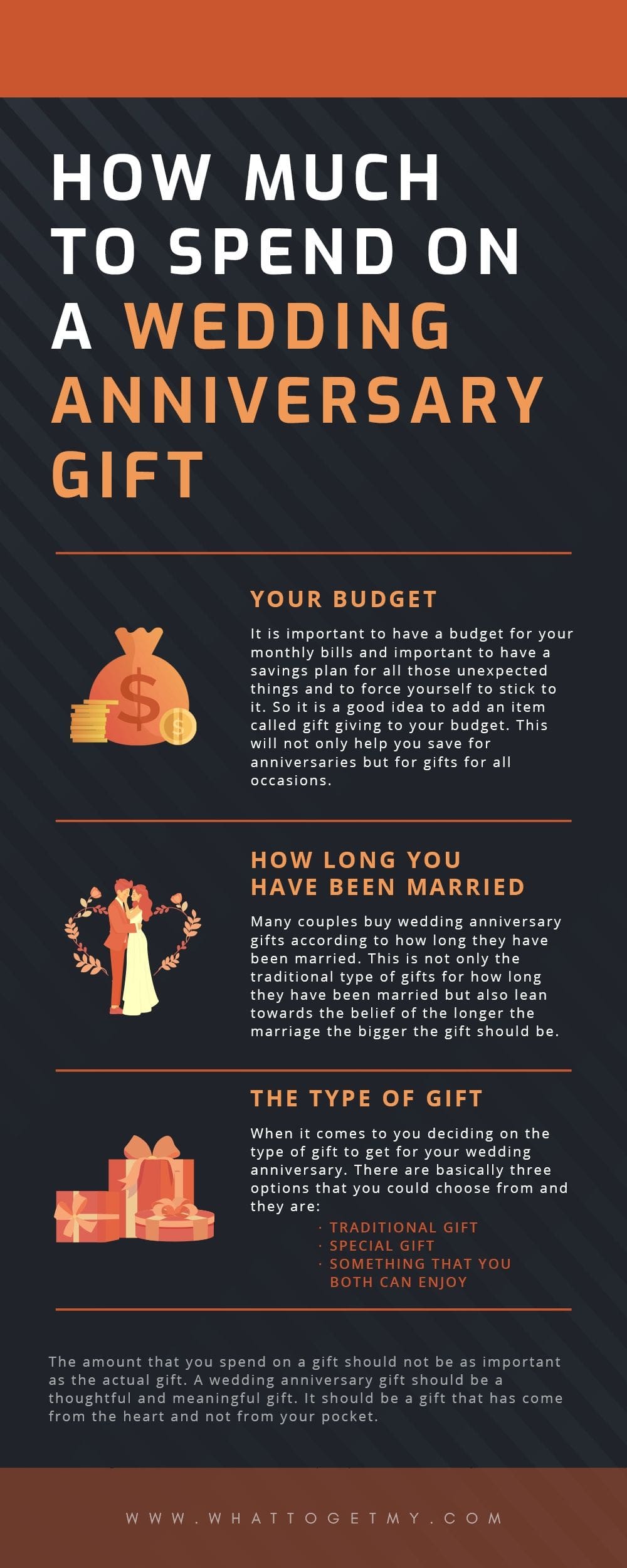 Source Link: https://whattogetmy.com/how-much-to-spend-on-a-wedding-anniversary-gift/
1. Your budget and what you can afford
If you want to buy a special gift but have too many monthly bills that leave very little room for any extra expenditure for an expensive gift. But you do still have a couple of months before your big special day. Then all it will take is a little planning by adding a gift saving plan into your budget. 
It is important to have a budget for your monthly bills and important to have a savings plan for all those unexpected things and to force yourself to stick to it. So it is a good idea to add an item called gift giving to your budget. This will not only help you save for anniversaries but for gifts for all occasions.
There are many free and printable budget planning templates online and many different software or apps that could be used for this purpose
But if you are in a bind and only have a couple of months to save for an anniversary gift an idea is to take a look at your budget to see what you can save towards it. And if you see that you still will not have enough then look at other expenditures to see where you cut down on and add that to your gift savings.
2. How long you have been married
Many couples buy wedding anniversary gifts according to how long they have been married. This is not only the traditional type of gifts for how long they have been married but also lean towards the belief of the longer the marriage the bigger the gift should be.
Giving bigger and more expensive gifts should not be seen in that way, yes, by all means, go with that expensive gift, if you can afford it and would like to spoil your husband or wife but it should not be something set in stone that you have to stick to it.
You should be looking and thinking about each other and what is most important to both of you and your marriage. Whatever you decide to spend, make sure that the gift you chose comes from your heart and has some meaning to it.
3. The type of gift
When it comes to you deciding on the type of gift to get for your wedding anniversary. There are basically three options that you could choose from and they are:
Traditional gift according to the number of years that you have been married

A special gift that your spouse has had their eye on and would love

Something that you both can enjoy doing together
Traditional gifts
1st Anniversary – Paper
The traditional gift for your first marriage is paper. Paper is a common item and can be a pretty boring gift. But with a little creativity, it can be made into something special.
Some ideas are:
A framed special handwritten love letter or your vows

An experience gift voucher

Gift cards open up to a large variety of gifts from spa treatments to romantic getaways

A notebook filled with reasons why you love your husband or wife
2nd Anniversary – Cotton
The traditional gift for the second wedding anniversary is all things cotton 
Some ideas are:
Cotton bathrobes for him and her

A romantic spa day

A cotton themed gift basket or care package

Cotton couples t-shirts with a fun saying or picture
3rd Anniversary – Leather
The traditional gift for a 3rd anniversary is leather
Some ideas are:
A leather briefcase or leather handbag

Leather journals or leather-covered notebooks

Leather wallet or purse

Leather key rings

Leather bookmarks with a special personalized message
4th Anniversary – Fruit and Flowers 
To be married for 4 years is a celebration and the traditional gifts are fruit and flowers
Some ideas are:
A beautiful bouquet of flowers

A delicious fruit basket

Wine tasting

A creative arrangement of dried flowers in a beautiful picture frame
5th Anniversary – Wood
 A 5th-anniversary traditional gift is wood. With this one there are so many options to choose from as a gift of anything made from wood adds a grounded element to your home and marriage. Wood comes from trees which symbolizes strength and growth.
Some ideas are:
A wooden cutting board 

A wood watch

A wooden memory box or jewelry box

A wooden plague with a romantic message

A wooden picture frame with some amazing photos of your married life for the past 5 years 
6th Anniversary – Candy
The traditional gift for the 6th wedding anniversary is candy. Candy is sweet and represents all those sweet moments that you have had in your marriage. 
Some ideas are:
A box of chocolates

A candy gift basket or hamper

Bake a sweet cake or cookies

Sweet love notes to your wife or husband

A painted sign with a sweet saying about how sweet your love is for them
7th Anniversary – Copper
Copper is the traditional gift for a 7th wedding anniversary. It represents and symbolizes the warmth and stability of a marriage.
Some ideas are:
Personalized copper mugs

Copper photo holders

Copper jewelry

Copper key chains
8th Anniversary – Bronze
The traditional gift for the 8th anniversary is anything that is bronze. Bronze symbolizes the strength and durability of a marriage. 
Some ideas are:
Bronze ornaments or sculptures, like cute bookends or lovers hands, entwined

Bronze colored personalized mugs

Bronze rings for each other

Bronze colored photo book cover

Bronze hearts on a homemade bag or pouch
9th Anniversary – Pottery
According to tradition pottery is the 9th wedding anniversary gift. Pottery represents nature and simplicity. It is something that has been molded into something beautiful and can be a gift that is handmade.
Some ideas are:
A clay sculpture

miniature potted plant

Handmade ceramic mug

A personalized pottery clay dish
10th Anniversary – Tin
With 10 years of marriage, you have reached the double digits and a decade of being married. The traditional gift is something that is tin. Tin symbolizes the ability to last through time as it does not wear away or rust.
Some ideas are:
A tin keepsake box

A decorated tin can be filled with flowers or treats

A tin engraved wallet card with a special anniversary message

Heart-shaped tin lanterns
20th Anniversary – China
With being married for being 20 years, 2 decades, that is quite an achievement. At this stage of your marriage, many couples increase the value of their wedding anniversary gifts because over the years you have given and received so much from each other that your feeling is to bigger and better. The traditional gift for 20 years is to give china.
Some ideas are:
A beautiful set of China

China mugs in the shape of a heart

Enjoy some Chinese food homemade or at a restaurant

You could go on a vacation to China

Buy cute items made in China that highlights a special memory
25th Anniversary – Silver
Celebrating a 25th wedding anniversary is a huge deal and the traditional gift is silver. There is a huge selection of gifts that you can buy in silver.
Some ideas are:
Silver jewelry from earrings to his and her ring bands

Silver picture frames with a collage of your 25 years together

Gifts of your choice in the color silver

Silver sculptures

Stamped silver key chains
30th Anniversary – Pearl
The traditional gift for 30 years, three decades is pearl. They are beautiful and hidden deep down in the ocean. For some gift ideas, you can take some inspiration from the sea
Some ideas are:
Jewelry that has pearls or are the colors of pearls

A romantic seafood dinner

Mother of Pearl Champagne Bucket

Personalized Pearl Anniversary photo frame
35th Anniversary – Coral
A traditional celebration of thirty-five years of marriage needs to be a coral one. Coral is known for its beauty, its many amazing colors.
Some ideas are:
Coral necklace

A coral stone photo frame

Coral stone clock

An underwater experience 
40th Anniversary – Ruby
The traditional gift for the fortieth anniversary is the ruby. This is something special, as ruby is the stone of love and passion.
Some ideas are:
Rings or bracelets with rubies in them

Luxury red wine gift basket

Bake a red velvet cake or cupcakes
45th Anniversary – Sapphire
Sapphire is the traditional gift for a 45th wedding anniversary.
Some ideas are:
Sapphire jewelry

A gift of your choice in a sapphire blue
50th Anniversary – Gold
Married for 50 years is a major milestone in a marriage that is why the traditional gift is gold. This one speaks for itself because you can give a gift of almost anything that is either made from gold metal or the color gold.
Some ideas are:
Gold jewelry

Gold sculptures

Gold then and now picture frame

A personalized 50

th

Anniversary gold brass plate

Vases wrapped with gold trimmings

Arrange a golden party to celebrate
Something that they would want
If it is your first year of marriage and you are trying to figure out how much to spend on your first wedding anniversary gift. And you know that you are not the type of couple that is very big on sticking to the traditional type gifts for each other. But you do prefer to buy each other gifts according to your likes, wants, and desires.
Then it is best to go with something that you know your husband or wife has had their eye on for a while. It is also a good idea to do a price comparison of the specific item that you have in mind. This will help give you an idea of how much money you need to save or add to your budget.
The above advice will all work the same for if you want to know how much to spend on 5 year anniversary or how much to spend on 10 year anniversary gift.
Something that you both can enjoy together
You are a married couple and celebrating a wedding anniversary by doing or experiencing fun things together that you both can enjoy is a great idea. Some examples are: 
Plan a romantic getaway together

Do something new together like if you are an adventurous couple, go bungee jumping, skydiving, skiing, parachuting or scuba diving 

Look for some

romantic anniversary night ideas
Although many couples feel that the answer to how much to spend on a wedding anniversary gift is the longer you have been married the more you need to spend. This is not entirely true because it is your choice and you should always spend what you can afford. The amount that you spend on a gift will not matter if you buy your loved one something that they actually want which will make them very happy.
Get This and So Many More Free Gifts on Our New Marketplace, Spark Resort!
ESTIMATED TIME DESIGNING AND UPLOADING THIS ARTICLE
ESTIMATED TIME RESEARCHING AND WRITING THIS ARTICLE