Things to Do in the Winter With Your Boyfriend
WhatToGetMy Instructional Article
Everybody seems to get excited about the winter until it finally arrives. For many, the idea of the cold breeze and the snowy days (depending on the area you live in) seem very exciting and fun while others look at it as a couple of dark, gloomy weeks.
Regardless of whether you enjoy the cold of the winter or you just want to stay at home wrapped up in layers of clothing and blankets, we can't deny that winter is quite a romantic season.
There are many activities you can do with your boyfriend, whether it involves you to put on your coats and boots to step outside or if you are looking for more low key activities that can be done in the warmth of your own house. The activities you choose will also heavily depend on the type of winter you have in your town or city.
The winter in most countries is also the season of many holidays, so you are likely to find a couple of festivals or carnivals happening around your town to go to and enjoy with your boyfriend.
Below we have split the activities into two categories; Indoors activities and outdoor activities. The list is a selection of adventurous activities, productive activities, and romantic things to do in winter, so you will definitely find something that will suit you and your boyfriend's mood and taste. You can also choose your activities based on how long you both have been together, for example, if you are looking for first date ideas during winter or for couples who live together. You can also choose depending on how serious the relationship is ( don't worry, we have something for everyone!)
The activities also range from budget-friendly activities, DIY activities, free activities and classy, pricey activities to choose from.
Without any further due here is our list of things you can do with your boyfriend in winter and places to go in the winter with your boyfriend.
Things to do at home
A spa date night:
Nothing screams out romantic like a soothing and relaxing spa night with your boyfriend when it is super cold outside. You can turn off all the lights of the house, light up scented candles and put on some slow romantic music to set the right mood. The spa night can include any type of self-care activities that you both enjoy or remedies that you want your boyfriend to try out like a new facial or a scrub that you have bought.
If you are not a big fan of the fuss and the work that it would take to set up a spa date at home, you can always choose to go on a classy spa date at a resort or hotel with your boyfriend instead.
Playing board games:
Many of us are guilty of owning a lot of board games we don't use often stacked up on our shelves or even on our gadget's memory card. The cold winter can be a perfect time for you and your boyfriend to put on your warm hoodies and take the board games out to play by them at the comfort of your house. It is also a great time to improve your skills at any board game you have been meaning to get better at.
You can even take this time to learn a new board game with your boyfriend instead of play the ones you know already. To make it even more fun and competitive, you can invite a few of your close friends and play the board games together with them.
Watch a movie:
A great winter date night idea is a movie night with your boyfriend. You can either pick out a movie that goes with the winter theme or holiday theme or go for a movie depending on both of your tastes. To make the movie night more fun and resemble a comfortable theatre, you can make some delicious butter popcorn, make your boyfriend's favorite hot drink and wrap yourselves up in warm blankets.
The best part about a home movie date night is that it is so easy to set up so you can do it on multiple nights whenever the weather is too cold to be doing anything outside or when you want a cozy cuddly night with your boyfriend.
Bake a dish from scratch
Learning to bake something new with your boyfriend is one of the most fun and productive things to do on a cold day with your boyfriend. The best part of this activity is you get to eat the final result and if it turns out to be a failure, well at least you will have a laugh out of it and learn from your mistakes.
There are plenty of things you can bake together. You can either pick out a sweet or savory dish to bake and go for any level of difficulty depending on how good you two are in the kitchen. Make sure you have a recipe with full and clear instructions before you start and also make sure you have all the ingredients you need for the recipe to avoid any inconveniences mid baking.
A bonus from this activity is the oven's warmth is going to help make your house even warmer, and the beautiful aroma of your dish baking is definitely going to open up your appetites. You can always choose to open up a bottle of wine or any other favorite drink to make the night even more romantic.
Do couples yoga or start a fitness program:
Doing a calming sport with your boyfriend like yoga can benefit you in many ways, like relieving stress and making you more flexible. If you are not much of a yoga couple or you want to try something more intense and rigorous, you can pick any other fitness program like HIIT or other forms of strength training to do with your boyfriend.
Thanks to the internet, these days you have access to 100s of different yoga and other fitness programs in the palm of your hands, and all you need will be some time and dedication. And if you start any fitness program together, you can always be each other's accountability partners, so you will make sure that none of you is slacking off and. You will push each other to your limits, even when the exercises get challenging.
Things to do outdoors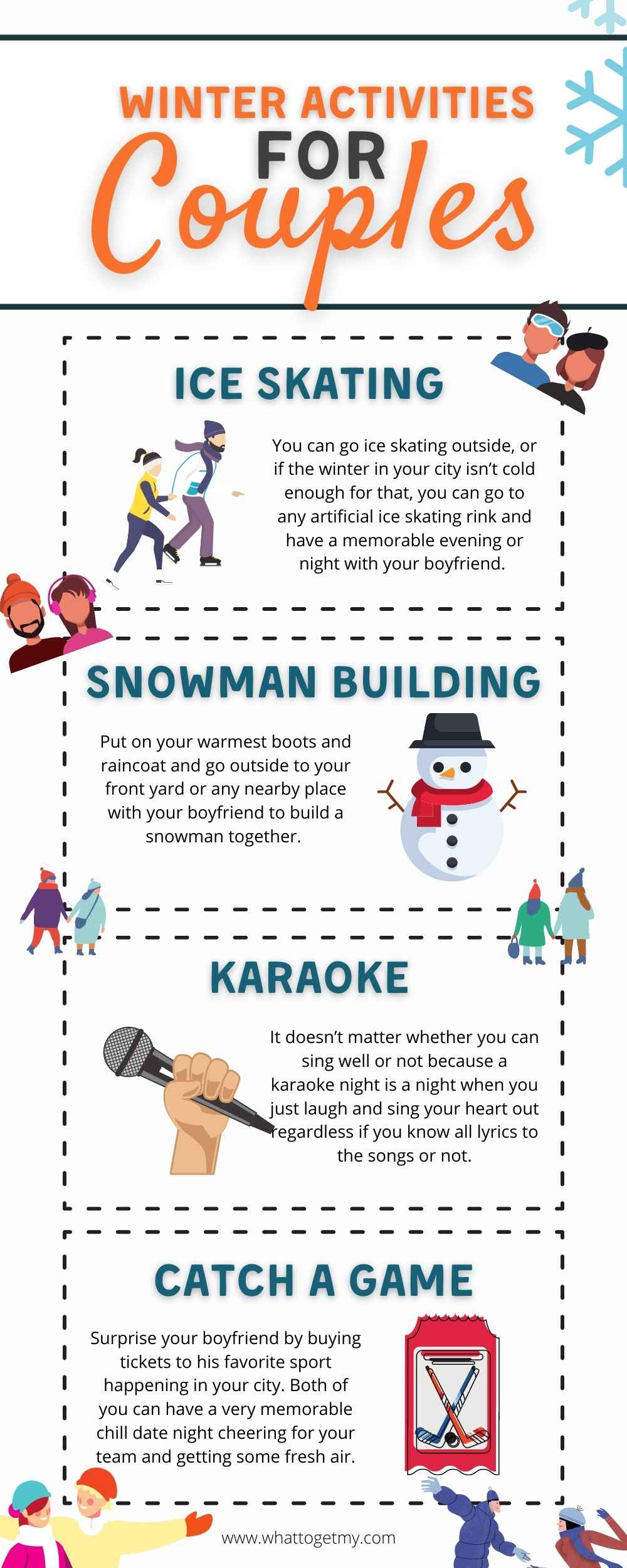 Source Link: https://whattogetmy.com/things-to-do-in-the-winter-with-boyfriend/
Go Ice Skating:
This is one of the most fun things to do in the winter with your boyfriend. You can go ice skating outside, or if the winter in your city isn't cold enough for that, you can go to any artificial ice skating rink and have a memorable evening or night with your boyfriend. Make sure that you wear all the protective gear needed especially if you are a beginner to avoid any injuries and don't be afraid to try new moves or go a little faster as long as you are being safe.
Build a snowman
If it snows heavily in the area that you live at, and you're looking for things to do on a snowy day with your boyfriend, put on your warmest boots and raincoat and go outside to your front yard or any nearby place with your boyfriend to build a snowman together. You can build the snowman and decorate it however you want and finally take pictures with it to have a memory of your winter masterpiece!
Catch a game
If you or your boyfriend are not intimidated by the cold weather during the winter, you can surprise your boyfriend by buying tickets to his favorite sport happening in your city. Both of you can have a very memorable chill date night cheering for your team and getting some fresh air. Of course, it is going to be a bonus if your boyfriend's team wins, but he is going to appreciate your thoughtful gift regardless, and both of you will definitely have a great time.
Karaoke night:
For an exciting and fun night out in the winter, you should consider going to a karaoke bar with your boyfriend. It doesn't matter whether you can sing well or not because a karaoke night is a night when you just laugh and sing your heart out regardless if you know all lyrics to the songs or not.
You can either go to a karaoke night with your boyfriend as a date or invite both your friends over and make it a fun, memorable night out for everyone.
Go on a hike

:
Hiking is one of the most healthy winter activities to do with your boyfriend. It is an excellent opportunity for the two of you to explore what nature has to offer and also get some fresh air. The hiking trip will also strengthen your lungs, and your endurance depending on how often you do it and give the two of you quality time to talk and bond throughout the journey. If the weather is bearable or if you are appropriately dressed for the cold you can even have a picnic once you reach the top of the mountain and enjoy the sunset together or watch the snow blanket all over the city.
Remember you can either make this trip alone with your boyfriend, make it a double date with another couple or even go with a group of other hikers. It would be a great opportunity to meet people and make new friends.
Plan a trip out of town:
If you can not bear the winter in your city or you simply crave for a warm holiday, with your boo then take out your laptop and book a trip to a Caribbean island or any other romantic destination you have been eyeing for a while. And if home here in the U.S. is your preference, good winter holiday destinations in the U.S are Florida, Hawaii, and California, at least according to a 2014 survey on Statista.
Leading winter domestic state destinations for travelers in the United States in 2014. Source: Statista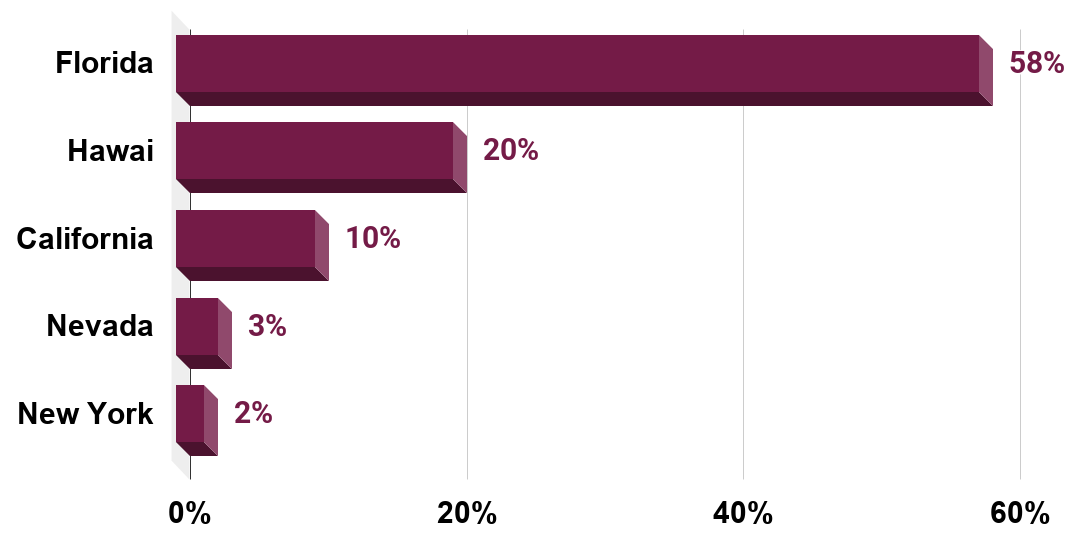 Surprise your boyfriend with the tickets and pack your bags to enjoy a beautiful weekend wherever you choose to go. For an idea of good winter travel activities you can explore with your boo, the chart below (source link accessible here) has some pretty good ideas to consider.
What type of winter travel are you planning? (U.S., 2013) Source: Statista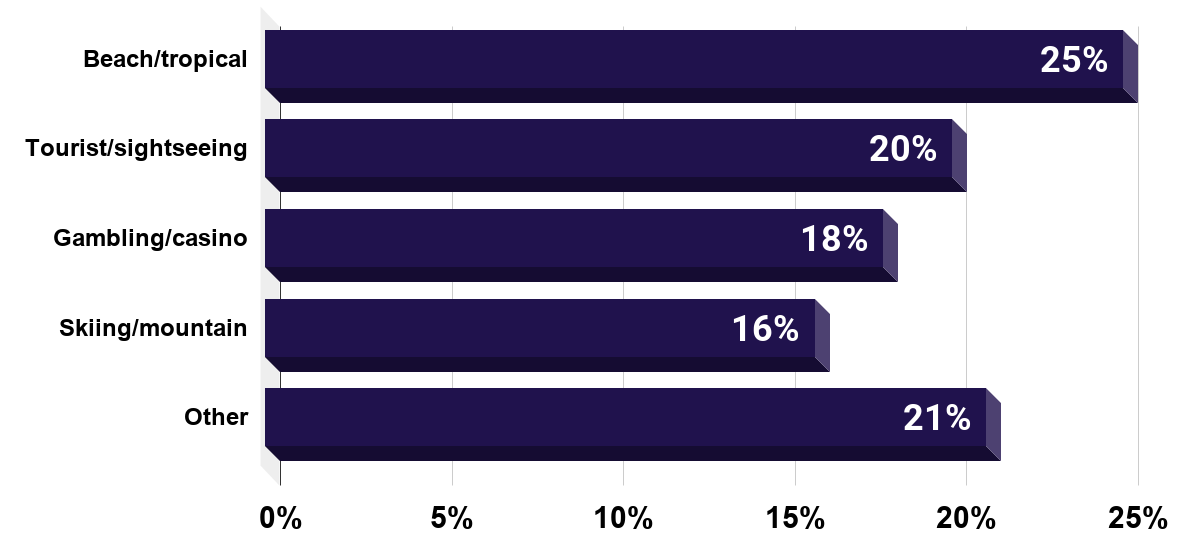 Before booking on your holiday, make sure that your boyfriend doesn't have something important planned out or work on the days you want to book your flight.
Go to a thrift shop or antique shopping:
Grab your purse and go to a thrift shop with your friend, who knows you might find some great item at an unbelievable price or just have a good fun time with your man trying on bizarre outfits and accessories.
On the other hand, if you want to purchase an item that is antique and has some historical value then take your boyfriend to an antique shop and get either a piece of furniture to decorate your house or buy a wearable item for him, like a piece of jewelry.
A romantic dinner date:
This might sound like quite a cliche idea at first, but a dinner at a classy restaurant during the winter can actually be very memorable and mesmerizing making it one of the most romantic winter date ideas. If winter falls during the holiday season, you will get to enjoy all the beautiful Christmas decorations and the snow with your significant other.
Going out for dinner during the winter also allows you to put on your beautiful, elegant winter outfits and coats. To avoid any inconveniences, make sure you make early reservations at the restaurant you plan on going to and also ask your boyfriend if he made any plans, so they don't clash.
Finally, you can end the night with a drink at a piano bar or just some traditional hot chocolate at a park while enjoying the weather and vibe.
Frequently Asked Questions:
How can you pick the most appropriate activity?
Observe your boyfriend's mood before you go to choose an activity you want to do together. Second, decide on your budget for the activity, if you are trying to save up, stick to indoor activities. If you have a bigger budget, you can catch a  game, or go on a fancy dinner.
What are the essential things to bring if you are going outside during the winter?
It depends on how cold winter in your area is. However a good start is bring your boots, gloves, a good jacket and carry an umbrella just in case it rains.
Conclusion
So we have given you different ideas of things to do with your boyfriend in the winter, and now it is up to you to choose an activity that suits your taste and your boyfriend's taste and mood. You can always pick more than one idea from this list depending on your budget, the weather and the time you and your boyfriend have on your hands. Besides, the winter lasts for a couple of months in most places, so you will have time to do the activities you have in mind without any rush.
ESTIMATED TIME DESIGNING AND UPLOADING THIS ARTICLE
ESTIMATED TIME RESEARCHING AND WRITING THIS ARTICLE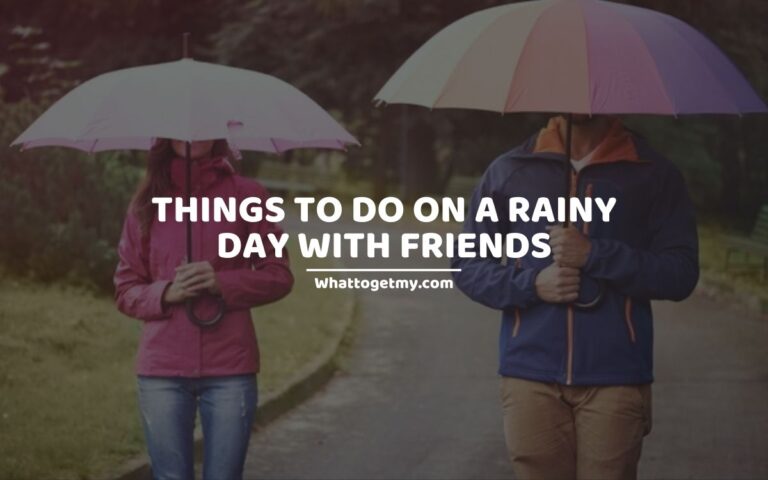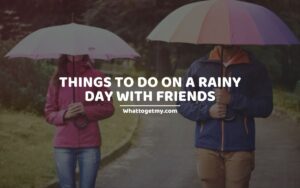 17 Best Things to Do on a Rainy Day With Friends
17 Best Things to Do on a Rainy Day With Friends WhatToGetMy Instructional Article This article has compiled the 17 best things to do on a rainy day with friends. These activities are suitable for you to do with your friends when it's raining outside
Read More »