9 Tips if You Don't Know What to Do if You're Pregnant Before Marriage
WhatToGetMy Instructional Article
There are a lot of negative stereotypes regarding women who are pregnant before marriage. In reality, increasing numbers of women with college degrees begin to get pregnant before the wedding. Factors such as debt, economic status, and the cultural attitude towards marriage and pregnancy contribute to pregnancy before marriage. If you don't know what to do when you're pregnant before marriage, here are nine things to know before you say 'I do.'
Don't Guilt Yourself:
Whether you planned your pregnancy or if it was a complete shock, don't panic. Sure, your great aunt may be offended that you are pregnant at your wedding, but it's not 1958 anymore. The world is a different place, and if you choose to have a baby out of wedlock, that's your decision to make. Walk down the aisle in confidence and accept your current situation as a blessing. Getting married while pregnant will cause you stress, anxiety, and nausea which you have never known before. However, if you stay confident and optimistic, you will gracefully find your way into marriage and parenthood.
Decide on Your Announcement:
Some brides don't want their entire guest list to know that they are pregnant before their wedding. Lucky for you, there are a couple of ways to keep your pregnancy quiet at your wedding. If you are not showing yet, you have the option of hiding your pregnancy during the ceremony and making an announcement at the reception. If you choose not to tell anyone at the wedding, you can always announce after the honeymoon. Decide on trustworthy people who can keep your secret and only share your information with those who will genuinely support you. Gossip is bound to happen, especially at a wedding. If you don't know what to do when you're pregnant before marriage, the first thing you should do is tell a handful of people who you can trust. Once you feel like you feel comfortable sharing this information, you can continue to spread the good news to your family and extended wedding guest list.
Don't be Afraid to Ask for Help:
Chances are, you like to think you can take on the world without any help. While this ideology may work in your personal or professional life, the stressors of wedding planning and baby-proofing are more demanding than you think. Pregnant women who are planning their weddings need a support system. Before you put together your bridal party, think about the friends and family that will support you the most throughout this journey. Don't be afraid to ask for help as you navigate through this stressful and exciting period in your life. If you don't know what to do if you get pregnant before marriage, consider building a support system. the closest people in your life should be willing to support you in your new journey!
Keep it Simple:
Spending money on a fairytale wedding may not be the wisest idea if you are pregnant. Instead of trying to keep up with the latest wedding trends, consider keeping things short and straightforward. Because you will be pregnant on the day of your wedding, boozy rehearsal dinners, brunches and parties are not necessary. Instead of traditional wedding day events, try focusing your energy on your ceremony. If you can create a comfortable experience for yourself and your guests, you will be less stressed and happier with the outcome. More stress on your wedding day could negatively impact you and your baby's health. Consider keeping your wedding simple with a ceremony, pictures, and a small dinner reception so you can have a stress-free wedding during your pregnancy. Having a wedding with as little stress as possible is exactly what to do if you're pregnant before marriage.
Wedding Gown Selection:
If you are pregnant and looking for wedding gowns, here are some essential style tips to help you make a selection. Wedding dress selection usually takes place a month or two before the wedding, so be sure to size yourself up just in case your belly grows in the meantime. You can also avoid showing your belly ultimately by selecting a silhouette that will flatter your pregnant body type. For example, wedding dress experts suggest A-line gowns. The best way to conceal a baby bump is with a high waist with a light fabric. Your comfort and happiness are the highest priority on your big day. If you pick a wedding gown style that is light, comfortable, and flattering, you will feel more confident as you walk down the aisle while pregnant.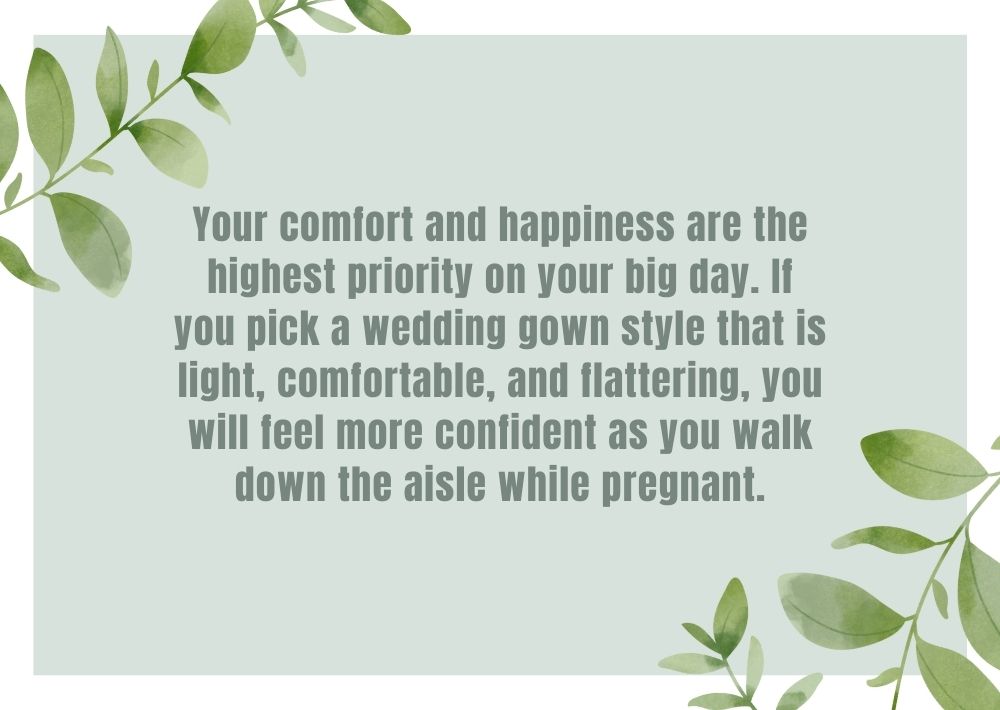 Marry for Love:
For years, the common obligation for parents to marry is because of their unplanned pregnancies. If you find yourself facing pregnancy and marriage, take some time to decide whether this is the best choice for you. Do you see yourself spending the rest of your life with your partner? While it may seem like you are doing the right thing by getting married, consider the long-term effects of a rushed marriage during pregnancy. Rushing into marriage now can affect your child later in life. If you doubt that this person will be your life partner forever, consider postponing the wedding. Many other alternatives to marriage, such as co-parenting, domestic partnerships, and cohabitation agreements. One of the biggest mistakes you can make is rushing into a marriage. If you are wondering what to do when you're pregnant before marriage, consider marrying for love instead of rushing into a marriage of convenience.
You can always postpone the wedding or work out another plan until you are confident in getting married. According to a survey done by the Pew Research Organization, here are the six reasons why women get married. As you can see, 90% of women get married for love and 66% of women get married for companionship. Compared to the percentage of women who get married to have more kids, know that it may be best to postpone your wedding if you don't feel like you are marrying for love.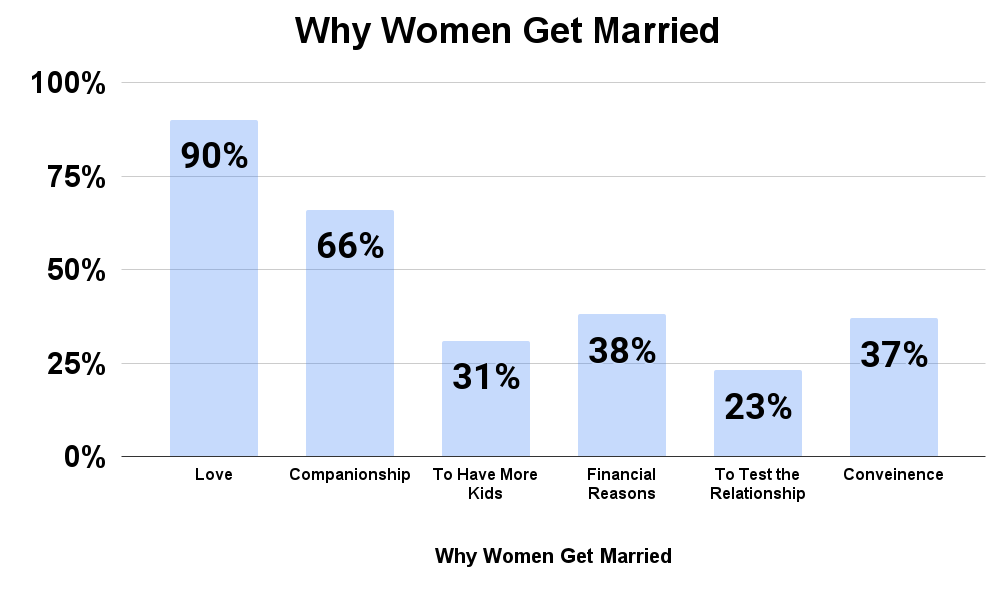 Know that You are Not Alone:
Research shows a dramatic increase of births outside marriage in the United States. According to ChildTrends.org, 40 percent of births in the United States occur outside of marriage. This statistic shows a 28 percent increase since 1990. Because all the attention is on the bride during weddings, you will naturally feel singled out and vulnerable. All eyes will be on you, and that is intimidating! However, it helps to know that you are not simply a statistic. There are many valid reasons why women get pregnant before marriage, and it is not a failure. As birth rates increase for unwed women, plan your wedding with confidence.Remember that you are not the first woman to google "What to do if you get pregnant before marriage," and you won't be the last. Each mother's situation is unique, and there is no right way to get married.
Think of the Positives:
If you consider marrying your partner after getting pregnant, think about all the positive attributes of marriage. Having a child and getting married is not seen as a failure. A new life is just beginning. Many benefits to getting married vary by the couple. While 90% of married couples say they married for love, some marry for convenience and companionship. There are many benefits to marriage, and you have to consider what is best for you and your child. If you are planning on getting married while pregnant, think of all the positives from your relationship with your partner. Try not to let your pregnancy be the only deciding factor for your marriage.
Don't Feel Pressured:
The most important thing you can do as a new parent is make responsible decisions for yourself and your child. You are now responsible for another life, and if that means postponing a wedding, so be it. Despite what your grandparents and mother-in-law think, you are still in control of your choices. Marriage is not a quick fix to getting pregnant. It is noble for couples to wed after an unplanned pregnancy, but this is untrue. Before you say 'I do,' please consider the effects of an unhappy marriage on your newborn child. If you feel pressured to rush into your wedding because of an unplanned pregnancy, consider postponing the wedding until after the baby's birth. As you scour the internet looking for solutions on what to do when you're pregnant before marriage, consider taking a step back and asking yourself if this is what you really want to do.
FAQ:
1. What should I do if I'm pregnant before marriage?
If you find yourself pregnant before marriage, the best thing you can do is not panic. The more stress you have, the worse you will feel. Although being pregnant before marriage was previously considered a failure, times have changed, and each pregnancy is unique. If you are pregnant before the wedding, think about who you would like to tell your special news. You can choose to keep it a secret, or you can announce your information before or on your special day. Do what feels suitable for you and your situation.
2. Should I get married because of my pregnancy?
For years, people have believed that getting pregnant before marriage should be shamed. Fortunately, this belief is becoming less prevalent as more women have children out of wedlock. If you have a planned or unplanned pregnancy on your hands, you should not marry because a baby is on the way. There are many different options, such as adoption, co-parenting, and cohabitation. These options make it easier for parents to raise children in a healthy environment without committing to something as permanent as marriage.
3. Can I announce my pregnancy at my wedding?
There is no better way to announce big news than at a wedding reception. If you feel comfortable sharing your pregnancy news at your wedding, try combining events. During the wedding reception, make an announcement and do a gender reveal. Announcing your pregnancy at your wedding and doing a gender reveal party is a great way to inform your friends and family about your new family dynamic.
ESTIMATED TIME DESIGNING AND UPLOADING THIS ARTICLE
ESTIMATED TIME RESEARCHING AND WRITING THIS ARTICLE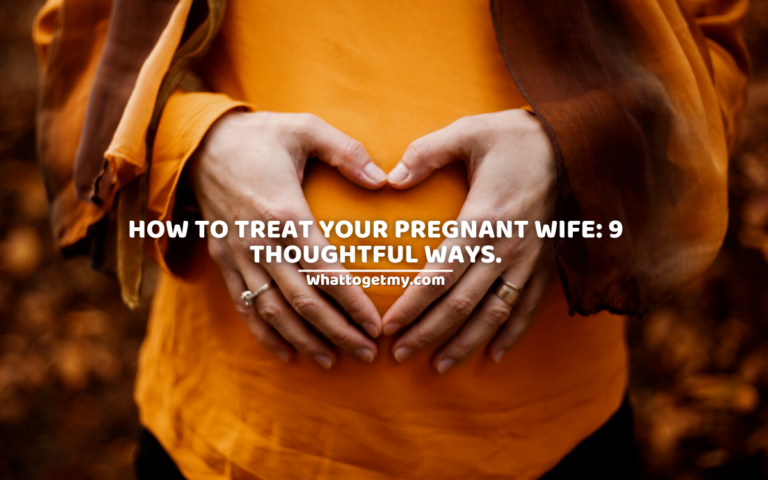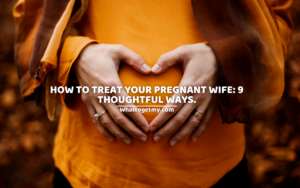 How to treat your pregnant wife: 9 thoughtful ways.
How to treat your pregnant wife 9 thoughtful ways. WhatToGetMy Instructional Article A man who wishes to support his wife during pregnancy but has no idea what to do experiences more stress than other men in the same situation. This article will fill you in
Read More »