11 BEST WAYS TO PROTECT YOUR SKIN FROM THE SUN
WhatToGetMy Instructional Article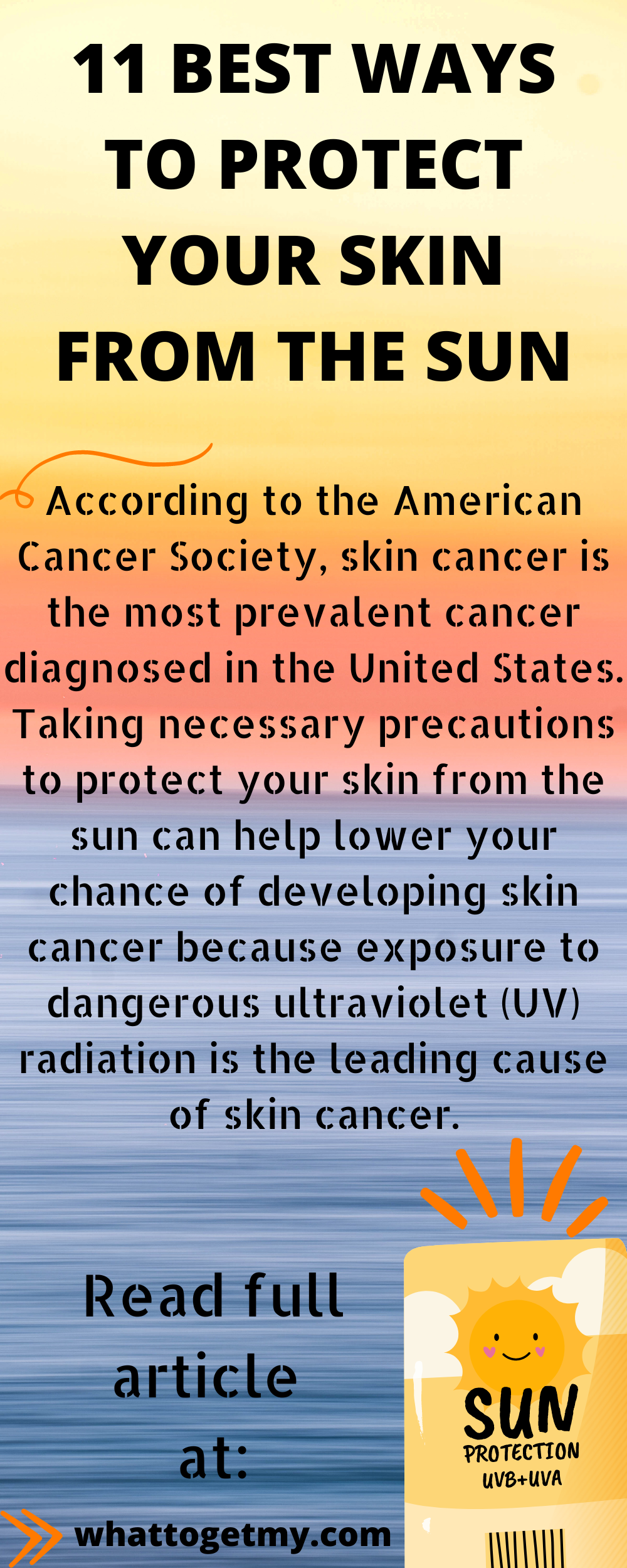 According to the American Cancer Society, skin cancer is the most prevalent cancer diagnosed in the United States. Taking necessary precautions to protect your skin from the sun can help lower your chance of developing skin cancer because exposure to dangerous ultraviolet (UV) radiation is the leading cause of skin cancer.
Over time, repeated sun exposure increases your risk of developing skin cancer. Therefore, year-round sun protection is essential, even on cloudy days. However, sunscreen is insufficient since no sunscreen, regardless of its SPF, can guarantee 100 percent protection. You, therefore, require a variety of sun protection techniques.
For years, the skin cancer foundation has curated many ways to prevent skin cancer in the society. Statistics from Skin cancer website shows that a lot of people are affected with basal cell carcinoma (BCC) and squamous cell carcinoma of the skin (SCC).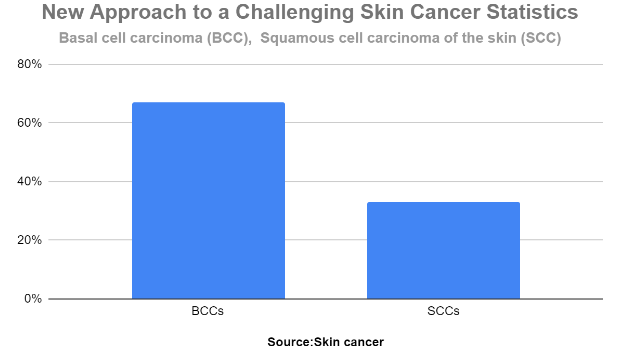 Anytime you are outside, even if it is not sunny, your skin is exposed to dangerous UV radiation. Here are 11 quick and easy ways to shield yourself from the sun and reduce your UV exposure.
SELECT THE APPROPRIATE KIND OF SUNSCREEN.
Wearing sunscreen efficiently reduces your risk of developing skin cancer and exhibiting early symptoms of aging. Everyone who spends any time outside, except for infants under six months, should use sunscreen. It's critical to select the proper type of sunscreen before making your selection.
Sunscreen isn't just for the beach because your skin is exposed to the sun daily. Use a daily broad-spectrum, UVA, and UVB ray-blocking sunscreen on all exposed areas with an SPF of 15 or higher. Additionally, pick lip balms and cosmetics with SPF. Though it may be "water-resistant," sunscreen is not sweat proof or waterproof. Therefore, it's crucial to reapply frequently, particularly if swimming or perspiring.
REGULARLY APPLY AND REAPPLY SUNSCREEN.
The degree to which sunscreen protects your skin depends on how you apply it. Apply sunscreen for 15 to 30 minutes before you expose your skin to the sun for the most significant results. That is how long it takes for your skin to absorb. Wait for 10 to 20 minutes after application to prevent mistakenly rubbing off the sunscreen. Using sunscreen every two hours if you're swimming can lower your sunburn. Use water-resistant sunscreen with a higher SPF on days spent at the beach. Always remember to check the expiration date, apply sunscreen liberally 30 minutes before exposure to the sun, and reapply every few hours or even more frequently after swimming or sweating.
The level of protection provided by various types of clothing varies, but covering up with clothing is a great strategy to reduce exposure to UV radiation. The following clothing styles offer the best protection: Darker colors, dry fibers, and thicker fabrics as opposed to thin fabrics (like cotton). Numerous garment companies also produce soft, lightweight shirts and bottoms that can shield wearers from the sun's UV radiation.
Check for clothing with a UV protection factor label; a higher number indicates more excellent UV protection. Instead of a t-shirt in the water, think about wearing a rash guard. Compared to dry ones, wet t-shirts provide much less UV protection. Rash guards often comprise a stretchy, polyester cloth with an integrated UPF. Cover with long, loose-fitting shirts and pants if you aren't in the water. Dark, tightly woven textiles offer more excellent protection than lighter, looser-woven materials or colors. And look for UPF information on clothing labels. Fabrics with a UPF of at least 30 are preferred.
WEAR A HAT WITH A WIDE SHADE TO PROTECT YOUR HEAD.
An excellent technique to reduce the amount of UV radiation reaching your face is wearing a hat with a shade at least three inches wide. Baseball caps and other hats with a smaller brim may not fully shield your face from the sun's rays in places like your ears, nose, and neck. The face, ears, scalp, and neck are frequent sites for skin cancer.
A hat with a wide brim might add additional protection to these areas. Look for a hat with a circumference of at least three inches. Alternately, get a protection cap with fabric on the back to protect your neck and ears. Dark, closely woven textiles offer additional protection, similar to clothes. The UV rays can pass through the weave if you see through it.
PUT ON SUNGLASSES TO SHIELD YOUR EYES.
Sunglasses shield the skin surrounding your eyes and eyes from the sun. By simply observing the color of the lenses, it might be challenging to determine whether sunglasses will protect you from the sun. Instead, check for sunglasses that claim to entirely or almost completely block UVA and UVB radiation. Cataracts and the skin around your eyes can both be harmed by exposure to the sun.
Wearing sunglasses will protect both your skin and your vision. Darker doesn't always imply better protection for eyewear. Dark colors do not filter UV rays; they merely lessen the intensity of non-toxic visible light. The best protection comes from glasses with larger frames or wraparound lenses. Additionally, seek labels that include UVA and UVB coverage or conform to American National Standards Institute standards. Never assume anything about sunglasses that aren't marked.
COMPLY WITH THE DAILY UV INDEX
A regular component of your neighborhood weather forecast is the daily UV index. On a range from one to 11+, the index estimates the risk of excessive sun exposure. A higher number indicates a greater risk. A UV alert suggests that the UV index is predicted to be six or higher in your region, which is elevated and abnormally intense for the season. If your location is experiencing a UV alert, use additional caution or opt for indoor activities.
EXERCISE CAUTION WHEN REFLECTING
Some surfaces reflect the light, increasing your UV exposure. Consider reflection if you are near water, sand, or snow; it significantly raises your risk of sunburn. Apply broad-spectrum sunscreen liberally to all exposed skin, including your lips.
SEEK SHADE AND AVOID THE SUN ALL THROUGH PEAK HOURS.
From 10:00 am and 4:00 pm, when your shadow is shorter than you, the sun's rays are at their greatest. Try to plan your outdoor activities for hours before or following this period. If you must remain in the sun throughout those hours, look for shade as often as possible by locating trees, umbrellas, and shelters. Choose an umbrella with a UPF (ultraviolet protection factor) of 30 or higher if you rely on it to provide shade at the beach.
A fantastic way to enjoy the outdoors while reducing UV exposure is to remain in the shade. It's crucial to locate shade, particularly during the hottest parts of the day, whether by sheltering under a tree or pitching a tent on the sand. This is especially true for infants, who should limit their exposure to light. Strollers, hats, and umbrellas should always be used to provide sun protection for infants younger than six months.
Some drugs make your skin very sensitive to the sun. Various antibiotics, diuretics, antidepressants, treatments for acne, high blood pressure, and mild anti-inflammatory drugs are typical examples. Consult your pharmacist if you take prescription or over-the-counter medications about your sun exposure to determine if your medications enhance your chance of being sunburned.
LOOK FOR ALTERNATIVE VITAMIN D SOURCES
Strong bones and good health depend on vitamin D. When your skin is exposed to the sun, it produces vitamin D, which has beneficial effects on our bodies' mental and physical health. However, vitamin D is not just found in the sun.
Additionally, it is naturally present in fortified foods such as milk, cereal, yogurt, orange juice, and fatty fish, including salmon, tuna, swordfish, and tuna. Before using a vitamin D supplement, see your doctor as too much might be hazardous. In reality, vitamin D can aid by raising serotonin levels in the body, boosting your immune system, and enhancing your mood. Nevertheless, the sun has several risks, so most experts advise obtaining vitamin D from what you eat or supplements.
No tan is ever safe. Sunlamps and tanning beds expose you to UVA and UVB radiation, which harms your skin. Skin cancer is another consequence. You may protect your skin by never tanning inside. If you want to seem tanned, choose sunless tanning creams instead.
HOW TO TREAT A SEVERE SUNBURN
It can be unpleasant when sunburns are mild to moderate in severity. While it heals, aspirin, moisturizer, or cold compresses can help to lessen swelling and pain. Avoid picking at any blisters if you have any. To prevent infection if they do rupture, wash them with soap and water and cover them with a wet dressing. You might need to see an urgent care facility for medical assistance if your condition is more severe and causes vomiting, fever, or dizziness. While staying cautious can help you safeguard your skin and lower your risk of developing skin cancer, you do not need to stay indoors entirely. By carefully applying sunscreen, wearing clothing, hats, and sunglasses, and being in the shade, you can reduce unnecessary sun exposure.
SUNBURN TREATMENT
If sunburn happens, one should follow these sunburn remedies:
Avoid being outside and instead go inside.

Till the sunburn has healed, stay out of the sun.

Use a moist cloth or towel to cool the skin, or take a cool bath.

Use an after-sun lotion or moisturizer, such as aloe Vera.

Use over-the-counter painkillers, such as aspirin or other mild anti-inflammatory drugs to reduce swelling and relieve pain.

Use hydrocortisone cream to soothe itching and inflammation.

Increase your water intake to ward off dehydration.

To lower the chance of infection, refrain from handling or breaking tiny blisters. Blisters protect the skin.

Do not pick, scratch, or remove peeling skin.

Wear comfortable clothing as your skin heals.
A doctor could recommend oral steroids to treat severe sunburns to lessen inflammation. They might advise intravenous fluids for dehydration or heat exhaustion.
CONCLUSION
Every sunburn is harmful. When you're young, multiple blistering and peeling sunburns raise your risk of developing skin cancer, wrinkles, and early aging. The best way to prevent sunburns is to apply sunscreen and reapply it frequently. Accidents happen, so treat sunburn by moisturizing the area, drinking plenty of water, and keeping it gently covered with absorbent material. It would be best if you didn't put off getting the care you need or disregard symptoms that would typically prompt you to do so. Early diagnosis and treatment increase our capacity to deliver the most thorough and efficient care.
FAQ
CAN A SUNBURN DEVELOP INTO A TAN?
Can Sunburns Become Tans? The damaged area may appear darker than usual after recovering from a sunburn, but tanning is only another type of skin damage brought on by UV radiation.
HOW LONG UNTIL A SUNBURN FADES?
Two to six hours after sun exposure, you will start to experience redness if you have a light sunburn. Within two days, the redness will go away. The time it takes for the redness to go away depends on how bad your sunburn is.
WHEN I GET A SUNBURN, SHOULD I VISIT A DOCTOR?
Consult a doctor for treatment if you develop any of the following symptoms along with your sunburn:
Faintness

Confusion

Elevated pulse

Extreme thirst

Chills

Nausea and diarrhea

Widespread blisters

Bleeding blister infection
ESTIMATED TIME DESIGNING AND UPLOADING THIS ARTICLE
ESTIMATED TIME RESEARCHING AND WRITING THIS ARTICLE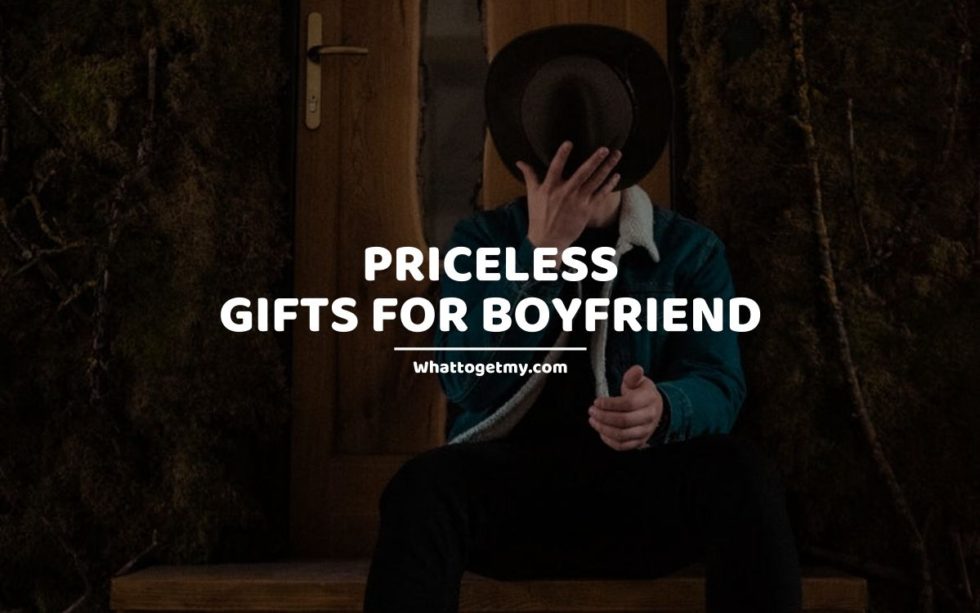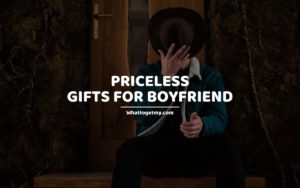 In a healthy relationship, it is expected for the couple to express their love and appreciation to each other regularly. This time around, you want to make an effort and get your boyfriend a priceless gift that is unique and memorable. You want the absolute
Read More »