Funny Things to Do for a 50th Wedding Anniversary - 17 Activities, Party Ideas, and Quotes for Your Golden Jubilee
WhatToGetMy Instructional Article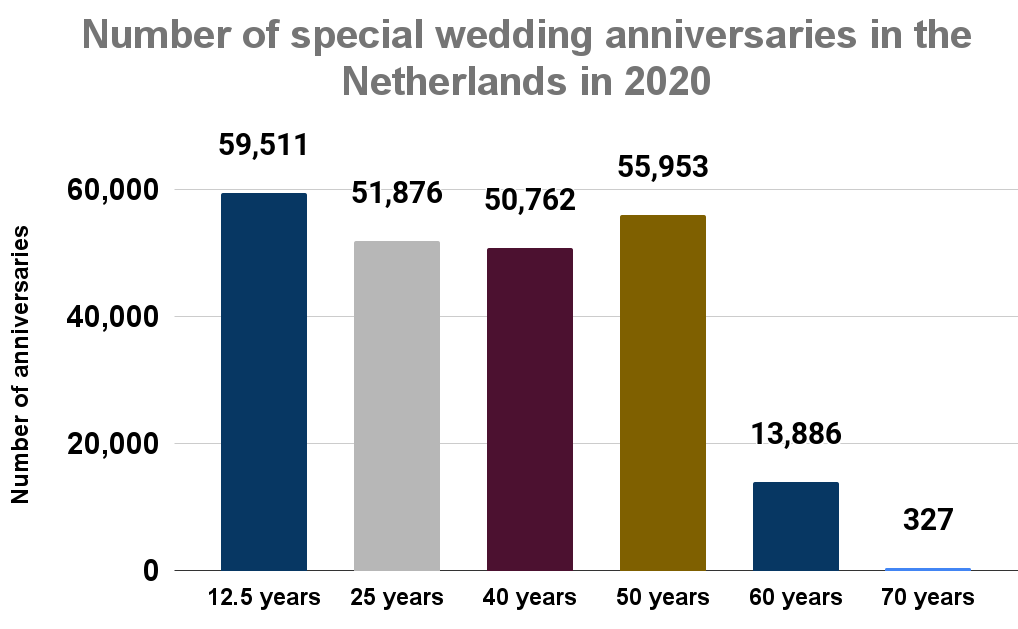 There are several funny things to do for a 50th wedding anniversary, but before we get to those, we just want to say a big congratulations to you and the tens of thousands of others – as shown by this graph from Statista – that celebrate this milestone per year. It is no easy feat, and you deserve to be celebrated.
Celebrations are best when tailored to the tastes of the people being celebrated to make for a more enjoyable experience. Seeing as you have been with your spouse for 50 years at the very least, we trust you to know what works for you both. To that end, we have tabled some ideas for you to serve as inspiration for the big day.
12 Funny things to do for a 50th wedding anniversary
1. Create a mixtape/ playlist
Since time immemorial, music has been used to describe love so why not use it once more. Show your spouse how much you care for them by creating a playlist of your favorite songs as a couple that remind you of both the notable moments in your marriage and the mundane. Some examples of songs to include are; the dance songs during your wedding, the popular songs throughout your marriage (those that you liked at least), and those songs that have some sentimental value to your marriage.
If you want to be a bit old school, you can create an actual mixtape with a vinyl record or a cassette as companies offer such services on the internet; we hope you have something to play these on though.
2. Sing/ play a customized song
Still on the subject of music, another thing to do for your 50th anniversary would be to sing a song to your spouse. You could pick a special song for you both and personalize the lyrics by including your names and special events in your marriage.
You can then sing this song at your 50th anniversary celebration to your spouse in private, or you could record it for them to keep it.  You get bonus points for learning an instrument to aid you in your singing.
3. Play some games
Games are a must when planning a 50th wedding anniversary because they liven up the mood and can make for a funnier celebration. Several games can be played at a 50th anniversary party, such as:
1. Compatibility
This game can be played at home or at a party. It involves giving both spouses a word along with a set of pictures. The couple then has to pick the picture that they feel best represents the word. Their answer is then compared to their spouse to see how well they match up.
2. How well do you know the couple?
For this game, you write down answers to questions (or get such responses from the celebrants) such as your favorite song, the first place you met, where you went on your first date, etc. You then ask your guests those same questions, and the winner will be the person who gets the most questions correct.
3. Guess who they are
The goal of this 50th anniversary party game aims to make your guests feel included. It involves asking other couples to bring old photos from their wedding day before the celebration. On the day, you ask guests to guess which couple each picture belongs to, with the person giving the most answers being declared the winner.
4. Relationship Quiz
This is a funny game that you can play with your spouse to see how well your spouse's perception matches yours. It involves sitting back-to-back with your spouse and then having someone ask such questions as who is the funnier one, the mature one, who cooks better, or even what your spouse's favorite movie is. It would be interesting to see how often your answers match.
Here are Question Games To Play With Friends.
4. Make a slideshow
Another funny thing to do for a 50th anniversary is to compile funny and memorable moments in your marriage that were caught on camera into a slideshow. The background song to the slideshow can be your favorite song or a song that holds some significance to you.
You can even take this a step further by mixing different videos of you and your spouse -or getting someone to do so – to create a memorable special documentary. This will draw some laughs and "awwws" from the audience.
5. Write a funny speech/ toast/ poem
Engaging the literary arts to get your spouse and guests smiling is another thing to do for your 50th wedding anniversary. You could write a funny speech or toast to be given at your celebration, or you could write a poem. The key is to include notable moments in your marriage while throwing in a joke or two to make it lively.
If you feel you cannot write one, there are people offering such services; be sure to furnish them with all the relevant information they might need though.
6. Host a party with a funny theme
As well as doing some specific things that are funny, you could make the entire event fun by giving it a humorous theme. You could, for instance, throw a costume party where the guests come dressed in the prominent fashion from when you were married, or a party inspired by your favorite fictional characters such as James Bond, or even a karaoke party.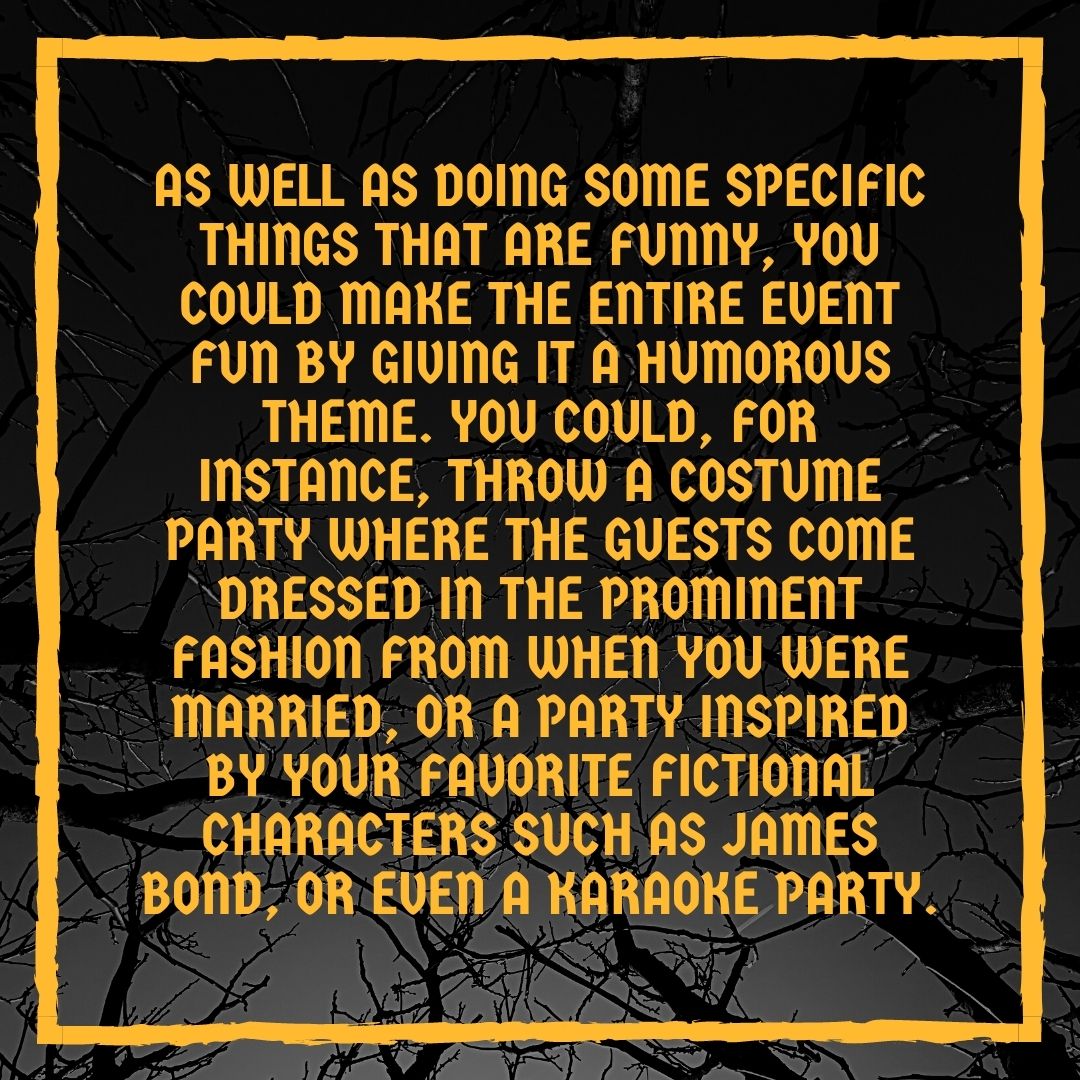 7. Go to the movies/ movie night at home
Surely there must be movies and series that you have watched over the years with your spouse that you both found funny and probably bonded over. Therefore, a fun thing to do for your golden wedding anniversary would be to watch those old shows and movies in a marathon-like fashion.
With so many selections now available on streaming sites such as Netflix, you are sure to find something you like and can enjoy together on this very special day.
8. Have a picnic
This day celebrates your union with your spouse, so spending some alone time with them would only make sense. Do this by having a picnic where you both can relax, eat, and observe the world that has changed immensely since the day you first said, "I do."
9. Have a photoshoot
Make the day more memorable by organizing a photo shoot for you and your spouse. An excellent 50th anniversary photoshoot idea would be to recreate your wedding photos which can then be placed side by side with the actual wedding photos to commemorate your 50 years of marriage.
If you never got to take any engagement photos, this would be a good time to do so just for completeness' sake. Also, remember to bring a photographer to cover the entire celebration – if you have one.
10. Visit a comedy club
Not a very common thing to do for a golden wedding anniversary, but going to a comedy club is a really fun idea. You could view upcoming talents or plan your visit such that you meet a notable act on the day; the goal is to laugh and be happy with the one you love.
11. Leave funny notes around the house
Reignite some excitement in the marriage by leaving sweet and funny notes around the house for your spouse on this golden jubilee of marriage. Upon finding the first two or three notes, the excitement in your spouse is sure to peak as they look around for more notes telling them how much you love and care for them.
12. Recreate your first date
Make your anniversary a blast from the past by recreating the first date you went on with your spouse. You could eat the things you ate, listen to the music that was playing, and wear similar clothes to your first date. This is a special anniversary idea because sending you down memory lane will make you appreciate the journey so far while recreating your feelings on that fateful day.
Check out wedding anniversary gifts to get for your husband, for your wife, and for your parents.
5 50th anniversary Party Ideas
13. Karaoke party
When it comes to how to celebrate a 50th wedding anniversary, you simply cannot go wrong by making it a karaoke party. You could rent out a karaoke club or order a karaoke machine to whatever venue you decide to have the party. You, your spouse, and your guests singing their favorite tunes will guarantee more fun than the cast of Ted Lasso had in their karaoke episode.
14. Costume party
A costume-themed party promises to be a vibrant, colorful, and all-around fantastic event. A great 50th anniversary theme would be a costume party based on the trending fashion style when you got married.
Whatever theme you decide on, you could also extend it to the music and decorations by including elements from the theme.
15. Small and intimate
Not everybody wants a big, elegant affair, and that is okay. You could choose to host a small celebration at home or in a cozy environment like a small restaurant where you invite your family and closest friends and still have the time of your life.
16. Formal party
You can also choose to have a grander, formal affair where you rent out an events hall, put up formal decorations, and invite people to come in their Sunday best. Your 50th anniversary is a special occasion and should be celebrated in whatever way you feel comfortable and if that happens to be a celebration decked with elegance, then so be it.
17. Casual party
A casual party can be a great way to celebrate your golden anniversary regardless of it being a simple 50th anniversary idea. The goal is to be laid back and happy amongst those you love. Examples of casual parties include barbecue parties, backyard parties, pool parties, etc. Throw in some good music, good food, and watch the celebration come to life.
Check out Wedding Anniversary Celebration Ideas With Friends and Paris Themed Party Ideas for Adults.
Party Considerations
Duration
It would be best to keep the event between two and four hours because it gives enough time to be with loved ones but doesn't see you being away for too long.
Location
Unless you would strongly prefer this, it would be best not to host the event at your place. There are several reasons for this, but chief amongst them is to ensure you are relaxed and unbothered by chores while enjoying your big day. It also ensures that you don't have to be the one doing clean-up the next day.
Accessibility
As there are bound to be older people in attendance, it is essential that whatever location you choose be wheelchair accessible to accommodate those with mobility issues.
Convenience
If you plan to host the event outdoors, check for the availability of restrooms.
Food
In consideration of the elderly guests, it would be best if there were healthier food options such as low sugar cakes, soft foods, and foods low in fat.
Invites
Invite only those you believe wish you well, which is why close friends and family are a safe option. There is no need to invite those who don't wish you well as it could ruin the atmosphere.
Decorations
As this is your golden anniversary, might we suggest that you add gold to the various decor ideas you have? For instance, gold frames, gold-rimmed cutlery, and golden balloons and floral arrangements.
50th anniversary quotes
Some funny 50th wedding anniversary quotes include:
For the man/ woman who has given me a thousand laughs in my lifetime, I knew it was only right to find

funny things to do for a 50th wedding anniversary

. I didn't have to look hard, though, because anything I do with you gives me great joy.

Fifty years ago, I surrendered to the authorities for a life sentence in the Marriage Penitentiary; it was the best decision I ever made, and I got the best cellmate I could ever ask for.

If I hadn't married you, I'd probably be dead by now from boredom. You gave me an exciting life, and I am so thankful for that.

I can be annoying, but that's fine because you are the only one I want to annoy for as long as I live.

It's incredible how I can still tolerate you after all these years, but considering that you still tolerate me as well, I think it's safe to say that we are meant for each other. Happy Anniversary.

We made it to 50 years, my love. We are a golden couple which makes sense because I found a man/woman who is as precious to me as gold. Happy Anniversary.

Rome wasn't built in a day, and neither was this marriage. It has been a lifelong process of us building together, and I am proud to be building still with my trusty partner.

Thanks to you, I know that I am stronger than Alexander the Great because he died after a week of partying, but somehow, I am still alive after 50 years.

Fifty years may have passed, but the love I have for you not only remains, but it is now stronger thanks to all the smiles and tears throughout the years. Happy anniversary.

When we first met, I only laughed at your terrible jokes because I liked you. Now I laugh because I find them funny, and for the life of me,  I can't figure out if you became funnier or if I just got used to them; either way, thank you for making me smile. Happy Anniversary love.
Frequently Asked Questions
How do you make a 50th wedding anniversary special?
Have a photoshoot recreating your wedding pictures.

Recreate your first date.

Organize a costume party.

Create a playlist/ record.

Make a slideshow.

Play some exciting party games.

Go on a vacation together.
What do you say to a couple on their 50th wedding anniversary?
Congratulate them on reaching this milestone.

Tell them how happy you are to see them reach this milestone.

Wish them well as they age together.

Tell them that their marriage is an inspiration to you.

Tell them that their marriage is a shining example to others.
What percentage of married couples reach their 50th anniversary?
Research from various sources suggests that only between 5% and 7% of marriages reach the 50-year mark, making it a significant milestone.
What is 50th wedding anniversary?
The 50th wedding anniversary is known as the golden anniversary. This is said to be in reverence of the fact that the experiences these spouses would have gone through in 50 years would breed knowledge worth as much as gold.
In conclusion
We may have written this article from the perspective of the reader being a celebrant, but it can apply to anyone who wishes to plan something for the lucky celebrants. If you are their children, some things here can serve as excellent 50th wedding anniversary party ideas for parents.
It is important, however, that you have a list of questions to ask parents on their 50th anniversary to find out what they would like so that you can make it a truly memorable event for them.
If you are the celebrant, we hope we helped shine some light on some ideas and genuinely wish you the best of anniversaries.
ESTIMATED TIME DESIGNING AND UPLOADING THIS ARTICLE
ESTIMATED TIME RESEARCHING AND WRITING THIS ARTICLE