17 Best Places to Go for 25th Birthday and 3 Fun 25th Birthday Trip Ideas.
WhatToGetMy Instructional Article
Birthday vacations amongst Americans remain one of the tops of the list things that birthday celebrants love to enjoy. Although, as seen from the chart of 2016 birthday travel destinations amongst Americans, most of the preferred destinations are in the U.S. But this does not mean you are confined to the U.S. In addition to the U.S. destinations shown in the above chart, you will find other exciting 25th birthday vacation spots in other parts of the world. This article will also show you 3 fun 25th birthday vacation ideas to help you in planning your 25th birthday vacation.
You may like this related article on Birthday gifts for 25 year old woman for gift ideas for a 25 year old woman.
3 Fun 25th Birthday Vacation Ideas.
Turning 25 is a significant milestone that should not go uncelebrated in a big way. Even after a traditional 25th birthday party, there is still always room for a 25th birthday vacation to mark the quarter of a century that you have turned.
More than taking the vacation, you need to have an idea of what to do on your vacation to make it an exciting 25th birthday. And this is what we help you out with in this section. If you are thinking of 25th birthday trip ideas to plan your 25th birthday vacation, you can draw inspiration from the following vacation ideas.
1. Beach vacation.
Beach vacations are loads of fun. You get to either lay back and take in the scenery or you enjoy fun beach games like beach volleyball and the likes. You can even go surfing and even have a barbecue on the beach. If these appeal to you and your idea of a fun 25th birthday celebration is to get out your straw hat, bikini, shorts, and all the beach shebang, then pack up and take yourself and your friends traveling to a beautiful beach location and have an amazing 25th birthday.
For a helpful quick checklist of the things to pack for your beach vacation, you will find our helpful article on 17 Things to bring on vacation to the beach very insightful.
You may also like Fun things to do at the beach at night for some cool inspiration on some fun things you can do while at your beach vacation.
2. Yacht vacation.
For the sailing enthusiast, nothing like a yacht vacation to get you in the mood for an enjoyable 25th birthday celebration.
3. Recreation and leisure vacation.
And if you just want to make your 25th birthday about relaxing and spoiling yourself, why not. You can spoil yourself with the following leisure and recreational activities on your 25th birthday vacation:
You can choose from any of the 25th birthday holiday destinations listed below to enjoy any of the 25th birthday trip ideas listed here. And in our helpful article on What to do on your 25th birthday, we already give you a good list of the kind of fun things you can do on your 25th birthday, whether you decide to celebrate with a vacation or any other fun birthday activity.
17 Best Places To Go For 25th Birthday.
Popular destinations U.S. travel agents book for clients 30 years and younger 2015. Source: Statista
You can make your 25th birthday vacation memorable anywhere you choose to have it. Working with any of the 3 fun 25th birthday trip ideas in any location where you have the facilities to enjoy these ideas would make your 25th birthday vacation truly memorable.
And if you have no ideas of the best places to go for your 25th birthday, let our curated list of 17 of the best places to celebrate your 25th birthday come to your rescue. Check out our list (which also has some of the places on the above chart included), and choose one or more that appeals to you.
Best places to celebrate 25th birthday – 5 Best cities to celebrate 25th birthday.
Thinking of going to the happening cities for your 25th birthday, then check out any or all of these 5 best birthday cities to celebrate your 25th birthday.
1. New York.
The Big Apple is always the number one destination of choice for both young and old for any milestone birthday celebration.
New York City is a perfect destination of choice if you are looking for a recreation and/or leisure vacation where you can enjoy a fancy birthday dinner at some of the best restaurants in the U.S and go shopping at some of the best shops in the U.S.
2. London.
London is the New York of the United Kingdom with the English flavor. So if you are looking to enjoy your 25th birthday with an English flavor and still feel like you're in a big city like New York, then pack your bags and enjoy London.
3. Cape Town.
And if you're fascinated with Africa, the number one city of choice is Cape Town. Cape Town allows you to have all 3 25th birthday trip ideas listed in the first section. You can enjoy leisure activities like a fun shopping spree and sightseeing to historic sites like Table Mountain and Robben Island. Or you can enjoy a day out on one of the awesome Cape beaches or go yachting.
4. Paris.
Paris is another happening city in Europe that you would enjoy. For a super fun recreational and/or leisure vacation with an eccentric European flavor, Paris is a good place to start.
5. Vancouver, Canada.
This beautiful Canadian city is another great 25th birthday destination to have your 25th birthday vacation at.
Where to travel for 25th birthday – 5 Best vacation spots for 25th birthday.
For dreamy vacation backdrops and the best vacation spots to celebrate your 25th birthday check out these 5 best vacation spots for a 25th birthday.
6. Niagara Falls.
This remains by far one of the best waterfalls in the world. If you love waterfalls, this is one of the best vacation waterfalls to visit. You can be bold and daring with several waterfall activities that take place in Niagara Falls.
7. The Great Canyons.
For the lover of nature, hiking trails, and outdoor camping, the Great Canyons provides you with all the nature you would love.
8. Cairo, Egypt.
The Egyptian pyramids are an awe-inspiring monument to check out and there is no better time than your 25th birthday to check them out.
9. Italy.
Italy has nice ancient cities like Rome and Venice to check out. These cities are vacation favorites for any occasion. There is no better time to start a European birthday vacation than a 25th birthday. And Italy gives you a good selection of tourist cities to check out.
10. Australia/New Zealand.
Check out kangaroos in Australia or the phenomenal Sydney Opera House, or go over to New Zealand. Whether it's Canberra or the Sydney Opera House, or New Zealand, Australia has multiple vacation hotspots that would afford you the dream 25th vacation you desire.
Where to celebrate 25th birthday – 7 Fun places to celebrate 25th birthday.
To party hard or have a relaxed laid-back beach vacation, these 7 fun places to celebrate your 25th birthday would guarantee you have loads of fun.
11. Hawaii.
The number one destination for beach lovers, this is your ideal place to have a fun birthday beach vacation and there are several beaches for you to choose from.
12. Rio De Janeiro, Brasil.
If you are looking for a place to attend fun carnivals and just party hard, Rio is one such place where you can have a wild 25th birthday.
13. Amsterdam.
And if the Red Light District and the chance to smoke weed legally has been a dream on your bucket list, your 25th birthday is a great time to tick them off your bucket list. Head down to Amsterdam and make your milestone getting high without worrying about breaking the law.
14. Mexico.
Burritos and some Mexican cuisine and cigars are another fun way to celebrate your 25th birthday.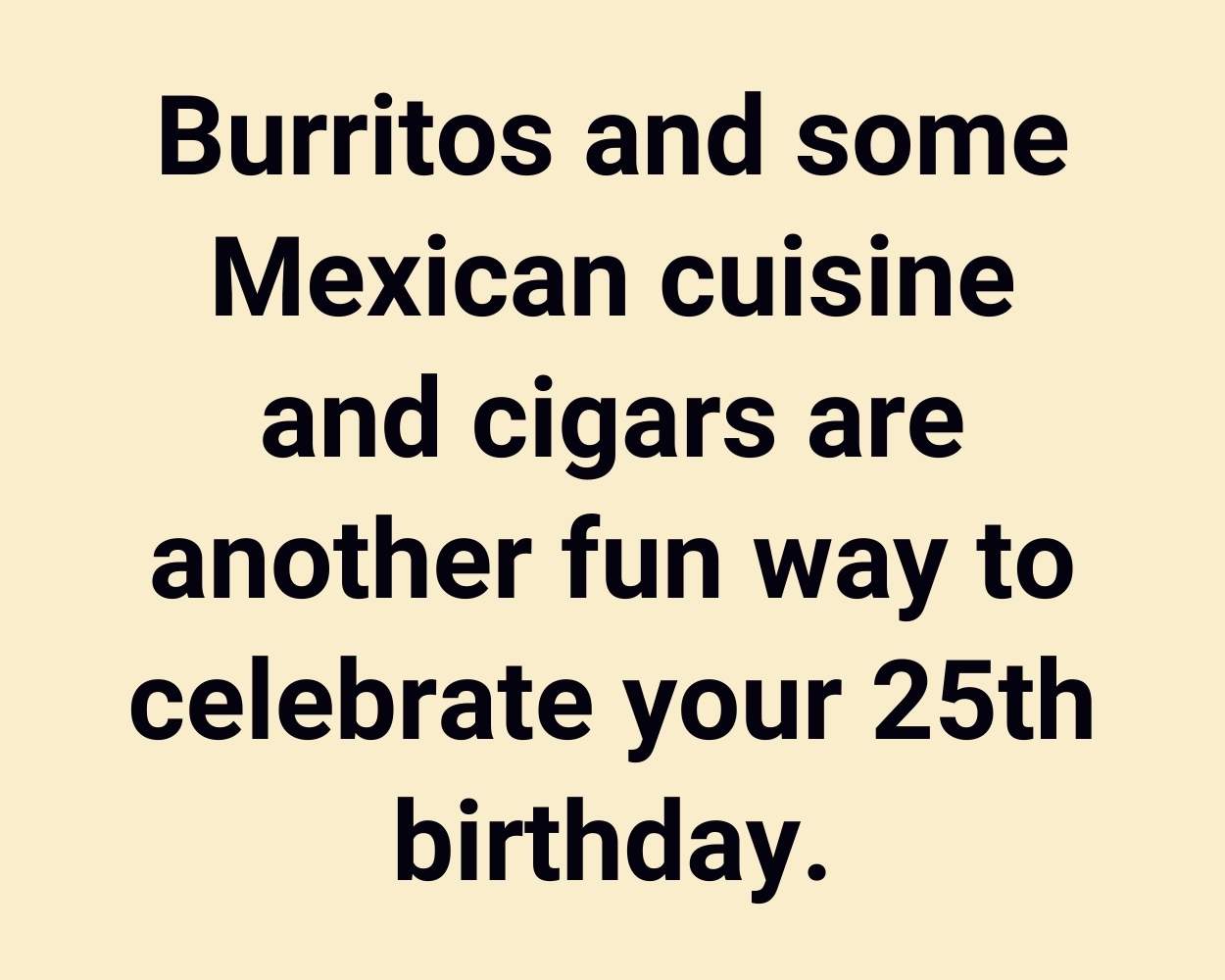 Mexico also has some pretty cool spots to party at and have a fun nightlife. For a 25th birthday that is all about partying up a storm, you can also check out Mexico if you don't want to do Brasil, or you can do both.
15. The Florida Keys.
The Florida Keys is another dreamy vacation spot for a beach vacation. With several islands and their wonderful beaches, you are guaranteed a fun time in the Florida Keys.
16. Ibiza.
Ibiza is a fun place to go backpacking and sightseeing. If you want to go backpacking as a way to celebrate your 25th birthday, then check out Ibiza.
17. Zanzibar.
This beautiful island city in Tanzania is one of the fun and dream places to holiday in if Africa appeals to you as a birthday destination. You can even check out the highest mountain in Africa, Mount Kilimanjaro, in Northern Tanzania, while you're at it.
Frequently asked questions.
1. Where should I go for my 25th birthday?
Any of the 17 birthday destinations listed in this article will be a good place to go for your 25th birthday.
2. How do you celebrate your 25th birthday?
Check out our helpful article on What to do on your 25th birthday where we give a detailed discussion of ways you can celebrate your 25th birthday.
3. What State should I visit for my birthday?
Usually, States like Florida, Illinois, and New Orleans are birthday favorites and you can check out any or all of them.
4. What is the best place to celebrate a birthday?
Anywhere you choose to celebrate your birthday will be the best place to celebrate your birthday. We make the places where we celebrate our birthdays to be the best place. As long as the place makes us happy then it is the best place. This article is merely to provide a guide especially if you have no idea what to work with. And whichever idea you then choose to run with, it becomes your best birthday place.
Conclusion.
Plan out your 25th birthday vacation by deciding what 25th birthday vacation idea to run with. This idea(s) will help you pick out the best place(s) to go for your 25th birthday celebration.
And in this article, we have helped you with both the ideas and the places to go. Whatever your tastes, preferences, and disposition you will find a thing or two that appeals to you, and that would guarantee you a fun time as you turn 25.
ESTIMATED TIME DESIGNING AND UPLOADING THIS ARTICLE
ESTIMATED TIME RESEARCHING AND WRITING THIS ARTICLE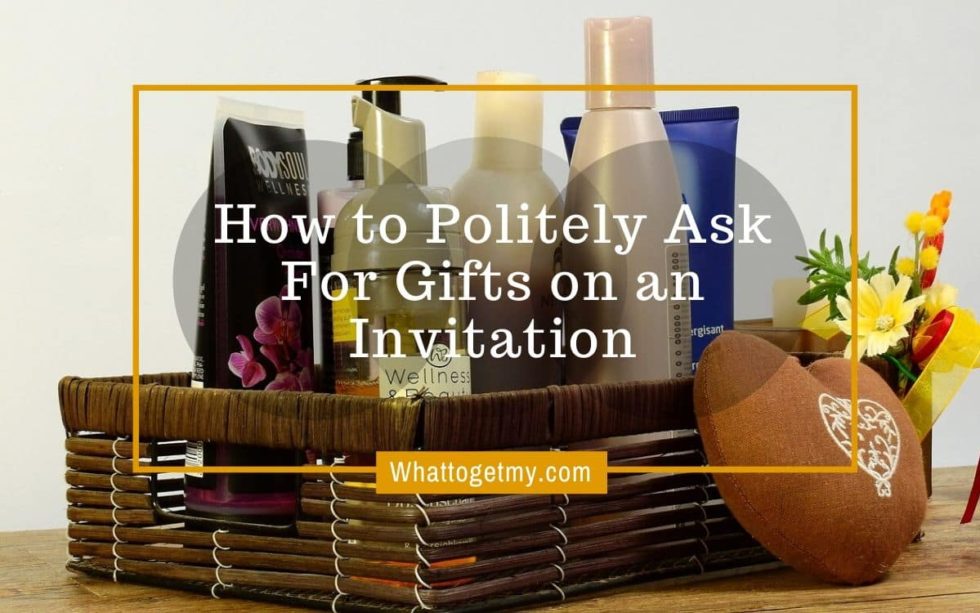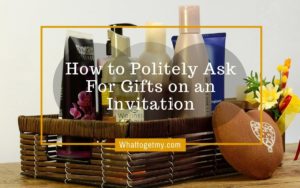 How to Politely Ask For Gifts on an Invitation
3 creative ways to How to politely ask for gifts on an invitation WhatToGetMy Instructional Article Asking your guests for gifts on an invitation is a situation that needs to be treated carefully.  Although, most of the time it is not necessary to ask people
Read More »