What should I gift my girlfriend on Valentine's Day? So, a lot of people ask this question, feeling lost in all the hearts and flowers surrounding them in the middle of February. Days tend to pass rather quickly. Before you know it, the 13th of the month will show on your doorstep, and you still won't have the perfect gift for your girlfriend. Then it's even harder to decide, and you'll find yourself buying classic flowers and heart-shaped stuff for your loved one.
Of course, there's nothing wrong with giving these things to your girlfriend. However, you might want to get the main gift that would be followed by flowers. You don't want your girlfriend to think you rushed things up and get the first thing within hand's reach. To help you avoid this awkward situation and find the best gift weeks ahead, we composed the following guide. The products we picked should be ideal for every girl out there and answer your question of what to give your girlfriend for Valentine's Day. Don't miss to check them out!
As an Amazon Associate we earn from qualifying purchases. We may earn a small commission for our endorsement, recommendation, testimonial and/or link to any products or services from this website. Thank you, your qualifying purchases help support our work in bringing you real daily gift ideas.
Quick Overview: Valentine's Day gifts for girlfriend
Our Gift To You: Find out how to download This Free Printable Valentine's Day card for your girlfriend at the end of this article.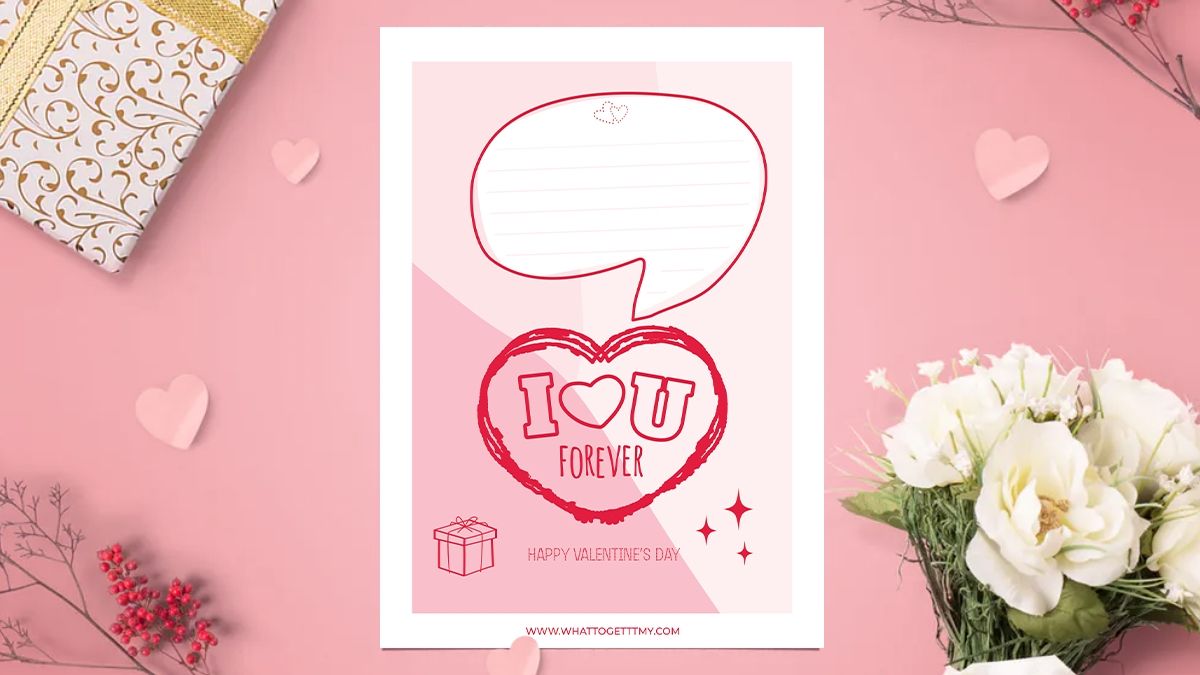 Dyson Supersonic Hair Dryer to Make Her Life Easier
Do you know what Gifts Every Girl Wants From Her Boyfriend? The useful ones! Of course, girls love to get romantic items and experiences, but they also love to get something practical that can be used daily. For that reason, we included the hairdryer on the list. It's one of those gifts that would make every girl happy!
Dyson is not just any kind of hair dryer. It's a unique device designed to provide the ultimate performance for the best-styled hair. First of all, the device prevents heat damage and protects natural hair shine. It allows for ultra-fast drying, allowing you to get ready in no time. The hair dryer is lightweight, highly portable, and easy to use. People love that it works silently and stays cool to touch while drying. You get to pick one from 4 heat settings, depending on your hair and style you want to achieve. Also, the package includes a smoothing nozzle, a styling concentrator, and a diffuser.
If you want to get useful instead of romantic Valentine's gifts for her, this hairdryer is a perfect choice. She'll be able to dry her hair quickly and get ready for your dates in a breeze. Also, unlike regular dryers, this one offers more protection and leaves hair flawless. Sure, it's an investment, but your girl will be thrilled with it!
Kate Spade New York Handbag for a Trendy Woman
One of the best Valentine gifts for a girlfriend is a stylish bag! Be aware, we are not talking about just any kind of bag. We have in mind especially designed bags that are coming from popular and highly-rated brands. One of those is most certainly Kate Spade bag, and it's one of our favorites women purses. You'll quickly see the why is that so!
The bag comes in a beautiful pink and black color with (black and pink) subtle details. It's made of pebbled leather and has a zip closure on the top. It also features several interior pockets for all the essentials. All in all, the bag is well designed and quite durable. It's not too stiff, yet it gives the necessary support for the stored items. The material feels pleasant to the touch and looks luxurious. The bag is very spacious too, so your girl can store all her stuff, including water bottles, notebooks, and more. The shoulder strap is adjustable and comfortable. Overall, it's a beautiful and quality bag that comes from a reliable brand.
If you want to get a luxurious gift for your girlfriend for Valentine's Day, you can't go wrong with Kate Spade handbag. It's a beautiful accessory she'll be able to bring with her daily and always think about you. If you have a few more bucks to spend, we say go for it!
Adidas Women's UltraBOOST Sneakers for Sporty Women
Are you dating a sporty girl? Wonderful! We have a perfect gift for her in mind. Adidas sneakers are designed for professional athletes and outdoor enthusiasts. They are made from textile and synthetic and have a fabric sole. The sneakers are lightweight, allowing for more efficiency when walking, running, and exercising in general. They are incredibly comfortable and look amazing! Also, the company made a real effort to ensure a perfect fit with these sneakers. They should fit snugly for the ultimate experience.
If you're wondering what to get your girlfriend for Valentine's Day in high school, Adidas sneakers might be a perfect gift, especially if you're dating a sporty girl. They are stylish, comfortable, and durable. Who could ask for more? Still, if you want to be sure you're making the right choice, you can take a look at this article Outdoorsy Gifts for Her. Once you revise all our suggestions for outdoorsy girls, you'll be completely confident in the final choice.
UGG Women's Tasman Slippers to Keep Her Warm and Cozy
If you want to get something unique for your girlfriend for the upcoming Valentine's Day, we highly recommend UGG slippers. These are made of 100% leather and textile. They are super soft, warm, and comfortable. They also have a synthetic sole that ensures a long lifespan. All in all, these are well designed, and your girl is going to love them. You can pick a perfect pair from 7 available colors.
These slippers are one of those Just Because I Love You Gifts For Her that will thrill every girlfriend out there. The slippers will keep her warm and comfy during cold weather, so she can fully enjoy the winter. It's a perfect present for Valentine's Day.
KALIFANO Crystal Tree to Make Her Home More Beautiful
If your girl loves gemstones and you want to get her something to decorate the room, Kalifano Crystal Tree is a perfect choice. It's a beautifully designed item that will complement every room. The stones come in wonderful colors, and you get to pick between 7 different ones. The tree will light up the room and breathe in life in every home or office. According to the company, the item has healing properties and brings luck to the owner. We can only say that many buyers are very satisfied with it!
If you're looking for Office Desk Gifts For Her or something that will complement her home, the Crystal tree is an excellent choice. It's a beautiful decorative item that will complement every interior. You can't go wrong with giving it as a gift to your Valentine!
Hydroponics Growing System for a Fresh Life
If your girl loves plants but has no way to grow them inside her apartment, Hydroponics Growing System might be one of the best Valentine's Day gifts for her. It's a super useful device that allows you to grow plants everywhere. The device has a powerful LED lamp that nurtures plants and speeds up their growth. There's also quite a large water tank that ensures your plants have sufficient water all the time. The device is easy to operate, especially with the convenient automatic on/off feature. You'll get 9 plant pots too. Your girlfriend will love this unique gift!
Hydroponics Growing System is a super unique gift that will surprise every girl on Valentine's Day. It will make her home more beautiful and also allow her to relax while taking care of her plants. We say try it out! You won't be disappointed.
Pure Zen Tea Tumbler with Infuser for Tea Lovers
If you're on a limited budget, yet you want to find Little Surprise Gifts For Your Girlfriend To Show Her You Love Her, we got your back. We recommend Pure Zen Tea Tumbler with Infuser to make your girl's day more enjoyable. If she likes tea, she's absolutely going to love this gift!
The tumbler allows you to drink your favorite tea wherever you are. It comes with an infuser, and it's incredibly easy to use. You can use it to make hot and iced tea, coffee, and other herbal beverages. The tumbler has a capacity of 13 ounces, which is enough to keep you hydrated all day. Even more important, Pure Zen Tea Tumbler doesn't leak or sweat, so you can toss it into your backpack or bag without worrying you'll accidentally ruining your other stuff.
It's important to note that the tumbler is made of stainless steel and BPA free. It's sturdy, durable, and easy to maintain. Furthermore, it's beautiful and classy, which means it will complement every outfit. Girls are just crazy about this item!
If your girl is a tea or coffee lover, waste no time and get her this tumbler. It's a handy item that will allow her to take her drinks everywhere she goes, and stay hydrated all day long. Besides, it's truly beautiful and proves to be of excellent quality.
Bedsure Sherpa Fleece Blanket to Keep Her Comfy
Last but not least, we have a suggestion for those who want to make sure their girlfriends are safe and cozy during the cold winter. The Bedsure Sherpa blanket is one of the cutest Valentine's gifts. It's dual-sided, with fleece face that is super soft, warm, and comfortable. Your loved one will sleep like a baby with it!
The blanket comes in different sizes, so you can pick the one that suits you the most. You can also choose one of the 20 available colors. Cool, right? We do recommend the red one for Valentine's Day!
The Bedsure Sherpa Fleece blanket is among the most popular on the market. Countless buyers are thrilled with it. They say it's super warm and very comfy and comes in beautiful, rich colors. Therefore, if you're thinking of giving it to your girlfriend for Valentine's Day, we support you!
P.S. The Bedsure Sherpa Fleece blanket is also an excellent choice of Valentine's Day gifts for a new girlfriend. It's a thoughtful and well-made gift that won't break the budget. Surely you're searching for that kind of item.
Conclusion
How do you like our suggestions? Hopefully, we made things easier for you. We know how Valentine's Day could be difficult, especially when you have to search for a gift in an overloaded market. That's why we tried to include different products that would be versatile enough to meet the needs of every woman out there, but also pick the best-rated and most bought ones.
Lastly, we advise you not to stress too much about the question of what to give your girlfriend for Valentine's Day. As long as you think about what your soulmate would like to have, you can't go wrong with the gifts. Besides, even if you do pick something she won't necessarily use daily, she'll appreciate the effort and love you for it!
Get This and So Many More Free Gifts on Our New Marketplace, Spark Resort!
ESTIMATED TIME DESIGNING AND UPLOADING THIS ARTICLE
ESTIMATED TIME RESEARCHING AND WRITING THIS ARTICLE
Try our AMAZING GIFT FINDER TOOL! Find GIFTS with 1 CLICK!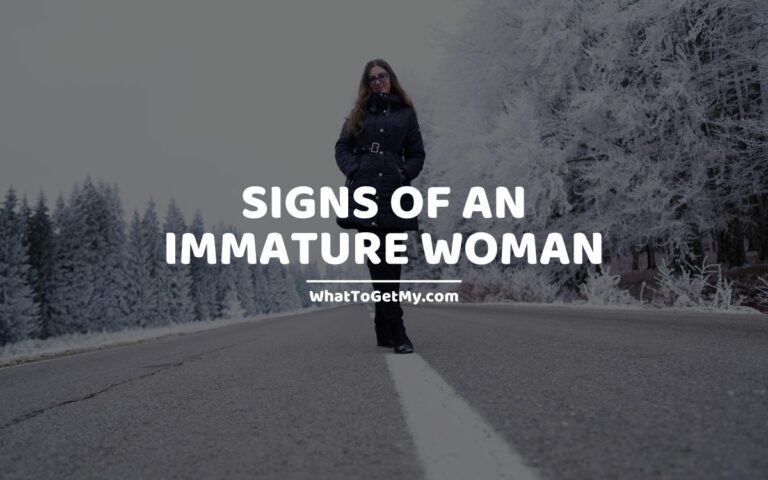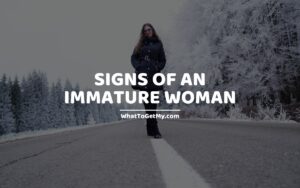 15 Signs of an Immature Woman WhatToGetMy Instructional Article Have you ever been cool with a lady and she suddenly started acting withdrawn, weird and moody? The situation made you confused and while you tried to reach out and find out what the problem was,
Read More »