Fun Things To Do in a Hotel Room With Friends
WhatToGetMy Instructional Article
Watch the video version of this article:
You and your friends may be looking to book a hotel room or rooms either for a weekend getaway, or a week or some days. Whatever the case, we want to show you in this article what fun things you can do with your friends in your hotel room(s) during your getaway.
If you're keenly reading this article, you are probably travelholic or you just like having fun. You've probably tried fun things like having fun in the rain, exploring a small town with your friends, or maybe fun at the beach at night or travel to an exotic place like Europe. And now you want to try something different on your next hotel trip, like staying in your room and seeing how much fun you can have in your hotel room with your friends. You have come to the right place.
First Things First!
You have gotten to your hotel room with your friends, and you all are excited about what your holiday looks like, and how much fun you will be having together. But before the excitement kicks in and all caution is thrown to the wind, aka letting your hair down, it is advisable to do these things first after checking in with your friends: 
Check out your surroundings and your hotel room first before anything – sanitize areas usually held the most like the doorknobs, telephone handles, and the likes. This is because chances are that someone else may have just checked out of the room minutes before you got in. While the hotel staff may do their best to clean up the rooms, sometimes they may not spend as much time sanitizing those areas due to their schedule in having to clean many rooms at once; 

Check for bedbugs on the mattresses and the likes and bring any that you find to the attention of management. The last thing you want is to have a bedbug problem on getting home after your vacation; 

Check that telephones are working properly. While we are not prophesying doom for your holiday, it is best to have a functional telephone line in case an emergency arises that would need a quick and urgent call to the front desk. In case you or your friends want to make calls outside the hotel, be sure to find out what tariffs are used so that you are not caught by surprise with the phone bill; 

check that they have any other items you may want to use – a minibar (and also find out the cost of the items before you indulge); functional wifi; functional air conditioners, and any other items that you or your friends may consider important.

And after all the above is said and done, you and your friends should agree on sleeping arrangements beforehand, before any of the excitement begins. By doing so early, you ensure that everyone's preferences are properly accommodated.
With the above out of the way, your fun can begin. Let's dive in and show you the fun stuff to do in a hotel with friends. If your weekend away/holiday is a wedding anniversary that you're celebrating with friends, read our article here on exciting wedding anniversary fun ideas with your friends.
Fun Things To Do In A Hotel Room With Friends.
Selected Cities With the Most Expensive Hotel Rates in the USA as of Nov. 2019 (In USD)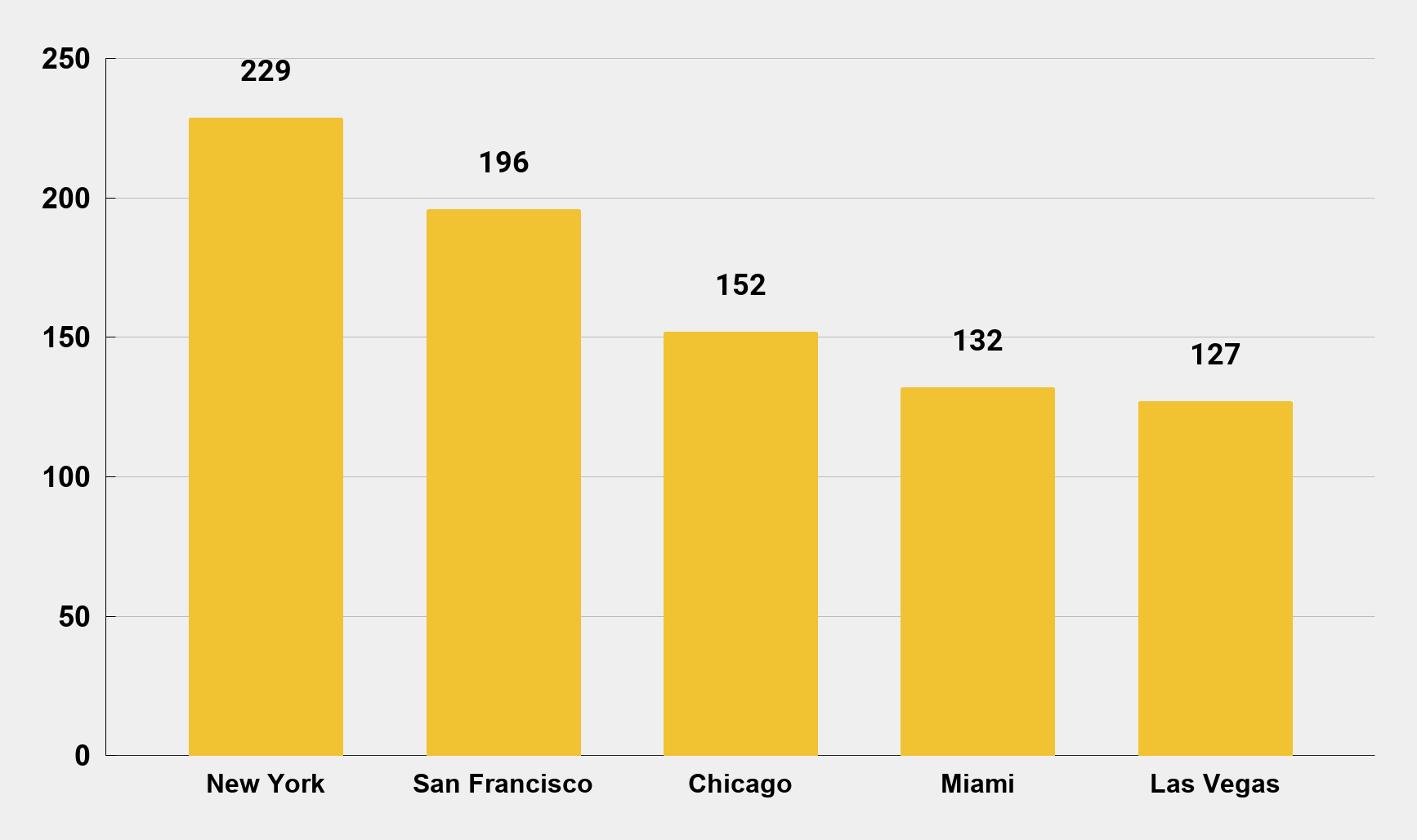 Source: trivago.com
If you find yourself in a city with expensive hotels like New York (or one of the other cities in the above chart), you will definitely need to have fun to get your money's worth.
But before you start having that fun, we must warn you though that noise remains one of the most annoying hotel behaviors. Research in 2014 and 2015 was pretty consistent in this respect, and 87.5% of guests indicated that they would not hesitate to call the front desk if their hotel room neighbor was noisy.
Most Annoying Hotel Guest Behavior According to Fellow Travelers in the US as of Sept. 2014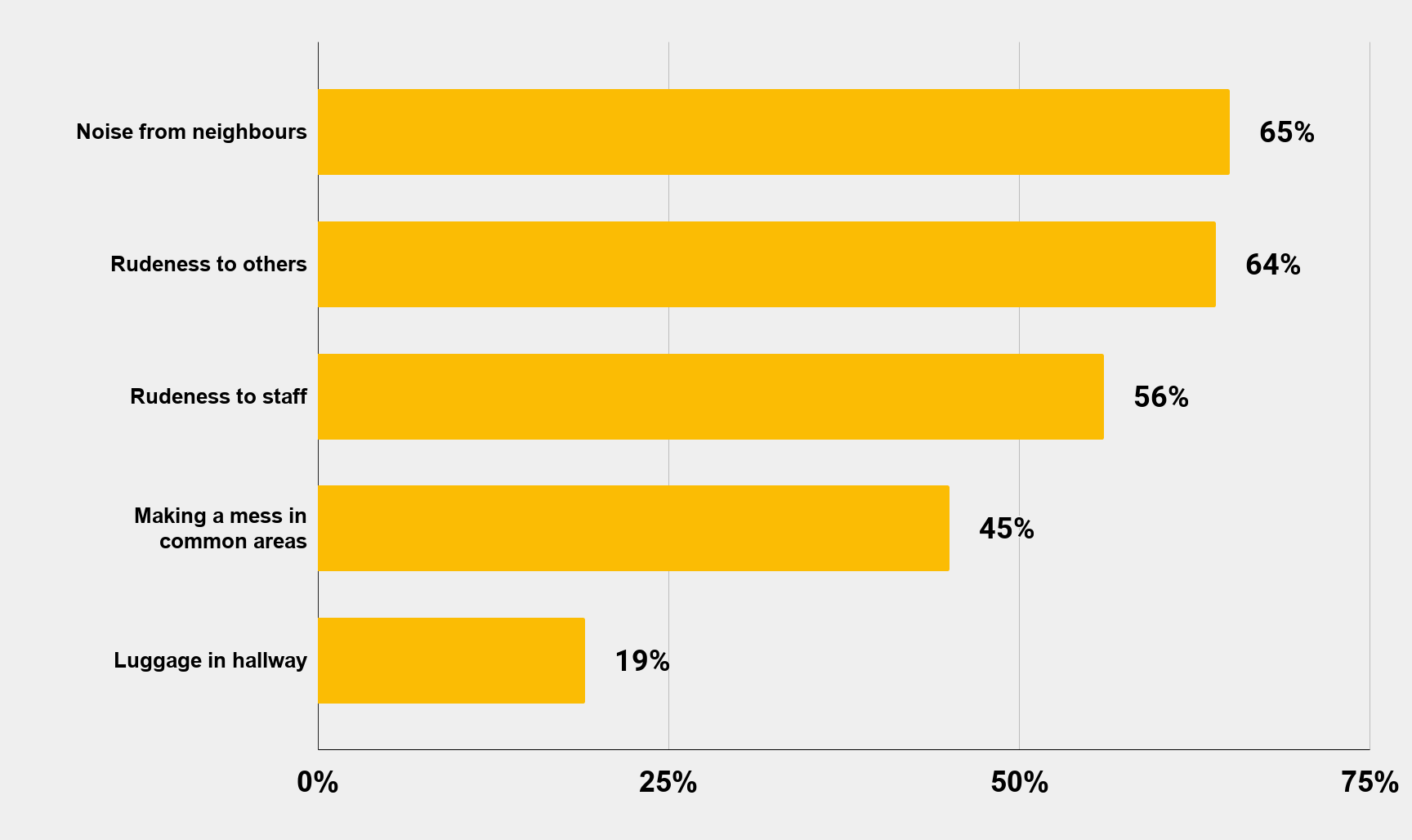 Source: www.statista.com
What guests will do if staying in a hotel and there was noise from the room next door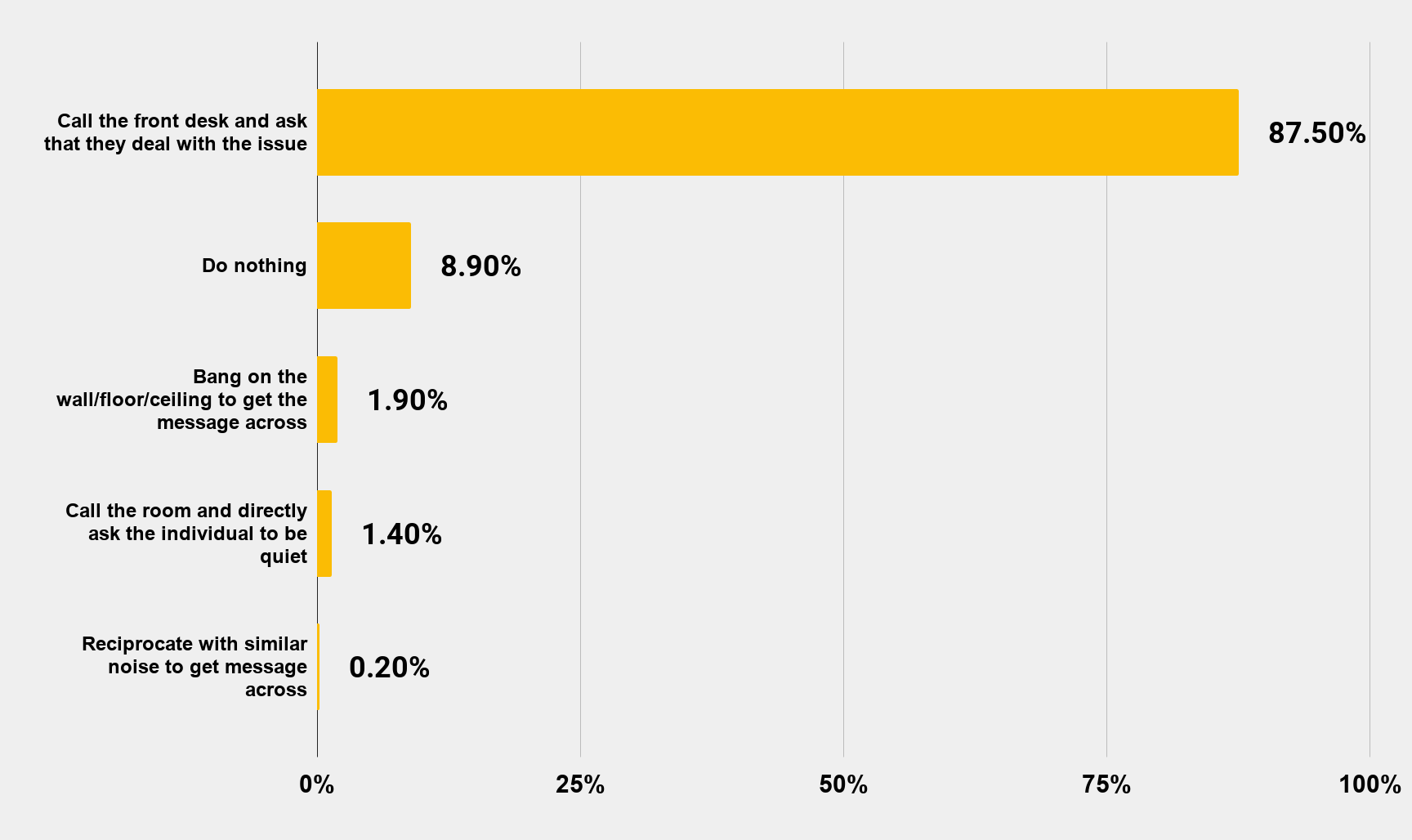 Source: www.statista.com
It is with that in mind that we have hand-picked the following fun things to do in a hotel room with friends, with as little noise and disturbance as possible. With that said though, it would still be a good idea to find out from the hotel what their policy on noise is and what the allowed maximum is or might be. The alternative is to book your room in the section of the hotel that is more removed from the rest of the rooms, preferably the last room at the end of the corridor. That way you can have more leeway without being too worried that you and your friends are disturbing a lot of people.
Here is our list of fun things to do in a hotel room with friends: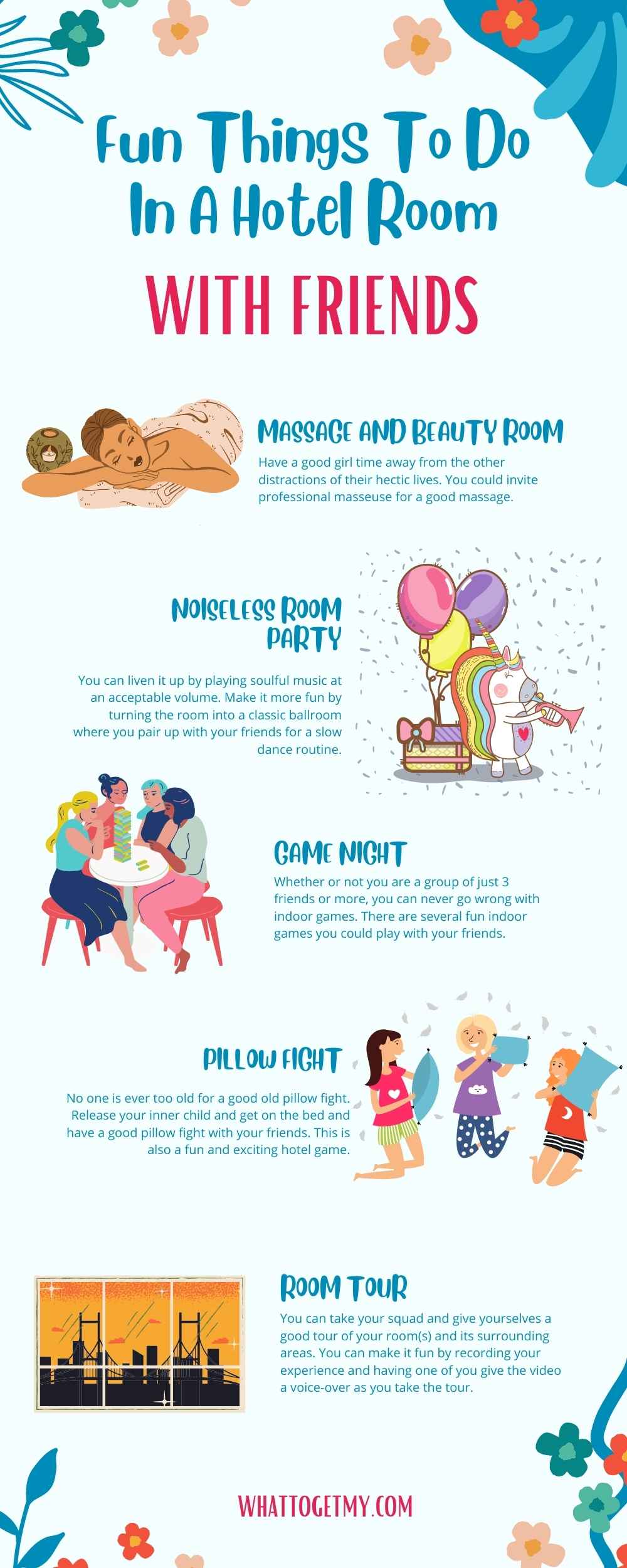 Source Link: https://whattogetmy.com/fun-things-to-do-in-hotel-room-with-friends/
1. Turn the room into a massage and beauty room if traveling with your girlfriends
.
Thus fun activity is particularly for a group of girlfriends who have booked themselves in a hotel to have a good girl time away from the other distractions of their hectic lives. You could either invite professional masseuse for a good massage (if this is allowed by the hotel) or take turns giving yourselves a good massage. None of you needs to be a professional as the whole point is to have fun and bond together. You would all have a good laugh from your terrible skills if you have no massage experience. The time also allows you to catch up and tell stories.
Ladies love makeup and there is no better place and time to learn how to try on different shades of eyeliners and lipsticks and nail polish than during a holiday. So, rather than book for an expensive makeover/makeup time, why not turn your room into a beauty parlor and take turns making yourselves up. It would be loads of fun.
2. Throw a noiseless room party with your friends.
By noiseless, we mean not playing music as loud as you will normally play it at a party. Remember that as we said earlier, other hotel guests distaste noise, and you do not want to ruin your stay by being asked to leave because of noise.  
For your noiseless room party, you can liven it up by playing soulful music at an acceptable volume. Make it more fun by turning the room into a classic ballroom where you pair up with your friends for a slow dance routine. This fun activity is best for friends who are couples; like a double date or triple date night/holiday of sorts. It would certainly make the night more romantic and fun. 
If you are just a group of friends, you can still have a noiseless party where you order room service and sit around the center of your room to tell stories until you are all far spent into the night or day (depending on the hour you choose to have it); creating a sort of bonfire night but without the fire obviously.
Another fun noiseless party idea is to have a themed party of sorts. The easiest theme to go with would be a birthday theme. One or more of you can pretend it's your birthday (or better yet the birthday of your friendship as a group), and use that as a good excuse to have a noiseless party to enjoy the hotel food, good music, good friends and just have an overall fun night at the hotel with your friends.   
3. Have a game night with your friends
. 
Whether or not you are a group of just 3 friends or more, you can never go wrong with indoor games. There are several fun indoor games you could play with your friends, and these are our favorite picks: 
Pictionary; 

Charades; 

Card games like poker, blackjack; 

Board games like Scrabble and Chess; 

Wastebasket basketball. This one is also fun. You can turn the hotel room waste bin into the hoop. Crumple up several papers into a ball shape and have fun trying to successfully throw the "basketball" into the "hoop";

You can also play other games that require no tools like Truth or Dare. 
4. Have a pillow fight.
No one is ever too old for a good old pillow fight. Release your inner child and get on the bed and have a good pillow fight with your friends. This is also a fun and exciting hotel game.
5. Watch people from your hotel room window.
You're probably reading this and cringing. But it is actually not as creepy as it sounds. You can make a game out of it, and here is how you can do so. Come up with a hypothesis about the characters and personalities of the persons in the town your hotel is located. Then take a bet on who amongst you is right on their hypothesis. Your hypothesis could be something along the line of there are no hunks in the town or the town has more old people than young people or something along those lines, but you get the gist. Then sit by the window and count how many old people or young people pass through in the allocated time. You can have a good laugh while at it because you will be sue to see one or two curious characters pass by. This fun activity is a good way to pass time and also pay a little more attention to your surrounding and the people in it.  
6. Play fun fitness challenge games that are simple and can engage all your friends while you all still have a good laugh
.
These simple fitness games include crunches, sit-ups, push-ups, jumping jacks, mountain climbs, burpees, and planks (front and sides). Maybe you and your friend are already in really good shape, or maybe one or some of your friends need to do a little work on getting a sexy ab or mid-section. Whatever the case, this would be fun. Challenge yourselves to who can do the most crunches and/or sit-ups and/or push-ups. Put a number to it to make it more fun and challenging. So say 50 crunches, and have a really good time laughing at yourselves and your general fit or unfit status. You can even record the whole charade for laughs after the holidays. 
7. Go on a hotel room tour and enjoy the facilities and value-added services that come with the room:
You can take your squad and give yourselves a good tour of your room(s) and its surrounding areas. You can make it fun by recording your experience and having one of you give the video a voice-over as you take the tour. 
After taking the tour, find out what value-added services come with the room and enjoy all of it. You have after all paid for it and should get the maximum value for your money.
FREQUENTLY ASKED QUESTIONS.
1. If the day is far spent, what fun things can you do at night in a hotel room, with as little noise and disturbance as possible?
Perhaps you either got to your hotel room a little too late to go out or you returned from an exciting day out and still want to continue the fun into the night in your hotel room, there are still fun things to do in a hotel room at night with your friends. Remember though, that your hotel room neighbors, as we earlier said do not want to be disturbed with noise and would therefore not accept any noise. 
Here are some fun noiseless activities you could still carry out in your hotel room at night before calling it a day:
Go online and challenge yourselves to play online games. 
Online games such as Psych, Plato, Mario Kart Tour, Scrabble Go, Spyfall. You and your buddies could do so with the hotel TV if it is a smart TV or just your mobile devices (cellphones and tablets or phablets).
These games would get you and your friends' competitive sides on and would also engage your minds enough to make you fall asleep. Not to mention the fun you will have playing the games.
Binge-watch movies. 
If you and your squad still have space in your stomachs for more food or dessert, you could take the opportunity to order room service and sit in front of the television and enjoy the hotel's cable television collection. If perhaps their collection isn't to your satisfaction, you can simply use their Wifi and go online with your electronic gadgets and watch your favorite shows.
2. What to do when you're bored in a hotel?
You cannot remain bored if you carry out any of the activities we have listed out above. If you are alone in a hotel room, pamper yourself with all that the hotel room has to offer, like soaking in a hot bath and enjoying the bath and then ordering room service and watching your favorite movies. Or awaken your inner writer and get writing. Or use the time to catch up with your friends through email, face-time calls, and other social platforms. And then get lots of sleep and rest on the hotel's very comfortable and cozy bed.
CONCLUSION
You can have loads of fun in your hotel room with your friends, and in this article, we have shown you fun things to do in a hotel room with friends. Whether during the night or day, take full advantage of these fun hotel activity ideas and have a good time with your friends holed up in your hotel room(s).
Remember that in having all these activities, you must remain considerate to your other hotel room neighbors and keep the noise down to the barest minimum. We don't want the hotel management cautioning you and your squad about unacceptable noise levels.
ESTIMATED TIME DESIGNING AND UPLOADING THIS ARTICLE
ESTIMATED TIME RESEARCHING AND WRITING THIS ARTICLE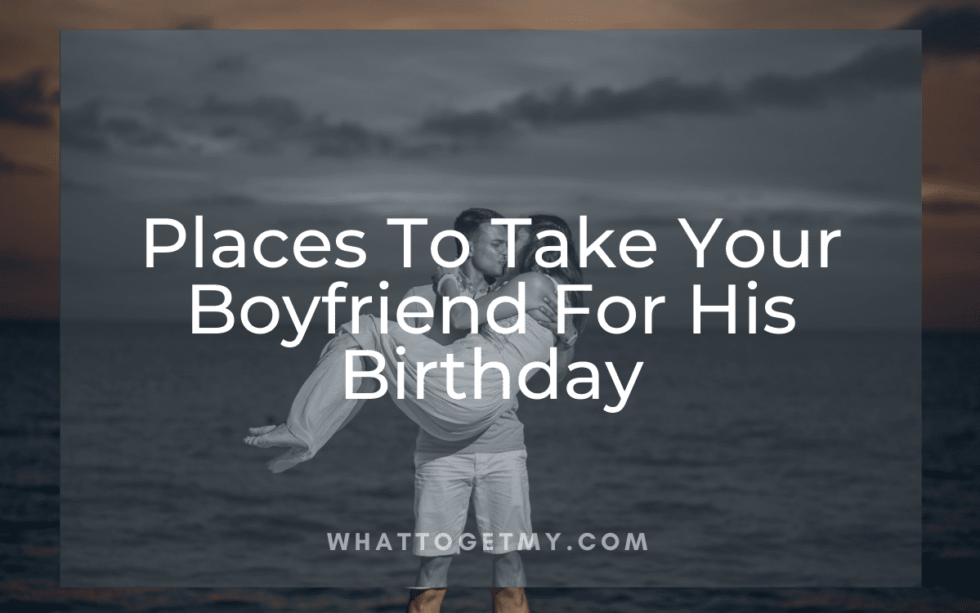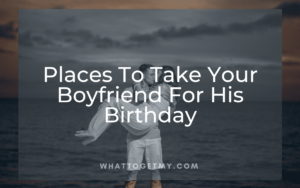 Places to Take Your Boyfriend for His Birthday
Places To Take Your Boyfriend For His Birthday WhatToGetMy Instructional Article If you're having a hard time deciding on places to take your boyfriend for his birthday, we got your back! A little help always comes handy, especially when looking for ways to surprise your
Read More »