11 Fun Places to Go for a Teenage Birthday Party
WhatToGetMy Instructional Article
Planning teenage parties can be quite challenging because you may be out of touch with your child's interests and hobbies
Taking your child to an event for specially planned activities can be your best bet especially when they like sports, music, or film.
Additionally, you have to consider things like budget and availability of the place you want to take your child.
Read this article to find out how you can maneuver around these challenges and give your teenage child a memorable birthday experience.
Watch the video version of this article:
Planning for a teenage birthday party can be quite challenging because teens change their minds so much, one year they want a birthday party with all their classmates present and the next they only want a few select people. The teenage years are formative years and as such, a teenager's likes and dislikes tend to change as if on a whim. Depending on age, you can no longer opt to throw them parties you used to. Instead, you must keep in mind what they like when thinking of organizing a party for them and planning their birthday party around their newfound interests.
Below are a few places that you can (and should) consider taking your teenage child for their birthday – depending on what they like.
THINGS TO CONSIDER
1. AVAILABILITY OF VENUE
Some venues will require you to make reservations prior to the birthday party. Make sure you make the proper reservations and pay the bills before the party – if the place is a hot spot for birthday parties, they might provide some party essentials for an extra fee.
2. TEENS HOBBIES
The most important factor to consider, before booking any venue or making any plans, is the things that your teenage child likes. Are they into video games? Wizards? Aliens? Monsters? Princesses? Knowing this information will help you plan a memorable birthday party for your teenage child. Check out this article on some of the teenage interests and hobbies.
3. AFFORDABILITY
Another thing you need to consider when looking at venues for a teen birthday party is the price. Are you able to afford it or are you spreading yourself thin? Because there are alternatives to throwing big elaborate parties for teens, that will still make them smile and be memorable. Here are some sentimental gifts for teenage guys to draw inspiration from.
PLACES TO HAVE A TEENAGE BIRTHDAY PARTY
1. THEME PARK
One good thing about amusement parks is they have activities for everyone which makes them the best place to have a teenage birthday party. If your teenage child has a sense of adventurous wonder, then spending the day at a theme park with their friends would be the ideal birthday.
Most theme parks organize the party for you so you also get to enjoy the day with your child rather than running around hosting the party for your guests. However, as the main planner, you still have to choose the theme for your child's birthday party, organize the number of people attending the party, and prepare a budget for the party. The good thing about choosing a theme park as a birthday venue is that they have different packages which mean you can choose according to your budget – while also allowing your child to have a memorable experience.
2. SKATING
If your child's birthday party is in winter, why not plan a birthday party that centers around the theme of ice? If your child enjoys ice skating or wants to learn how to, then this would be the best birthday party for them.
Most ice rinks have birthday packages that you can choose from – which makes it flexible on budget and affordability. Some rinks will even give you a separate room for all your birthday fun such as cake cutting and gift unwrapping – for when you are done having fun on the ice.
Alternatively, if you can afford it, you can always rent out the entire rink for the whole day to give your teenage child and their friends a much broader and unique experience.
3. SHOPPING MALL
Another place to have a teenage birthday party is the shopping mall. This is especially for your teenage daughter but if your teenage son is into shopping – then this would be a great party idea for him too! You can let your teenage child invite their closest friends and take them on a shopping spree with gift cards from different teen stores. You can later go to the food court for food and cake – marking the birthday celebrations officially done. The best thing about the shopping mall as a venue for your teenage child's birthday is that you get to spend a very minimal amount of time planning and organizing it – and additionally, you do not have to clean up afterward. That's a bonus for both you and your child.
PLACES TO GO FOR A TEENAGE BIRTHDAY PARTY
4. MOVIE THEATRE
A movie theatre is a fun place to go for a teenage birthday. Take your child out to see the latest blockbuster movie on the big screen, in HD, and 3D (if available). This is such a great birthday activity because you get to spend time with your teenage child watching something that they find exhilarating and entertaining. Letting your child pick the movie shows that you value their input and opinions and gives them the responsibility of taking over and being in charge of their life – truly a life-long lesson from a simple birthday activity.
5. CONCERT
If your child is into music – which most teens are – then a concert of their favorite band or artist would be the fun place to be for their birthday. You can look up concerts for teens available in your area or close to you and buy tickets to give your child a memorable experience and the pleasure of seeing their favorite band or artist live in concert.
6. DISNEYLAND
Disneyland is a very popular spot for birthday parties for people of all ages. If your teenage child is into Disney shows and characters – which have now extended to the DC universe, so there is a variety that caters to both boy and girl teenagers. Disneyland is a birthday place to go at least once for every teenager – they have a whole "teen section" on their website and you can book your day in advance online. Just specify what you want them to deliver on your child's birthday and they will do it all for you.
You can also have Disney trivia, Pictionary, and costumes for activities to do at the party. Let your child help you with planning these activities so that they are things they will want to do with their friends.
TEEN BIRTHDAY PARTY LOCATIONS
7. SPORTS ARENA
If your child is into sports or plays any sports, a good place to take them for their birthday would be at a sports event. It could be a local game, a college game, or a big national game. Whatever the case, your child will enjoy watching the action up close and personal – the crowd, the cheering, and the intensity of it all will give your child a long-lasting memory of their birthday.
8. CAMPING
Take your child and their friends to experience the great outdoors. Camping is a fun place for a boy to have his birthday party – teach him how to survive in the wild, and hunt for his own food (of course, depending on how old your child is, you can always choose to get your food from home and just spend the night at the camp instead.
There are many activities you can do while camping such as fishing, making s'mores, telling scary stories, (arm) wrestle, and bird watching.
OTHER ACTIVITIES TO CONSIDER
9. GAMING PARTY
If you are planning a teenage birthday party on a budget, consider having a gaming party for your child. Let him invite his friends over and have a selection of video games that they can play that night. Give them the whole living room – or the basement, or attic –  provide them with snacks, and leave them to commence their fun-filled night with the best video games they have in their possession. You can also kick it up a notch and say that every guest should bring a video game they have and love playing to diversify the variety of the games.
10. SLUMBER PARTY
Alternatively, for your girl child, you can throw her a slumber party with all her girlfriends. Just like with the boys, provide food and a venue for the entertainment for the girls. There are many activities that they can indulge in, too. Read this article to find out more.
11. DINNER
A very sweet birthday treat for your teenage child would be to take them out to dinner at a very nice restaurant. As a family, you can decide to either go as a unit or do a mother-daughter dinner, a mother-son dinner, a father-daughter dinner, or a father-son dinner. Whatever the case, and the choice of the birthday boy or girl, this is a very special treat that could easily turn into a family tradition. Here, you can get to know your child better – talk to them about their life, goals, dreams, boys, girls, sexuality, religion, and everything in between.  It is important to work towards building a strong relationship with your children. Studies show that while most parents feel close to their teenage children, only about 66% talk about issues that are important and matter to their child.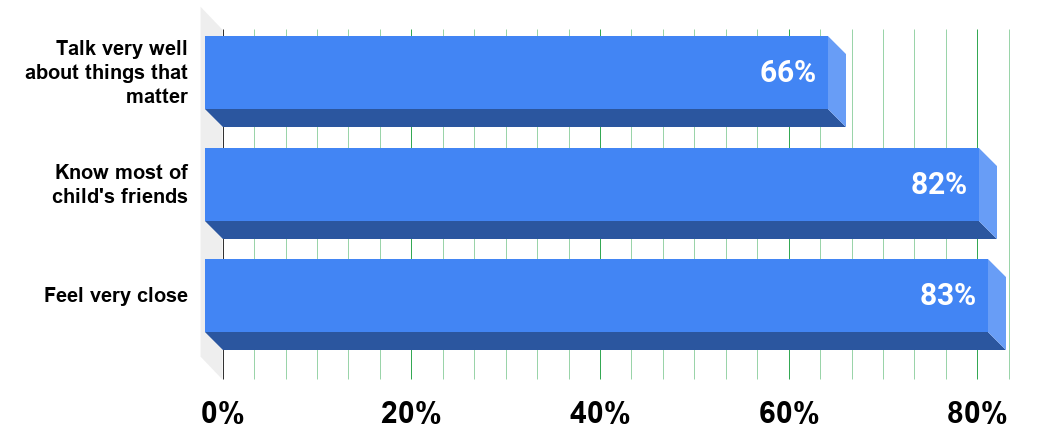 FREQUENTLY ASKED QUESTIONS
Can I throw my teenager a birthday party with alcohol?
No. by law, teenagers are considered minors and as such, they are not allowed to drink any alcoholic beverages. As an adult, it is your duty to supervise your child's birthday party and make sure that there is no alcohol being served. Read this article to find out ways to throw a teenage party without any alcohol.
What do you do at a teenage birthday party?
There are many activities that you can do at a teenage birthday party. This depends, however, on the theme and style of the party – which is usually sent together with the invitation. However, some of the most popular activities at a teenage party include;
CONCLUSION
In conclusion, throwing a party for your teenage child can seem like such a task when you think about it. However, take this time to learn your child's likes and dislikes and plan a trip for their birthday party based on what they like and enjoy doing. Additionally, you can also plan your child's party around events that will let you spend some quality time and discuss important issues with them.
ESTIMATED TIME DESIGNING AND UPLOADING THIS ARTICLE
ESTIMATED TIME RESEARCHING AND WRITING THIS ARTICLE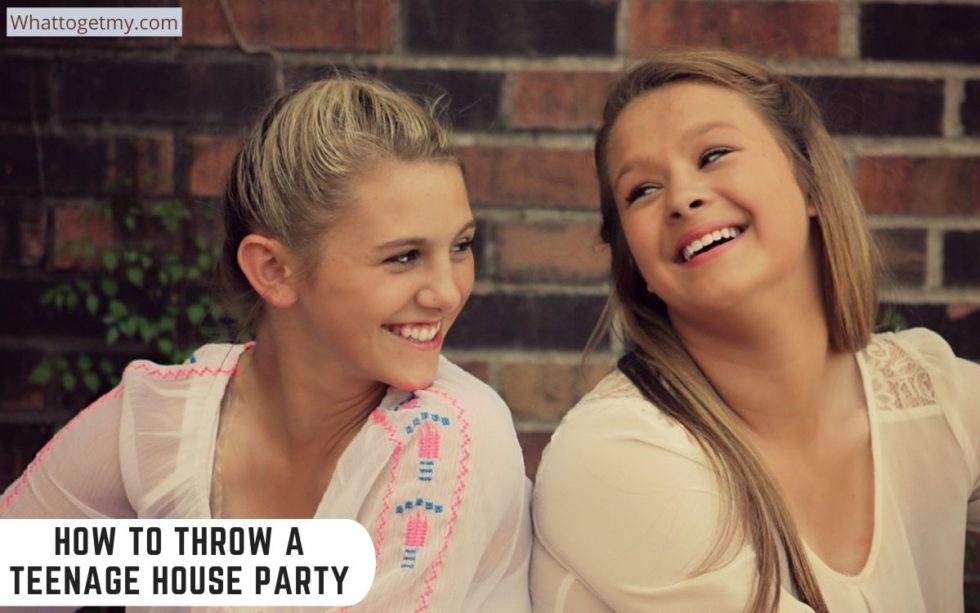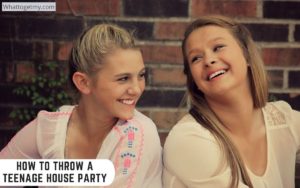 How to Throw a Teenage House Party
6 Ultimate Tips on How to Throw a Teenage House Party WhatToGetMy Instructional Article So, your child wants to gather up some friends, but you don't know how to throw a house party? We understand completely. You probably forgot how teen parties look like or
Read More »