11 Unique Ideas on What to Do for 18th Birthday in Winter
WhatToGetMy Instructional Article
Believe it or not, winter is a beautiful time to celebrate your birthday. You might think that you don't have so many options because it's cold outside, but that's not quite the case. In fact, you have a chance to uniquely celebrate your birthday and throw a memorable party. Don't let the cold weather stop you from having fun! If anything, snow is magical. You can have so much fun both indoor and outdoor, regardless of the weather. To help you spend the time in the best way, we prepared 11 unique ideas on what to do for the 18th birthday in winter. Don't miss to check them out!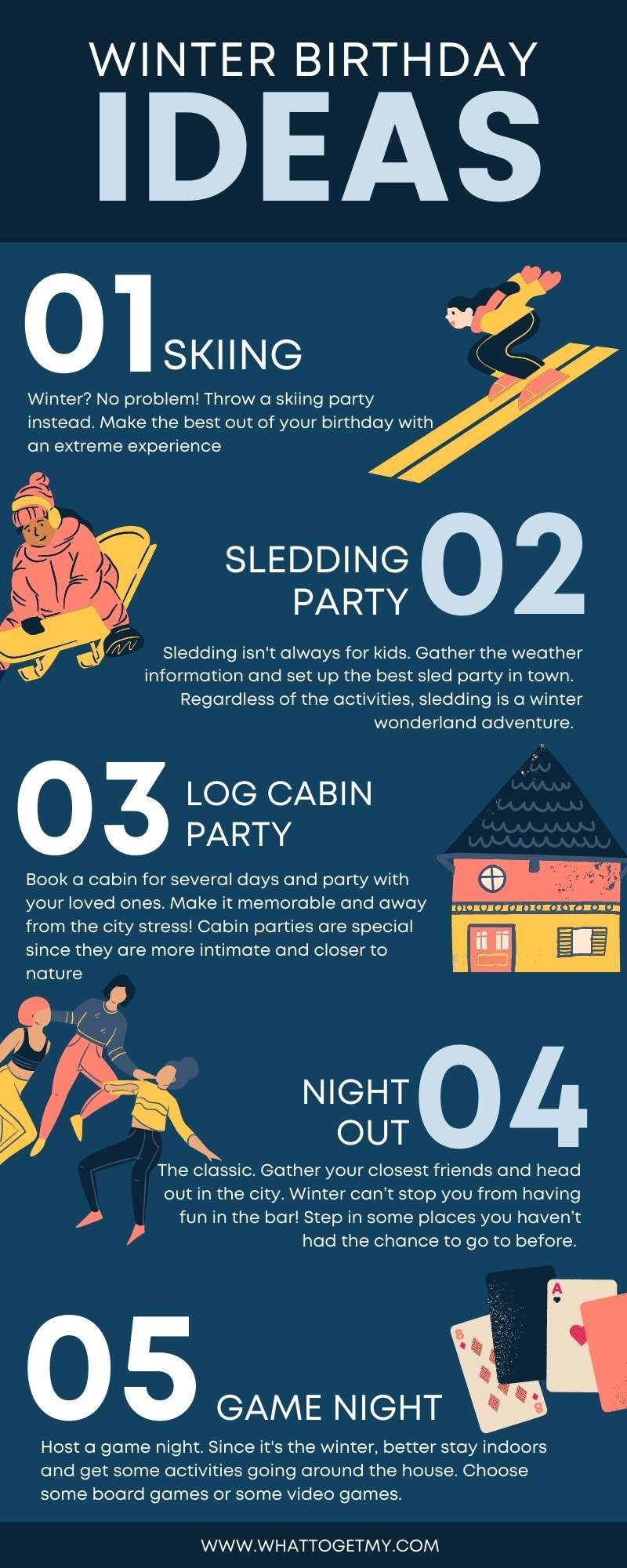 Source Link: https://whattogetmy.com/what-to-do-for-18th-birthday-in-winter/
Themed Winter Party
With a little effort, you can transform any party space in a winter wonderland. All you need to do is to decorate the room and bring out some snacks and drinks. We recommend filling the space with twinkling white lights. Turn off other light sources and use the white light as the main one. This way, you'll create a magical atmosphere! Combine it with some DIY crafts such as snowflakes, paper icicles, birthday banners, and white ribbons, and you'll have winter in your party space. All your friends will be thrilled with the ambient, that's for sure.
For more ideas on food and drinks for the party, you can scroll down to the section Other Things to Consider. We included some extra ideas on the things you can prepare for the special day.
Bonfire Party
If you live by the sea, a bonfire party is one of the most Fun Things to Do at The Beach at Night, even during winter. Of course, we highly recommend this celebration type at any place, not only at the beach. You just need a handy person who knows how to make a proper bonfire, and some effort to put in the organization. You'll need portable chairs, probably some heaters as well as blankets, mittens, extra hoodies and jackets. It might seem like a lot of work, but it's not so difficult. Considering you'll be using disposable glasses and plates, you won't even have to wash the dishes tomorrow morning. Yet, nobody would ever complain about drinking and eating from paper dishes. The bonfire in winter is magical, and it will make your 18th birthday truly memorable!
Sledding Party
Did you think that sledding is only for kids? Think again! If there's a lot of snow coming up for your birthday, a sledding party is one of the most fun ones you can organize. Of course, there are some limitations because you'll need a nearby hill for sledding to work. Still, you can make it happen as long as you can find a hill anywhere near the city. You can even transform it into the camping experience. The possibilities are endless!
Now, back to the party. Bundle up and head to the hill! Everything we suggested for the bonfire party can be used for this one too. You only need to transport food, drinks, and warm clothes to the hill. If you have some battery-powered drink heaters, perfect. If not, insulated bottles will work, and you can always make a bonfire and brew drinks directly. A tempting thought, isn't it? All in all, this party will take you back to childhood and it will be so much fun.
Party at a Log Cabin
If you're looking for unique 18th birthday party ideas, we have just the one for you. Throw a party at a log cabin! You can either book a cabin for several days to stay with your friends or family (and party several nights if you like) or you can book it for just one memorable night. It's up to you! All we have to say is that a party in the cabin can be awesome, especially if it's located outside the city, somewhere near the woods. It will be mystical, fun, and different from any other birthday celebration!
Kind Reminder: Be careful when partying near the woods or anywhere in nature. Don't leave trash behind and make sure not to cause any damage.
Night Out
This one is a classic – gather your closest friends and head out in the city. Winter can't stop you from having fun in the bar! Besides, being 18 years old, you can finally step in some places you haven't had the chance to go to before. Also, you can opt for a wandering-around-without-a-plan ride. You and your friends can stop at random places, eat different snacks, and drink unique beverages. Sounds fun, what do you think?
In case you live in a small town and you already know all the local places, don't worry, you still have options. There are a lot of Fun Things to Do in a Small Town With Friends, but if you desperately want to try something new, talk to your parents. They might allow you to head out to the nearest city and explore new places. You're 18 years old now, after all, which means they should treat you like an adult!
Indoor Party
Those who would prefer simple 18th birthday party ideas at home have many options. There are a lot of Fun Ideas on How to Celebrate Birthday Without a Party. For example, you can organize lunch or dinner for your family and friends. You can even invite them to cook with you and spend the entire day together! Also, there are some other fun options for only a couple of friends such as a movie marathon, karaoke, building a fortress in the middle of the room, a sleepover party (in pajamas), and much more. As you can see, you have a lot of options, you just have to be creative and listen to your heart!
Game Night
Here comes the super cool and fun idea! Hosting a game night for your 18th birthday is the real thing. There's probably no better idea of winter activities. Or no better excuse for playing games all the time! So, prepare the games, food, drinks, blankets, and other stuff for a sleepover (you'll probably stay up the whole night playing games), and the best party can begin!
Now, you're probably wondering what 18th birthday party games we have to recommend. Here's a list of a few things you can consider:
Scrabble

Monopoly

Catan

Clue

Risk

Battleship

Twister

Scavenger Hunt

An Obstacle Course

Egyptian War

Spades

Uno

Jamb

Video Games
Restaurant
Are you looking for simple 18th birthday ideas for girls and boys? Well, going to the favorite restaurant never gets old. If you want a safe and reliable place and guaranteed fun, then stick with the dinner at the place you know for years. The fact that you're about to go there for a very special birthday celebration will change everything. You won't be bored by any means. Also, this is a great option if you're on a limited budget yet you want something more special for your 18th birthday than simply staying at home.
Skiing
What about a trip to the mountains where you can ski with your friends and family? If you have enough money to take the trip, we say go for it. You should make the best of the winter, especially because this one is all about your 18th birthday! Talk to your parents about this, they'll probably love the idea.
Ice Hockey
One of the best 18th birthday ideas for guys and girls in winter is ice hockey. You can book a real hockey rink or make it a home party. You can even take the game to the field! With a little effort, you can decorate the home in two-teams colors, prepare food and drinks (don't forget extra clothes), and spend a memorable 18th birthday with your friends and family.
Ice Skating
Ice skating is a favorite frosty weather activity for everyone! Therefore, if you lack unique 18th birthday party ideas for daughter or son, we recommend this one. One of the ways how you can transform this into a birthday party is by the invitations. You can send invitations with tickets to the favorite ice skating show. Other ways are probably more fun for your kids. They include throwing a real party on the ice, with guests involved in the activity. How should you organize this? It's simple, you only need to find the proper place. If you have a large backyard, there lies the solution. If not, you can check out the nearest park (make sure to ask for permission) or rent some other facility. This shouldn't be too expensive, yet it's a unique and fun thing to do on the 18th birthday.
Other Things to Consider
Whichever of the above options you choose, you'll have quite some planning to do before the very special day. To help you with that, we listed some important things for you to consider before you start with birthday preparations.
Food
If you want your winter party to be successful, you have to think about the food. Although you can choose meals from a wide range of options, some are more appropriate for specific situations than others. Don't worry, there are no strict rules you should follow, but some general considerations would be nice. Here's what we have in mind:
Cookies, brownies, lasagna, fries, and similar food is ideal for small indoor gatherings, mostly for the closest friends and family.

 

Marshmallows, hot dogs, baked potatoes, and kebabs are perfect for a bonfire or any other outdoor party.

Popcorn, tacos, pizza, and similar food for game night, and any other indoor activity you have planned.
Drinks
If you're planning a big 18th birthday party, alcohol will be included, without any doubt. Still, there are some alternatives you can try out to make things more exciting. While other seasons are more about cool and fresh drinks, winter is all about cocktails. We recommend finding the recipes for the ones such as Jack Frost Cocktail, Peppermint Bark Mimosas, Gingerbread Eggnog, Caramel Snickerdoodle Martini, Mistletoe Margaritas, and others. They'll most certainly spice things up at the party!  
In case you're not into having alcohol at the party, you can always opt for alcohol-free cocktails. Or you can make good-old warm drinks such as tea, coffee, hot chocolate, cacao, and others. You don't have to have alcohol for your birthday to make it interesting for your guests. Do and prepare things you like, and don't stress too much about pleasing other people. It's your day after all!
Decorations
Making decorations will probably become your favorite part. As we mentioned already somewhere above, you can make a party more enjoyable with DIY decorations. With some paper snowflakes, snow globe balloons, snowball garlands, and paper icicles, you can transform your room into something wondrous. Then, why not show off with everything you have prepared for the day?
P.S. Here's a useful video that can help you with making paper snowflakes
Invitations
Don't forget about the birthday invitations! You'll have to send them at least two weeks before the party, so we hope your birthday is not around the corner yet. Take some time to consider the guest list. The 18th birthday is significant, and some people might be offended if you forget to invite them. You can also ask your parents for help and advice. They'll surely like to help. Additionally, consider whether you want to include gift requests on the invitations or not. Here's a useful article that should help you with that part: How to Ask for Presents on Invitations.
Conclusion
Hopefully, we gave you some fun and useful ideas on how to spend the special day. It's not easy to come up with activities during winter, especially for birthday celebrations. As you can see, with a little bit of planning and some extra effort, a winter event can be even more fun than others. You have many options on what to do for the 18th birthday in winter, just be creative and listen to your heart!
ESTIMATED TIME DESIGNING AND UPLOADING THIS ARTICLE
ESTIMATED TIME RESEARCHING AND WRITING THIS ARTICLE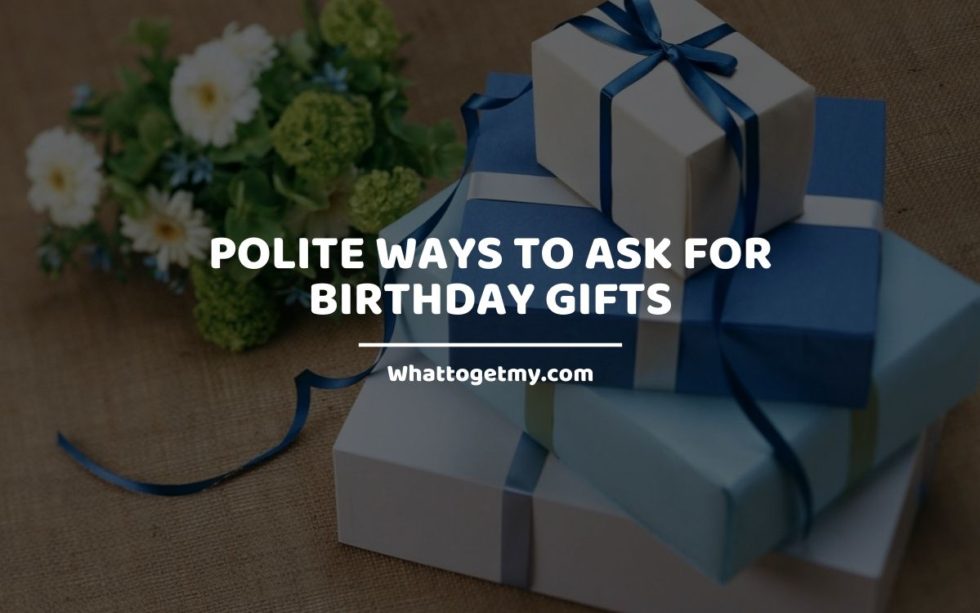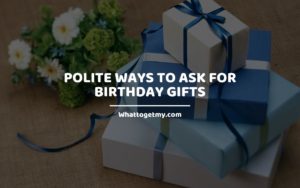 Polite Ways to Ask For Birthday Gifts
5 Polite Ways to Ask For Birthday Gifts WhatToGetMy Instructional Article These days, we often encounter the question of whether it's polite to ask for gifts or not. Don't think you're the only one. People are widely concerned with this topic. However, the other side
Read More »