Things to Bring on Vacation to the Beach
WhatToGetMy Instructional Article
An exciting beach vacation starts with making important preparations following a vacation preparation checklist such as your budget, your beach vacation destination, your lodging preferences, your means of travel, and experiences amongst others.
Once you've gone through the vacation preparation checklist and planned your beach vacation, for the best beach vacation, you need a pack list for your beach vacation to ensure that you have all your beach vacation essentials. Read on to find out the important beach items list of Things To Bring On Vacation To The Beach.
Once you're packed up, you still need to check off a few things/put a few things in place to ensure you are not distracted and worried during your beach vacation. Read on to find out what this vacation to do lists/final finishing touches are.
Whether traveling is your hobby, or you're just peripatetic and travel a lot for a living, vacations are always an exciting time of adventure that we all look forward to. And when it comes to vacation preferences, a beach vacation still tops the list for Americans. And this remained pretty consistent two years in a row according to a 2012 survey and a later one in 2014.
If You Could Take Only One Holiday, What Type Of Holiday Would You Prefer? (U.S., 2012). Source: Expedia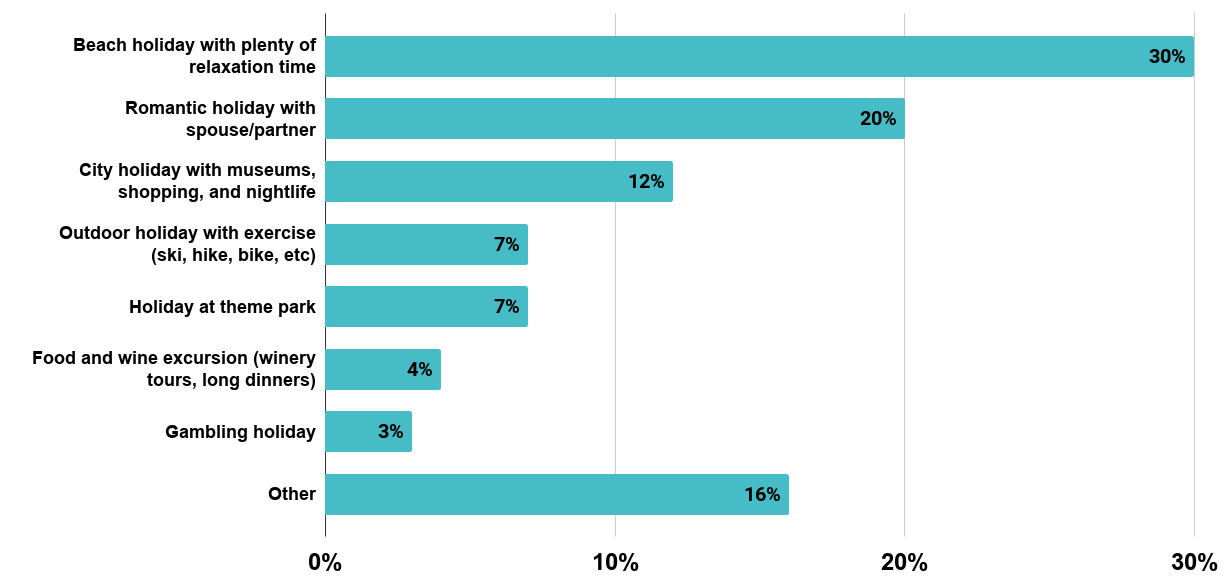 What Activities Do You Have Planned For Your Summer Travel This Year? (U.S., 2014). Source: Statista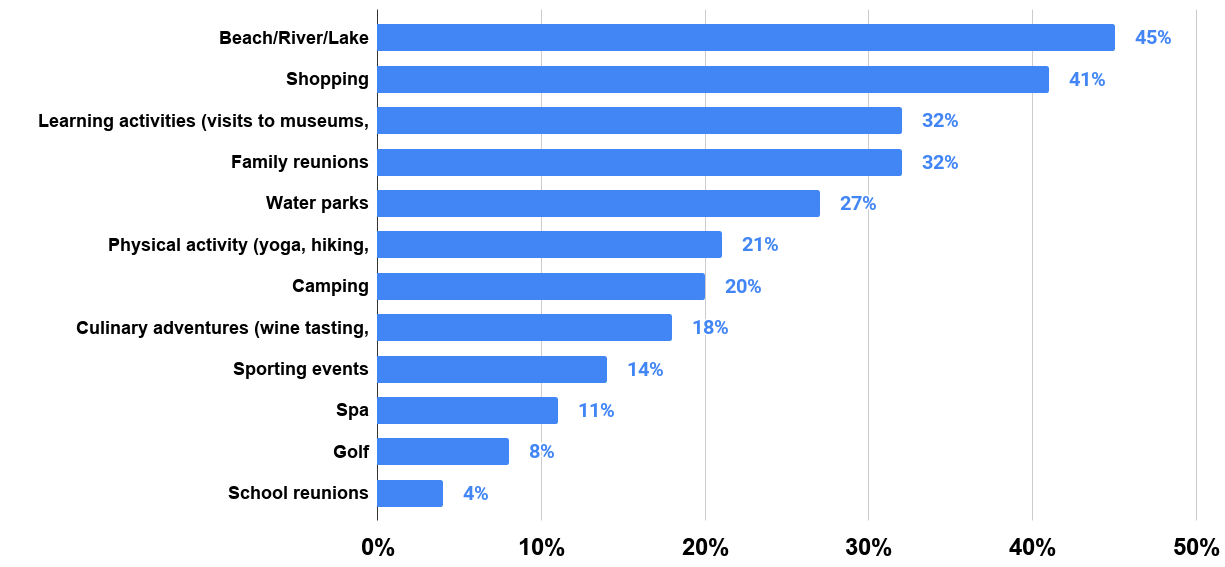 Given the love we have for beachside holidays, the question of what one must have for a beach vacation is an important one. And one that we are here to answer.
Beach Vacations And Where To Go.
The United States is home to a good number of beaches. The independent city of Virginia Beach alone has an average of 9.8 beaches in total per 10,000 residents, according to this 2019 Survey below. One can also see from the chart other States and cities and the number of beaches.
Cities With The Largest Number Of Beaches Per 10,000 Residents In The United States in 2019. Source: Statista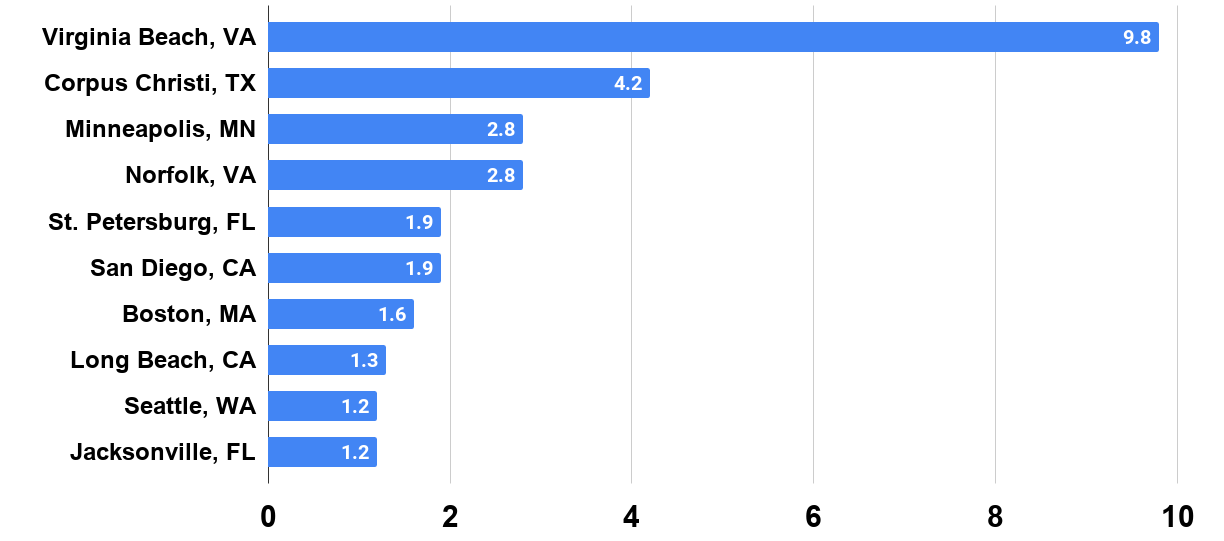 If you are still looking for a State or city for your next beach vacation, this chart is a good place to start before jetting off to an exotic beach somewhere in Europe.
Preparing For Your Beach Vacation – Your Vacation Preparation Checklist.
A vacation, like anything else in life, needs proper planning and preparation, even if you are getting off to have loads of fun. Without proper planning, you won't enjoy your beach vacation very much. This is why you need to get through these important vacation preparation checklists and questions before you can get on the plane or hit the road for your beach vacation.
Your Budget.
This is the first important question to ask yourself and answer. Your budget will determine a lot of the aspects of your vacation such as where you want to have your beach vacation at, what means of transportation to go with, what kind of accommodation to book at your holiday destination, how frugal or extravagant you can be with spending and the likes.
According to a 2019 survey by CNBC, millennials end up spending way less on a vacation in a year on average, than baby boomers for example because they plan, save, and budget for their holidays in advance. And this is so even though they travel more times in a year than other generations, according to the same survey.
Millenials in America Appear To Make Saving For A Vacation A Priority More Than Other Age Groups in 2019. Source: CNBC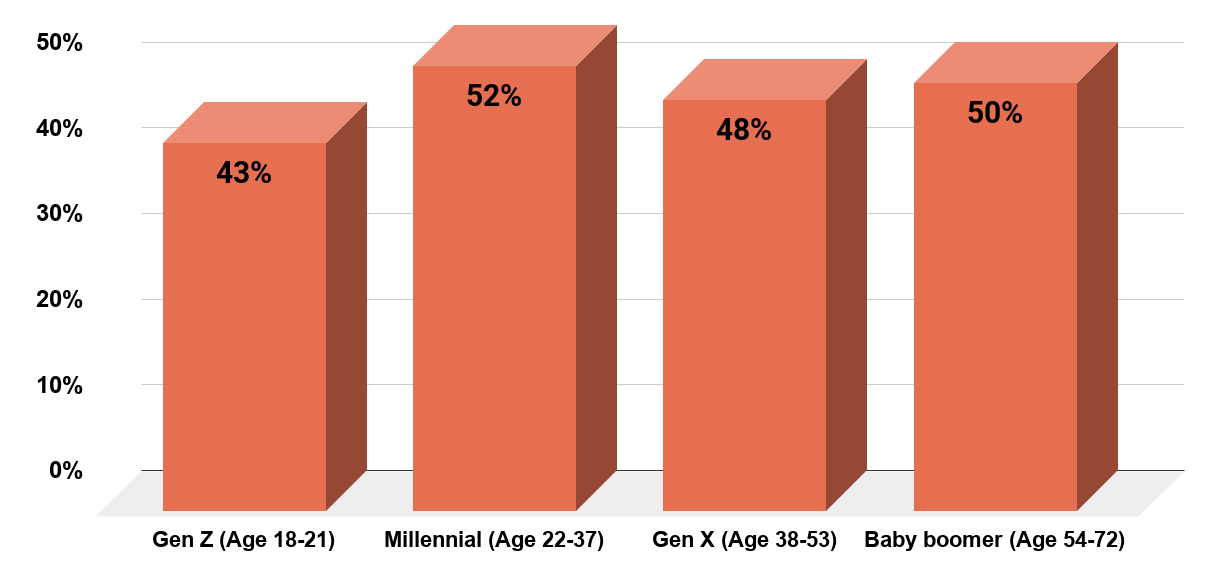 How Much Is Spent On A Vacation By Americans In A Year On Average? (2019) Source: CNBC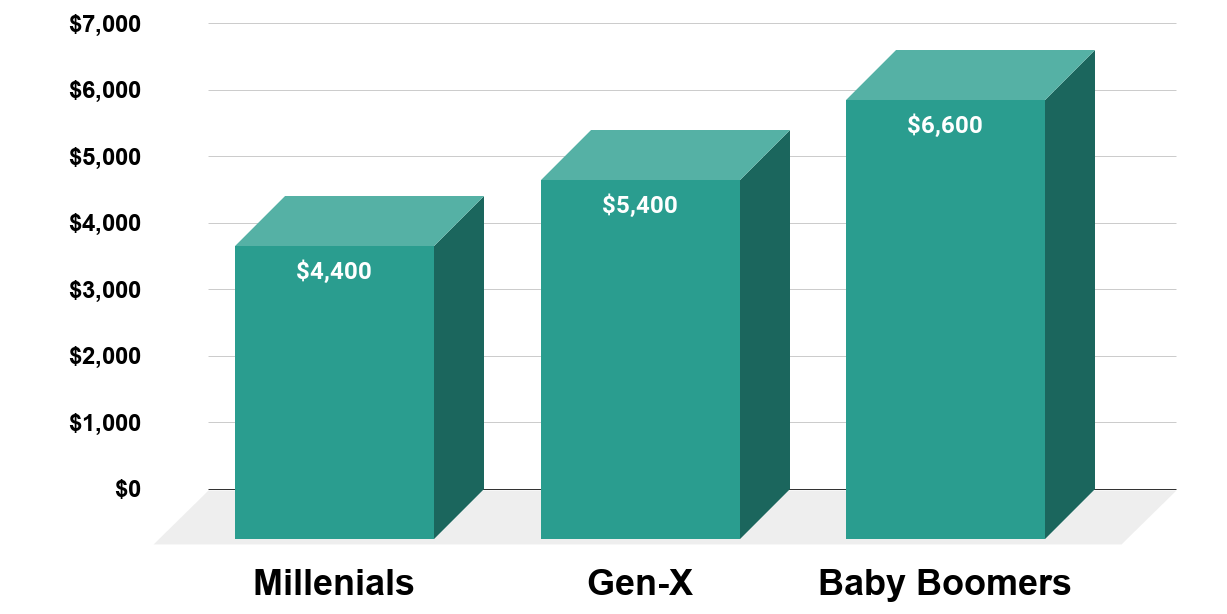 Having a budget in advance can help you decide what unnecessary expenses to weed out, to enjoy your beach vacation to the fullest. Always remember that with a vacation, including a beach vacation, the most important aspect of everything is the experiences you indulge in more than the money you splash on preparing for the vacation. Less is always more when it comes to spending, especially if you have a limited monetary allowance for vacations in a year.
Once you know how much you are willing to part with for your beach vacation, you then need to consider the following other important things.
Your Beach Holiday Destination.
Some beach cities will be more expensive than others. If say for example you have only $1,000 to spend on your beach vacation, it allows you a little more flexibility in the choice of a beach vacation destination. You can maybe afford to go for your beach vacation in an expensive beach city like New York, where according to a 2019 survey by Travel Daily, costs at Main Beach go up to $58.88. And a city like Hawaii for instance has at least two beach choices that aren't too expensive. This cost takes into account how much it costs to buy the beach basics like sunscreen and other beach gears.
The Top 10 Most Expensive Beaches In The U.S. As Of 2019. Source: Travel Daily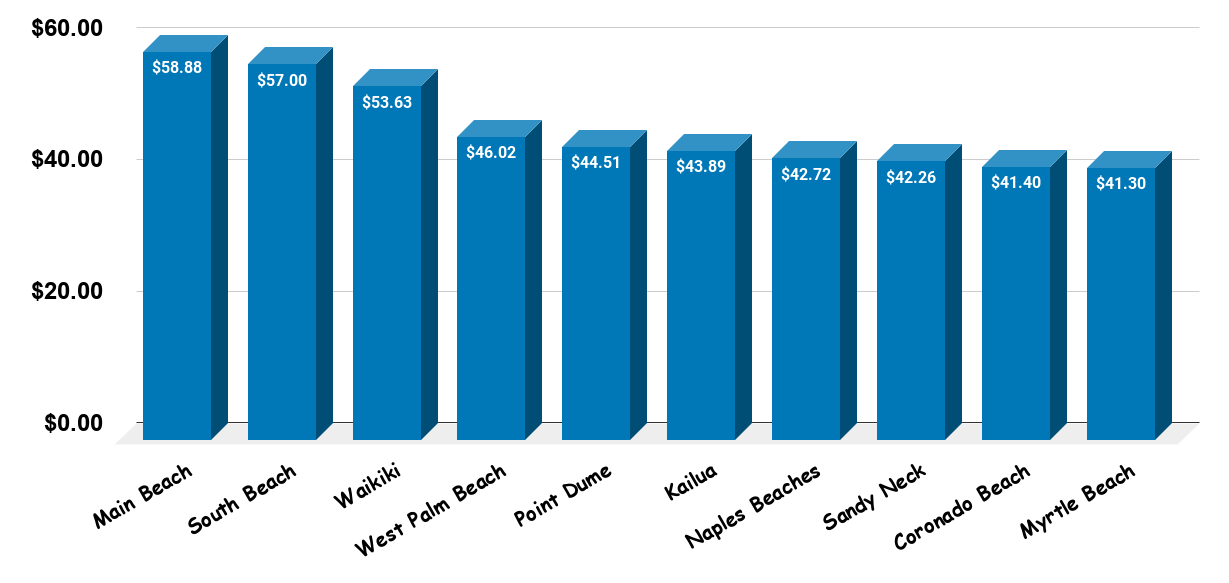 Cost of Select Amenities and Necessities At Select Beaches In The U.S. As Of 2019. Source: Traveldailynews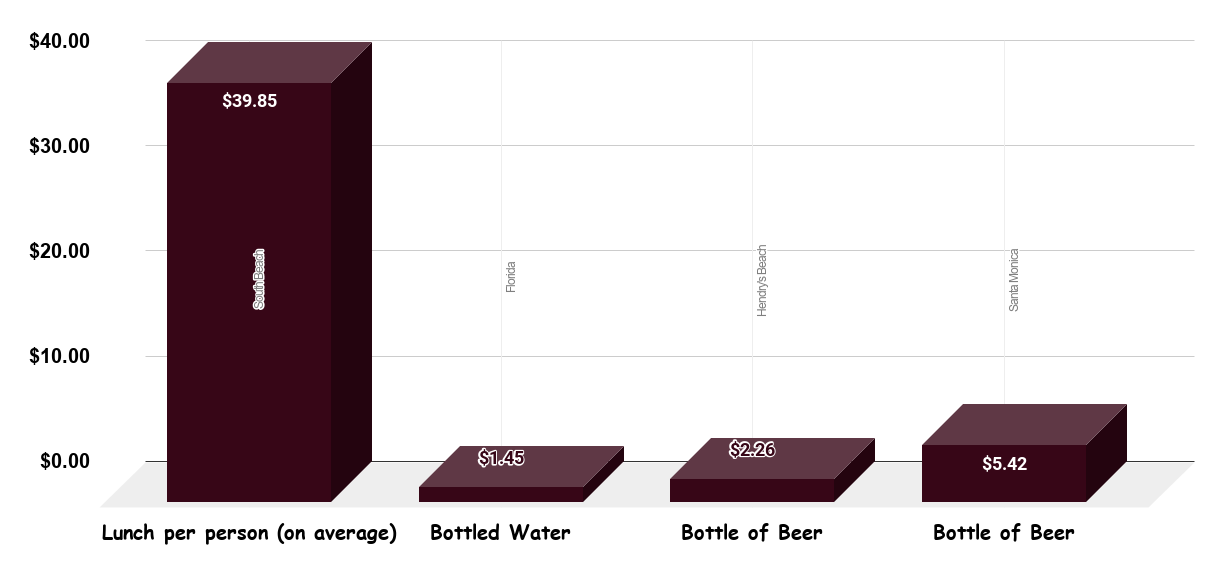 And if there's two of you then it would mean on average, you may end up spending at least $120 each day multiplied by the number of days you intend spending for your vacation. If it's a 5-day trip for instance, then already you can see that it would take up at least $600 of your budget before you've even factored in other costs like means of transportation.
Your beach vacation destination will determine how much of your money is spent because it will take up a good deal of money from your budget.
Your Lodging Arrangements.
Depending on your budget, you may need to opt for less expensive lodging like an Airbnb, over a hotel. Given that you will be spending less time in your room, and more time at the beach, it is probably best to settle for the less expensive lodging and instead apply the money to have the best time in the beach city like the nightlife and the restaurants, and other attractions the city has to offer.
Your Means of Travel.
Would you travel by road or by air? This will be determined by both your budget and your choice of where to take your beach vacation. The means of travel you choose will also determine how you pack and your choice of luggage. Travel by air will place more limits on you in terms of luggage size and specifications, while travel by road with your car allows you a little more flexibility.
Legal Requirements For Travel.
This will become necessary if you are traveling outside U.S. borders. If for example, you decide to travel to a place like Europe, you will need to know what visa requirements may be needed and what travel insurance may be required, as well as whether your international passport is up to date.
The Experiences/Activities You Want to Enjoy.
There are several experiences you can enjoy during a beach vacation such as sailing on the beach, playing beach games such as beach volleyball (usually more enjoyable with a group) or frisbee, having a picnic on the beach, having a fun childlike experience like building a sandcastle, taking a jog or run along the beach, exploring the beach at night, picking sea creatures, trying out exotic restaurants and nightlife, or a photoshoot for your Instagram feed if you're an Instagrammer.
Some of these experiential activities will not cost you much while others like trying out exotic restaurants, for instance, will knock off some dollars from your budget. And with technology now affording information about everything at the tip of your finger, you can find out how much restaurants in the city cost on average. This will help you plan better.
Your Next Beach Vacation – The Essentials And Your Vacation Beach Packing List.
With the above vacation preparation checklist out of the way – you have chosen your beach vacation destination, have decided what means of transport you're going with and where you will be lodging and what beach experiences you will enjoy are – it remains the final checklist of what to pack for your trip; your beach checklist.
Your pack list for your beach vacation should have all beach vacation essentials in three categories –
Your travel checklist;

A clothing and body care checklist; and

Beach supplies list

containing

what to pack when going to the beach

.
Your Travel Checklist.
This list comprises all items necessary to make your beach vacation enjoyable, from your luggage carrier to boarding passes, and hotel reservation receipts. Some of the contents of this checklist will also depend on the means of travel. Here's a run-down of your travel checklist:
1. Luggage Carrier.
For an enjoyable beach vacation, you want to travel as light as possible so that you are not bogged down with too much luggage. The right choice of luggage carrier will go a long way in disciplining you to take only the necessaries.
Choose a luggage carrier that is not heavy. Duffel bags are usually best because they are both roomy and still lightweight at the same time and can take almost all your necessaries.
To make the most of the space in your duffel bag, you can buy luggage packing cubes to streamline each item into a separate carry-on and then pack these cubes into the duffel bag. This will keep your items organized in a way that makes it easy to access them and as well leaves space in your duffel bag to squeeze in your beach tote bag.
You can couple your duffel bag with a carry-on backpack especially if you are traveling by air. If you are traveling by air, be sure to check with the airliner what the luggage specifications are and how many bags you can have on you. Also, find out what restrictions the airline may have in terms of liquid contents allowed in each luggage.
2. Any needed paperwork.
This is especially important if you're traveling overseas. Be sure to have,
Your passport;

Your air ticket/boarding passes on paper even if you have the e-copy; 

Your travel insurance; 

Your lodging reservation payment on paper even if you have an e-copy;

Any needed vaccination documents; 

Your student ID may come in handy for discounts and the likes, so be sure to take it along if you are a student.
If you're traveling by road, your driver's license is very important.
3. Supplies for the road.
This is important if you choose to travel by road. You will need the following items for the road to make the travel by road more enjoyable and pleasant –
A portable car dustbin to collect the trash from your snacks and drinks; 

A lunch warmer;

A car air-diffuser for clean fragrance in the car especially if you need to leave the windows up;

A cooler box with a good supply of water and cold drinks;

Snacks for the road

(our article on

Gifts for Snackers

can help you with snack ideas for the road)

;

A dashboard camera to keep an eye on the road especially your rear;

And a steering wheel desk for comfortable support when having your meal on the road.
Check out our article on Gifts For Guys Who Drive A Lot for more ideas on road supply items to take with you on your road trip.
4. Supplies for air travel.
If you choose to travel overseas and need to fly or choose to fly to your beach vacation destination within the U.S, a few items will help make your air travel more comfortable:
A neck pillow;

Comfortable eye masks for when you need to sleep en route;

Noise-canceling earbuds;

A book or an e-reader
5. Cash or credit card.
Determine whether you want to travel with your credit card or simply carry all the cash you'll need on you.
And if traveling overseas be sure to notify your credit card company so that your card is not flagged when you use it overseas, and also so that they can quickly note any unusual activity on your credit card.
6. Personal Details.
Your details such as your name, address, contact details, and nearest kin contact details are printed and tucked into your wallet in case you run into any accidents and someone needs to be contacted to notify.
7. Travel electronic gadgets.
Electronic gadgets such as:
A tablet or laptop;

An e-reader if you don't want to carry books;

A good motionless camera to capture all the exciting moments;

Bluetooth speakers for playing music at the beach and in your room;

A power bank; and

Your phone,
will all be needed to make your beach vacation all the more enjoyable. If you will be taking any or all of these electronic gadgets with you to the beach, be sure to go with waterproof protectors to protect them from getting damaged from water.
To be more organized and ensure you don't misplace any of your electronic gadgets, have an electronic gadgets organizer to have them all in one place.
And if traveling overseas, don't forget to go with an international plug adapter or you may find that you're unable to power any of your gadgets when they run out of power.
A Clothing And Body Care Checklist.
For the best beach vacation experience, the following clothing and body care items will be helpful:
8. Clothing Checklist.
If you were wondering what clothes to pack for a beach vacation, light and breezy attire is the keyword for clothing for a beach vacation. You don't need to take all your wardrobe. These clothing items are all you need for a beach vacation:
A tank top;

Two shorts;

Two or three fashionable shirts that can be used for different styles;

A little black dress for dining out;

A smart-casual summer dress for any other outing;

A change of underwear for each day of your trip;

Sandals for moving around comfortably;

Canvas tennis shoes for any smart-casual outings.
9. Body Care Checklist.
The following body care items are essential:
Body soap;

Body lotion;

Deodorants (roll-ons; cologne and/or eau de parfum; body mists);

Toothbrush;

Toothpaste;

Shampoo and conditioner;

Light make-up like lipstick, eyeshadow, mascara (for women) for any outing;

Portable travel first-aid kit for any accident that may arise;

Face towels (if you're staying at a lodging that does not supply these)

Sanitary pads and/or tampons and/or panty-liners (for women);
Have a good toiletry bag to hold all these items neatly in one place.
Beach Supplies List.
The final checklist of items are your beach supplies items since going to the beach is after all the highlight of the vacation. These items answer the question of what to take to the beach:
10. Beachwear.
A beach vacation is no beach vacation without a swimsuit and/or sarong. Be sure to go with an extra pair to change for when you get wet from playing on the beach.
A beach towel is also important for towel-drying.
11. Beach footwear.
Flip flops are the best footwear for the beach because they are comfortable to walk around with on the beach sand.
12. Sun protection items.
These are items like
A Sunhat;

Sunshades;

Sunscreen lotion and lip balm.
Getting sunburnt is a real thing and poses health risks too.
13. Beach relaxation items.
For the best beach relaxation the following relaxation items are essential:
A Beach chair;

Beach umbrella;

A beach mat if you prefer a mat over a chair. A beach mat is also easier to carry since you simply fold it up/roll it up into your duffel bag;

A book or e-reader;

Your Bluetooth speaker or noise-canceling earbuds if you prefer keeping your music to yourself.
Other Important Beach Items.
14. A Beach Tote.
A colorful beach tote for easy identification and carrying your beach supplies is important.
15. Reusable plastic bags.
These will come in handy for your wet clothes and taking other disposable items.
16. Picnic bag with picnic supplies.
This is for if you plan on enjoying a picnic on the beach.
17. Snorkels

for beach snorkeling

.
Your Final Finishing Touches – An Important Vacation To Do Lists Before You Take Off.
Now that you're all packed up, there are some little final finishing touches to put in place before you jet off or ride off for that beach vacation. Without this final vacation to do lists, your mind may be restless during your vacation and that will defeat the whole point of enjoying a holiday.
Security of Your House.
You don't want to come back from your vacation and find that you've been burgled. Take the following steps to ensure the security of your house and your peace of mind:
Turn on all alarm/motion sensors in your house.

And if you don't have any alarm sensors at your house,

consider purchasing some from Amazon for instance

. These will go off should there be any type of forced entry and since they are connected to your phone too, it will notify you immediately.
Leave the outside lights on to illuminate all sides of your house.

This will dissuade any burglar who would otherwise capitalize on the darkness to break-in.
 Notify at least one of your neighbors that you trust to help you keep an eye on your apartment in case of any suspicious activity

.
Ask a friend if you have one to help you check up on your place at least once, just to see that everything is in order.
Finally, consider stopping unnecessary mail from coming in when you're on holiday.

Unattended mail loitering on your front porch will attract attention and unwanted elements to your residence.
A Conducive and Fresh House.
You also don't want to come back and find that your house either stinks of stale or rotten food or dirty laundry or that a fire broke out due to temperature regulation issues in your absence. This will throw you off on return and dampen all the energy you would have gained from your holiday. To ensure that this does not happen, consider doing the following:
Turn off all electrical appliances.
Since you will not be around, you will not be aware of any sudden power surges that may occur in your absence. And these can damage your appliance(s), which will cost you more. To give yourself peace of mind, switch off all appliances. And not to mention that leaving your appliances on when not in use would also run up your electricity bill unnecessarily.
Take care of all temperature regulating devices in your house.
Depending on the time of the year you decide to take your beach vacation, you don't need to leave your temperature regulator hot or too cold.
Given that all doors and windows will be shut, it is probably best to also switch off all temperature regulating devices until you return.
Take out the trash before you travel.
Put out all trash in the trash skip outside your house before you travel so that the bad smell does not accumulate inside the house. And since the windows and all air outlets will be closed, that will be a disaster waiting to happen should you fail to take it out.
Clean out your refrigerator of fresh perishable food items.
Ensure that any perishable food item is taken care of before you travel. Given that you will be switching off your appliances to protect them from damage from any sudden power surges that may happen in your absence, leaving fresh/perishable food items will have you coming back to a house whose smell you can't stand. Not to mention the stink that will stay on your refrigerator for some time even after you've cleaned it out.
Clean out your room in advance.
Consider taking care of your laundry before you travel to avoid a moldy smell from the dirty laundry on your arrival. Also, consider making your bed and keeping the room clean before traveling because traveling can make you exhausted when you return and you won't have the energy to clean and wash immediately you return.
Your Pet and/or Garden and/or Lawn.
If you have any of these, you will also need to make arrangements for their care in your absence. Pets like dogs will get bored if left home alone with no activity. You may need to ask someone to help you pet-sit in your absence, or you may have to take them with you. And in case it becomes unavoidable to leave the dog at home alone, our article on How To Keep A Dog From Being Bored When Home Alone provides very useful tips on ways to keep your dog happy in your absence.
Your garden plants may die or wither if not watered at given intervals. You may need to ask a neighbor or friend to help you water them in your absence.
Once you've taken care of all of the above vacation to do lists, you are good to go. You can travel for your beach vacation with no worries in the world.
Frequently Asked Questions.
How to pack for the beach?
Packing light is the best for packing for the beach. Take only the absolute necessaries and ensure that almost all your beach supplies can fit into your beach tote so that you don't have to deal with carrying too much on you that can get misplaced at the beach and also make it difficult to enjoy your time at the beach.
What does a good family beach vacation packing list look like?
A family beach vacation packing list or beach packing list for a family does not look different from the beach vacation packing list in this article. Ensure that everyone has their duffel bag with all the essential items listed in this article. Your vacation preparation checklist should also ensure that every member of the family is covered.
Conclusion.
To have an enjoyable beach vacation you need to have a vacation preparation checklist and plan the beach vacation. Your vacation preparation checklist should check off the following:
Your budget;

Your beach vacation destination;

Your lodging preference;

Your means of travel;

Any legal travel requirements, if traveling outside the U.S.; and

The experiential activities you want to enjoy at your beach vacation destination.
Once you have gone through your vacation preparation checklist and have your beach vacation properly planned, you need to properly pack for the trip for the best beach vacation experience. Your vacation beach packing list should have the following items:
Your travel checklist;

A clothing and body care checklist; and

Beach supplies list

.
After you have finished packing up, some final touches need to be put in place to ensure you have no worries on your mind while vacationing. Your final vacation to do list before taking off is to check off the following:
The security of your house;

The conduciveness of your house on return; and

Making arrangements for your pets/garden/lawn if you have any of these.
When all of the above are in place, you can have a blissful and worry-free beach vacation.
ESTIMATED TIME DESIGNING AND UPLOADING THIS ARTICLE
ESTIMATED TIME RESEARCHING AND WRITING THIS ARTICLE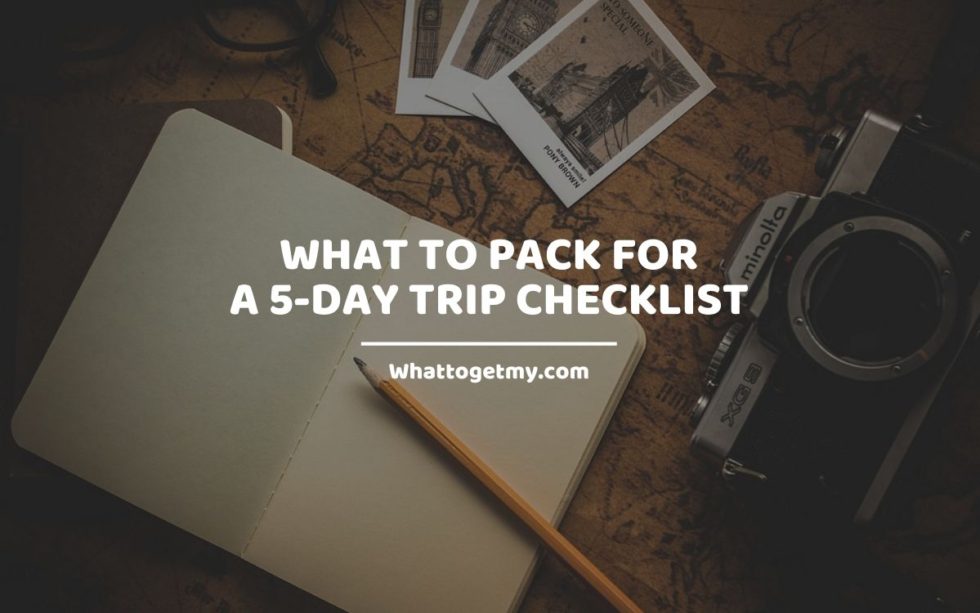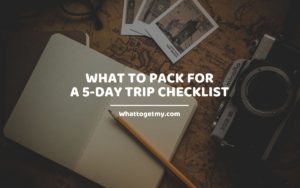 What to Pack For a 5-Day Trip Checklist
WHAT TO PACK FOR A 5-DAY TRIP CHECKLIST WhatToGetMy Instructional Article It is almost time for your trip that you planned months ago and all that is left to do is to pack your bags. You don't want to leave any of the essentials out
Read More »